To establish an international contact, generally you must use the prefix for your home country and the phone number for your contacts. To receive calls outside France, call the phone number 0033 and inform the correspondent.
The same technique can be applied to fixed line cell phones.
However, this solution is costly when your company makes frequent communications to foreign countries.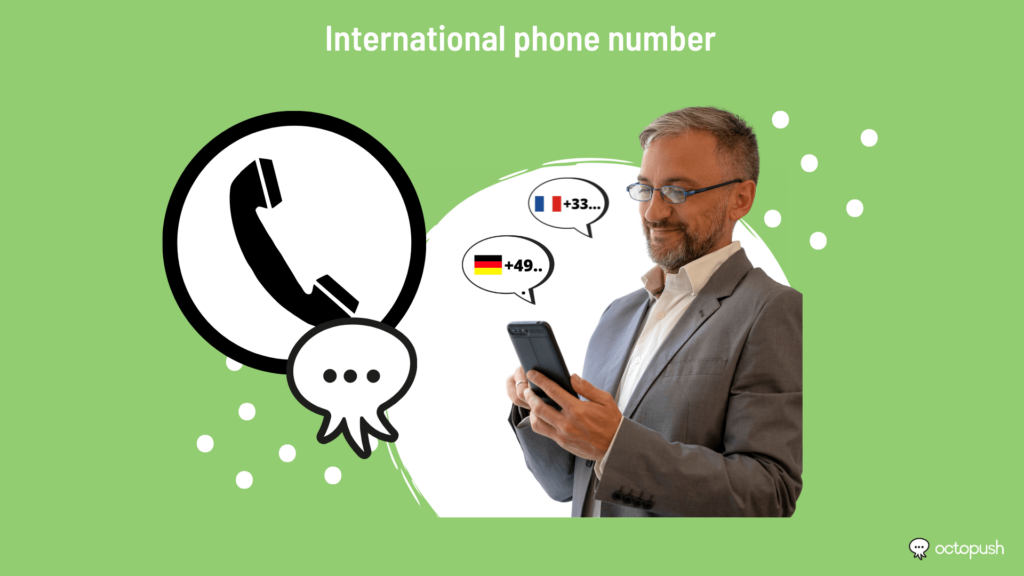 What are the international telephone codes?
International telephone numbers are regulated by the International Telecommunications Union (ITU). Like France, this code is linked to regions around the world, generally classified by continent. This prefix is usually preceded by one to three digits after the + sign. For example, the telephone code for France is +33.
It is quite possible to have a phone number with an international area code without even having a SIM card, thanks to the use of a virtual international phone number.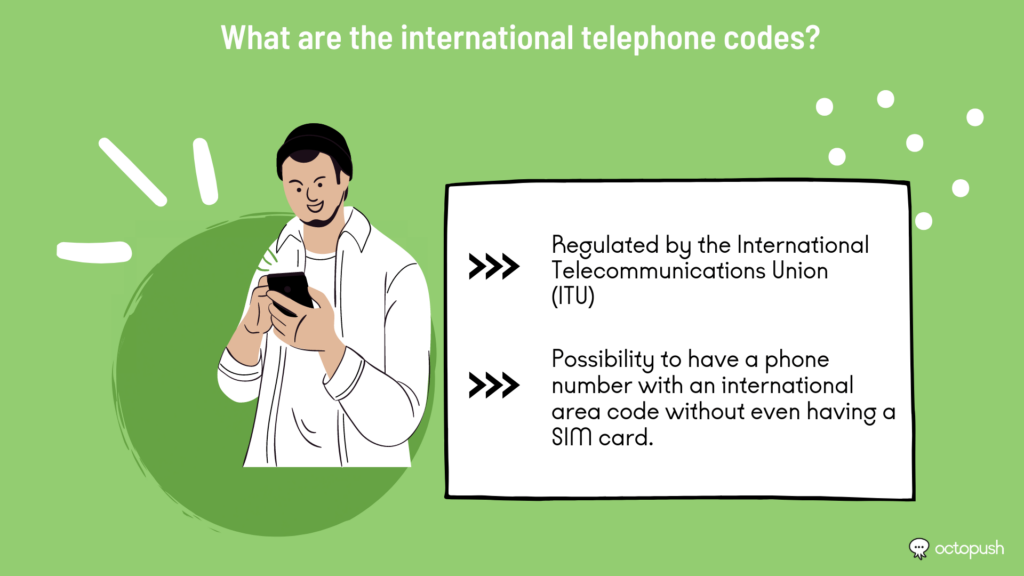 Benefits of having an international phone number
Companies that want to start doing business internationally find it a barrier to communicate with customers in other countries. That's why getting a virtual phone number with a foreign area code is a significant advantage for them for the following reasons.
Phone codes without contracts
If you have ever tried to get a landline number, you know that it is a complicated process, even more so when it comes to getting a number from a country where you do not have a physical address.
In contrast, to get an international phone number all you need to do is choose a service provider, select the number you want and make the payment.
Your number becomes active as soon as your payment is confirmed. Octopush offers you virtual numbers with the most reliable mobile network operators.
Using the service is free for customers
If your customers have to make an international call to get in touch with you, they will give you a break. This is because international calls are not free.
One of the best advantages of having an international phone number is that you can introduce numbers that will be local to your customers. With international virtual phone numbers, your customers can reach you from anywhere in the world.
Cheaper than traditional systems
The price of a virtual phone number is a fraction of what you pay for a traditional phone number. If you opt for several numbers, Octopush offers you preferential prices.
Listen to customers all over the world
Small businesses that can't set up offices in different locations.
Getting an international phone number allows them to gain new customers and retain old ones.
So that potential customers can reach them easily.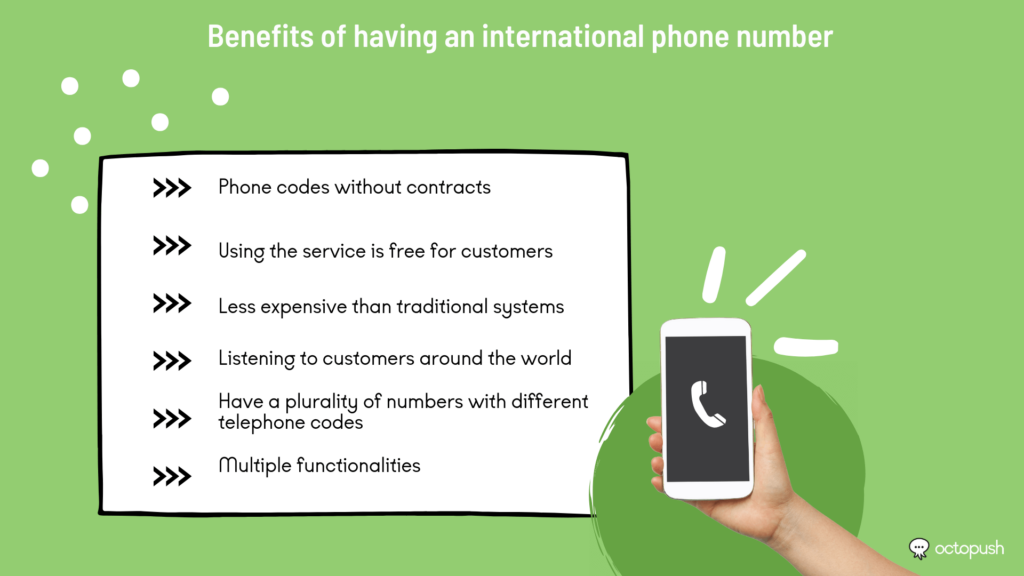 Have a plurality of numbers with different area codes
If you want to target customers from several different countries, this is not a problem. You can buy international phone numbers with the corresponding area codes for those five countries.
Also, a virtual number can be useful if you want different numbers for the help desk and sales department. You can choose as many virtual numbers as you want to grow your business
Multiple features
Virtual phone numbers are not just for sending and receiving SMS messages from customers. They allow you to integrate them into more complex systems such as your CRM software among others through an SMS API.
It helps you track how your employees interact with customers. You can integrate automatic response features for a better customer experience.
Contact your customers in the right time zone
If you have numbers from multiple countries, it is very important that you set the right time zone. You can do this with our system that helps you define the routing of SMS messages to specific agents based on their assigned time zones.
Statistics on the state of your business
Octopush provides you with business message analysis reports. These present you with information on important parameters such as business message volume, peak times, missed or received messages, etc.
This allows you to identify the geographic areas that generate the most messages, the peak times and the times when most calls are lost. In addition, this data can help make decisions about how many agents will be assigned to a particular geographic area.
Personalize the customer experience
Every country has its own language and greeting. Your employees or call center staff may not know them all. To set the right tone for your customers, you can use automations that will greet them with a personalized welcome message in their native language.