If nowadays, everything goes through the internet, the arrival of the online phone is not at all surprising. Of course, for some people, this advance will never replace the traditional numbers. However, modern mobile telephony is a source of many advantages, whether for companies or individuals.
At Octopush, we propose you to discover through this file how you can take advantage of the online phone. Whether it is about its functioning or its advantages, let us dissect everything for you.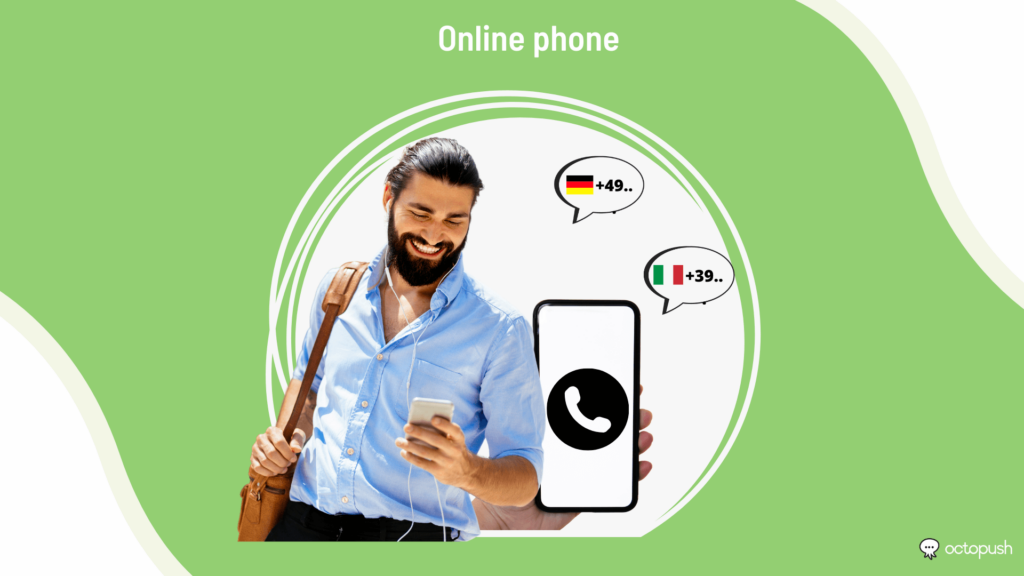 What is an online phone?
Most often, the online phone is associated with the virtual number, a number that is not assigned to a fixed telephone line. Indeed, the very concept of digital telephony is the redirection of calls and sms to a multitude of terminals. These can be smartphones, landlines, computers, and much more.
The online phone service offered by octopush
By doing research on the internet, you will quickly notice that the definition of online phone and virtual numbers differ according to the providers.
For example, at Octopush, the concept of online telephony remains the same, but its use is different. Indeed, instead of offering virtual numbers to make calls, we specialize rather in sending sms. That is to say, messages received directly from the chosen audience, thus ensuring a reading rate of over 98%. A practice that will allow you to ensure a formidable conversational service with your customers, your partners and all your important third parties.
In short, at Octopush, we propose you to rent a virtual number to benefit from the advantages of the online phone. Note however that in the near future, we are considering the idea of expanding our digital telephony services.
What are the advantages of using an online phone at Octopush?
By opting for Octopush's online phone service, you can benefit from many advantages.
Smoother communication and better cohesion with your customers
As a company, you are obliged to maintain an excellent relationship with your customers. In this sense, you need to ensure smooth communication with your customers. That's why getting virtual numbers from Octopush is essential.
Why? Because at Octopush, you can ensure instant sms chats thanks to our unique platform. Easy to use, exchanging with your customers via this platform will become a real pleasure.
Moreover, note that our virtual numbers are all local numbers. All you need to do is to choose the locality of your choice to get your virtual number when you register. Whether you are looking to get a virtual number in France or in other European countries such as the UK, Switzerland, Germany, from our 33 locations, you won't have to worry. Especially since we also cover often inaccessible countries such as Canada and the USA. Thanks to us, you can benefit from the fluidity of a local communication, in all the destinations of your choice.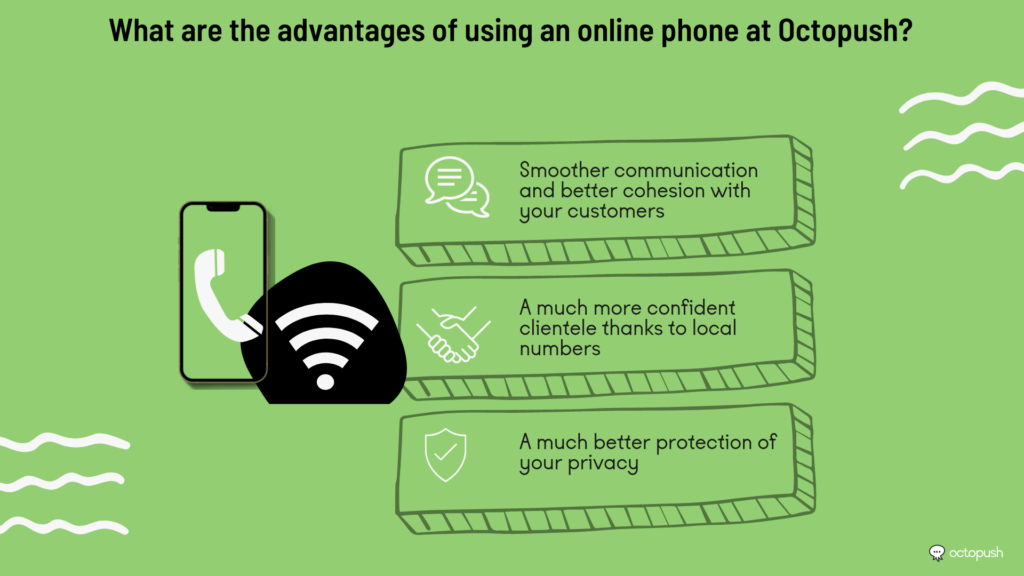 A much more confident clientele thanks to local numbers
The interesting thing about virtual numbers and online phones is that they make your customers feel more confident. Indeed, let's remember that we put at your disposal local numbers from 33 different countries. This is a great advantage because when a number from the same locality as us contacts us, it is much more reassuring. Otherwise, a foreign phone number is often associated with scams and fraud. That's why it is in your interest to choose the right location with Octopush.
A much better protection of your privacy
The online phone is also a foolproof way for you to protect your privacy. Indeed, it is not uncommon that with the use of normal cell phone numbers, the separation between private and professional life is broken. That's why, at Octopush, we make it a point of honor to ensure this separation.
In this sense, thanks to the virtual number, you can easily hide your personal phone numbers. And this, while ensuring that your customers have the best services available.
Choose and rent your virtual numbers at Octopush according to your needs
At Octopush, we put at your disposal an unlimited number of virtual numbers available. All this, based on a single account, you will be able to rent as many virtual numbers as you want.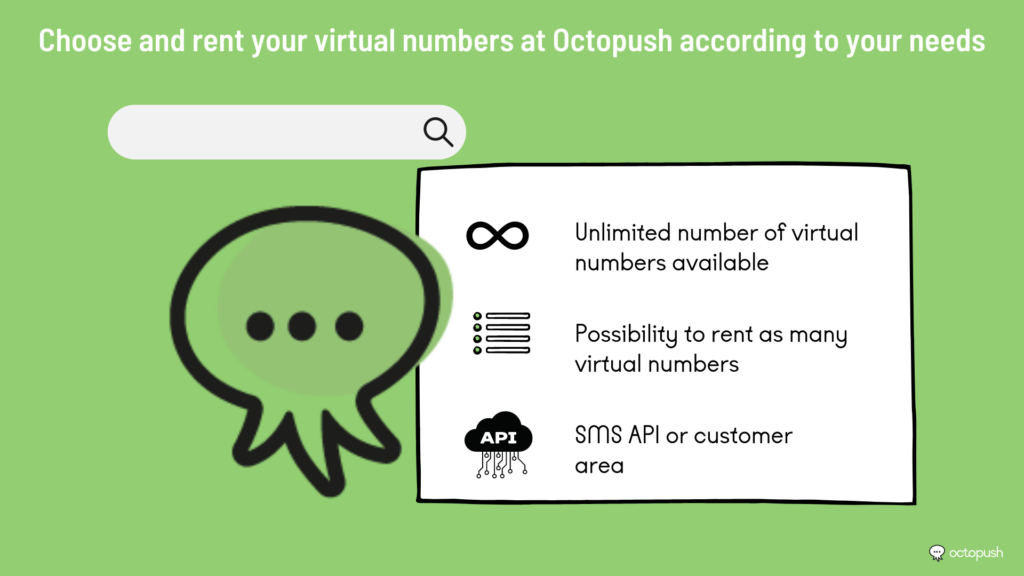 Moreover, from the application of your company thanks to the SMS API or from your customer area, manage easily and quickly all the virtual numbers in question. As soon as you register, choose the location of the numbers you want to obtain and the offers you are interested in on the Octopush platform and you're done.