The international number is certainly the best existing communication and marketing solution for a company seeking to go international.
Currently, to communicate with customers, nothing beats sms. In business, they allow a rate of deliverability and reading close to 100%. But virtual numbers offer more. Thanks to the rental of a virtual number, a company can have many advantages to communicate internationally.
Do you want to converse and maintain a good relationship with your customers around the world? Discover why you should absolutely rent a virtual number through this Octopush file.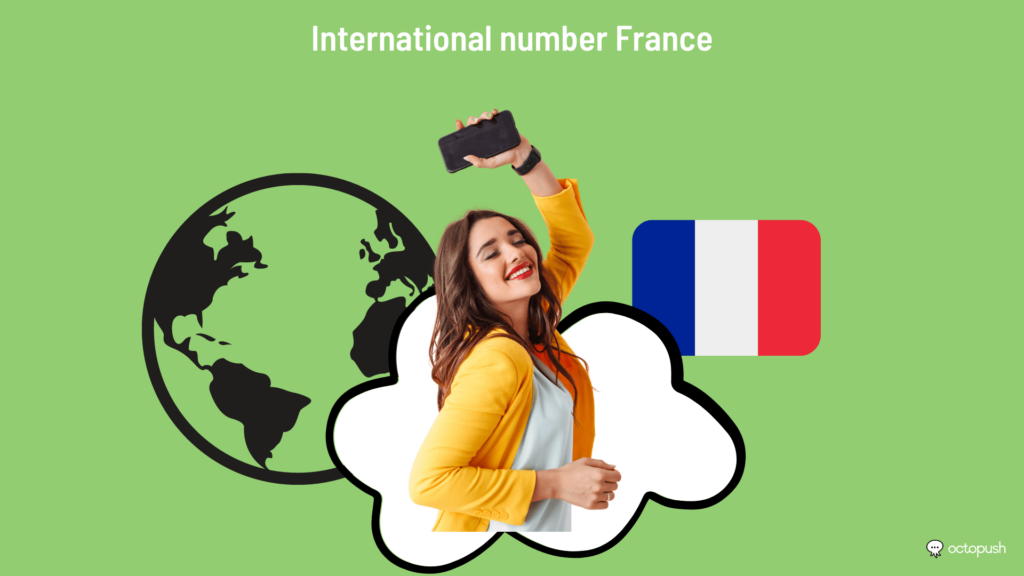 What is an international virtual number?
First of all, a virtual number is a phone number hosted directly in a Cloud. In other words, the number is hosted in an information system and works thanks to the internet. Therefore, the virtual number is not physical. It can be used anywhere, regardless of its location.
By renting a virtual number of a certain nationality, a company based in France can afford to contact a foreign number of the same nationality. For example, if you are currently in Switzerland, and you want to send SMS to your French customers, you need an international France number. A number that will help you to contact your customers from Switzerland, with the same rates as France.
Currently, there are several nationalities of international numbers: French virtual number, Belgian virtual number, Italian virtual number, etc. Their particularity is that this type of number can be held anywhere in the world. Therefore, they do not generate any international costs since the tariffs depend on the region or the country chosen by the user.
Why should a company get an international virtual number?
There are many advantages that a company can benefit from using an international number.
A much better credibility in the eyes of your customers
If you decide to go for an international virtual number, your messages will be much more credible in the eyes of your customers. Indeed, most of the time, when we receive an SMS from a foreign number, we tend to associate it with a scam. So, if you use your usual number to announce a promotional offer for example, nobody will take you seriously.
On the contrary, by using a virtual number, you can opt for a number from the same locality as your customers. This way, your messages will inspire much more confidence in them.
A more fluid exchange with your customers and partners
To communicate with your customers and partners, there is nothing better than the use of SMS. Thanks to their excellent deliverability and readability rate, SMS are very advantageous channels of exchange, provided that they have the same number locality. With an international virtual phone number, this condition is perfectly respected.
Indeed, even if you don't mind sending international SMS to your customers, for them it can be disturbing. After all, with a normal phone number, if your foreign customers decide to answer you, they will be charged at international rates. And they certainly won't spend extra money on it. As a result, you are much less likely to have a conversation with your third parties via a simple phone number.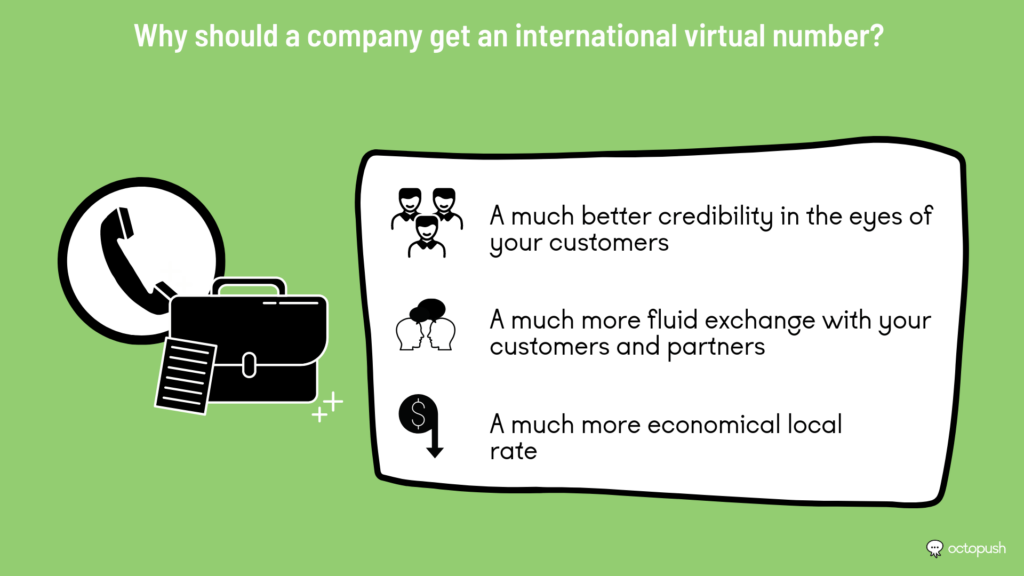 A much cheaper local rate
Finally, using an international number in France can save your company a lot of money. Indeed, the difference between local and international rates is still important. Especially if for the good functioning of your company, you have to send millions of messages per year.
In this case, it is perfectly normal to opt for international virtual numbers. Numbers that allow you to benefit from local rates for sending messages.
Get your international virtual number in France with Octopush
Octopush is a French company that allows you to easily rent your international virtual number. In a few clicks, you can have the number you need.
Even better, the creation of a simple account allows you to rent as many international virtual numbers as you want. We have more than 33 locations available to you so you can truly benefit from worldwide coverage.
What do you need to do?
Step 1: Login to your customer area
Note that the dedicated platform that constitutes your customer area allows you to manage as many virtual numbers as you want. This platform will be a great help to you in terms of organization, but also to reduce considerably your response time to customers.
Step 2: Select a local toll-free number
Start by choosing the country where your number will originate. Then, quickly discover a list of available virtual numbers for that location. Choose one (or more) and you're done!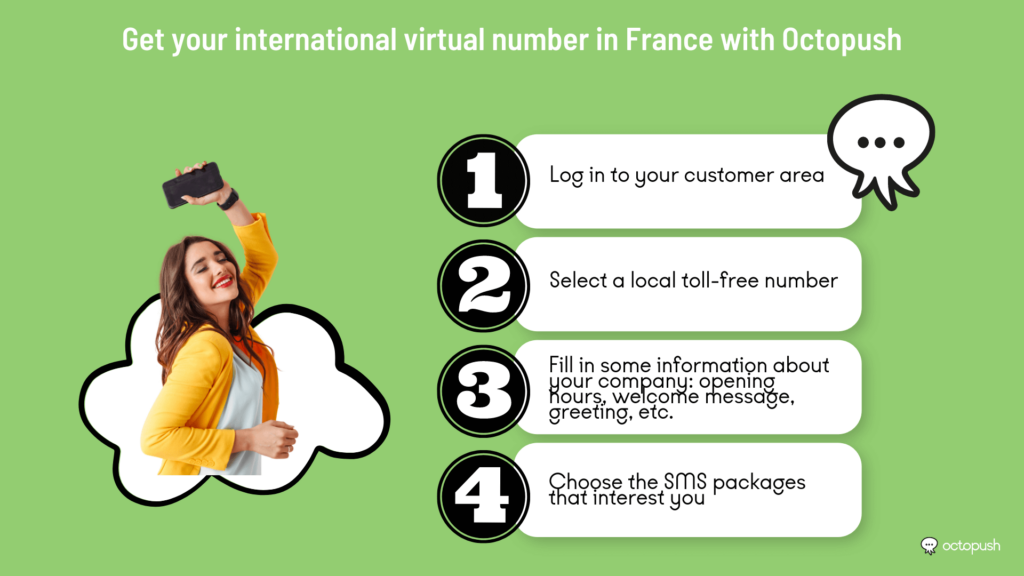 Step 3: Fill in some information about your company: opening hours, welcome message, greeting, etc.
Step 4: Choose the sms packages you are interested in
Nothing could be easier!