For a company, having an international phone number in France can be very useful. After all, even if thanks to the internet, communicating becomes much easier, the results offered by telecommunication are much more efficient. It is thus quite naturally that virtual telephony was born. A concept that allows companies to call or send SMS directly to their contacts.
But what is the purpose of an international telephone number? Few companies are currently aware of this. We propose to you, thanks to this complete file on the subject, to discover the answer of Octopush to this question.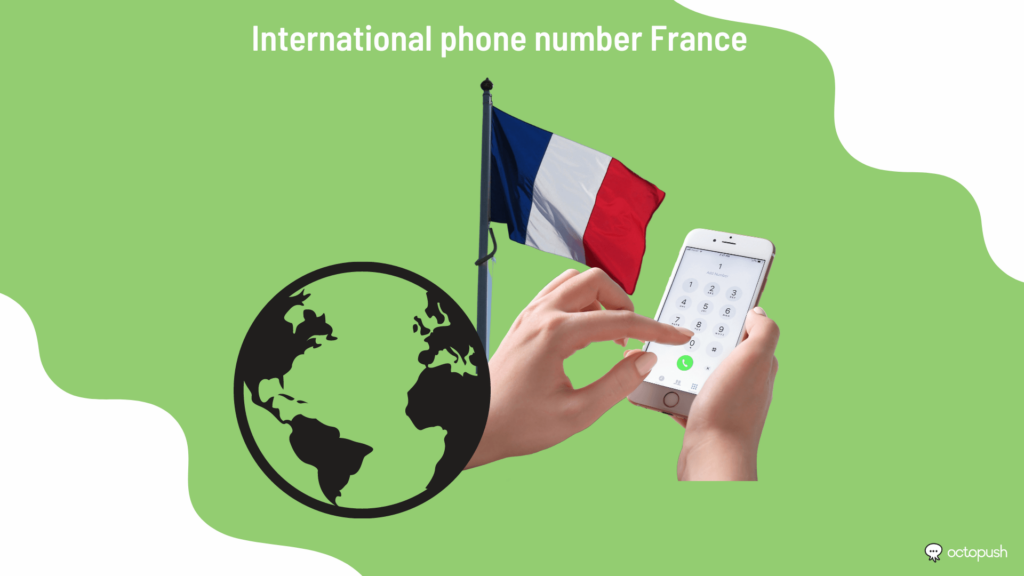 But first, what is an international phone number?
By definition, an international phone number is a phone number that can contact numbers from all over the world. If we stick to this definition, we could conclude that all numbers are international. However, this is not the case since normal numbers have this functionality, but are priced at exorbitant rates. This is not at all practical.
Hence the invention of the international virtual phone number. A number that is neither associated with a particular phone line nor a specific device. To communicate via this number, you no longer need a fixed line and a SIM card. The notion of an international virtual number comes from the fact that thanks to this number, you ensure international coverage. This is a considerable advantage for any company that is internationalized or wants to become international.
What are the features of the international virtual phone number?
International virtual numbers are able to provide all the normal functions of a telephone number. That is to say, mainly to call and send SMS. However, it should be noted that some providers focus on specific features.
For example, since companies mainly use virtual lines to send and receive SMS, at Octopush, we only focus on this functionality. With our services, your company will be able to easily rent virtual numbers to ensure a good conversational service.
Why use an international phone number to send SMS to your contacts in France?
First of all, note that communication by SMS is a source of many advantages for a company. Therefore, sending SMS remains your best option to ensure the deliverability and readability of your messages. Indeed, if you use other channels, such as social networks for example, it is possible that your customers, partners or other third parties do not even take note of your message.
Of course, using SMS as your main channel of exchange is not free. And sending messages to foreign contacts is not free either, it is even much more expensive when using normal numbers. Fortunately, there are currently virtual number rental providers offering affordable prices and providing quality services. One of them is Octopush.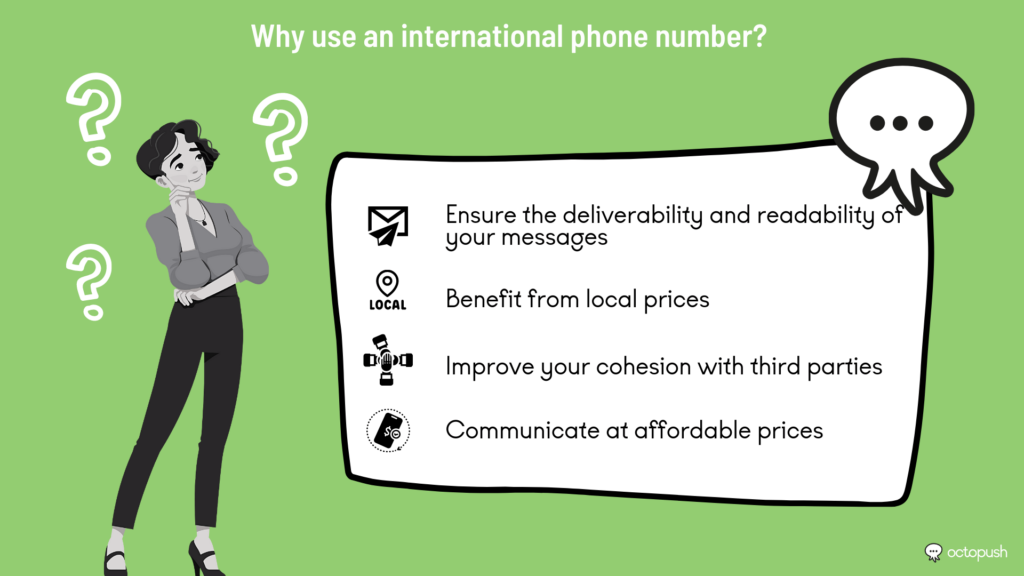 Ensure a much better cohesion with your international third parties thanks to Octopush's international phone number
Are you looking to internationalize your business? You certainly need to contact international third parties often. If you want to be sure to have a good conversation with them, we advise you to use Octopush's international SMS numbers.
Indeed, going through us allows you to be sure that your message will be read. But the chances that your third parties will answer you are also enormous. Whether you are looking to retain your customers, attract new prospects or negotiate a new contract, the international virtual number is made for you.
Also note that with an international virtual number, you are more likely to gain the trust of your third parties. In case you are looking to promote a new offer in your store to one of your customers for example. With a virtual international number, you can take any nationality and use it exclusively. Your customers will never associate your message with a scam or any other act of bad faith. Hence, the perfectly established relationship of trust between you.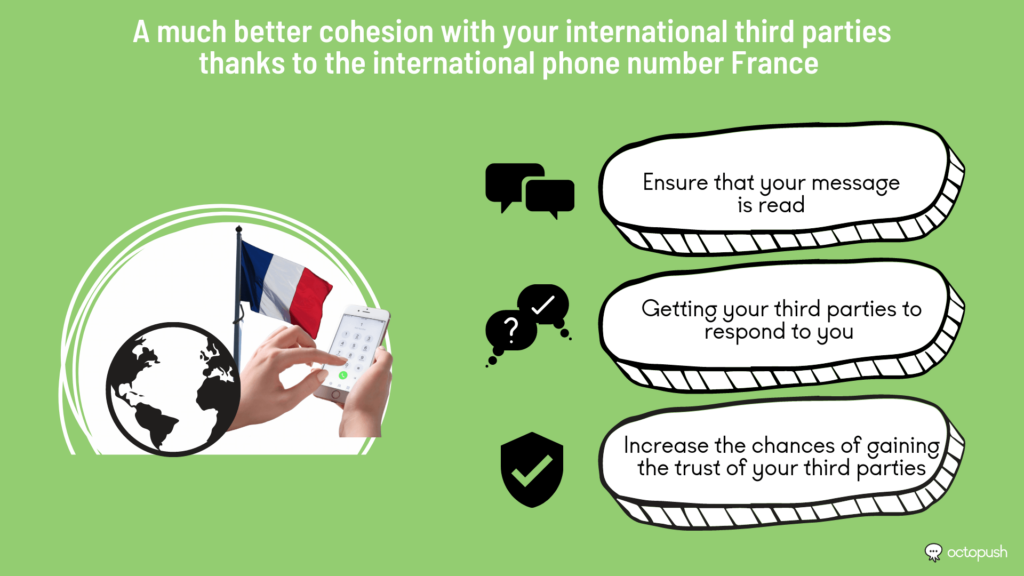 Benefit from a much more economical communication solution, for you and for your third parties
By opting for the phone number of a particular country, Switzerland for example, you benefit from sending at the same price as for sending to that destination. Therefore, you remove the notion of international rates when sending your messages. And this advantage goes both ways. Your customers, your partners, your prospects, they will also be able to contact you with normal sending rates. They will not be obliged to pay a few extra euros, even if your headquarters are in France.
Thanks to this much more economical solution, you will be able to ensure a formidable and interactive conversational service. Your messages will no longer be one-way and you will be able to build a much better relationship with your third parties. Especially if you are an internationalized company.