To bypass SMS verification, the France disposable number is a solution to consider. Are you tired of sharing your personal number everywhere? Are you currently looking for a way to bypass SMS verification on some merchant sites?
You've come to the right place. Find out to what extent you can bypass SMS verification with a disposable number.
Please note that at Octopush, we do not offer rental services for disposable numbers. We only talk about it for information purposes.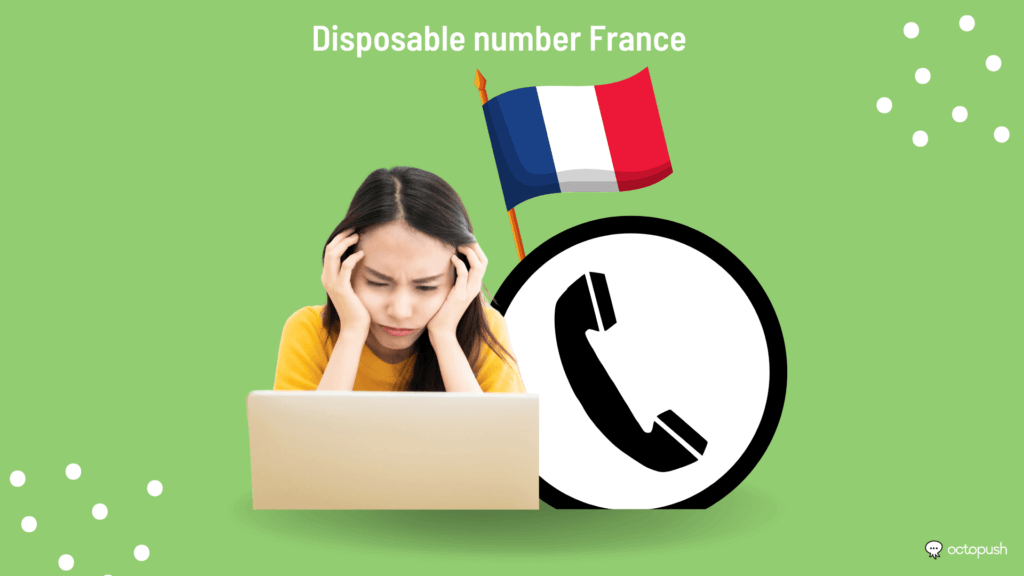 Why bypass SMS verification with a disposable number?
Nowadays, the telephone channel is surely one of the most advantageous channels for advertising. With a simple phone number, a business can easily bombard its customers with promotional offers and advertising spam. This is far from easy for them on a daily basis.
However, for companies, getting the phone numbers of their customers is not as difficult as it used to be. Indeed, most online platforms require that a phone number be provided for the smallest registration. The most naive will go and give it to them, without suspecting the thousands of advertising SMS that await them.
Fortunately, the solution exists: the disposable phone number France. A number that anyone can easily get hold of to bypass the SMS verification step at each registration.
What is a disposable number?
To make it short, a disposable number in France is a phone number that can be used temporarily. In other words, this number is only functional for a certain period of time (from 10 minutes to several weeks of use). Provided that the user still needs it. Logically then, it is a temporary virtual line that can be easily deleted after its use.
Often, the disposable number is found in the form of a virtual number. That is, it is not directly associated with a physical device and a fixed line. It works mainly through the Internet. Thus, the use of a disposable phone number allows its users to easily consult SMS online via the platform of its dedicated provider. And in some cases, to also receive calls.
How to bypass SMS verification with the help of a disposable phone number?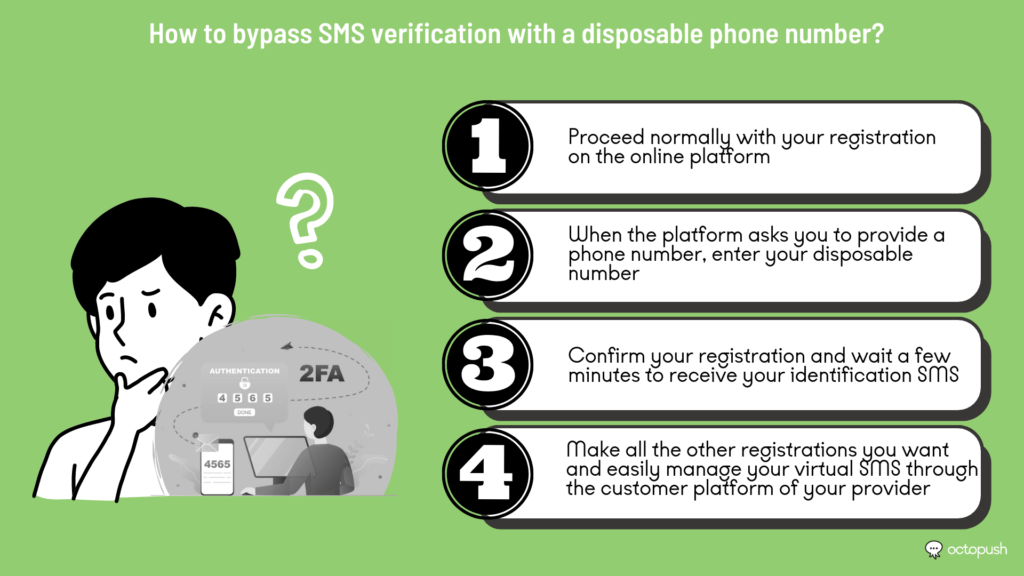 In order to bypass SMS verification with the help of a disposable phone number, you need to get it. This is extremely easy nowadays as there are several applications, platforms and providers that can do this. Once the disposable number is obtained, the steps to follow are extremely simple.
Step 1: Proceed as normal to your registration on the online platform (If needed, remember to also create disposable emails or protect your payment method).
Step 2: When the platform asks you to provide a phone number, enter your disposable number. This will allow you to keep your personal number out of reach of spam.
Step 3: Confirm your registration and wait a few minutes for your identification SMS. Be careful! If you follow the logic correctly, you will not receive your confirmation SMS on your phone, but on the platform of your disposable number provider.
Step 4: Proceed to all the other registrations you want and easily manage your virtual SMS through the customer platform of your provider. When you no longer need your disposable number, feel free to delete it.
Where to get such a number?
As mentioned earlier, a disposable number can be obtained very easily in France. With a few clicks, you can indeed come across hundreds of applications, providers and suppliers of disposable numbers. But although most offers seem to offer the same features, some providers are much more interesting than others.
For example, you might be tempted to think that free disposable number providers are the best options. However, these then charge for each use of your number. Others try to charge you both your registration and a monthly subscription fee.
At Octopush, we do not offer disposable numbers for rent!
Note that even if we decided to talk about disposable numbers, at Octopush, you will not be able to rent any. Indeed, we only allow you to rent virtual phone numbers.
What are its other uses?
In addition to helping you avoid any leakage of personal information, the disposable number can also be used for several other things.
For example, if you are the kind of person who likes shopping sites and you want to keep yourself informed about new offers, this solution is perfect. Seeing your SMS inbox saturated with spam is not nice, but having a second virtual line filled with promotions and offers is.
With a virtual disposable number, you can receive as many promotional offers as you want. All this, without your private SMS messages and promotional SMS messages getting mixed up.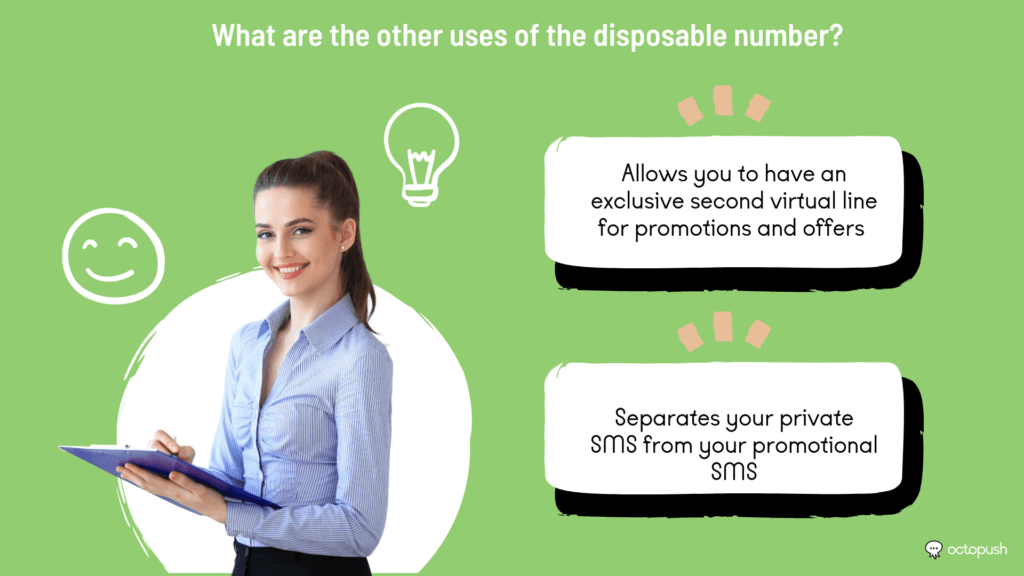 This second line exclusively reserved for promotions can really change your life. Especially if you are a fan of trading platforms such as Vinted, LeBonCoin, Cdiscount, etc.