Thanks to the existence of French virtual numbers, the optimization of a conversational service with these third parties becomes easier and easier. Indeed, mobile telephony allows companies to benefit from several marketing and financial advantages. Firstly, to interest prospects, but also to build customer loyalty. Thus creating a service, prospecting and a telephone reception is always more effective.
The questions that arise here are therefore : How to optimize its conversational service with a virtual number? What are its advantages? We propose you to discover it immediately through this complete file on the subject.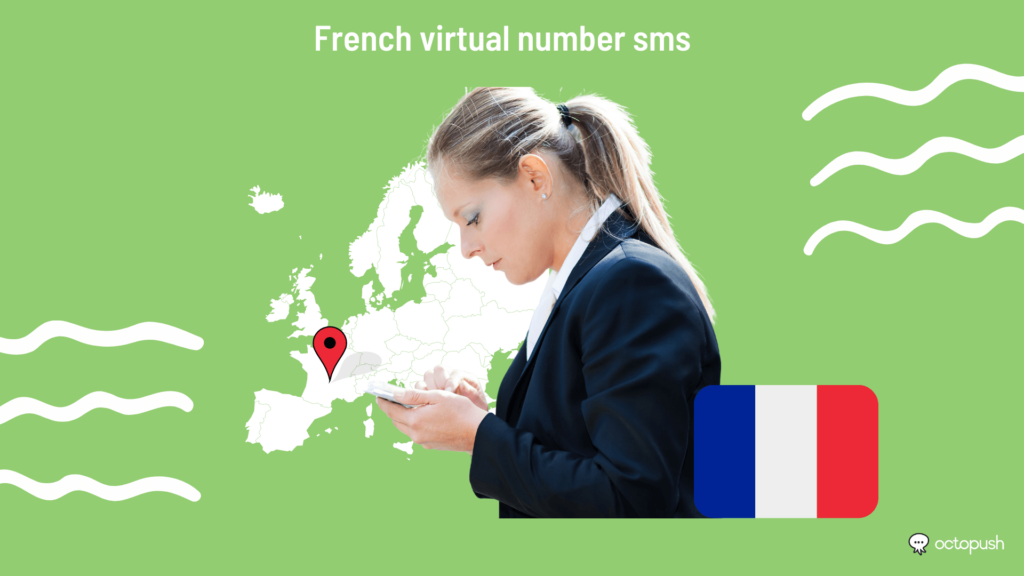 What is a virtual phone number?
By definition, a virtual number is physically attached to a single line. If in principle, we only associate a phone number to a smartphone, the virtual number is an exception. Indeed, the users of these phone numbers have the choice between a set of phones, tablets and computers. And this, regardless of the geographical location of these devices. But only if it is possible for them to connect to the Internet.
Often, the ability of virtual numbers to redirect and centralize calls is considered its main function. But not only that, since a virtual phone number offers several other features.
How can a French Virtual SMS Number help a company?
Within a company, succeeding in creating a relationship with its customers is of paramount importance. Indeed, it is not just to sell a product, but also to give desire to the buyers to repurchase. Without forgetting that being appreciated by your customers also allows your company to be highly recommended. In particular with relatives, acquaintances and the entourage of already acquired customers.
In short, a company has everything to gain by ensuring its proximity with customers. This is why having a French virtual SMS number is a considerable asset. To build this relationship and this proximity with the customers, there is nothing better.
Also, note that a conversational service based on a virtual number also helps to ensure better time management. Indeed, the platform provided to carry out the conversations is equipped to ensure a smooth conversation with low latency. This ensures that the customer and users are not quickly lost.
What are the marketing benefits of using a virtual number?
A direct exchange with your prospects and customers
Since the French SMS virtual numbers allow you to ensure a good conversational service, their use helps you to exchange directly with your prospects and customers. Currently, the use of the Internet is extremely popular. However, by using the web to communicate with your customers, you can never be sure that your message will be opened. After all, the read rate of virtual messages is approximately 2%.
On the contrary, figures show that a received text message is mostly opened and read.
Smoother communication
Normally, the use of a local number helps to eliminate phone line problems. This allows a company to fluidify its communication. Following this logic, in order to have smooth communication, you need to have a local mobile number for customers and prospects who are not in your country. And this is not very economical. To avoid this situation, the use of a mobile line allows you to get in touch with various audiences in different countries.
An international coverage
Logically, for a virtual number, the notion of geographical limit does not exist. It is therefore perfectly possible for you to engage in a conversation with prospects and customers from all over the world. By choosing the right numbers, you will be able to reach different European countries such as Spain, Germany, Switzerland, United Kingdom, Poland, Belgium, etc.. But also the US and Canada. You won't need a VPN when using our services.
However, it is important that you note that a French virtual phone, as its name may indicate, only allows you to contact French numbers.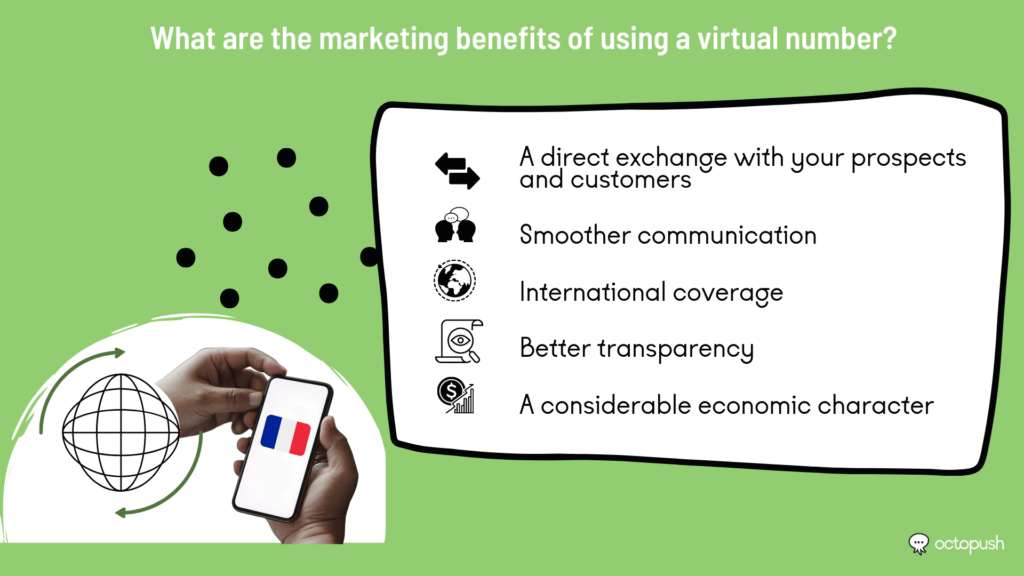 A better transparency
Being a versatile service, the use of a mobile virtual number allows you to centralize all your conversations on a single platform. Allowing you to have regular conversations with those who want to.
A considerable economic character
Finally, note that thanks to the various advantages mentioned above, this cell phone service is economical. Indeed, SMS and calls are charged at local prices.
How to create a virtual phone number for your company?
To have a French virtual phone number, you just have to contact a specialized phone operator, in this case, Octopush.
Choose the locality or the country of your French virtual number
Choose among the available virtual numbers
Use Octopush's special platform to manage all your conversations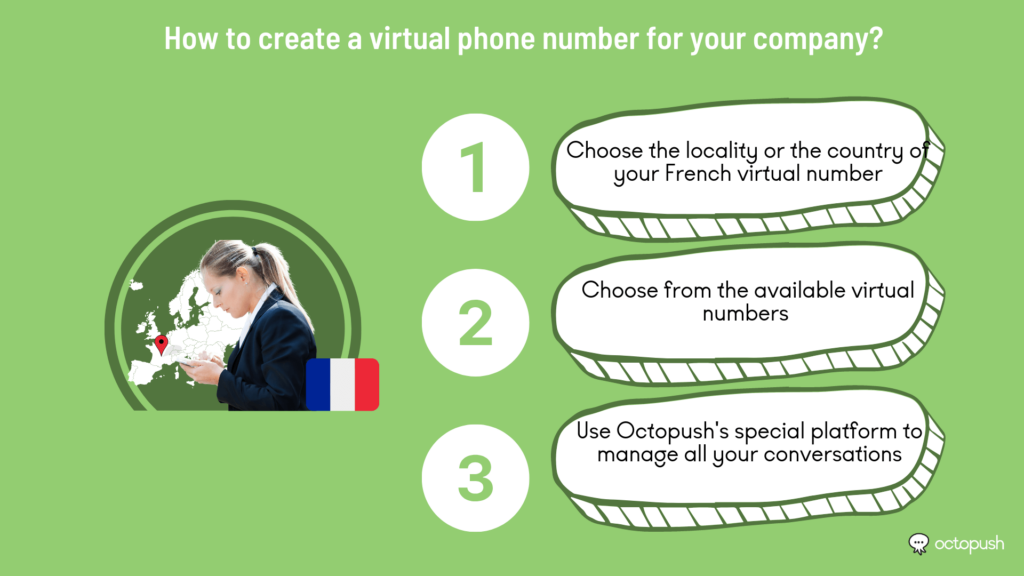 Rent your own mobile line to benefit from a great conversational service!
To perfect your customer service process based on SMS, mobile telephony has nothing but advantages. So don't hesitate to rent your own mobile line.