Currently, the use of a virtual number sms is more and more popularized. And this, even if they are not the modes of communication which I miss nowadays. Why is this? Because everyone manages to benefit from it, whether it is companies or individuals.
If it is so easy to use the Internet to communicate with your customers, it is not always the most efficient way. By using the web, you can never really be sure that your virtual message will be read. That's why, at Octopush, we recommend the use of sms to converse with customers. A method that ensures 98% of messages are opened and read.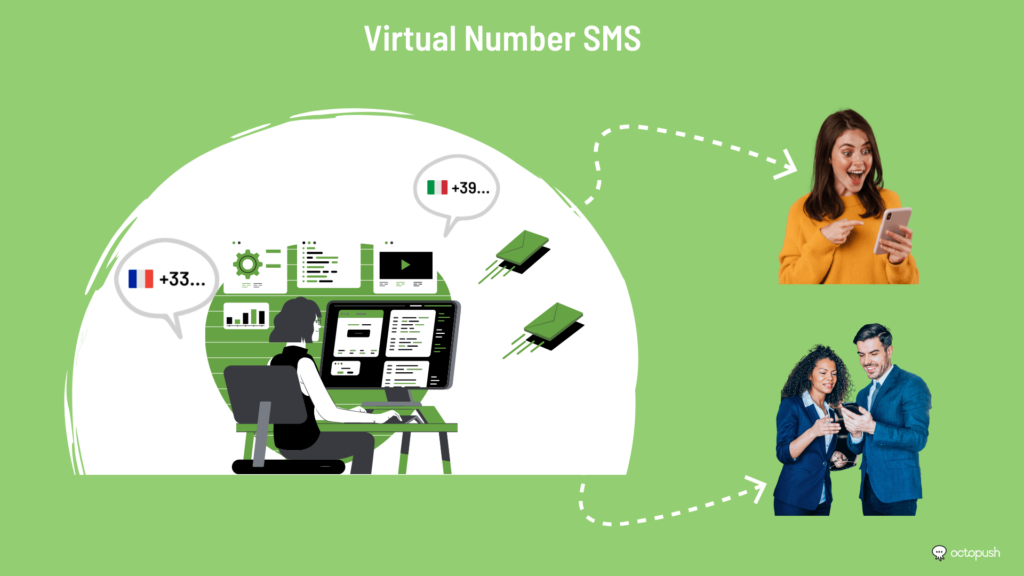 What is an Octopush virtual sms number?
At Octopush, we allow our users to easily and quickly rent a mobile line. In other words, we provide a virtual number which, unlike a traditional number, is not linked to a unique line.
Normally, with this kind of number, your company has the possibility to have various functions. In particular, you can receive and make calls, send sms and many others. However, at Octopush, we mainly recommend the use of our virtual sms numbers to send sms. Sms allows a company to ensure a good relationship with its customers.
In the case of Octopush, a virtual sms number is a number that allows you to receive and send sms messages immediately. And this, in order to ensure a good conversation, whether with customers or suppliers. An innovative solution that will allow you to ensure a good conversation with your third parties. And therefore, in a way, help you improve your results financially speaking.
Contact your third parties easily with the help of a virtual sms number
As you may have understood, the use of a virtual sms number will be of great help for your business. Mainly, for the good reason that by sending sms directly to your third parties, you make sure to contact them directly. There is therefore a notion of proximity and direct relationship with customers and suppliers.
If your goal is to build a formidable conversational service with your customers, prospects or suppliers, do not neglect the use of the virtual number sms.
Also, it is important for you to note that Octopush's sms sending services are favored by the simplicity of the platform used. By subscribing to one of our offers, our conversation and exchange platform is at your disposal. This will allow you, once again, to get closer to the customers and third parties that you would like to charm.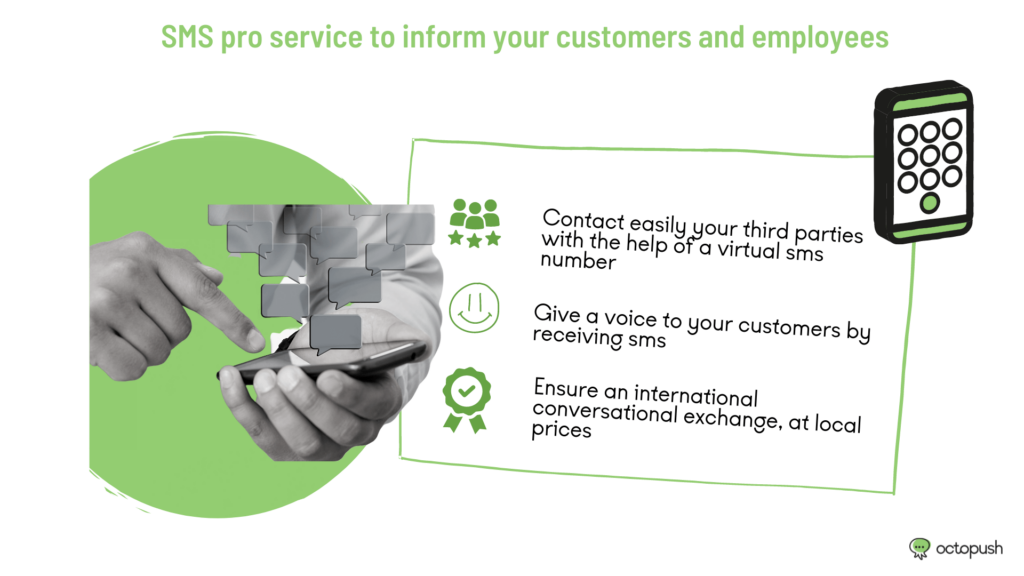 Give your customers a voice by receiving SMS messages
In addition to allowing you to contact them directly, you should know that having a virtual sms number in your possession also helps your customers to contact you. In business, we all know these problems of standardization, calls to wrong numbers, etc..
That's why, here again, we aim to make your life easier with our virtual sms numbers. Numbers that can be easily registered by your audience, and that will allow you to receive all their sms without fail.
Instead of waiting for you to make the first move, your customers will initiate the discussion themselves. This will allow you to demonstrate that you have a good communication service with your customers. And at the same time, you are a company that listens to its customers. This can quickly turn to your advantage and be a huge plus for your company's reputation.
Ensure an international conversational exchange, at local prices
Last but not least, you should know that the cell phone we provide you with allows you to send sms in the four corners of the world. Indeed, at Octopush, you will have the possibility to create virtual phone numbers in many localities, 33 more precisely. You will not have any problem talking in all European countries like Switzerland, Poland, France, Germany. Not to mention the US and Canada which are the customers of many European entities today.
All this, at local prices.
Thanks to Octopush's cell phone services, you can contact whomever you want and wherever you want. And this, at a lower price. Ideal to help you make some savings.
How to get your own virtual sms number as soon as possible?
If you want to take advantage of the many benefits of virtual phone numbers, there is nothing easier. All you have to do is to make a quick registration on our platform and choose the service you want to use.
Then, you will be asked to specify the location or country of the number you want to acquire. We will then help you select a number from among the available virtual numbers. Finally, quickly choose the offer you want to subscribe to and you're done!
Nothing could be simpler, and yet nothing more beneficial to ensure a perfect customer relationship.