Thanks to the current technical progress, it is now possible to easily rent telephone numbers. In general, in mobile telephony, it is mainly virtual numbers that are rented. Since the use of virtual numbers is much more affordable and convenient, their rental is becoming more and more common.
It is therefore not surprising that there are so many providers and suppliers of virtual numbers. This explains why choosing one is not at all obvious.
So today, at Octopush, we propose you to discover how to find the best virtual number provider.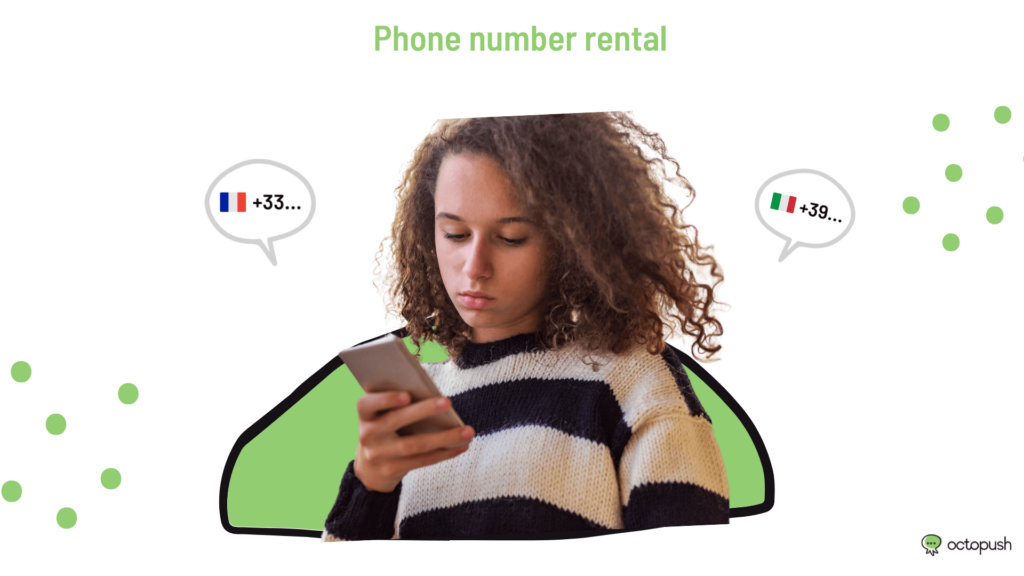 Phone number rental: what is a virtual number?
In short, thanks to virtual telephony, you no longer need a fixed line and a SIM card to communicate.
A virtual number is a telephone number that is not associated with any telephone line or specific device. In general, it is the companies that benefit the most from it. On the one hand to receive and make calls, on the other hand to receive and send sms.
However, it should be noted that the functionalities of this kind of phone number differ according to the chosen providers.
At Octopush for example, we focus only on sending and receiving SMS and notifications. Services that we believe are the most useful for businesses and individuals. To proceed with the phone number rental, please consider using our services.
Phone number rental: how to choose the right virtual number provider?
If at first glance, choosing a phone number provider may seem complicated, this is not really the case. Indeed, there are many providers, but the features they offer are very different.
In order to choose the best provider, you must first consider your needs. The question is: "Why do you need to rent a phone number? Once you have your answer, all you have to do is review all the features that the providers offer. And finally choose the one that suits you best.
Note however that some criteria allow some providers to stand out from the others. This will certainly make your choice easier.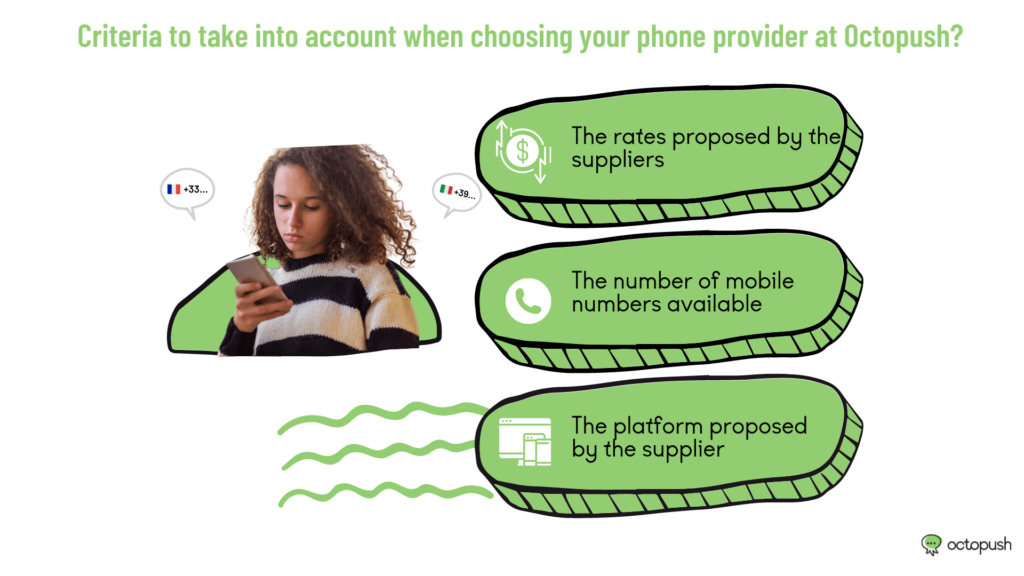 A possibility of international coverage
With the right provider, note that you have the possibility to ensure international coverage. Indeed, some virtual number rental providers give you the possibility to rent numbers all over the world. And this, regardless of where you are located.
So even if you are in Paris, you can rent a virtual number from Italy and use it in Paris. This is a great advantage for companies based in France, but with customers all over the European continent.
You can easily benefit from this advantage by calling Octopush to rent your phone number.
Indeed, we offer our users more than 33 locations of numbers. Not to mention that our users are subject to exclusively local rates. In other words, the sms you send with your Swiss number will be charged at Swiss sms prices (even if you are in France). So you can easily develop your international business.
An affordable but justified rate
In mobile telephony, the choice of a provider is often based on the rates he offers. Logically, companies are looking to spend less, while enjoying the best services. That's why, when choosing a provider, it's better to consider both the price and the quality of services.
At Octopush, the rates we propose are totally justified. Indeed, by calling us, for the phone number rental, you have many advantages and an outstanding quality of service. First of all, because we offer you a dedicated platform that allows you to manage as many virtual numbers as you want. Not to mention that you can choose from no less than 33 virtual number locations and you can. With the bonus of customer service constantly at your disposal.
To benefit from all this, you just have to pay a setup fee on the system. Then, you will only have to pay monthly the rental of your number. Then choose the package of the offer you are interested in and you're done! The service is offered on a subscription basis, so no worries, once in place, you don't have to worry about it anymore, you just have to work.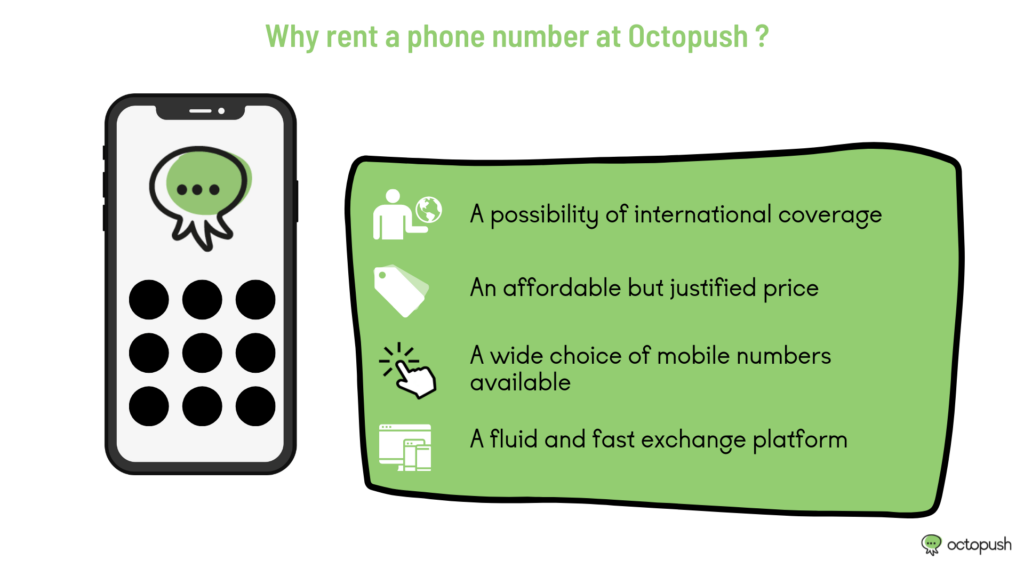 A large choice of mobile numbers available
As a bonus, opting for a provider with a large choice of available numbers could also be useful.
With Octopush for example, when you create your account, you have an unlimited number of phone numbers.
You will be able to rent as many virtual numbers as you want, from a single account. Virtual numbers that are easy to manage from your customer area or from your company's application via the SMS API that we offer.
A fluid and fast exchange platform
Finally, you should know that ease of use and fluidity are also important in your choice of phone number rental provider.
The idea here is that your user experience should be as pleasant and smooth as possible. This way, you will be able to take full advantage of the benefits offered by the use of virtual numbers.