Contrary to what we think, sending and receiving sms are the main features of the use of virtual numbers. This is not at all surprising since currently, the use of sms in marketing and communication is increasingly popular.
Sending and receiving SMS via virtual numbers are indeed phenomenal sources of benefits for its users. This is why we, at Octopush, have decided to focus on this service.
Receiving and sending SMS for conversational purposes, you wonder how it works? Find out with us through this article.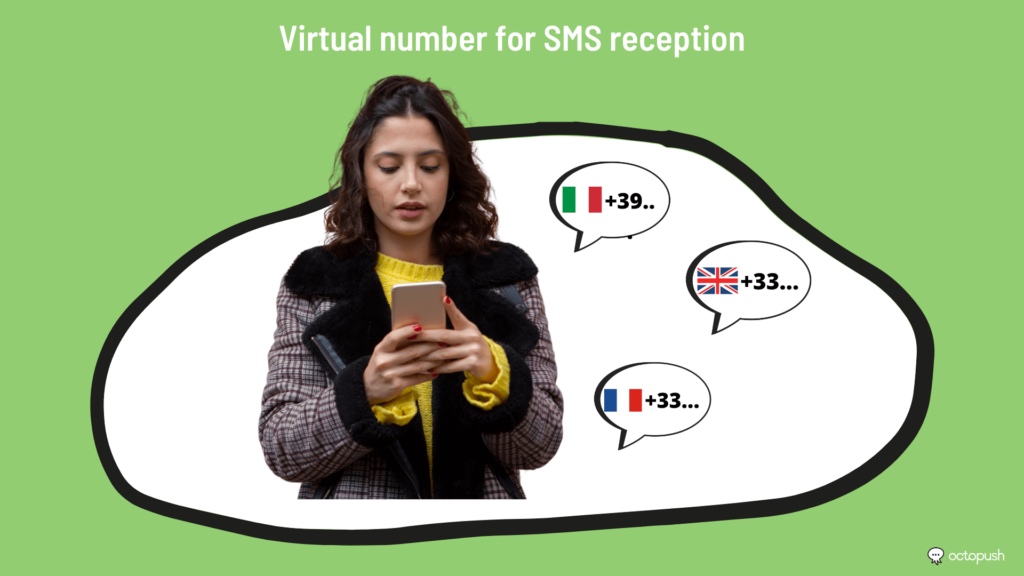 What is a virtual number?
The term virtual number is associated with a phone number that is not connected to any fixed line or specific device. Its operation is based mainly on the use of information systems. This will considerably improve the fluidity and speed of your communication.
Virtual numbers offer several features to its users. However, virtual mobile lines are most often used by companies to send and receive sms, as well as notifications. This sending and receiving is made possible thanks to the virtual number rented and operating on the basis of internet connection.
Virtual number SMS reception: how does it work?
Often, to ensure the fast and smooth reception of sms, companies use virtual phone numbers. Most of them are associated with a sms reception platform in order to really ensure this fluidity is so sought after.
In order to receive sms from your contacts as virtual messages, the steps to follow are simple:
Create your virtual phone number
First of all, to receive a virtual sms, you need to create your virtual number. To do this, start by choosing an operator or a provider. This one will proceed to the creation of your unique virtual phone number, which you will be able to use to receive and send virtual messages.
Among the existing operators, Octopush stands out. Already thanks to the extremely affordable prices that we offer, but also thanks to the reliability of our services. Note also that there is nothing easier than renting a virtual number with us. Firstly, because we provide you with a list of available numbers. Secondly, because these numbers are from more than 33 locations. You can easily receive messages from all possible destinations.
Share your virtual number with your contacts
Once you have your virtual phone number, all you have to do is share it with anyone who wants to communicate with you. In particular your partners, your suppliers and especially your customers. What is interesting about Octopush is that our specialized platform allows you to import all your contacts. You will not have to integrate everything yourself.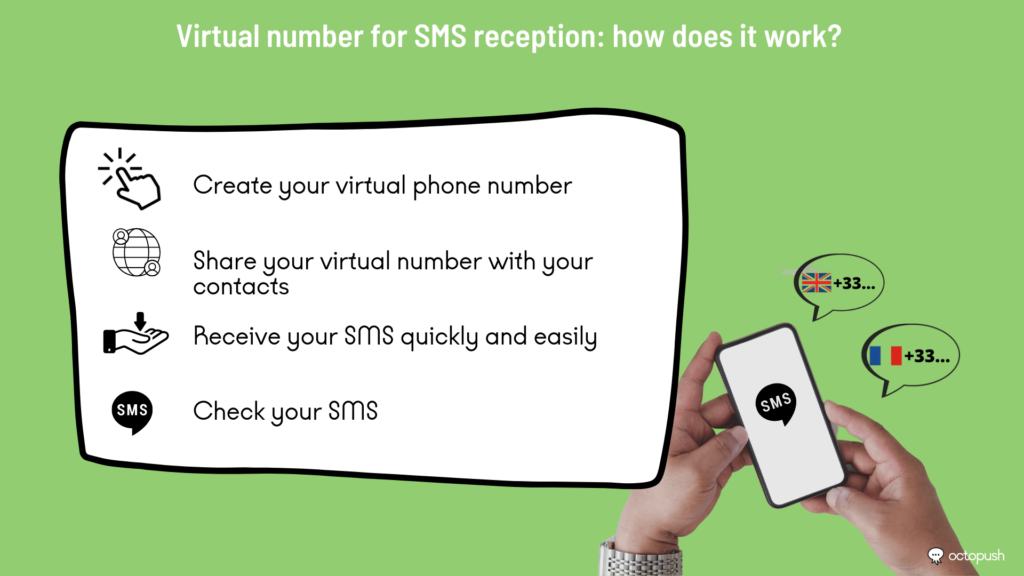 Receive your sms quickly and easily
Now that everything is in place, thanks to Octopush's sms reception platform, all you have to do is receive all your virtual messages quickly and easily.
In this way, you will be able to have an excellent conversational service to get closer to your customers and to keep them loyal. At the same time, you can also take advantage of it to attract prospects and turn them into loyal customers.
Check your sms
At Octopush, the messages you receive are directly stored on our platform. To consult them, you just have to connect to your customer area and that's it.
Why use a virtual number from Octopush to receive SMS ?
The use of virtual phone numbers to receive sms helps you to benefit from several advantages. One of them is to get a flexible and economical service to receive SMS from your customers and create a link with them.
What's more, at Octopush, you can easily rent a virtual number to send and reply to sms at local prices in more than 33 destination countries. And this, via a dedicated, unique and exclusive reception number that you will be able to choose among a large choice of available virtual numbers. Ensuring a real-time sms reception service that allows you to have an impressive conversational service.
All this, without forgetting that you have the possibility of receiving unlimited sms, without storage fees and that all messages received for a number are collected and managed automatically.
In short, by opting for our services, you are assured of using a reliable, high quality SMS reception service that is available 24/7.
Virtual number SMS reception: how can a company rent a virtual number with Octopush?
By renting a virtual phone number from Octopush, you will be able to easily receive SMS on your account's customer area.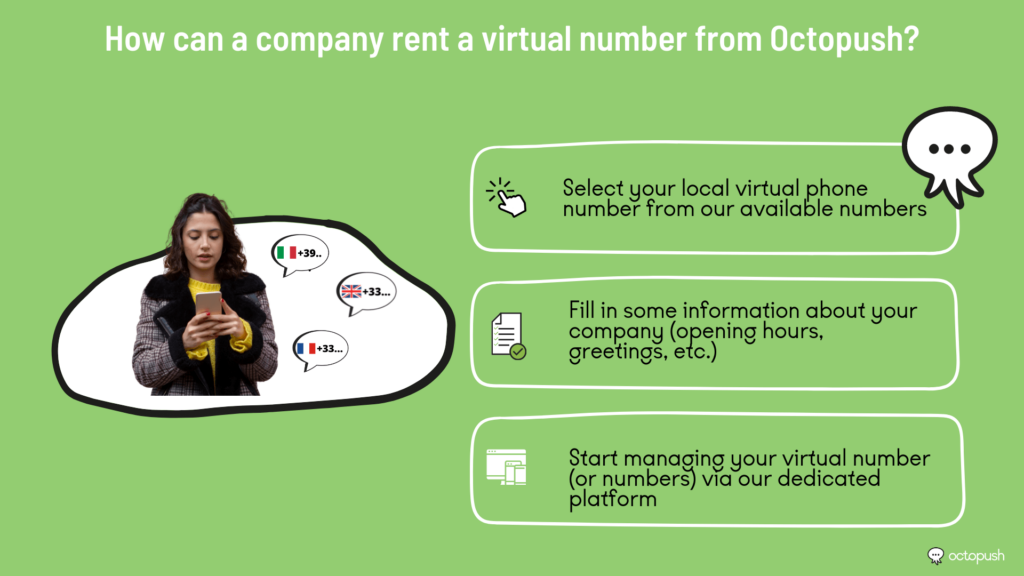 To rent your number with us, the steps to follow are simple:
Select your local virtual phone number among our available numbers
Fill in some information about your business (opening hours, greetings, etc.)
Start managing your virtual number (or numbers) via our dedicated platform