To be more efficient in your company, knowing how to separate your professional life from your personal life is extremely important. This is especially true for employees in charge of customer relations who need to converse regularly with customers. This is why companies are currently rushing to use virtual numbers. Indeed, virtual numbers allow you to send sms with a number other than your personal number.
At Octopush, you have the possibility to rent as many virtual numbers as you want. This way, your whole team will be able to take advantage of it to gain efficiency and effectiveness.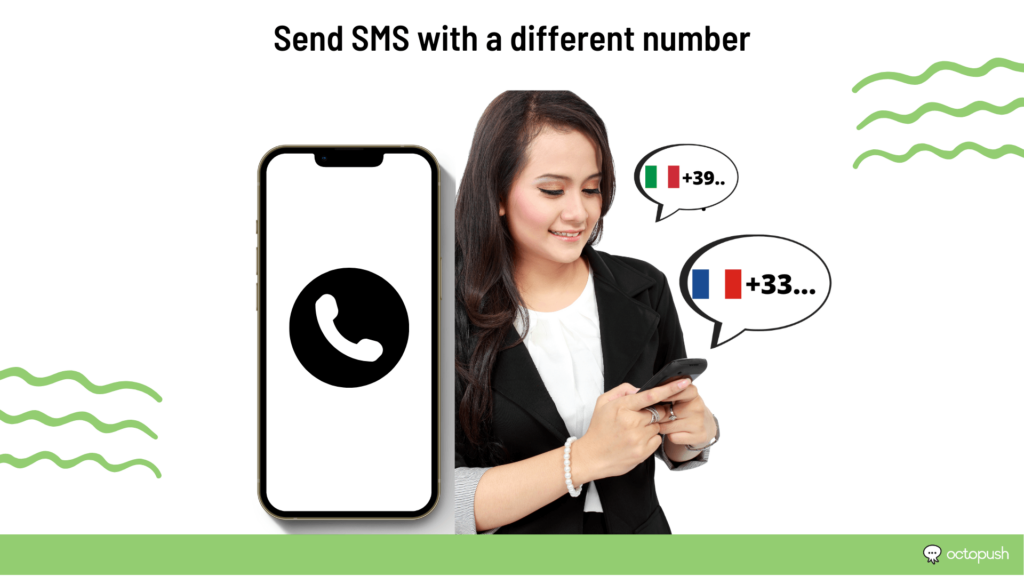 Why send sms with another number?
There are many reasons why you might want to send SMS with another number. But the need for a clear separation between professional and personal life is one of the most frequent reasons. In fact, it is all a question of organization. Using a single line to receive both personal and professional messages can be extremely counterproductive. As a result, your entire team will not be effective, efficient or focused.
And let's not forget that there are many more advantages to using virtual numbers. For example, we can mention the fact that it allows your company to manage the customer relationship in an efficient way. So much so that your response time decreases and you will be able to build a close relationship with all your customers.
In short, sending text messages with another number is sometimes necessary, even mandatory. If you want your company to be able to manage its customers properly, renting virtual numbers is highly recommended.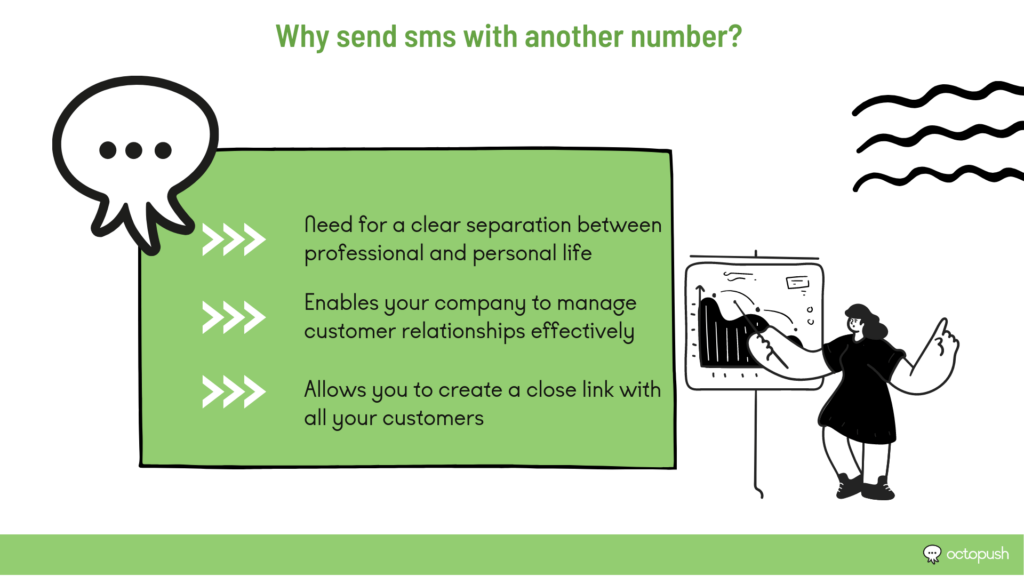 But what is a virtual number?
By definition, a virtual phone number is a number that is not directly associated with a single phone line. Many features can be associated with the use of a virtual number. Notably calls, but also messages.
However, at Octopush, we prefer the use of virtual numbers for sending sms.
Generally, a virtual phone number is a secondary phone number that allows its users to protect their privacy. It is indeed possible to rent a virtual number without betraying your identity. That is, to send sms with this other number, without going through an operator. But through specialized service providers like us, Octopush.
Why opt for an online sms service from Octopush to send sms with another number?
Thanks to a virtual number, you have the possibility to receive and send instant sms messages to your customers and suppliers. At Octopush, it is this conversational service via sms that we mainly recommend.
This solution allows you to rent virtual numbers in France, but also abroad. We put at your disposal no less than 33 localities, allowing you to send sms with another number abroad. In this sense, if you are looking to send international messages, we are the right provider for you.
If our conversational service is so appreciated, it is because at Octopush, we also make sure that your communication is fluid. Indeed, our dedicated platform is at your disposal to exchange easily with your third parties. This is the way to create and establish a relationship of trust with your customers and partners.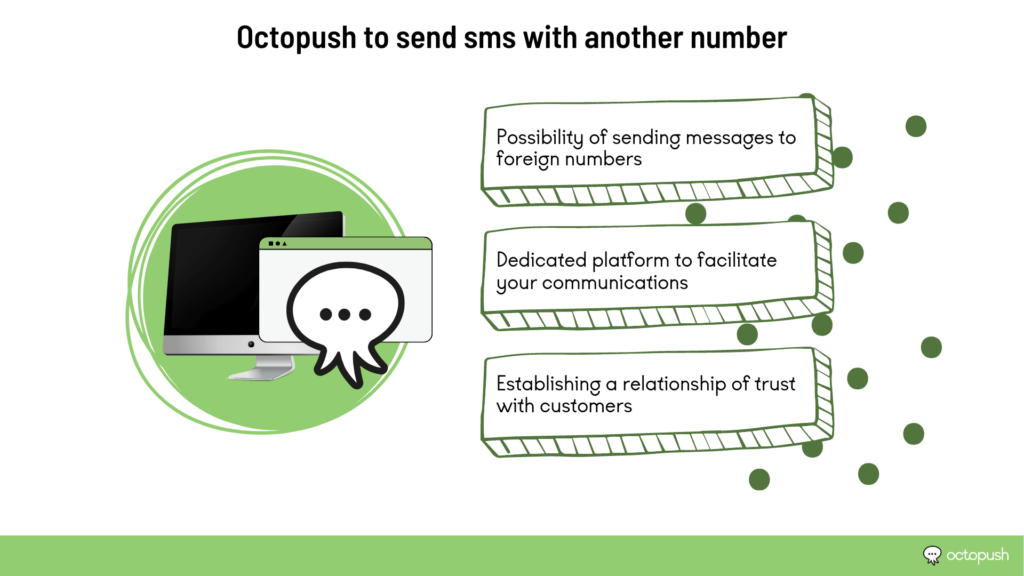 Moreover, note that the establishment of a trustworthy relationship can only be done by sending messages via a foreign number. For example, if you are in France and you want to exchange with a Belgian, your French number will not inspire him to do anything good. On the contrary, with a Belgian number, you can easily gain the trust of your customer (or partner), since your number is local.
In short, to keep your anonymity, while establishing a good relationship with your customers, consider the idea of sending sms with our virtual numbers is essential.
How to rent your virtual number to send sms with another number?
As you can see, to send sms with another number, using a virtual number is the best option. At Octopush, we allow you to rent yours at unbeatable prices.
Moreover, with the creation of a single account, you have the possibility to rent several virtual numbers at the same time. A significant advantage to make your internal and external communication even more fluid.
In any case, to get your virtual number and send your anonymous messages, a registration on the platform is necessary. Then, you will just have to choose the locality of your number (or numbers). Finally, a list of available numbers will be displayed and you will just have to choose the one that suits you best. As a last formality, you will have to choose the sms offer you want to subscribe to.