Having a phone number on the internet means having many advantages in terms of communication and marketing. Often, when we talk about phone numbers on the Internet, we are talking about virtual numbers. A communication channel that is becoming more and more popular nowadays, whether it is with companies or individuals.
By definition, a virtual number is a number that works exclusively through the Internet. To use it, you don't need a phone line or a SIM card. What makes virtual mobile telephony so versatile is that it is accessible on any type of device with an internet connection.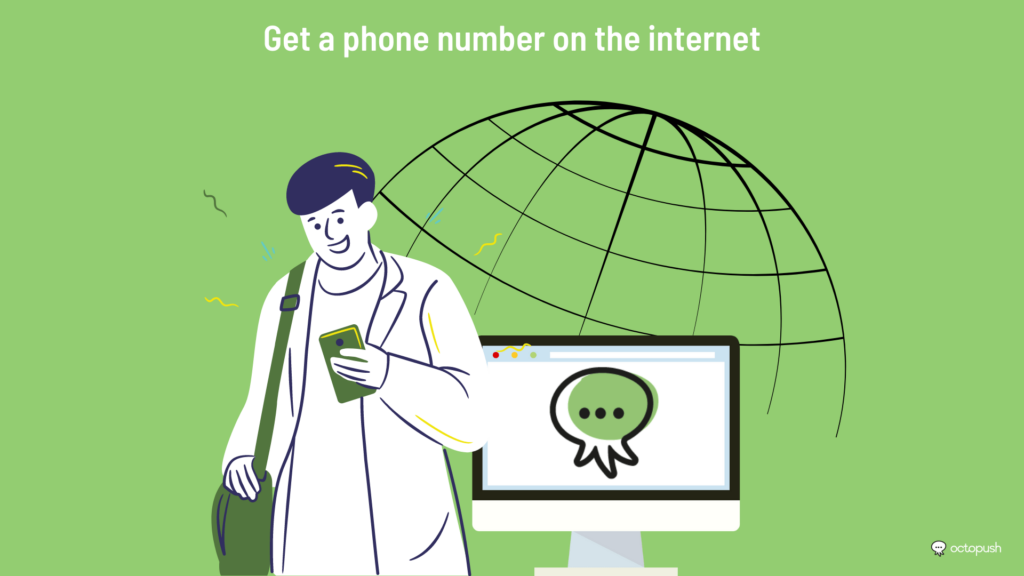 But how do virtual phone numbers actually work?
Thanks to this technology, it is possible to make a call via a high-speed internet connection rather than via an analog phone line. The way SMS messages are sent and received on virtual numbers follows the same logic, as do the most popular messengers like WhatsApp or iMessage.
When a user makes calls or sends SMS via a rented virtual number, they are connected to the internet and to the conventional telephone networks in their contact list. The numbers in question are access numbers that are secure and can be used without being directly connected to a device. Hence the fact that virtual phone numbers are not linked to phones or SIM cards.
Virtual telephony also works internationally. This is one of the reasons why this communication channel is so popular nowadays. Especially with companies that use it to internationalize their communication.
So, more concretely, how to use a phone number on the Internet?
The interesting thing about virtual numbers is that they are very easy to use. To get one or more of them, you need to :
Find the right virtual number provider
First of all, you have to choose which provider you want to order your virtual number from. There are currently many providers, so you are spoilt for choice.
In any case, note that some criteria are to be taken into account much more. In particular the prices, but also the quality of the service. At Octopush for example, we make sure that our users are completely satisfied. The prices we offer are very competitive and our platform of use of the numbers promises a perfect experience of use.
Choose your virtual number
After choosing your virtual number provider, you will need to select a virtual number (or several if needed).
To order virtual numbers in bulk, Octopush is the provider you need. Thanks to our ergonomic, responsive and customizable platform, you can manage as many virtual phone lines as you want.
All you will have to do is to choose a number location and we will provide you with a list of available numbers for that country. Once you have made your selection, all you have to do is use the virtual phone numbers you have ordered.
Use one or more devices connected to the internet
Of course, to use your virtual number, you must use devices connected to the Internet.
At Octopush, all your SMS interactions can be done on any computer, smartphone or tablet. The condition remains the same, you must be online to communicate. You just need to access your customer area to contact whoever you want, whenever you want and wherever you want. What's more, we also provide you with our SMS API. A software available in any language, which can be integrated into your applications, pages and sites.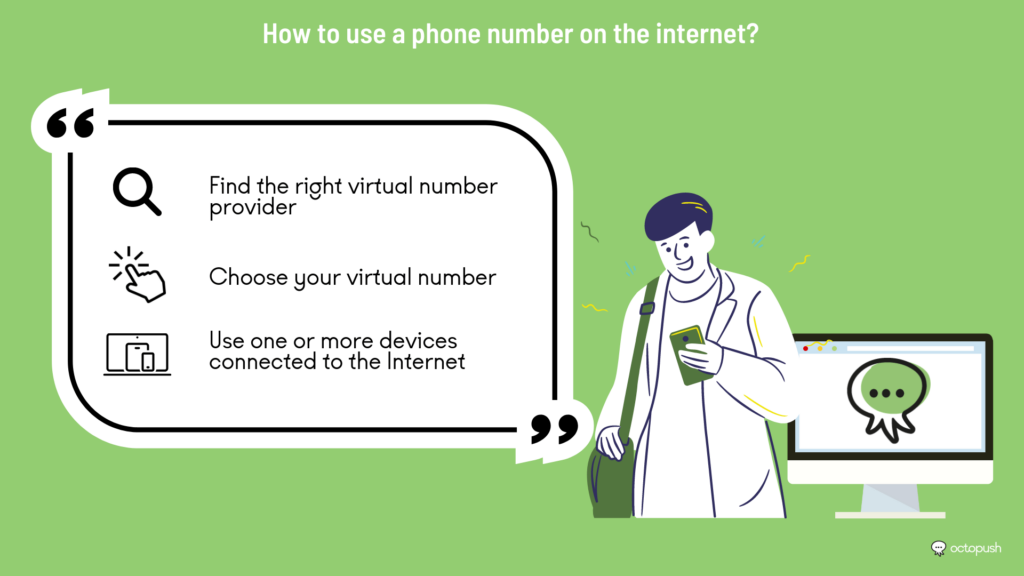 What are the advantages of using a phone number on the Internet?
Your company can easily have a local presence
You are a French company, but your customers are in Canada? Contact them at a lower cost thanks to mobile telephony. SMS prices remain exclusively local, whether you are sending or they are contacting you. All this, without forgetting the total confidence that reigns thanks to the local code that is displayed on your messages. This makes your interactions easier and smoother and considerably improves your relationship with your customers.
Your company saves in communication budget
Thanks to virtual telephony, you can say goodbye to having to have a phone for each number in your company. Your entire team can be contacted at any time virtually and vice versa. Not to mention that buying a traditional phone number is much more expensive with telephone operators.
Your company benefits from a much better image
By opting for the use of internet numbers, you will have the possibility to add some interesting features. For example, you can add welcome messages or certain forms of politeness. This will considerably improve your interactions with your customers, partners and other third parties.