The use of a disposable SMS France number is strongly advised to keep certain information safe. Indeed, nowadays, creating an online account has become the perfect excuse for sites to ask for confidential information. Including phone numbers that are often requested to validate the creation of an account, supposedly for "more security".
Of course, there was nothing wrong with that, until merchant sites started using phone numbers for commercial purposes.
Fortunately, there is a ready-made solution to protect your personal data: the SMS France disposable number. A solution that we do not offer at Octopush, but which is still interesting to know.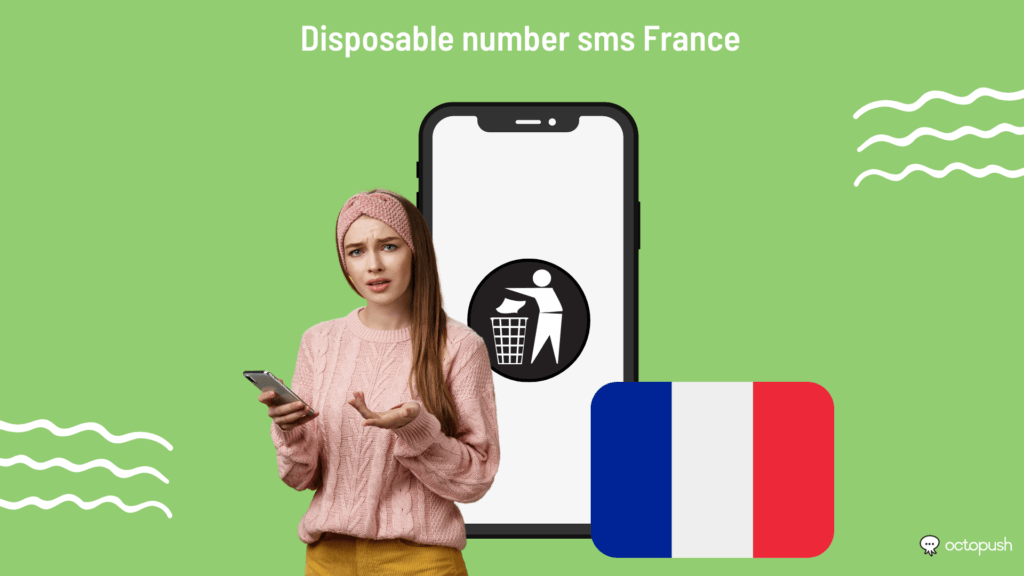 What is a disposable SMS France number or temporary number?
Better known as a temporary phone number, a disposable number is only available for a certain period. This period can vary from 10 minutes to a few days, depending on the needs of the person using it.
Through a disposable phone number, all phone numbers are shared and everyone can see the incoming messages. Its features are numerous and often very advantageous for those seeking to protect their privacy.
A disposable SMS France number, for whom?
If you really want to protect your privacy, the use of a disposable number is highly recommended.
Are you tired of giving out your cell phone number all over the internet? Are you tired of receiving SMS messages from advertisers all day long? Don't complicate your life anymore and opt for the rental of a disposable number.
What are the uses of the temporary number in France?
As mentioned earlier, disposable phone numbers are mainly used to protect the privacy of their users.
Most of the time, when you are asked for a phone number online, it is to authenticate your identity. In some cases, this authentication is necessary, especially for confidential sites like Facebook for example. After all, double authentication is much more secure than single authentication. You never know if your girlfriend has your password, for example.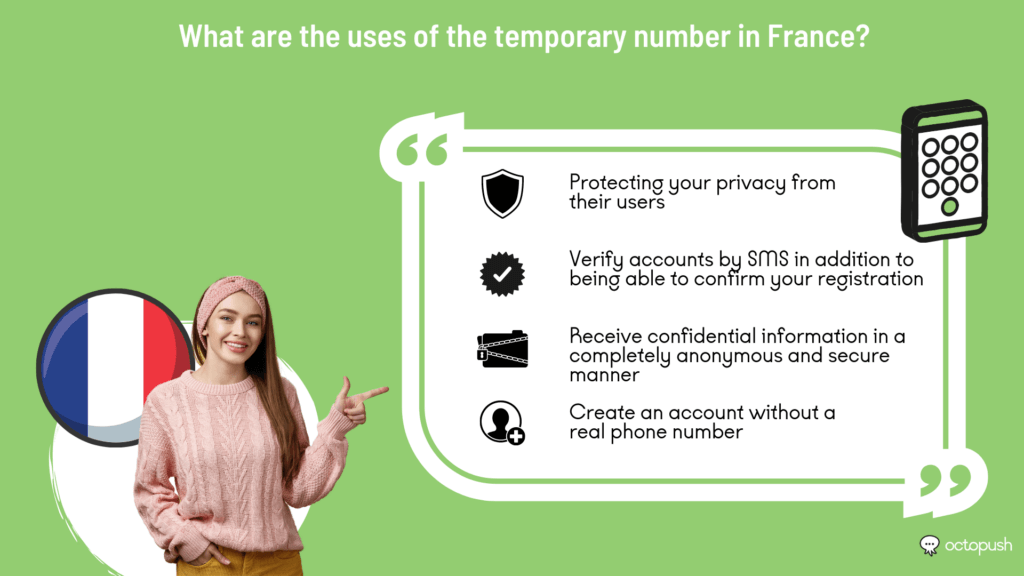 But for less important sites like shopping sites, a simple authentication is enough. So you don't need to use your real number, at the risk of being spammed with advertising messages. The solution? The use of a disposable phone number.
By creating your temporary phone number online, you have the ability to check accounts via SMS in addition to being able to confirm your registration. You will also be able to register accounts on various resources. Finally, you can also receive SMS messages with confidential information in a completely anonymous and secure way. 
Also note that with a disposable phone number in France, you can easily create an account without a real phone number. So, for more privacy, there is no better way.
All in all, for important services like two-factor authentication of your Facebook, Gmail, Instagram, etc. accounts, it makes sense to give your real phone number. But for trivial registrations, a one-time verification via your disposable phone number can be more than enough.
How to get a temporary or disposable number in France?
Nowadays, thanks to mobile telephony, there are many solutions to receive and send SMS online. All this, without you having to use your personal numbers. In order to get your disposable number in France for your online registrations in a punctual way, you just have to find the right provider.
For example, there is no shortage of disposable number creation applications and apps. Not to mention the existence of many providers who offer virtual number rental services, a perfect solution to get a temporary number quickly.
The concept is simple, you contact the provider of your choice to get your virtual number. Once you have rented your virtual number, all you have to do is provide the number to the service or person who needs a number for authentication. After that, you should receive the SMS you have been waiting for in no time.
Why opt for a virtual phone number with Octopush instead?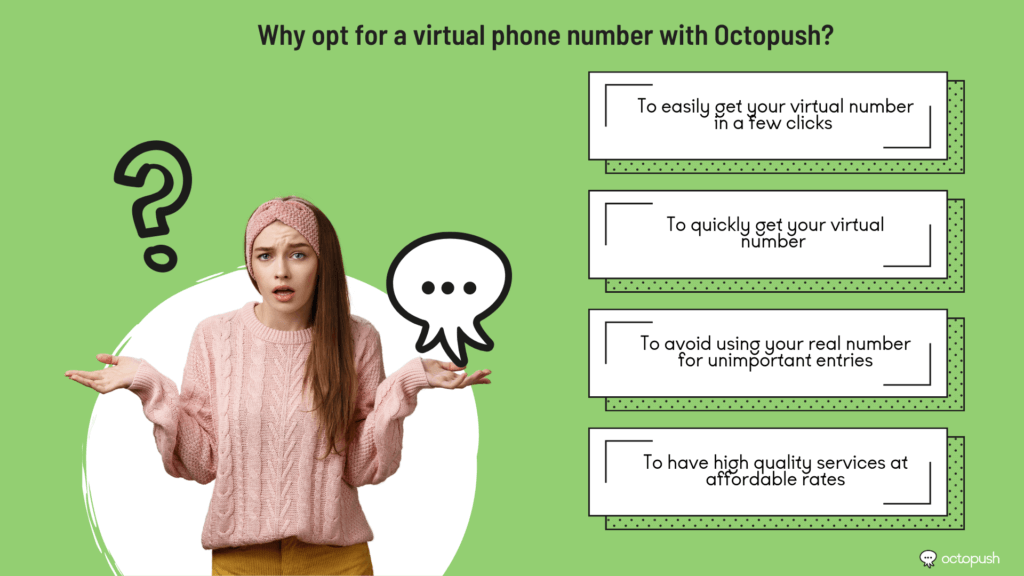 What is interesting with Octopush is that in just a few clicks, you can easily get your virtual number. Since we offer a virtual number rental service, you will be able to have your number for as long as you need it. This will easily protect your privacy since virtual telephony prevents you from using your real number for unimportant registrations.
Also, note that in addition to the traditional features of virtual numbers, Octopush's virtual numbers have the advantage of affordable rates. All this, without forgetting our very good quality service. Indeed, if with a traditional disposable number, your information remains accessible to all, the use of a virtual number with us guarantees the safety of your information.