Social networks, virtual numbers, instant messaging, collaborative platforms, etc. With today's technological advances, there is no shortage of communication methods. To manage their internal and external communication, companies are spoilt for choice. However, today, virtual mobile telephony is becoming increasingly popular.
Indeed, telephony offers many more advantages professionally speaking. Especially in business. So it's not surprising that companies are gradually turning to this "new" solution.
But what are the real advantages of virtual mobile telephony? Octopush answers you right now through this file.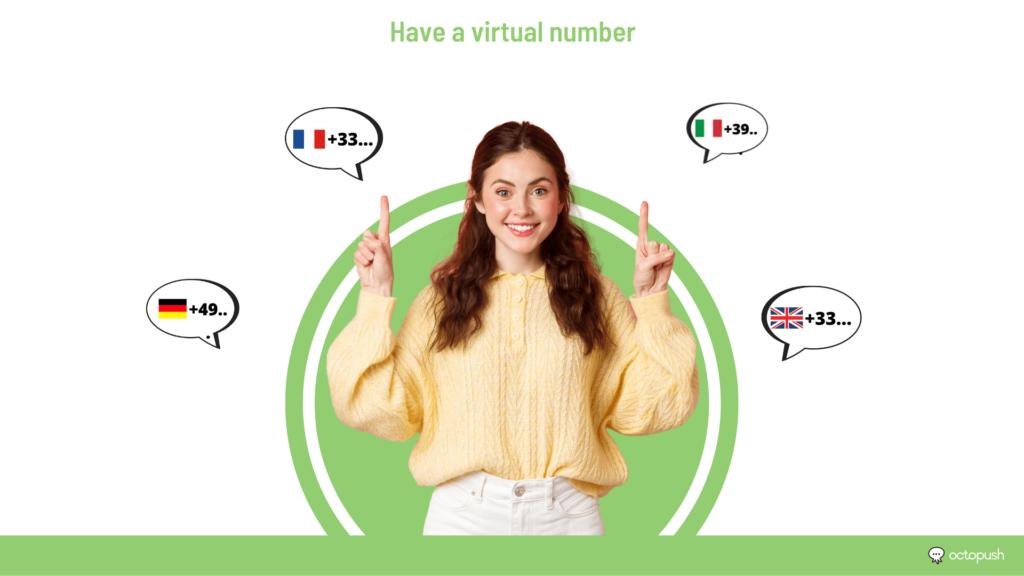 What is a virtual number?
Much more innovative than the classic phone system, the virtual number still benefits from its numerous advantages. Particularly its ability to directly contact phone numbers through calls and SMS.
Simply put, a virtual phone number is a number hosted in the cloud. It is therefore not associated with any fixed line and works through the Internet. A solution that allows companies to have an innovative communication technology, but also very advantageous for direct contact with third parties.
Why is the use of mobile telephony still important for professionals?
First of all, it should be noted that despite the many digital communication channels, the telephone remains one of the most important. Indeed, in the professional world, having the possibility to directly contact customers and partners is a considerable advantage.
Mobile telephony creates a direct link with your contacts
The interesting thing about using virtual numbers is that even if your communication depends on an internet connection, your contacts don't need one.
Do you need to contact a customer, a partner or a supplier? Thanks to a virtual number, you can directly call them or send them an SMS. And in turn, they will be able to answer you easily.
Having a virtual number allows you to create a direct link, to get even closer to your third parties. Especially, to get closer to your customers, but also to your prospects.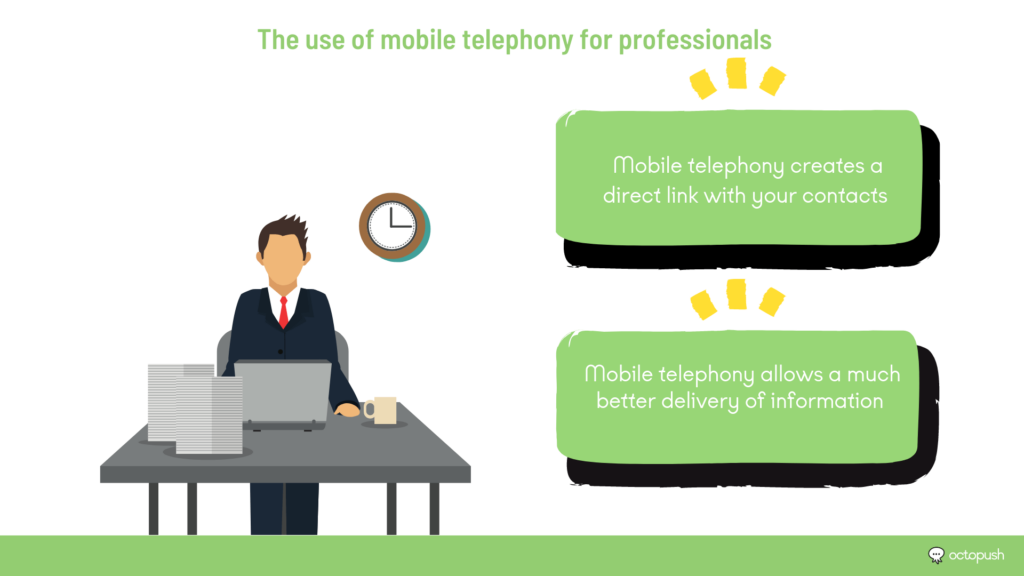 Mobile telephony allows for a much better delivery of information
For a company, having an efficient communication system is of paramount importance. This efficiency is measured mainly by the capacity of the information to be transmitted to its recipient. This is not always the case with traditional communication methods.
On the contrary, thanks to the use of virtual numbers, this deliverability of information is ensured. Indeed, a company can for example choose to send an SMS to its customers to announce a special offer. An important information that can not be transmitted through a simple email or a message on social networks.
Thanks to mobile telephony and virtual numbers, a company can be sure that the information has really reached its recipient.
What is the purpose of the virtual numbers that you can rent at Octopush ?
The functionalities of virtual numbers are numerous.
However, at Octopush, our virtual numbers allow you to send and receive SMS with the help of a unique cell phone number. A number that includes a local country code, but from over a hundred destinations around the world.
If you are looking to do business internationally, our solution is one of the best. Because you will be able to reach the cell phones of customers located in any country, even if you are based in France.
What are the advantages of having a virtual number from Octopush?
You get a local presence
With Octopush, you have the possibility to get a virtual number from anywhere. And this, whether it is in your country or in a country abroad. This way, in the eyes of your third parties, you will be seen as a local company, without necessarily being one. This will allow you to have a much better cohesion with your customers and other third parties.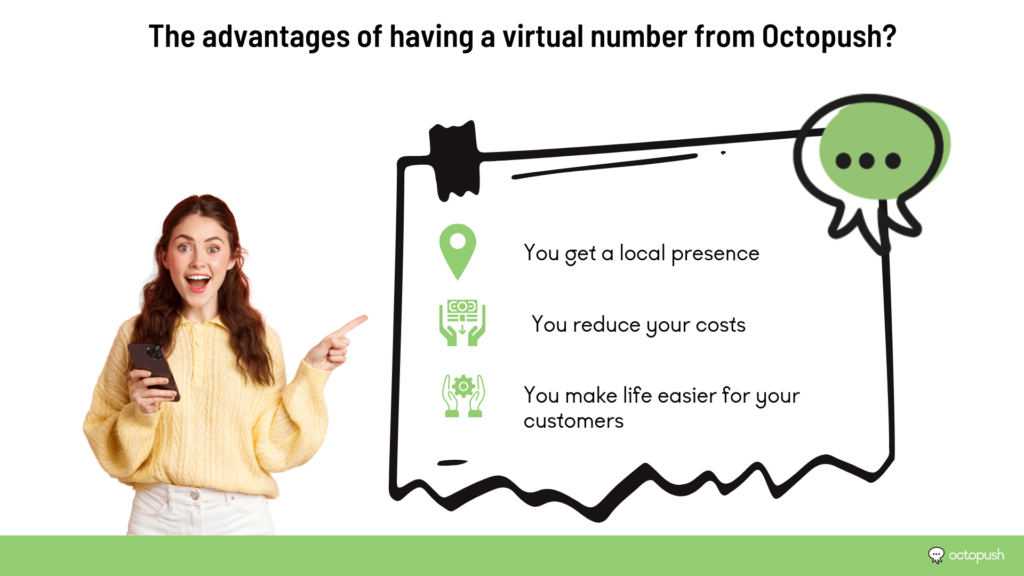 You reduce your costs
Being one of the most affordable solutions on the market, renting virtual numbers from us also allows you to reduce your communication costs considerably. Indeed, sending virtual messages with us means that you will only be charged at local costs.
You need to contact customers in Canada while your headquarters are in France? Do it very easily and at a lower cost, by renting a virtual number from a Canadian location with Octopush.
You make life easier for your customers
If mobile telephony is advantageous for your company, it is also for your customers. Indeed, on their side, they will also be able to contact you easily from anywhere in the world. And this, without spending a single euro more because the rates applied remain local.
In this sense, in addition to the savings they will make, you will also be able to provide them with a trusted number that they will not hesitate to contact in case of need.