Thanks to the current progress, the purchase of a telephone number can be done elsewhere than with a telephone operator. This solution is indeed impractical in some cases, when you need a temporary number or when the phone number is used for business purposes for example.
It is therefore natural that more and more companies are turning to the purchase or rental of virtual numbers. A service that offers many more advantages for its users, compared to normal telephony services.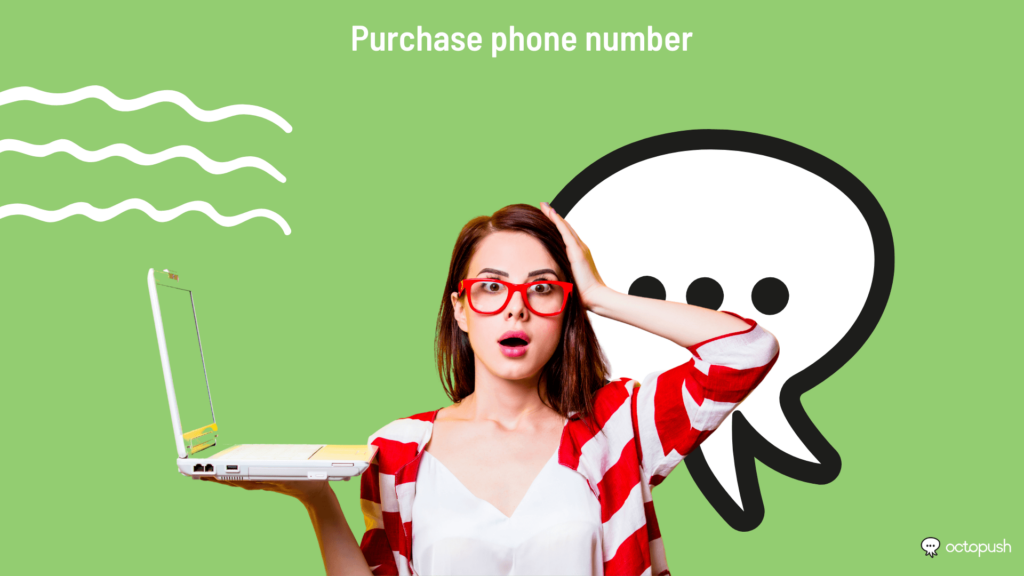 Buy a phone number or rent a virtual number?
A virtual phone number is a phone number that is not physically linked to any phone extension. Unlike the usual telephone system, the virtual number is hosted in the cloud. Its operation is therefore based entirely on the Internet connection. This combines the advantages of using traditional numbers in business with those of digital progress. In particular, the possibility of contracting and engaging in conversations with contacts from any given position, from any location, to any destination.
If renting a virtual number can be used for many functions, at Octopush, our virtual numbers are mainly used to send and receive notifications and SMS for our users.
Why rent a virtual phone number instead of buying a phone number?
Rent as many virtual phone numbers as you want
In business, having to buy several phone numbers permanently can be quite expensive. First of all, because the purchased numbers belong to you and you will have to pay for them monthly. On the contrary, by opting for the rental of a virtual number, your "purchase" can be considered as temporary. You can stop your subscription when you don't need it anymore.
At Octopush, the creation of an account allows you to rent as many virtual numbers as you want. We provide you with a non-exhaustive list of available virtual numbers. The management of these numerous numbers can easily be done through your own customer area. Or thanks to our SMS API that you can quickly integrate into your applications, websites and stores.
Become easily reachable and make your life easier
Internally, managing cell phones with mobile numbers is not easy. But with a virtual number, it's the opposite. Indeed, remember that a virtual number is connected to your information system. It allows you to manage incoming and outgoing sms automatically via the sms API. From then on, you have the flexibility to call on a cell phone, while perfectly controlling the incoming and outgoing flows. You will be able to assign them to the right people in your team, which will make you much more easily reachable. So buying a virtual phone number can make your life much easier.
Ensure an international presence, but at local prices
Another great thing about virtual numbers is that they can take in several different locations. In other words, to get a Belgian phone number, you don't have to be in Belgium. In order to get a local number for this country, you just have to rent your virtual phone number at Octopush, in France. The price of your SMS will be charged as local SMS sending, and not international.
We provide you with no less than 33 localities of numbers. This means that international coverage at local prices is perfectly possible. You can easily contact anyone, regardless of their location, whether they are in Europe or Canada. And in return, your contacts will also be able to contact you at normal rates.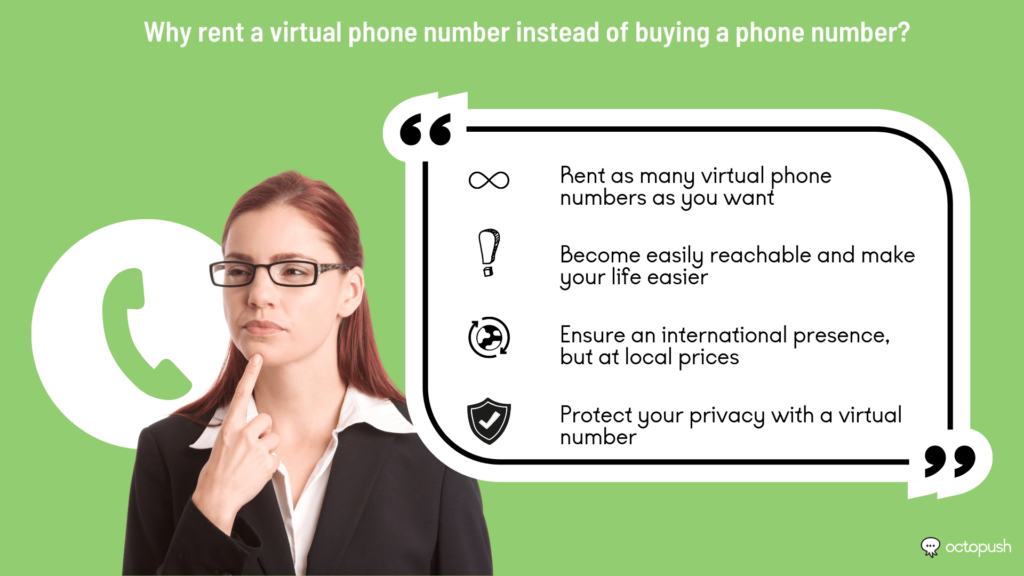 Protect your privacy with a virtual number
In addition to simplifying your business life, using cell phones can also help protect your privacy. In some cases, having a temporary number on hand can be very convenient. For example, to confirm your registration on a commercial site. This prevents you from giving out your real phone number and therefore from being a victim of advertising SPAM.
Purchase a virtual number : how to use a virtual phone number at Octopush ?
First choose your virtual number
Before using your virtual phone number, you must first choose one (or several depending on your needs). You will first have to choose the location of the number. Then, we will provide you with a list of available virtual numbers. All you have to do is choose your number and you're done.
After your subscription, you will have the possibility to use your own customer area to manage the messages of your numbers. Moreover, to help you get more familiar with Octopush services, we allow you to do a free trial without any obligation.
Add your devices
As you may have understood, the use of virtual phone numbers is based on devices connected to the internet. All your interactions and SMS conversations can easily be done through a computer, a smartphone or a tablet. In fact, all you need is a connection to these devices to manage your virtual messages.
Fill in some additional information
To ensure your satisfaction, we will also ask you to provide some additional information. Especially if you are looking to rent virtual numbers for business purposes. You will be asked to provide your opening hours, the greetings you wish to use and your welcome message.