SMS sending platforms like Octopush offer you a voice message service by subscription or by credit. It guarantees that the message you pay for will reach your recipient by phone.
The process is very simple: you enter a message on the platform and send it like any other SMS. The system transforms it into audio using text-to-speech technology. Your recipient receives a phone call with your message.
What are the advantages of voice messages?
Sending a voice text message has the advantage of being more friendly and human for your customers.
It is more impactful because customers are aware that they are going to receive a phone call, which makes them more alert and more likely to pay attention.
A voice message is more accessible for people with visual difficulties, and for whom it is easier to receive calls.
Why use voice messaging to send important information?
Sending a voice text message is an ideal solution to send urgent information that must be received without delay. If the recipient's number is busy or unavailable, the message will simply not be sent.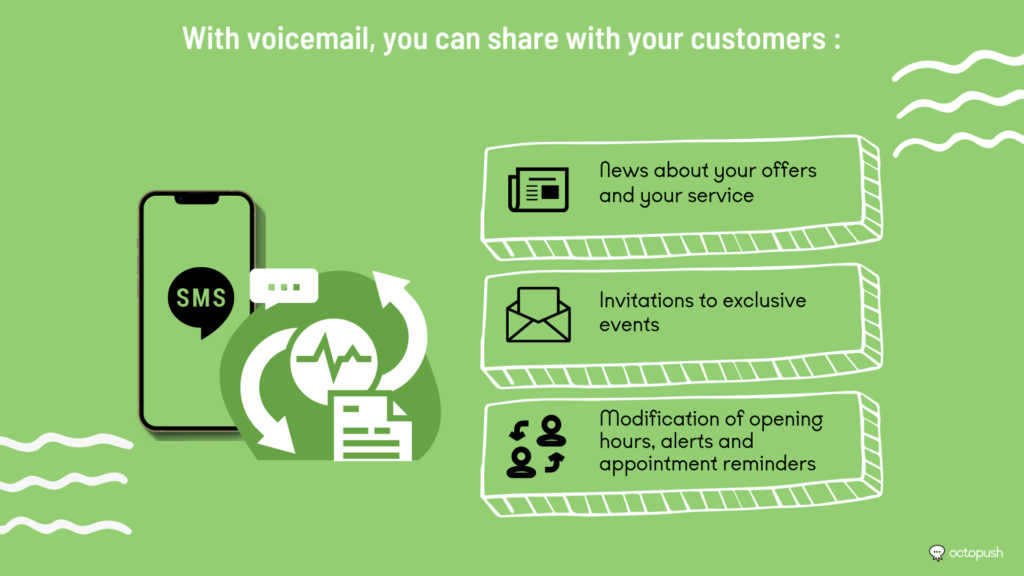 In a voice SMS campaign, you can only use it to transmit transactional information, as French law prohibits promotional use.
However, this does not limit the variety of purposes you can apply to voice SMS.
Thanks to voice messaging, you can share with your customers
News about your offers and services
Invitations to exclusive events
Changes to business hours, alerts and appointment reminders.
Send a voice text from a mobile application
In addition to the basic smartphone applications, there are multiple applications on the market that allow you to send a voice text message. Most of them are free and compatible with all models of Android cell phones.
These applications work in a very similar way to their more famous counterparts such as WhatsApp, Facebook Messenger, Skype, Viber, Line or WeChat. However, they have some disadvantages:
They are not universal. Both parties must have the same application installed on their phone.
They require a permanent Internet connection to transmit messages.
They are not light. The transmission of audio messages often takes up space because they are recorded on the recipient's device.
They are not secure. Indeed, it is possible to intercept the audio files and, because they are saved on the device of the sender and the recipient, it is possible to access this information in another way without authorization.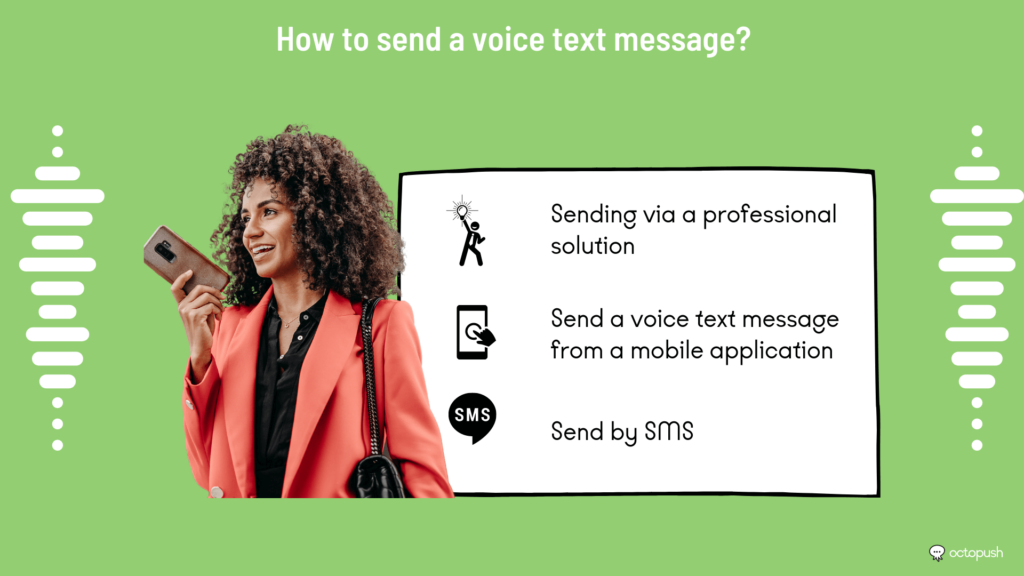 Sending via a professional solution
By taking advantage of the services of a voice texting platform, professionals can count on an arsenal of additional features, such as acknowledgement of receipt and the ability to get a response from the recipient. Sending a voice text message is therefore extremely simple.
Thanks to the SMS sending schedule, you can send your message while being offline yourself.
Sending by SMS
Just like iPhones, Android cell phones come with basic applications that allow you to record your voice. To use this feature, you must first record your message. Go to the home screen and access the voice recording application. Press the Record button, which often takes the form of a microphone. Speak your message aloud and once saved, send the audio recording to the recipient of your choice.
If you don't want to repeat this action every time, you can also try using the built-in help of your smartphone. Again, everything is done so that you can send a voice text message very easily.