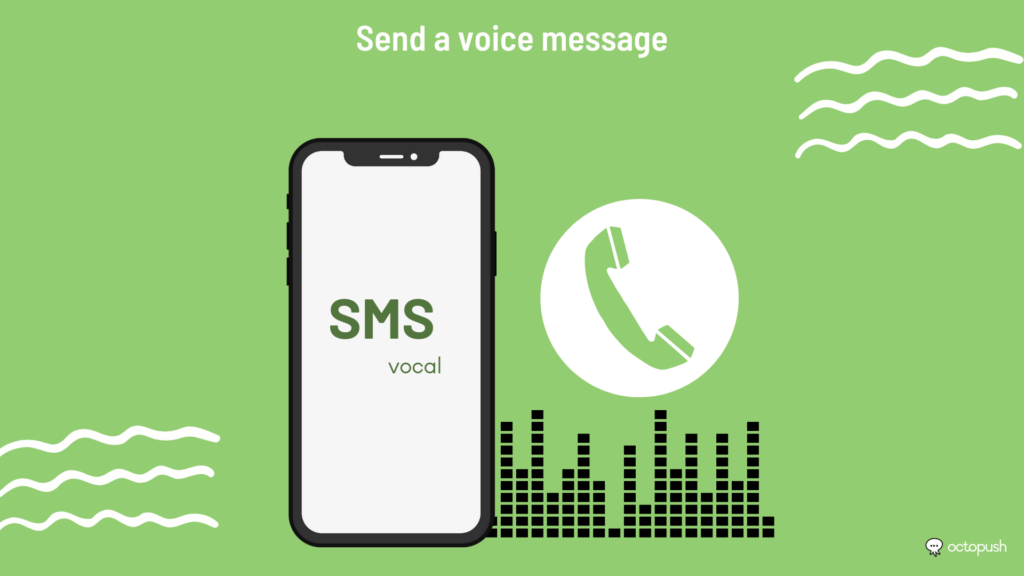 Sending a voice message: Different online solutions
According to a survey by Perficient, voice SMS is still the preferred method for sending messages. The numbers speak for themselves, with 75% of cell phone users in 2020. In addition, consumers are relying more than ever on voice to send messages. That's because of the widespread use of devices that connect via Bluetooth and smart personal assistants,
You can find several solutions online to communicate via voice messages. However, here we present to you the most common methods to send written messages that your recipient will be able to listen to from his cell phone.
From a computer
The voice SMS service offered by Octopush allows you to send SMS messages transformed into sound recordings from our platform.
Go to your dashboard to send these messages to more than 190 destinations in the world at a competitive price.
Once you have made your purchase, you can create a campaign exclusive to voice SMS. You can select the language of the voice message so that the voice synthesizer adapts to the natural inflections of each language. Some languages also offer a choice between a female and male voice.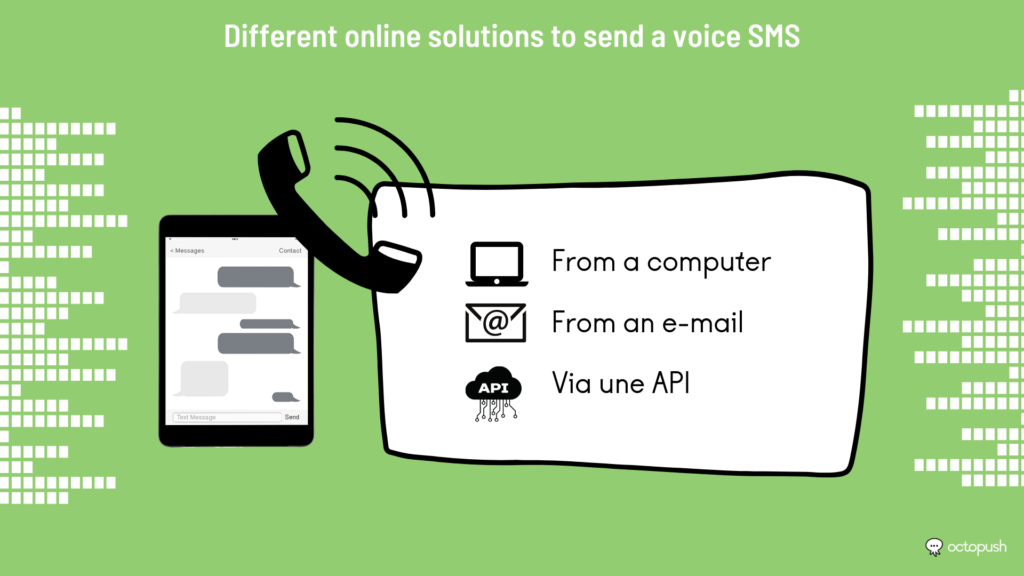 From an email
An SMS gateway is a network that allows you to turn emails into SMS and write emails from your PC, to be received on the recipient's cell phone as an SMS.
To do this, you need to know which mobile network the recipient is subscribed to and you need to know the domain name of the gateway. Enter a message of maximum 160 characters, then the recipient's phone number instead of the email address, and send it.
Make sure you are sending a regular SMS. If your recipient wants to listen to it, he must have a text-to-speech (TTS) system on his cell phone.
Depending on the gateway, this service can be free or paid. However, it is essential to use a specialized gateway for businesses if you want to send voice messages to your customers.
You can send bulk voice SMS messages using our API solution, as described below.
Via an API
Octopush's platform is designed for businesses of all sizes. You can manage SMS and voice messages very easily with an SMS API key. You also have the possibility to send voice messages to numbers abroad.
If you are looking for another solution to send voice SMS by email, to a single contact or in bulk, to a cell phone line or a landline, from your cell phone or from a computer, Octopush web services can also help you.
Even if you have a free trial, you will have to buy bulk SMS voice messages or subscribe to a monthly subscription to continue using our services.
What are the disadvantages of this practice?
You should know that there are some disadvantages to communicating via voice SMS.
The recipient must always answer the call: otherwise, the message is lost. For this reason, it is important to warn the recipient that he will receive a call.
Legal restrictions: Sending voice messages in France is limited to transactional SMS, i.e. alerts and notifications. It is forbidden to send advertising communications through this channel.
Non-conversational: Unlike phone calls, the recipient of the voice message cannot answer it. If they want to contact the sender, they must find another way.
To send more than voice messages by SMS…
Octopush's services have additional features that are even more practical. The most useful of all is undoubtedly the one that allows you to see your initial message and to receive acknowledgements for each voice message listened to, so that you can quickly follow your campaigns.
In terms of business communication, the text-to-speech feature allows you to select the language and choose between a male and female voice.