At Octopush, we decided to tell you more about how to send messages on WhatsApp automatically via API and classic software.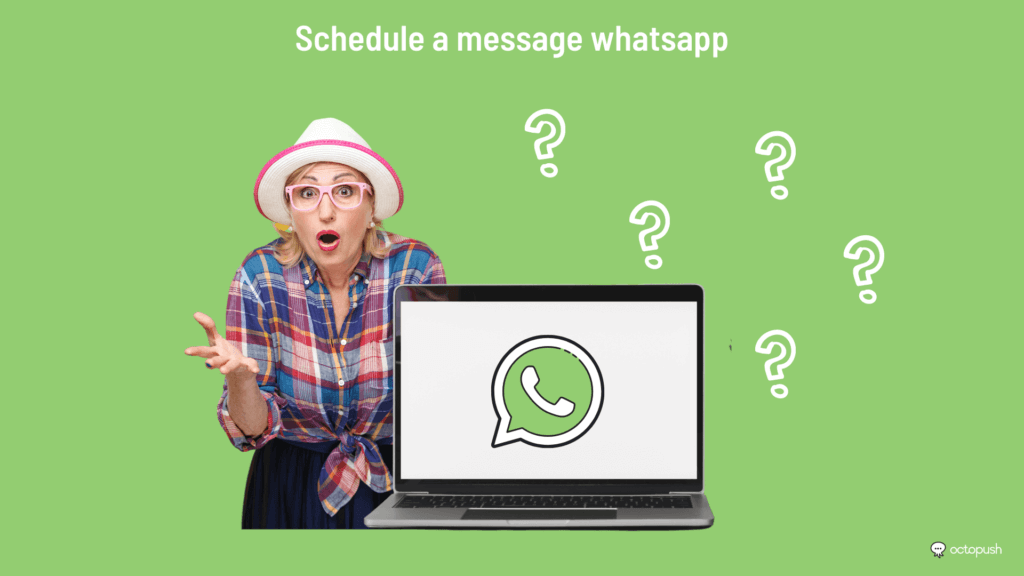 First of all, why schedule messages on WhatsApp?
The need to schedule messages on WhatsApp can be explained by various reasons.
Often, in business, this feature is required to be able to respond instantly to a message. And this even when you are not connected. For example, there are the famous welcome messages that you send as soon as someone contacts you. In addition, scheduling WhatsApp messages can also serve as a reminder. If, for example, one of your customers or prospects abandons a shopping cart in your store, the automatic sending of a reminder could encourage them to finish their purchases. Otherwise, you may want to contact certain people at a certain time, during the Black Friday sales for example. There, sending automatic WhatsApp messages could allow you to inform all your contacts about the promotional offers you are offering.
In short, as you can see, it's in a business' best interest to learn how to schedule messages on WhatsApp.
So, how do I schedule messages on WhatsApp?
To schedule WhatsApp messages, you have two options:
Use a third-party application like SQEDit, Wasavi or Scheduled
Use the WhatsApp Business application
In this file, we will mainly focus on this option. First of all, you need to register on Whatsapp and confirm your registration by phone.
What is WhatsApp Business?
WhatsApp Business is an instant messenger created specifically for businesses. It is most often used to provide good customer support and smooth communication, but not only. Some companies also use this application to carry out marketing campaigns and encourage prospects to complete their purchases.
In a way, WhatsApp Business is the "professional" version of WhatsApp. In fact, WhatsApp currently has over two million users. This means that more and more consumers and customers are registered. This is why a company cannot afford to neglect this channel, hence the creation of WhatsApp Business.
In France, you can easily find WhatsApp Business on Google Play Store and Apple App Store. And it is on WhatsApp Business that you can schedule a WhatsApp message via virtual number for example.
How to schedule a message via WhatsApp Business? 
First of all, it is important to note that the message scheduling feature is only available on WhatsApp Business accounts. In other words, you can't schedule automatic messages on your personal accounts. If that's what you're looking to do, turn to the third-party apps mentioned later instead.
As mentioned earlier, in a business setting, message automation allows you to respond "immediately" when contacted. Even if you are unable to do so or if you are out of the office. With an automated message, you can notify your customers of your absence, your next opening hours, etc. This way, the people who contact you will feel valued despite your absence.
As a general rule, you can send your automatic messages to all your contacts, but also to specific contacts. The sending hours can also be regulated, during your closing hours for example. To do so, here are the steps to follow:
Go to the options icon, then company tools and finally absence message
Activate the "Send an absence message" feature
Press on the message, modify it as you wish and press OK
Set the time you want your message to be sent
Select the recipients of your message
Finish with the save option
The different scheduling options available
On WhatsApp Business, you will have three options to choose from:
"Always send": if you want the message to be sent automatically at any time.
"Custom Schedule": to automatically send your message at specific times (which you will need to fill in).
"After Hours": to schedule your message to be sent automatically outside of your working hours (option only available if you have filled in your business hours on your WhatsApp company profile).
The different recipient options available:
When it comes to the recipients to schedule a WhatsApp message, you will have 4 options to choose from:
"Everyone": to send the message to everyone who writes to you outside of business hours
"Those not in your address book": to automatically reply to people who are not in your contacts.
"All but": to automatically send your message to all but the selected contacts.
"Send only to": to reply only to selected people.
WhatsApp Business, a solution soon available on Octopush!
Now that you know how to schedule an automatic message on WhatsApp Business, you should know that this application allows you to do much more.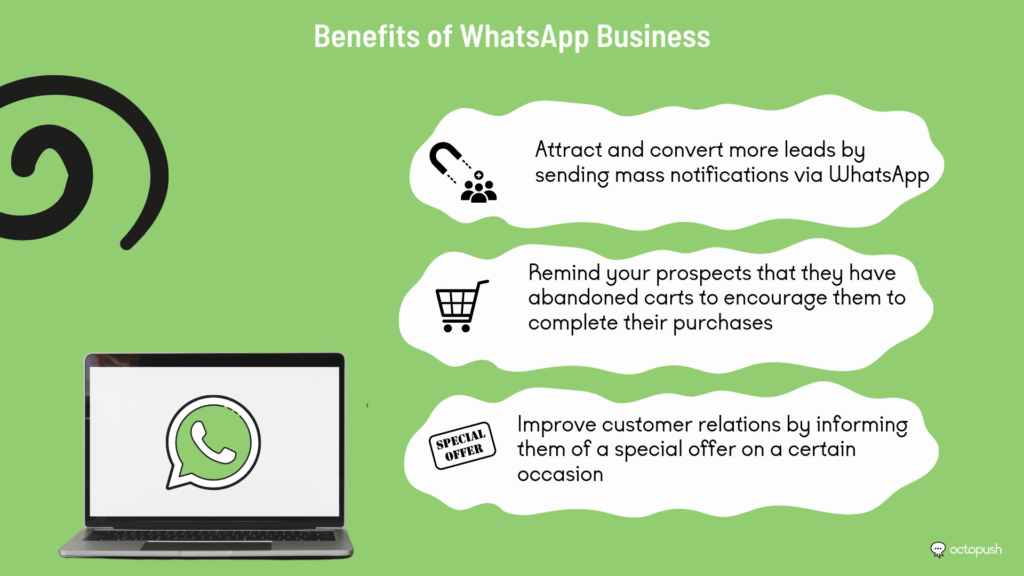 Indeed, thanks to WhatsApp Business, you can:
Attract and convert more leads by sending bulk notifications via WhatsApp API
Remind your prospects that they have abandoned carts, which will encourage them to complete their purchases
Improve customer relationship by informing them about a special offer on a certain occasion for example