You too have considered using the WhatsApp API for your business, but would like to know a little more about its benefits? At Octopush, we've decided to reveal everything to you.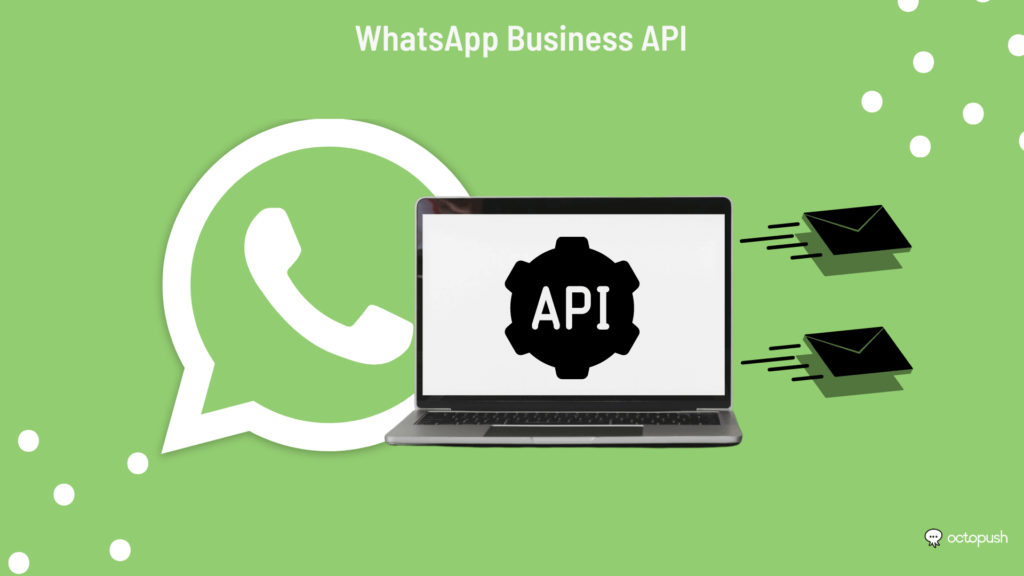 What is the WhatsApp Business API?
First of all, it is important to note that the WhatsApp Business API is much more complex than any other WhatsApp application. Indeed, contrary to what many people think, there are three different services offered by WhatsApp:
The WhatsApp app: The instant messaging app that over 2 billion people use to exchange with each other. Here, we are talking about personal exchanges with the use of personal identifiers.
WhatsApp Business App: The "business" version of the WhatsApp application, created to enable companies and brands to provide better customer support, smooth communication and marketing campaigns.
WhatsApp Business API software: A software that, unlike the others, has no application or front-end interface. As a software, WhatsApp API needs to be integrated with a company's software.
The concept of the WhatsApp Business API is quite different from other WhatsApp applications. Indeed, the WhatsApp API is mainly used to automate the sending of messages via WhatsApp. A feature that can prove to be extremely beneficial for a business.
WhatsApp Business or WhatsApp Business API?
In 2018, WhatsApp Business App has been a big hit with small and medium-sized businesses. Indeed, as it was mentioned earlier, this app allowed them to better manage their customer service through pro user accounts. However, this service had its limits, especially to satisfy the needs of large companies. In particular, in terms of user management, task allocation, customer relationship management interface and data protection.
So it was a few months later, around August 2018, that the WhatsApp Business API was born. A pro solution that is significantly more suitable for large companies. Of course, the integration of this software does not happen with a snap of the fingers. In order for a company to install this software to its own interfaces, it requires the help of some external providers like Octopush for example.
What are the different uses of a WhatsApp Business API?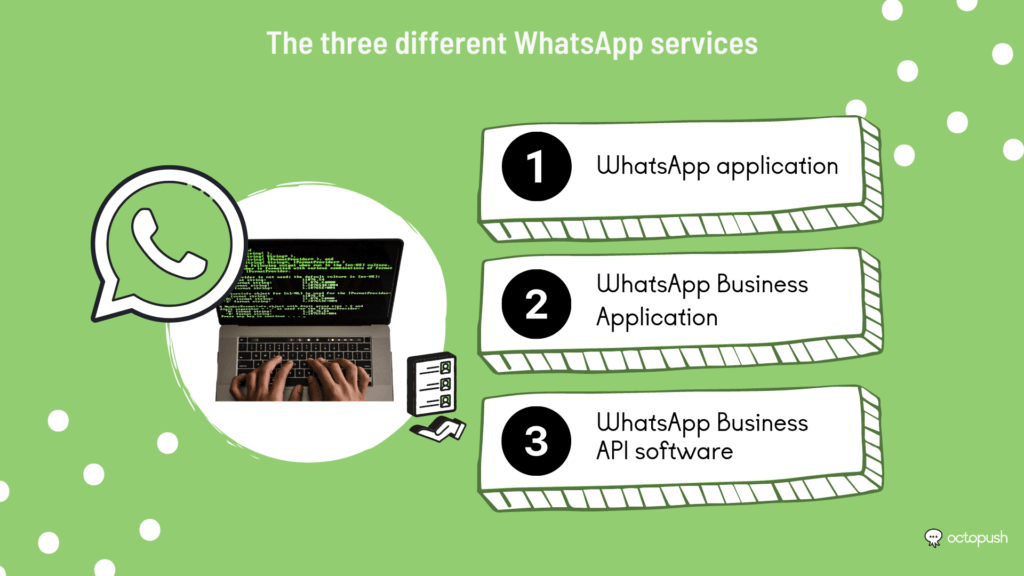 WhatsApp Business API to automate the sending of your messages
The integration of the WhatsApp API will allow you to increase the efficiency of your software thanks to its ability to automate certain messages.
Don't forget to sign up for Whatsapp before you can use it.
To be constantly present, even during your off-hours
When your customers or other third parties seek to contact you outside of your business hours, the WhatsApp API will automatically respond to them so that their message doesn't remain in "delivered" status for too long.
To schedule messages to be sent at a specific time
If you ever need to send mass messages on a regular basis, doing so via a web-based platform can be extremely time consuming and complicated. With the WhatsApp Business API, these messages will be sent automatically.
To have a two-way communication
Using the WhatsApp API allows you to adopt a two-way communication. This will make it much easier for you to retain your customers and push them to perform certain actions (buy a product/service, subscribe to a newsletter, answer a questionnaire, etc.)
To send transactional messages
Thanks to API software, you also have the possibility to confirm the actions your customers perform on your site. This will also help you to inform your customers about the progress and execution of their orders.
WhatsApp Business API: to get closer to your contacts
On special occasions or events, you can send messages to your contacts. First, to inform them about the event, but also to make sure they will attend.
To ensure a better follow-up of your campaigns
Thanks to the API software, you can benefit from a complete follow-up of the text messages sent. That is, if they were received and at what time they were delivered on your contacts' devices. A feature that is often unavailable on a simple web-based messaging platform.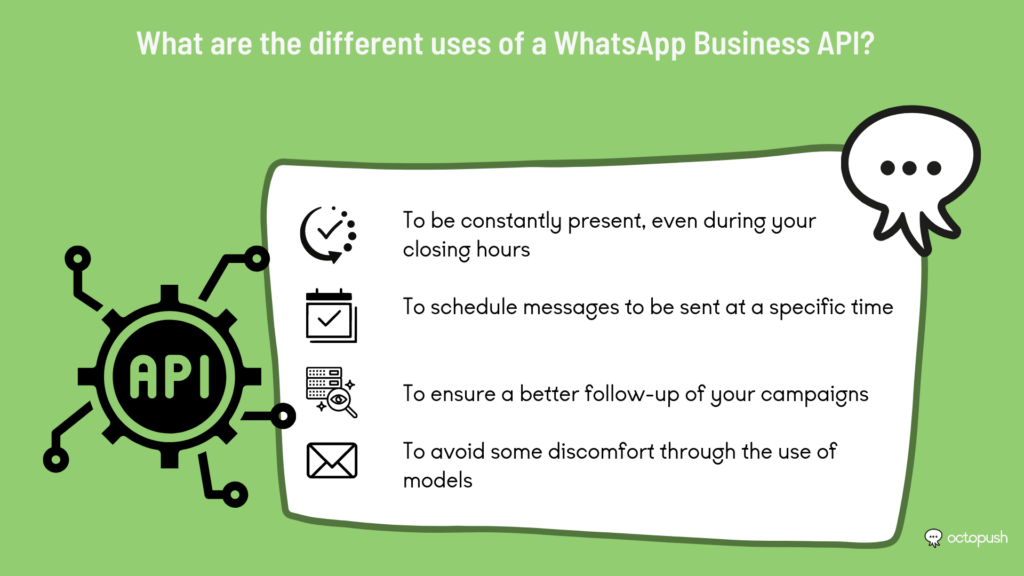 To remind a customer of an appointment
In some cases, you may have to arrange appointments with your customers. Because of the hustle and bustle of everyday life, it's very easy to forget about these things. Especially if it is a more or less busy customer. Therefore, sending an appointment reminder message can be extremely useful. One, so that neither you nor your customer misses the appointment. Two, to optimize your schedule and not have to reschedule the meeting in question.
To avoid some discomfort by using templates
Often, having to call your debtors to ask for payment is a tedious task. To avoid the call in question, all you have to do is send a reminder message following a template to claim the amounts due. This way, neither you nor your debtors will feel uncomfortable with the situation.
As you can see, the integration of our API can help you benefit from several advantages. So, don't hesitate to contact us to get your WhatsApp Business API. We will be happy to install them on all your software, websites and applications.
Also, if you prefer the Whatsapp business application via a virtual business number we can also help you with this.