In reality, despite its popularity, WhatsApp was mainly created to provide private communication, that is, user to user. Of course, its business version called WhatsApp Business also exists. However, to achieve convincing results in communication and marketing, the ideal solution is WhatsApp API.
Want to know more about this software? You've come to the right place. Octopush tells you everything.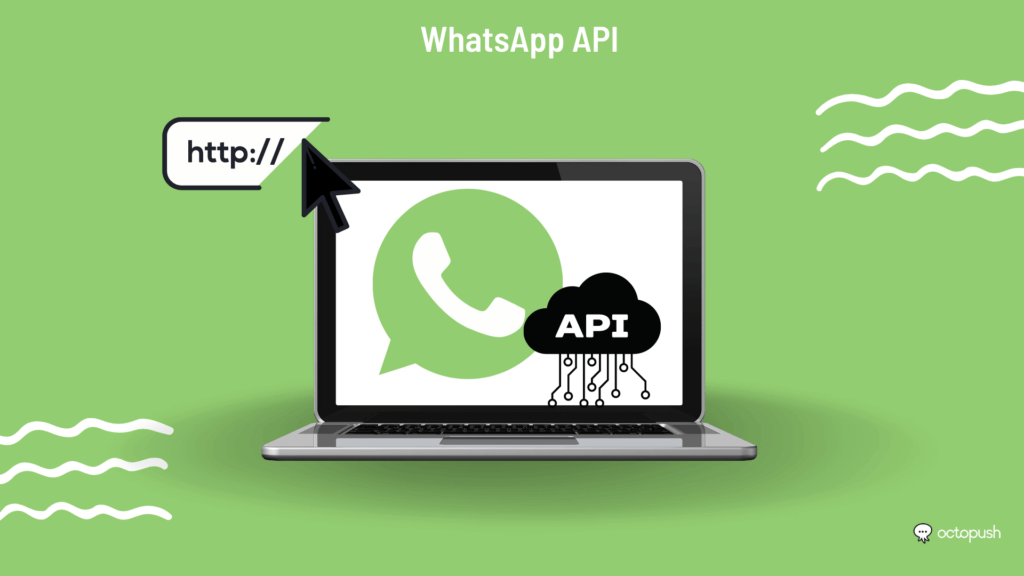 What exactly is WhatsApp API?
API stands for Application Progamming Interface. It is a software that allows different applications to connect together. By definition, WhatsApp API is a software that gives companies the possibility to integrate WhatsApp with other systems. For example, this message programming interface is compatible with systems such as a CRM or a company's marketing software (store, blog, digital platform, etc.).
If for many the professional version of WhatsApp is WhatsApp Business, the existence of WhatsApp API should not be overlooked either. Indeed, instead of being a simple messaging system, WhatsApp API is a full-fledged communication channel for large companies. Most often, in the professional world, this API is used to be integrated into a CRM for support, to send information campaigns or to send transactional messages.
To access this tool, you must go through a verification process by Facebook. Once this "authorization" is obtained, you just have to go through a third party API expert like Octopush for example.
What is the difference between WhatsApp Business and WhatsApp API?
Many professionals still can't really tell the difference between WhatsApp Business and WhatsApp API. However, they are two very different solutions that you should know before making a choice on which one to use. 
In fact, WhatsApp is an application derived in three different versions: WhatsApp, WhatsApp Business and WhatsApp API.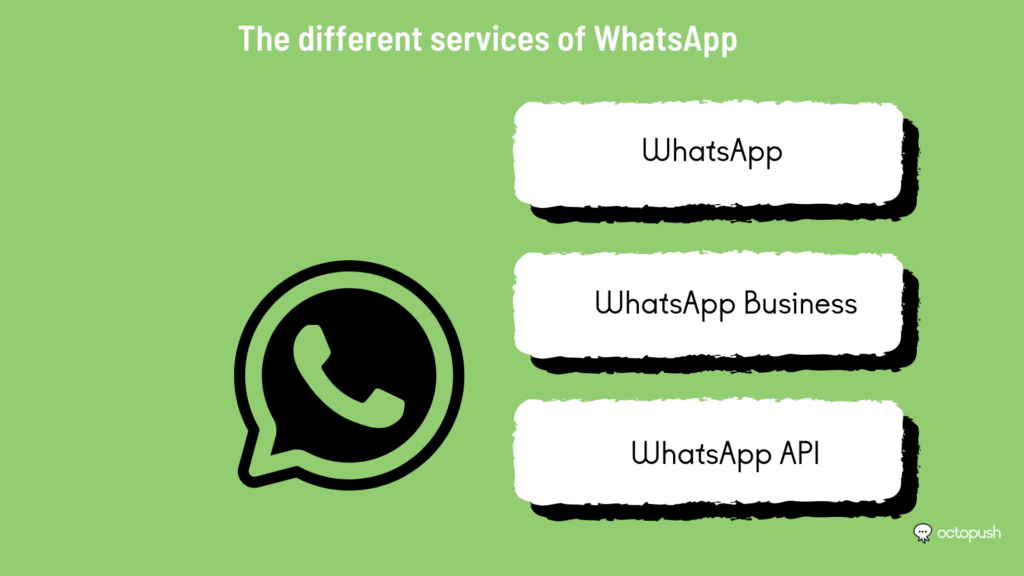 WhatsApp: WhatsApp is certainly the most well-known version of all since it is the one that is generally used by individuals. It is especially popular because of its accessibility and ease of use. Through this chat platform, it is possible to communicate with your contacts and create groups.
WhatsApp Business: WhatsApp Business is considered to be the business version of WhatsApp that can be used with a virtual number or not. With the help of this free application, a company can create a business WhatsApp account. This account will allow them to create a business profile that will provide essential information to their contacts: company name, contact, address, opening hours, etc. Most often it is small and medium sized businesses that use this solution to make it much easier for their customers to contact them.
WhatsApp API: This last solution is mostly reserved for large companies. As mentioned earlier, WhatsApp API is not an application, but rather a software. Its integration with applications allows for advanced features such as CRM or bulk message automation.
For your business, you can choose between WhatsApp Business and WhatsApp API. In order to make the right choice, we suggest that you base your choice on your objectives. Because WhatsApp API is much more expensive, unlike WhatsApp Business which is more or less free.
What are the advantages of WhatsApp API?
The question is: if WhatsApp API costs more, why should you use it? Well, as you may have guessed, but this solution is much more advantageous. In fact, there is no lack of uses for WhatsApp API.
In fact, this tool allows you to:
Automate the sending of your messages
By integrating WhatsApp API with your software, you have the ability to schedule and automate certain messages. This will help you to be more responsive to your customers and to easily create a link with them. During your closing hours for example, when no one is there to answer customers, WhatsApp API can answer for you via an automated message personalized by you. So no need to send your SMS, you have whatsapp to help you!
Schedule messages to be sent at a specific time
Sending mass messages within a company can be extremely beneficial. However, doing it all through a web-based platform may present some problems, especially in terms of time and convenience. However, via WhatsApp API, there is nothing easier than sending mass messages for marketing campaigns.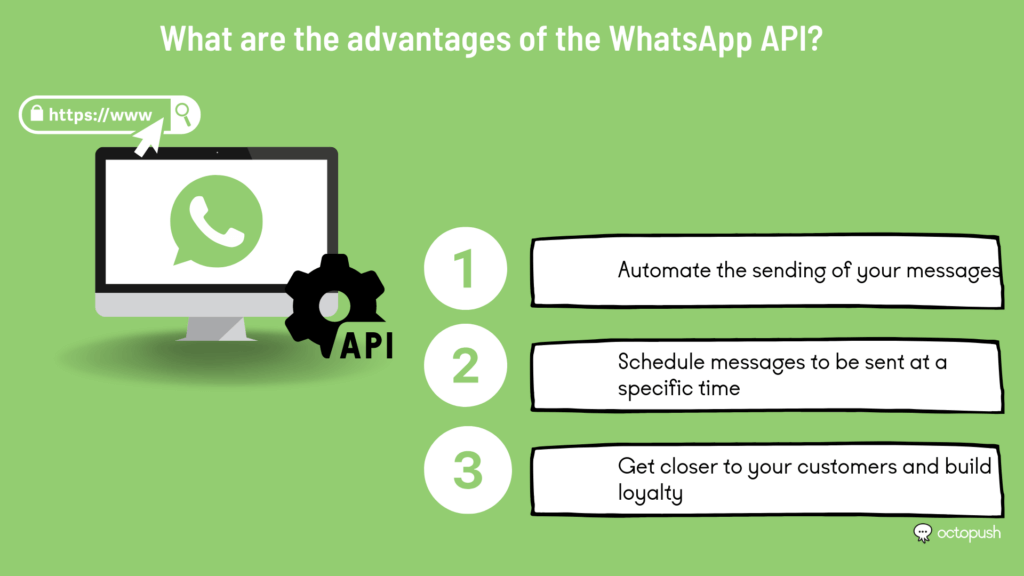 Get closer to your customers and build loyalty
This feature of WhatsApp API also helps you to get closer to your customers and thus build loyalty. Indeed, on special occasions, sending messages can be a way to get closer. In particular to inform them about the event, but also to encourage them to participate and possibly receive prizes.
In short, as you can see, WhatsApp API integration can be extremely beneficial to your business. To proceed with the integration on your platforms, do not hesitate to call us. At Octopush, we will satisfy you with our quality services.