Until recently, separating one's business life from one's professional life was almost impossible. Fortunately, in 2018, thanks to the arrival of WhatsApp Business and its association with the virtual number, this problem is slowly disappearing. Let's find out why right away.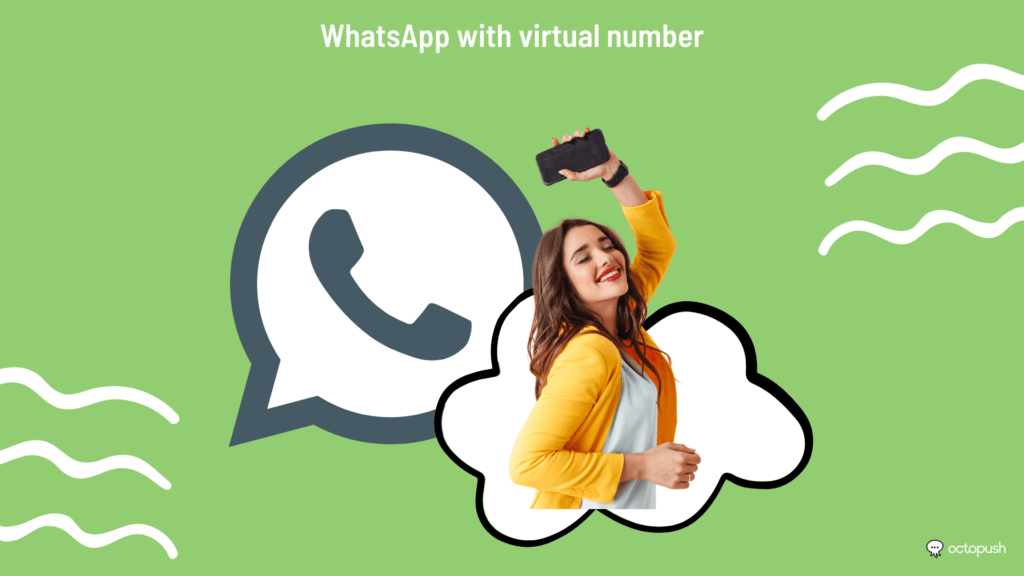 First of all, WhatsApp business and virtual number, how does it work?
The problem here is simple: in order to sign up for WhatsApp Business, you need a phone number to use. Preferably a completely different number (than your personal one), in order to keep your private and business life separate. Hence the need to use a virtual number for scheduling bulk messages via Whatsapp.
By definition, a virtual number is a phone number that has the particularity of not being associated with any physical device or fixed line. It is therefore perfectly possible to use it on various devices such as a smartphone, a computer or a tablet. And this, on the sole condition of having access to an internet connection.
In short, with the help of a virtual number, you have the possibility to create a parallel line to your regular phone number. In this way, you can use this line to register on WhatsApp without having to disclose your personal number. In short, with a virtual number you can have both a personal and a business line. This means you can enjoy the benefits of WhatsApp in your daily life as well as at work. And this logic can be applied to create WhatsApp accounts for an entire team. This makes it very easy to create a professional WhatsApp account for everyone in a company.
What about WhatsApp Business?
Born in 2018, WhatsApp Business is an application reserved for small and medium businesses. It was mainly invented to allow businesses to fully benefit from the communication advantages of WhatsApp API. All this, while having a much more professional image in the eyes of its customers and partners. In fact, this application works the same way as the traditional WhatsApp, but with a little twist. It gives some information about the company in order to give confidence to the third parties that discuss with the company.
The use of WhatsApp Business has many advantages in business. But it stands out especially in the way the application facilitates communications with customers. Especially to answer their questions and solve some of their doubts. It is also worth noting that WhatsApp Business gives companies the possibility to answer automatically even outside working hours. This allows you to be continuously present for your customers. Finally, thanks to this same business application, it is possible to personalize the chat with your company logo.
What are the other advantages of WhatsApp Business?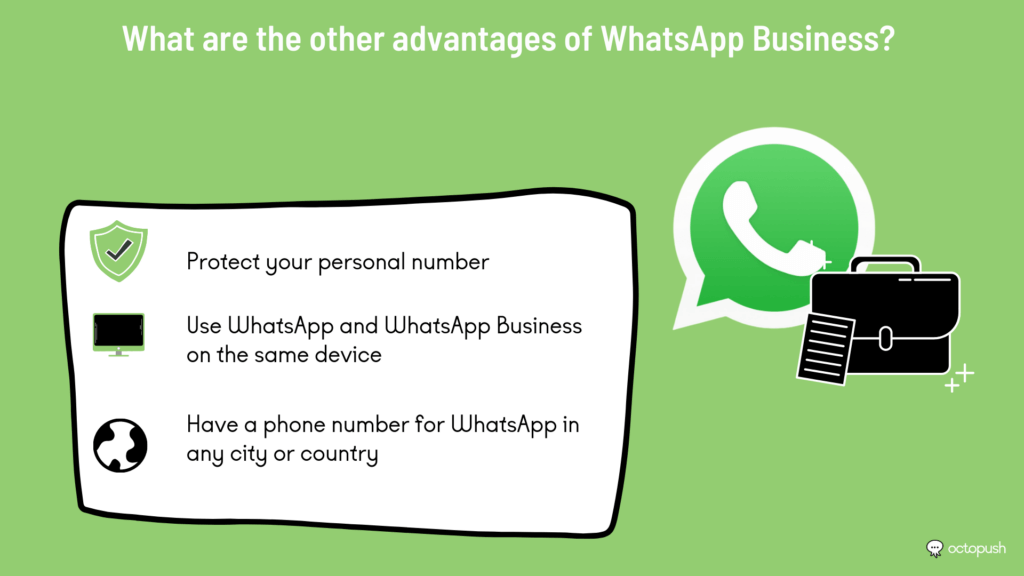 By combining WhatsApp Business with a virtual number from Octopush, you can:
Protect your personal number. When you talk to customers or other partners, it will be your virtual number that is displayed to them.
Use WhatsApp and WhatsApp Business on the same device. You will be able to communicate separately with your family and friends, but also with your third parties (customers, partners, suppliers, etc.). This will make a clear separation between private and professional life.
Have a phone number for WhatsApp in any city or country. At Octopush, you have more than 33 locations to choose from. 
What are the benefits that this combination offers?
Now here are the reasons why you should use a virtual number with WhatsApp Business:
To have a much more professional image
By using a WhatsApp Business account with a virtual number, you show your customers that you know how to stay professional. On your application you can specify some essential information for your third parties to show that this is the number to contact your company. With a simple personal WhatsApp account, this professional image is not present.
To continually respond to your third parties
It is perfectly normal for a company not to respond outside of business hours. But customers don't see it that way, for them not receiving a reply shows a lack of interest. Fortunately, with WhatsApp Business and a virtual number, you can automatically send welcome messages and messages to show that you are not yet available. This way, your customers and third parties won't stay in "deliver" for too long, and will feel valued.