SMS Gateway PC offers a unique and effective solution that allows you to send bulk SMS to subscribers. Although the primary means of sending SMS is via cell phone, sending bulk SMS can be quite tedious with a phone. Moreover, if the target audience consists of subscribers from different networks, the possibility of incompatibility between GSM operators becomes a problem. The solution: SMS Gateway.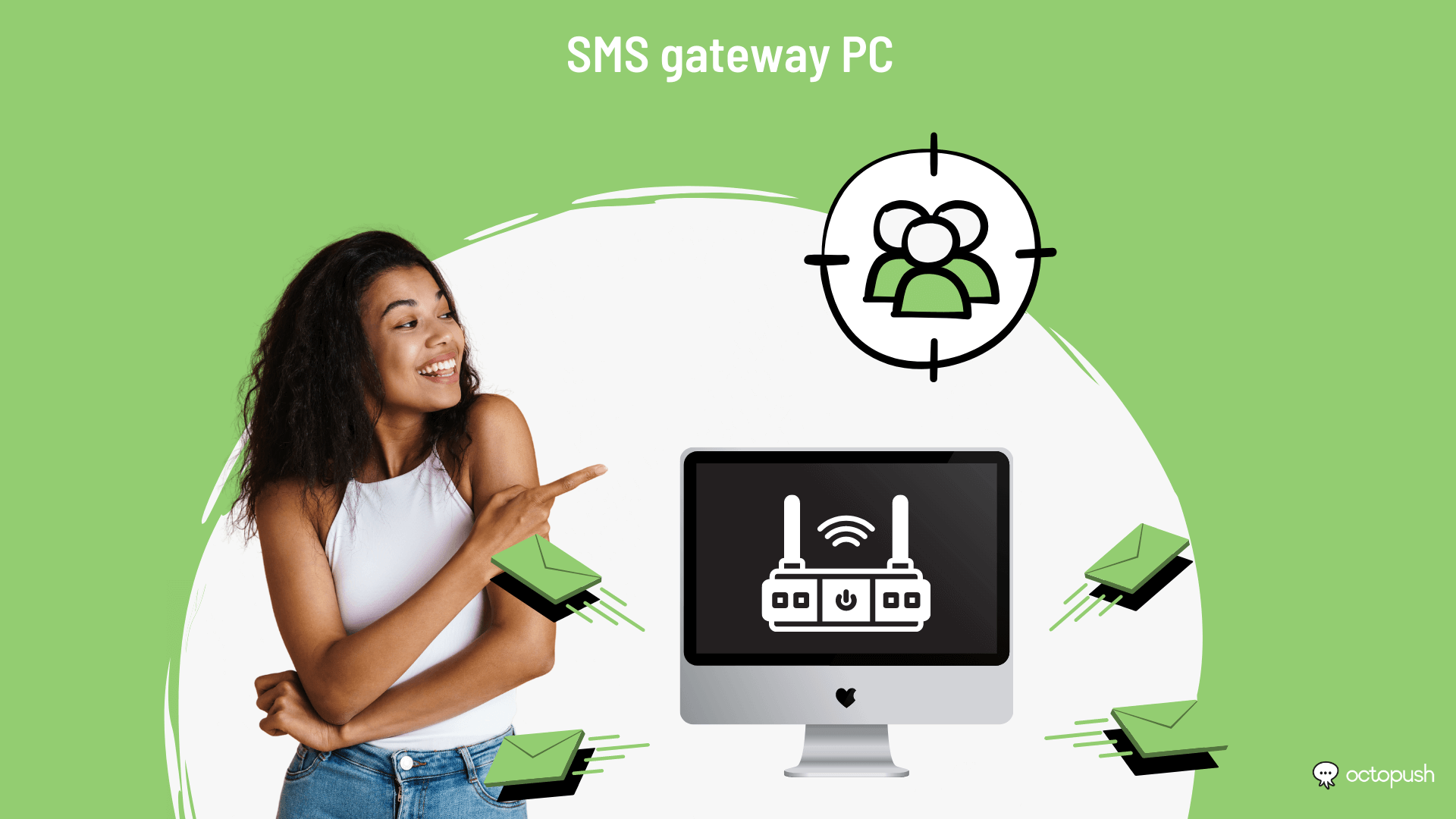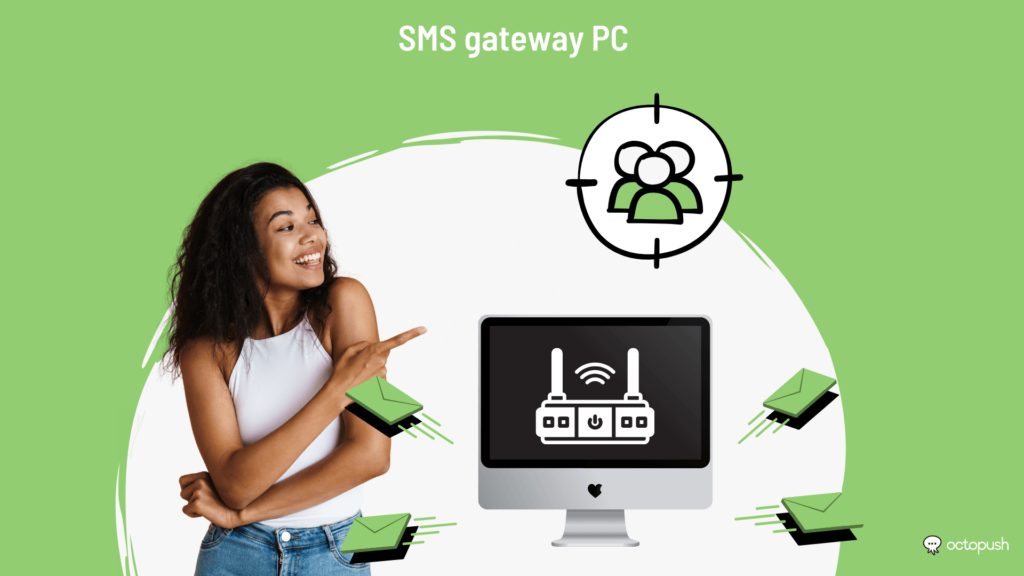 What is an "SMS Gateway PC"?
An SMS Gateway allows you to send and receive bulk SMS from a single server. The SMS files pass through a wireless carrier before being routed to a cell phone. They are typically used for communication between multiple people. When a message is sent, it is translated into a format suitable for delivery over the network. The message then eventually reaches the recipients.
An SMS Gateway allows a server to send and receive SMS messages to and from SMS capable devices. The SMS gateway API adds bulk SMS service capability to the software you already have on your device. SMS gateway providers offer their API to help you send automated bulk SMS from your existing software applications.
Mobile operator via the web: 3 advantages of sending bulk SMS from your PC
Using SMS Gateway PHP on PC has many benefits for your business and for your recipients.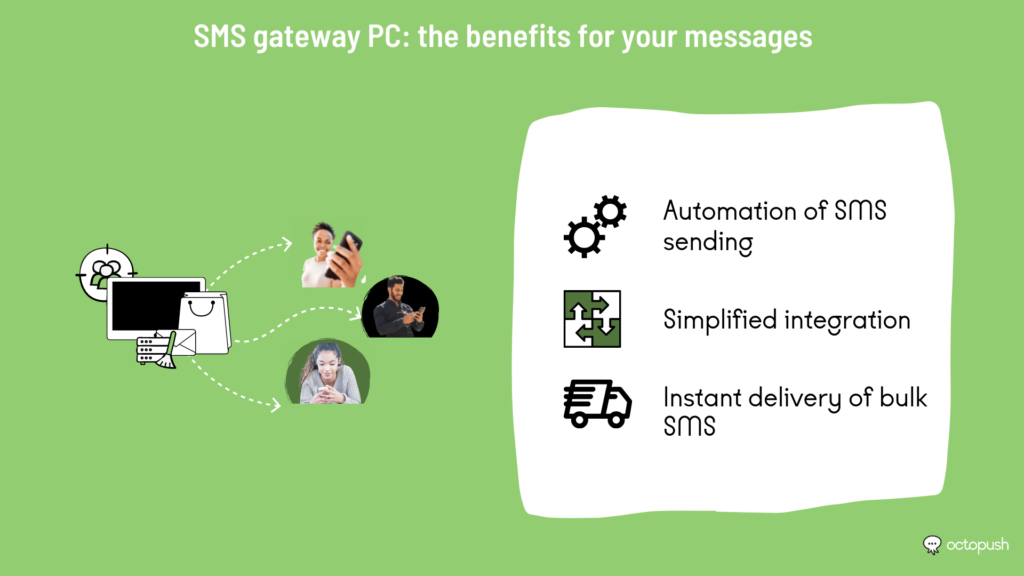 Automation of SMS sending thanks to a software
To have an efficient and automated SMS communication plan, you need to integrate it with your CRM software. Not to mention your customer data platforms and other omnichannel marketing applications. The integration of this software will allow you to automate transactional and promotional tasks. That is, purchase confirmations, scheduled reminders and more interactive uses of SMS. Like customer service and feedback collection for example. You can facilitate this by using an SMS gateway API that is compatible with your existing software. Less time consuming than sending your SMS campaigns via email.
Simplified integration with your software
The main advantage of integrating a simple SMS gateway via an API with your software is its simplicity. It is a simplified and transparent automation based on an SMS service. SMS services make the API integration process easy to understand and implement. Maximizing the effectiveness of SMS communication.
Instant delivery of bulk mobile SMS
When sending bulk SMS, it is important to have a quick delivery to your recipients to ensure that the messages are received at the same time. For example, to notify your customers of the restocking of a popular product offered on your website via messages. So you'll need to send the text to hundreds or thousands of people, with as little delay as possible.
Speed of delivery is a key factor in reaching the target group at top speed. Bulk text messages sent using an SMS Gateway are delivered instantly. 90% of all text messages are read within 3 minutes of receipt by your target customer. This high efficiency of Gateway SMS makes it ideal for sending short-term offers or flash sale alerts to your customers.
This is totally different from sending SMS via email, since here you don't specifically use an API.
Alternative to the PC platform and email: Octopush
Octopush is a solution built internally as a hosted service (SaaS, Software as a Service and API). Its goal is to allow marketing departments of large groups, advertising agencies and IT companies to benefit from an infrastructure that allows them to send SMS to more than 200 countries and to have an acquisition channel other than email. The Octopush solution stands out thanks to a complete service that allows the sending of bulk SMS. It is therefore aimed at professionals and SMEs.
Our platform also has tools allowing you to boost the delivery rate of your SMS.