What's more, currently, more than 77% of people with a cell phone claim to own a smartphone. In other words, a phone that is compatible with SCN reception. It is therefore in a company's best interest to exploit the opportunities offered by this new communication protocol.
But what are these opportunities really? What can the use of RCS SMS bring to a company? Find out in this article.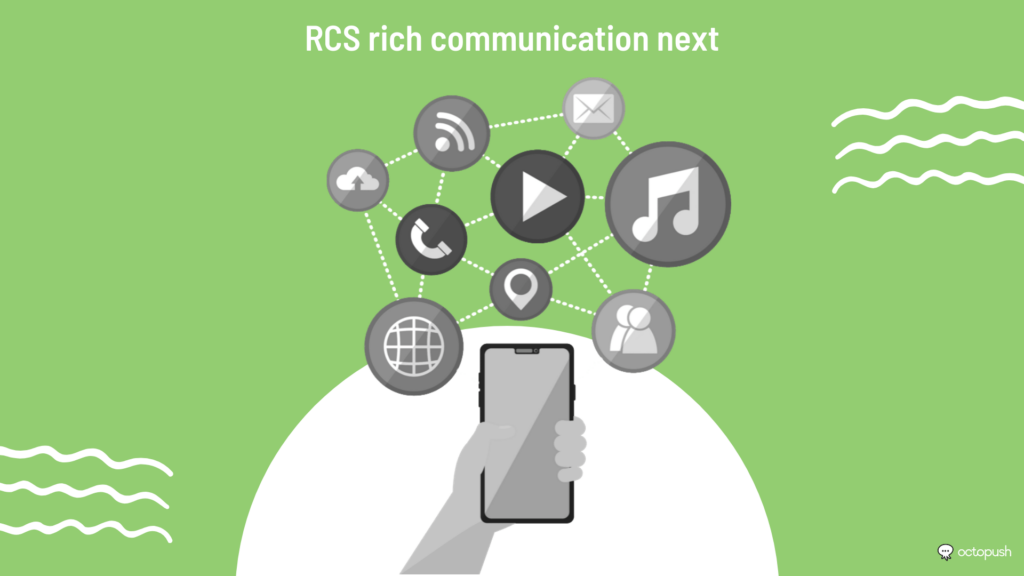 What exactly is RCS?
The RCS or Rich Communication Services is a new communication protocol that we owe to the giant Google. Its use allows a company to benefit from a much more direct and enriched communication. And this, since on the one hand, it benefits from the advantages of SMS, and on the other hand, the advantages of instant messaging. For some, the RCS newsletter or other would even be a merger between WhatsApp, Facebook, Messenger and WeChat.
For some time now, just like Apple, Google has had ambitions to have its own messaging. So that's how RCS was born. In fact, many consider RCS to be the Android version of Apple's iMessage, but not only. Since as it was said before, for businesses, this form of messaging is extremely advantageous.
What are the different features of RCS SMS?
Of course, thanks to RCS, it is possible to exchange messages without connecting to the Internet, but that's not all. Once connected to the Internet, RCS users can
Exchange much longer messages
Send multimedia content such as high quality photos, videos, audio messages, etc.
Create chat groups for group discussions
Make video and voice calls
Transfer files
See if the message has been delivered and read
See if the recipient is responding to the message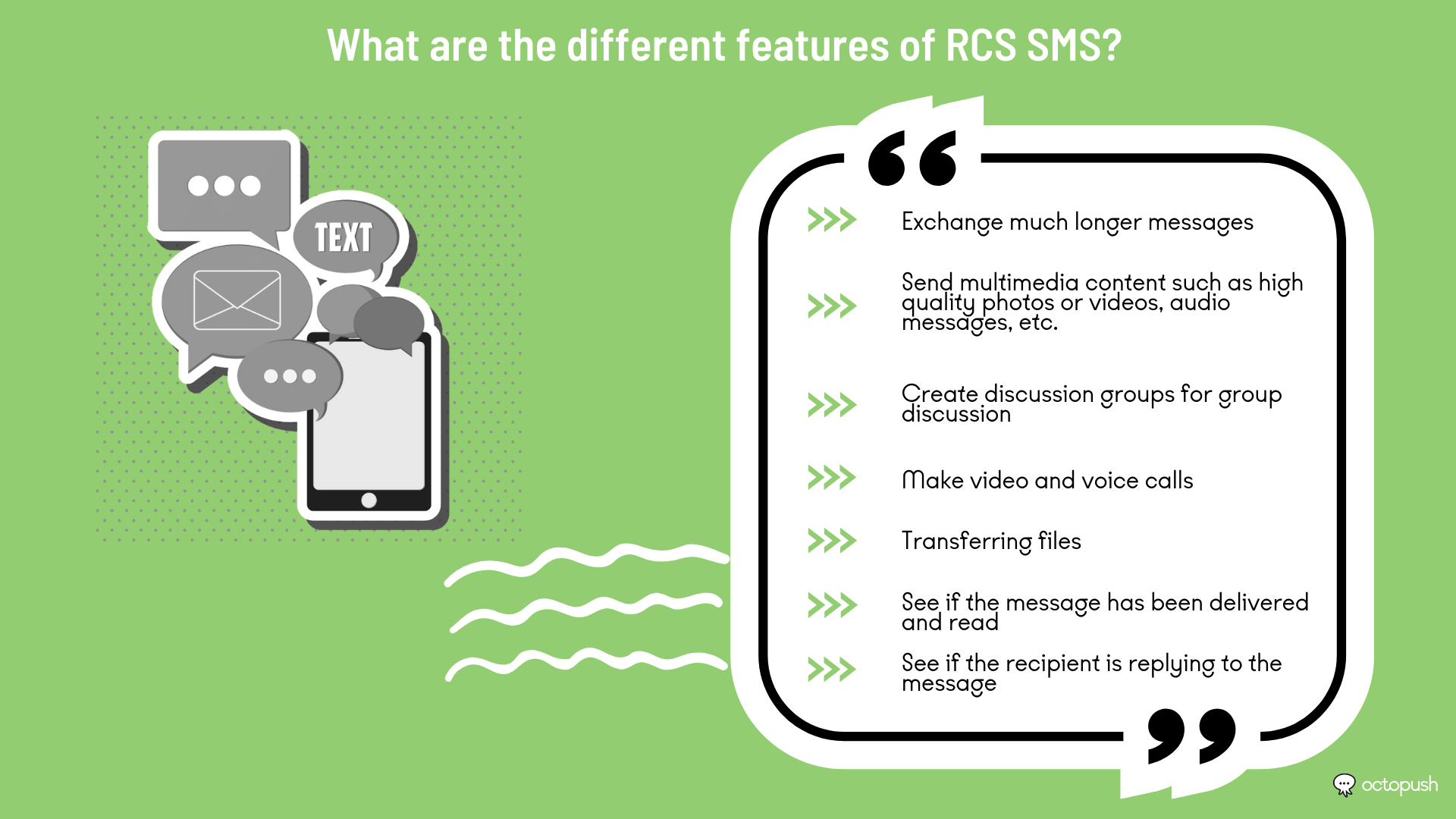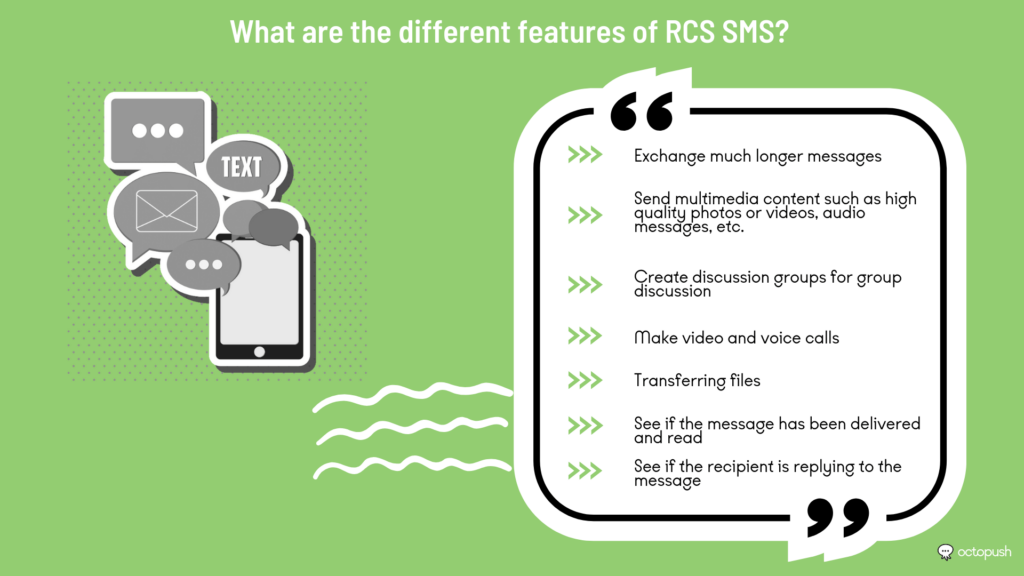 Why choose to use RCS SMS instead of traditional SMS?
Given all these additional features, it makes perfect sense that RCS SMS rates are a bit higher than regular SMS. So, the question is: Why should you choose RCS SMS instead of traditional SMS for your marketing strategy?
For decades, SMS marketing has been extremely effective in converting prospects and retaining customers. However, we now live in a modern, fast-paced world and there is no shortage of competitors. So, to ensure that your business remains sustainable and to keep your market share in spite of the competition, you have to know how to follow what is being done.
If, for example, one of your prospects receives a classic promotional message limited to 160 characters. And then, one of your competitors sends him an RCS illustrated with videos, links and images, there is a good chance that the prospect will choose your competitor. And that makes perfect sense.
So, to keep up with the times and to keep your market share intact, adopting an SMS campaign based on SMS RCS remains your best option. And that's not to mention the other benefits of this communication protocol.
RCS as a tool to boost customer exchanges
The interesting thing about using SMS RCS in a company is that you have a tool to boost customer interaction.
By adopting RCS as a communication channel, you can say goodbye to banal exchanges with your third parties. RCS helps you send messages that are much richer in content, and your exchanges with your customers and prospects will be much more lively and dynamic. As a result, your customers and prospects will enjoy a much better customer experience when conversing with you. This will allow you to get closer to them, but also to benefit from a much better reputation.
Also note that the RCS allows you to gauge the effectiveness of your SMS campaigns. Indeed, thanks to this mode of communication, you will be able to gather important information such as the rates of reading, received messages and generated actions. Then, thanks to this information, you will be able to make the necessary decisions to obtain better results.
RCS as a tool to enhance your brand
In addition to helping you get closer to your customers, the RCS also allows you to enhance your company's brand.
Indeed, the RCS allows you to :
Show that you are a trusted brand: the exchange platform gives you the ability to personalize your messages with your brand and logo.
Put your contacts' minds at ease with the verification feature: with the verification option, you can show your third parties that your message is really from you.
Have suggested actions and reply buttons: to further reduce response latency, custom suggested responses are available. This will make it much easier for them to talk with you.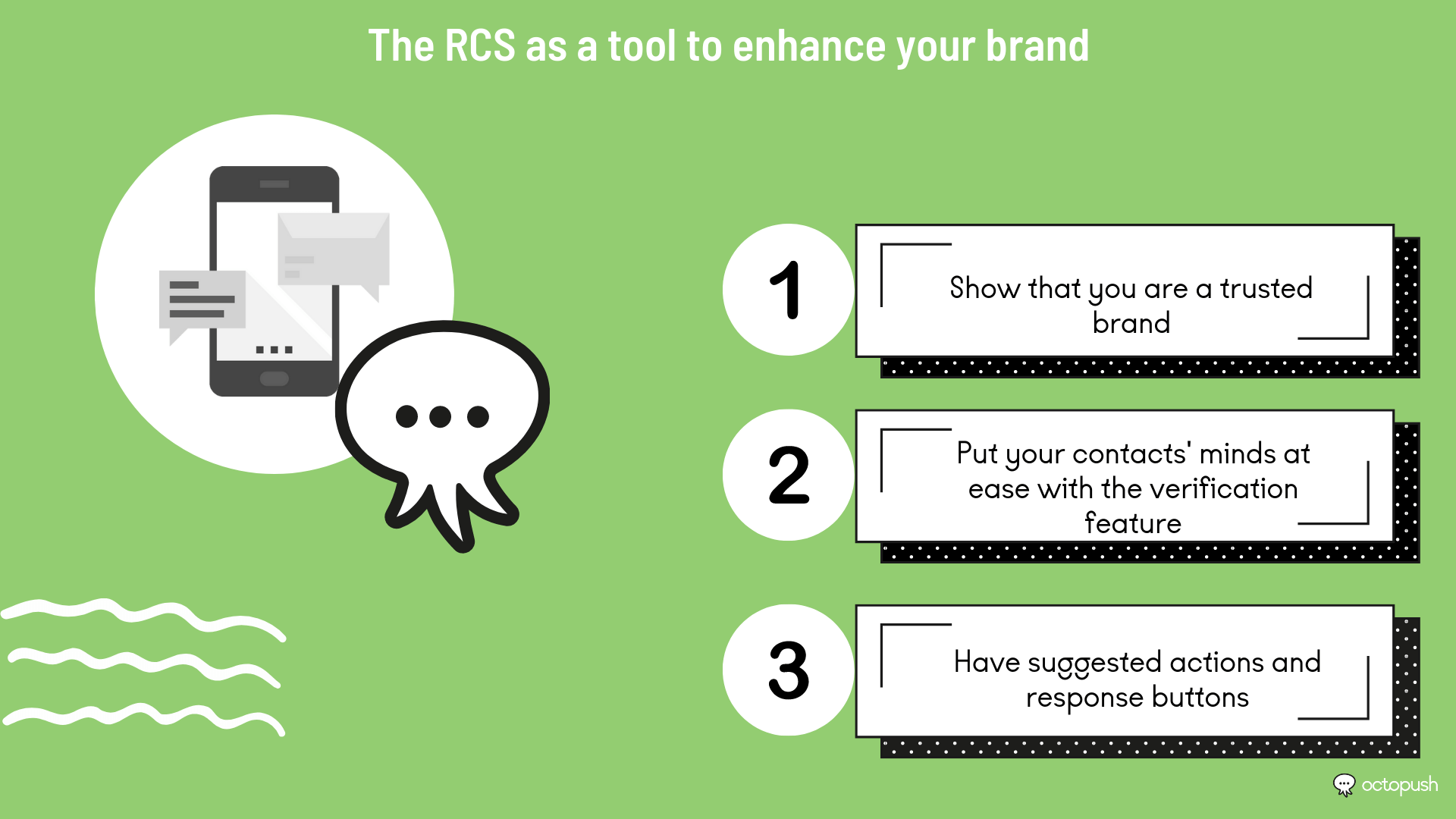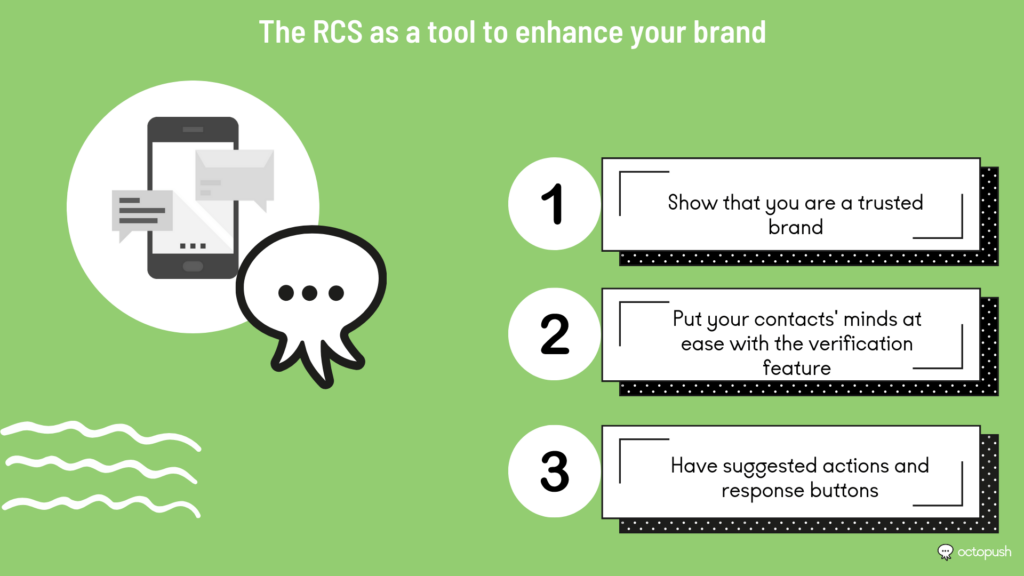 RCS as a tool to enhance your brand
Convinced of the value of RCS messaging? Contact us now and take advantage of all the benefits of this brand new communication protocol.