An SMS Marketing software allows you to use a computer to send and receive SMS, which is essential to start your text-message campaigns. Imagine texting your large database of customers from a phone, it would take a lot of time and resources!
With a software SMS, you can do it at scale and with much more functionalities to perform at a professional level and get more conversions.
In order to send permission-based ads and sales promotions of a product or service to prospective consumers, SMS Marketing involves using an SMS text messaging service. The software collects all the necessary details and databases together that you need in your business.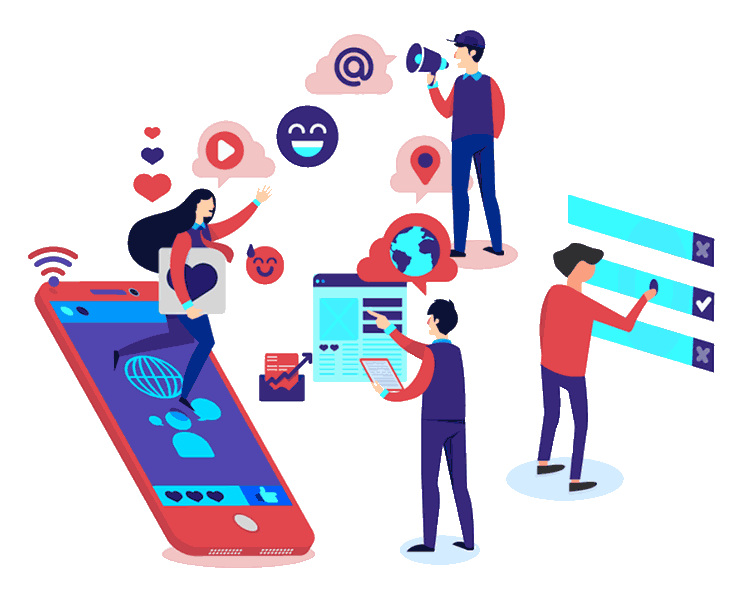 What Kinds of SMS Software Are There?
The aspects of an SMS marketing software are not very complicated, but it has some specific tools that you need to leverage. The initiative that you take for your company depends on what kind of SMS marketing functionalities are suitable for the business.
Gateway API
This lets you send texts from computer through a telecommunication network. Using the API, a company can use its existing app to connect to the SMS gateway.
Automation
Some platforms offer the option to integrate SMS with the existing email tool. This is beneficial to businesses looking for a multi-platform solution.
Reserved Number
A lot of the companies want a text-only feature that allows them to reserve their business phone number or contact. Customer service staff can easily send and receive texts using the marketing software.
What to look for in an SMS Software?
SMS marketing software is a powerful tool for reaching out to your target audience. Integrating an SMS software with your applications will not only help your business interact closely with your customers but also create a seamless user experience for them.
Sync with your contact's data
Your SMS marketing software should allow you to upload CSV files with your numbers or to sync with your CRM or database through API or integrations.
Bulk Delivery
A bulk delivery feature should be a no-brainer for your SMS marketing software. While conducting your SMS marketing campaigns, bulk SMS helps you to instantly to deliver your audience any marketing message.
SMS Scheduling
Your SMS marketing software should allow you to schedule multiple messages. And to send them at different times. Scheduling texts can ensure that all promotional messages in your SMS marketing plan reach your customers during peak hours.
Besides, scheduling also comes in handy for sending periodic reminders to your customers about deadlines or activities.
Security and Privacy
Your SMS marketing software generally collects a fair amount of consumer data during the process of generating statistics on the performance of your marketing campaigns. A lot of private information, such as purchase behaviour, needs to be protected from thieves.
You should consider whether the provider of your SMS marketing software is GDPR compliant (for Europe) or not. It should guarantee the security of the collected data keeping in line with the existing legislation.
With Octopush, you can be assured of the security and confidentiality of your company and user data following the General Data Protection Regulations (GDPR).
Analytics
What good is it to send lots of SMS if you don't know how they're performing?
It is essential to track the performance of your SMS campaign. In order to consistently improve your marketing efforts. For this purpose, your SMS marketing software should provide detailed reports to help you measure the performance of your campaigns. You should be able to track performance metrics such as delivery rate, open rate, or click-through rate.
Having real-time simple data about how your users are interacting with your marketing efforts will guide your path to success by showing you what to adjust and improve.
Personalisation
Delivering tailored messages to your audience will improve conversion, so make sure that you have available some personalization tools within your SMS marketing software, such the ability to create segments and merge-tags.
Personalisation can generally be done automatically by replacing a tag in your message template for each user. For example:
Congratulations [#NAMETAG], your purchase is confirmed. Thank you for shopping with us.
Personalising your messages will improve your conversion rates. You can also take it one step further by customising the sender of your SMS. This way they will become instantly identifiable to your customers.
Branding
Just like we had mentioned before in the types of SMS marketing software above. The dedicated phone number, permits you to align your messages with your brand. You can achieve this by sending SMS with your name on it.
Voice Messages
If personalising text messages accounts for a great user experience, the inclusion of voice messages enhances the quality even further.
It is wise to look for an option to send voice messages in bulk in your SMS Marketing software. Voice messages allow customer interaction on a personal level, which boosts their perceived quality of service and shows that your brand cares for them.
Integration
Integrating the SMS marketing software with other applications like CRM, Customer Data Platforms, or any other omnichannel marketing applications will allow you to automate a large part of your marketing campaigns.
Integration with your applications will allow you to automate promotional as well as transactional messages.
You can also use integration to automate security features such as one-time-passwords or password resets, if applicable. As SMS is a more secure channel in the place of email for sending OTPs.
The instant delivery of SMS makes it easier to send the request and response fast and without causing a delay of logging in, helping you to provide reliable service and building trust with your customers.
2-Way Communication
A survey shows that around 75% of consumers are frustrated when they cannot respond to a text by a brand because of a no-reply text messaging system used by many businesses.
Your SMS software should be able to receive and record replies from customers for each text you send. Ensuring two-way communication also allows you to gather feedback from your customers or provide SMS-based customer service.
Pricing
Consider pricing plans provided by your SMS marketing software. Although some companies offer a free version, you can expect these to come with very limited features.
Pricing plans of the software can vary based on factors like the range of features, message volume, maximum database size, etc. Octopush offers a free trial for you to get started and also offers the best prices, so you can get the maximum ROI from your marketing efforts.
What to Consider for an SMS Marketing Software?
Before straight up choosing software for SMS marketing, there are some questions that you need to ask yourself.
How big is my company?
How tech-savvy am I to handle the technical features?
How much am I willing to pay?
Does my business need a transformation of data in the software?
What Octopush SMS Marketing Software has to offer?
Though there are plenty of SMS marketing software options in the market, Octopush's forte is that we specialize in Mobile, so you will be able to display a full mobile marketing approach for your customers or audience straight from our platform.
Delivery of SMS text in bulk
Octopush SMS marketing software can serve the needs of bulk SMS messaging for your business, no matter what size it is. Apart from providing all the features to create and implement an efficient SMS marketing plan, we also provide swift customer support.
Octopush also provides an easy-to-read API Documentation on its website. For you to make the process of API integration smooth and secure. You can easily integrate its API with your software and seamlessly create automatic workflows.
Send Voice SMS
You can automate the SMS communication between you and your clients using the Voice SMS service of Octopush.
Voice SMS is a feature on our SMS software that will help you at multiple stages of your marketing campaigns, or for providing customer service. Customer service via Voice SMS is an efficient alternative to phone calls, as you don't need a dedicated support staff all the time.
Select a male or female voice
Set the length of your message
Call forwarding
Compile the Voice SMS receipts
Get reading confirmation
… and more.
Get A Virtual Number
With Octopush SMS marketing software, you can rent a virtual number, which you can use to send SMS for chatting or carry a two-way communication with your customers. A virtual mobile number is a secure line that you can rent on an annual basis. You get a unique mobile number which you can use to send and receive SMS and calls.
Use your rented number for your SMS marketing campaigns and communications with your clients. This will help you keep consistency, instead of sending texts from different numbers each time.
Expand your customer directory
Conduct surveys
Invite to offer them to subscribe/unsubscribe to your SMS list or email newsletter
Manage your virtual number remotely
You can also receive inbound messages and calls through the dedicated local number.
Personalise Both Ends
SMS can become a personal medium of communication. As a tool from the SMS Marketing Software, it is important it includes this feature. Personalisation of the texts you send, may include the first name of the user or any other suitable information.
Build a personal connection with your audience
Maintain a consistent brand image
You can opt for the personalisation of the sender, which can be your brand name.
Octopush SMS Pro service provides customisation of the sender of your SMS within 11 alphanumeric characters. So your customers can recognize your text messages.
Create Landing Pages
Keeping up with the latest mobile marketing trends, Octopush's SMS 2.0 service allows you to send SMS messages containing a URL that leads to a fully customisable Landing Page. This feature is crafted specifically for a responsive mobile marketing campaign.
With SMS 2.0, you can:
Send a text to your SMS list that redirects to a mini mobile website
Get your customers to engage with your brand
Gather feedback using polls or questionnaire
Redirect to a page where the customer can redeem an online coupon
Send news about product releases
Drive traffic to your website and boost your conversion rates and much more.
Verify Your Database
Your database may include many obsolete entries, mostly discontinued mobile numbers. These can lead to failed SMS deliveries and continuously cost you money without any results.
For these issues, Octopush offers HLR Lookup, contains all information about mobile lines of subscribers that are authorized to use the GSM. Besides, it allows you to:
Verify the existence and validity of a mobile line in real-time, including the type of mobile number or its roaming status
Obtain subscriber information from users around the world
Making it equally effective for your international marketing campaigns.
You can easily integrate it with your software or applications as HLR Lookup is available by Octopush SMS Marketing Software via our API.
Add Whatsapp To Your Marketing Channels
If you are a VSE/SME looking to expand your range of communication channels to interact with your customers, WhatsApp Business can be a great option for you.
You can use the Whatsapp Business API offered by Octopush to easily integrate this solution into your SMS marketing software. The communication is secure, as end-to-end encryption is already provided by Whatsapp.
You can utilise multiple functionalities offered by Whatsapp business in a personalised manner:
Support management
Alerts
Follow-ups with customers
Order confirmations
Delivery status updates
… and more. WhatsApp Business is equally effective for sending both promotional and transactional messages.
Moreover, the cost of sending push WhatsApp notifications is lower than that of SMS.