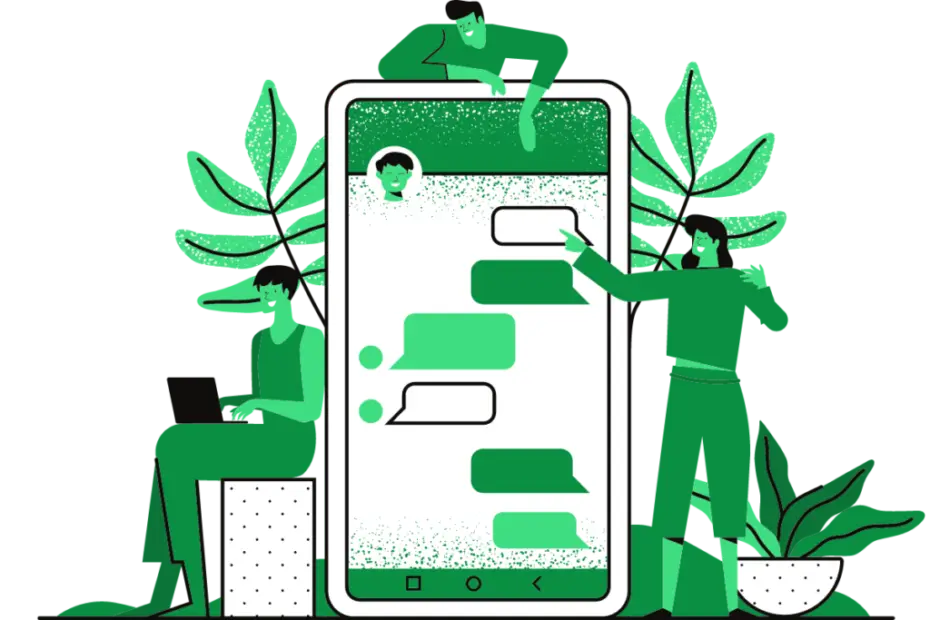 Running a marketing strategy using promotional SMS at first sight seems pretty easy. You just have to write a short text message, select your recipients and click send. It can take no more than 10 minutes, and that's why it's so convenient for small and mid-size companies.
But what if you could maximize the results?
You can make a lot of improvement in only 160 characters. Here we'll show you 10 core elements that your marketing messages should include (and why) to make the most out of your SMS marketing campaigns.
Why Choose SMS Marketing?
SMS marketing nowadays is used by all types of businesses. Whether it is a micro-business, SME (Small and Medium Enterprises), or big firm, SMS marketing has a big effect on the economy.
SMS and Mobile marketing provide these businesses with opportunities to develop and improve the customer engagement at commercial and technical levels.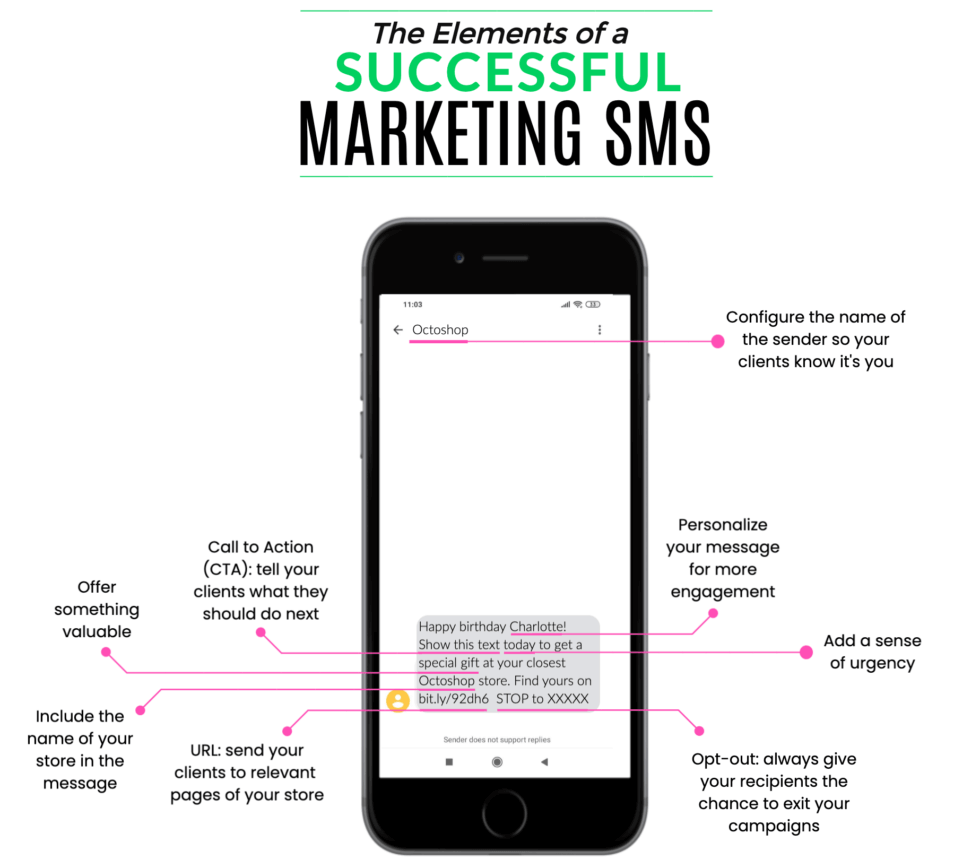 How Do Promotional SMS Work for Marketing?
SMS marketing is easy to operate. All you need to do is pick a reliable service provider like Octopush and follow these steps:
Pick a keyword or number.
Add your business name.
Select a short but engaging text message (example: promotional SMS)
Choose the number of times you want your promotional messages to be sent to your customers every month.
Incorporate a link to your message and privacy policy in the promotional SMS to remain transparent with the customers.
Pick another short code (example: STOP) that can be used by the customers to stop receiving your SMS messages.
10 elements for a successful promotional message
A good way to strategically use promotional SMS messages for your marketing is to make sure it is not a one-way road for the customers. Your promotional SMS platform should also be able to set up a keyword or number that your customers can reply with if they want to stop getting your text messages in the future.
You must be aware of customer privacy guidelines at all times and ensure an opt-out choice for the customers who no longer wish to receive the SMS marketing messages. This will relieve customers of unwanted memos and maintain your brand image.
This can be easily done with the help of the operating platform known as Octopush.
To start SMS marketing, the first step is to find a service provider that will route your chosen text message to the customers. For example Octopush provides the best packages for any new business looking for a place to start SMS marketing.
Clear And Direct Message
Clear communication is vital in designing an effective promotional SMS for your brand. To get people excited about your promotional content, they need to understand it first.
Cluttering your text messages with unnecessary information will only confuse the reader. Besides, people have a limited attention span. Hence, your text message should deliver only what's necessary to your customer without taking too much time.
As a content creator, you should know that short and concise promotional SMS portrays a sense of simplicity in your customer's mind.
Example templates:
Exclusive Flash Sale! We are offering a 30% discount storewide from January 1st to January 6th. Shop now and receive free shipping when you spend £100 or more!
Call to action (CTA)
Tell your customers their next step in your promotional marketing message. If you cannot tell what is it yet, then you might want to reconsider why you're sending the promotional SMS in the first place.
Think about the goal of your marketing efforts in general and include it in your text message, and the call to action will follow. Keep it simple but compelling, be direct and avoid double-meanings or difficult words.
Example templates. "Show this text", "Click here", "Enter GIFT on checkout", "Come with a friend", "Finish your purchase"
Offer something valuable
We need to put ourselves in our shoppers' shoes: if you had to perfectly fine shops where to buy a jacket, why would you choose one over the other?
Give your clients through your promotional SMS something they might find useful to help them make up their minds. Normally, it'll come in the form of a coupon, discount or free gift, but you could also make a contest. Get creative!
Example templates. "2×1", "get a 10% discount", "save 5£", "FREE dessert with your meal", "3×2", "get 7£ of credit", "FREE trial"
Include the name of your store in your message
An important target in marketing is that your customer remembers the name of your business.
Give all your messages a special touch of branding for customer engagement and to keep them thinking about you. Don't stick to only mention the name of your store in your promotional message, but also the name of your products .
For example, if you have a spa, instead of offering a "spa day" offer the customer a "Deluxe Relaxation Package".
Extra tip: personalize your keywords as well.
URL
It is more likely that almost all your recipients will have internet access on their phones. You have the chance to include a URL to a relevant page on your site to the extent of your message beyond the 160 characters that make one promotional SMS. Use it wisely!
Drive customers to meaningful and related pages on your site and make sure that they're adapted to mobile, or in a word, responsive. If you don't own a website, Octopush offers for free SMS 2.0 feature, which allows your to create beautiful landing pages inside a simple drag and drop interface.
Best practices: use URL shorteners to use fewer characters in your promotional SMS. This will also allow you to track your results. (Read here why tracking links is so important)
Examples. "Find your closest store 8push.ly/73hdn", "Learn more: bit.ly/jdh785", "Check our availability: bit.ly/79fhg4", "Buy your tickets here: bit.ly/7923gh"
Sender's name
Some SMS marketing providers and plans give you the possibility to personalize the sender ID for your promotional message (in Octopush you can do it with our Premium SMS).
This is the first thing your customer will read when you send them a message. So the best way to send promotional info if you want to avoid being ignored or deleted by mistake, is to customize your message with your company name and let them know it's you. The more they see your name, the more they'll consider your brand.
Personalize your promotional messages
Use the data you have on your customers to tailor the messages you send to them. Your promotional SMS feel more familiar, personal and it'll increase their attachment to your brand. One easy way of doing this is to use tags or variables in your automated messages to personalise dates or the sender ID.
If you're using a CRM, or have an e-commerce, you can easily do this using the app Zapier (check out our post on how to do automations with your promotional SMS for your ecommerce)
Add a sense of urgency
There're a lot of studies in marketing regarding the psychology of urgency. But what's important about it is that people are more willing to convert when they feel that time or things are running out.
Add urgency to your promotional SMS. Resources like a deadline, a countdown or limited stock, highlight potential price increases or scarcity of an item. If this is your strategy, you might as well include it in your CTA's.
Include in your messages prompts like: "Only 3 left. Get one NOW", "Last day! Make your reservations now", "Price increases soon. Buy tickets at promo price".
Generate two-way communications with your customers
Your marketing strategy can focus in carrying out a conversation with your customers, allowing you to receive valuable insights from them. Such engagement generates high customer loyalty and lifelong value.
However, maintaining effective two-way communication with the customer can be challenging .
To make this process easier, through a dedicated number, your business can encourage its customers to participate in two-way communication with the customer. Octopush offers features that go beyond promotional SMS, such as 'Transactional SMS', 'Voice SMS' and 'SMS reply'.
You can engage customers through follow-ups, surveys, reminders, and information by SMS, guaranteeing seamless communication.
Opt-out
In some countries, it's compulsory to include a way for your customers to unsubscribe from your marketing promotions. In France, for example, the law dictates that you should include "STOP au XXXX" in every promotional SMS you send.
Although you could avoid this, it's always advisable to give your customers control. Over what they want to receive from your messages. We're looking to delight and engage our customers. Not to flood them with annoying messages they don't want to receive.
Final Word
You now have these core elements your marketing messages should include. In order to make the most out of SMS campaigns.
If you want help developing a campaign, we can provide expert guidance that will take care of every aspect from message creation and testing to measuring ROI. We are here for you at any stage of your SMS journey so don't hesitate to reach out!