For a company, having an appointment reminder system via SMS is essential. You are a company offering services? Are you looking for a communication strategy to optimize your operations?
SMS appointment reminder is one of the alternatives you can opt for. Indeed, it not only makes you more efficient, but also more profitable. Find out everything there is to know about appointment reminders via transactional SMS to get the most out of your customers thanks to a high-performance customer management platform.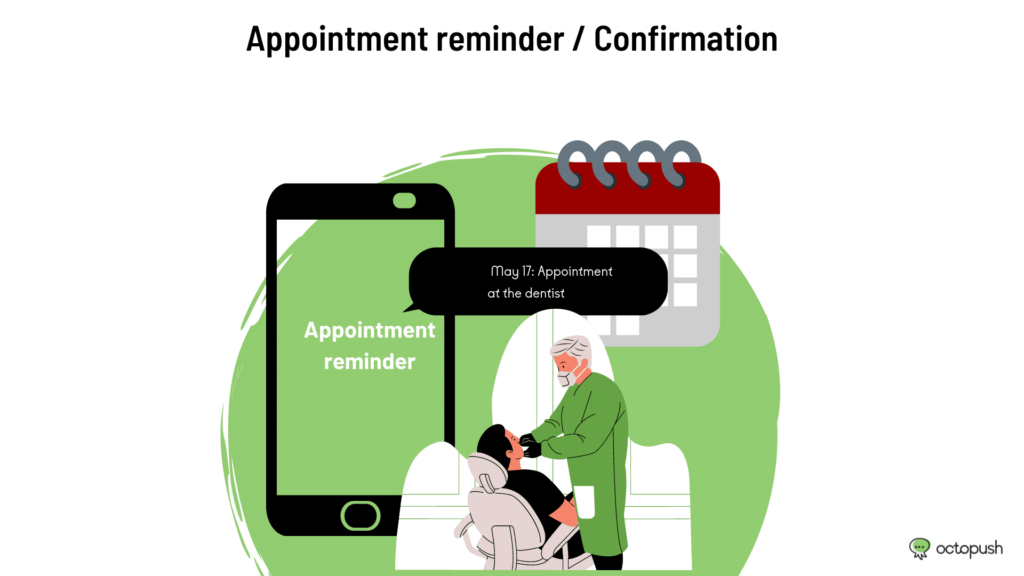 SMS appointment reminders in the medical sector
If appointment confirmation via SMS is increasingly adopted by medical professionals, pharmacists and cosmeticians, it is because it improves the organization of their clients' and patients' appointments. In the health sector, it is common to see patient cancellations as a session approaches.
This can totally disrupt a schedule that has been prepared for several weeks. Thanks to the SMS appointment reminder via Google Calendar or not, you can be sure that your various meetings with your patients will take place several days in advance. This little reminder will limit the financial losses linked to last minute cancellations.
For older patients, the appointment confirmation SMS could be a boost to reduce rescheduling due to forgetfulness. It will also allow doctors to rearrange their schedules to make the most of their time.
This communication technique also offers the advantage of encouraging a patient to come and meet his specialist. Indeed, SMS is one of the most effective media. You should know that in 95% of the cases, it manages to capture the attention of the recipients. By sending an appointment confirmation SMS to your patients, you show them that they are important to you.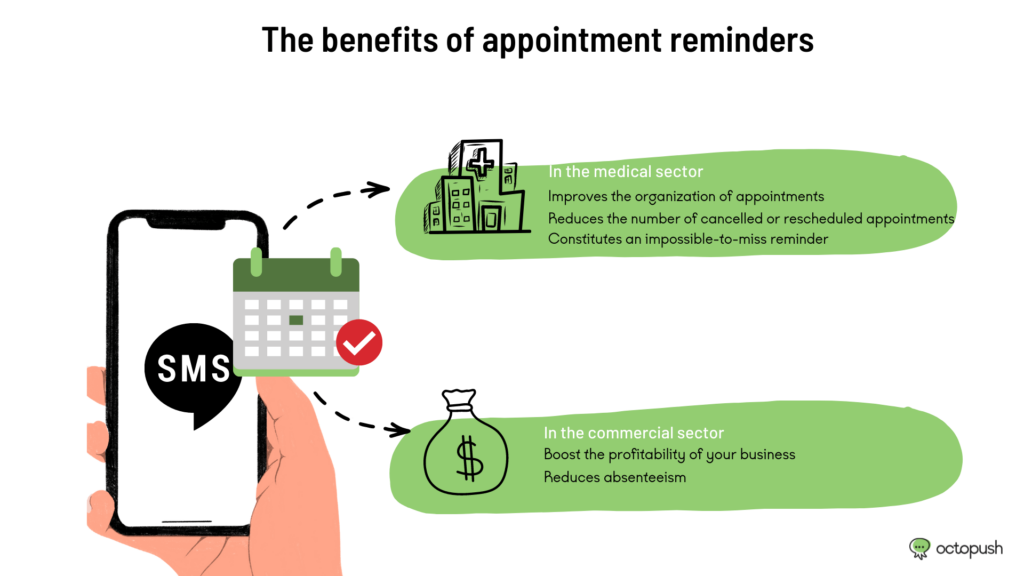 The appointment reminder message for the sales department of large companies
Business efficiency isn't the only benefit you'll enjoy if you opt for SMS appointment reminders for your customers. This marketing strategy also boosts the profitability of your business. Indeed, it allows you to reduce your absenteeism rate. As you cover a larger and larger clientele, your turnover will be multiplied.
If you have off-peak hours in your schedule, you can also take advantage of them by scheduling new interviews at these times. This will not fail to increase your portfolio while gaining even more notoriety.
Advantages of SMS appointment reminders compared to email
Compared to email, SMS is much more convenient and accessible. Indeed, to send SMS to a client or a patient, you don't need an internet connection or any kind of download, which is not the case with an email and it considerably improves the absenteeism rate. Moreover, most customers check their SMS more often than their email when they are on the road or in a group with their friends. So they are more likely to see an appointment reminder when it is sent by SMS rather than by email. So what are you waiting for to opt for SMS appointment reminders for your customers?
Discover our Octopush platform, a solution that assists you in managing your customer messages.