Do you know the best method to reach the maximum number of people in commercial marketing? It is a business SMS. Compared to other promotional techniques, business SMS is an infallible means of communication to acquire and retain customers. Thanks to it, you can revitalize your business and you can take advantage of the benefits it offers you by using several techniques. 
Integrate bulk SMS in your business
Bulk SMS is considered as the sending of a large number of messages to cell phone numbers. This type of service can be used by media companies, corporations, banks, brands or marketing agencies. The objectives of this mass mailing tool are numerous. It allows you to send alerts, reminders or text messages to all the numbers on your list on each phone. It also gives the possibility to send messages while creating a business between the customer and your company. Don't you want to try such a method?
Indeed, bulk business is a software solution that you can integrate into your business. To do so, you just have to install it on your computer. Then, you have to create your mailing list by adding as many phone numbers as necessary to constitute an excellent database. Of course, this will allow you to set up a good management of the numbers and to use them, if needed.
Finally, you need to schedule your customer messages. Here, it is a matter of setting up the bulk sms in order to send business sms at specific times of the day and on specific days. You also have the option to send messages to international networks. Also, remember that you need to use the different features of bulk sms to help you in the different procedures of sending sms.
Get a high engagement rate with your target simply via their phone numbers
Why opt for business sms? To get a higher engagement rate (from prospects) with each mobile message broadcast. Since the world is governed by the rule of the strongest, using business sms allows you to attract more customers. The goal is simple. You need to offer them all the reasons to believe in the reliability of your business, so that they will engage in large numbers on your web page.
To achieve this, you need to know your customers well. It is then essential to have real information about them. To do this, use data collection to determine the real needs of your customers. This way, you will be able to identify your contacts more easily and you will have a more precise vision of your customers.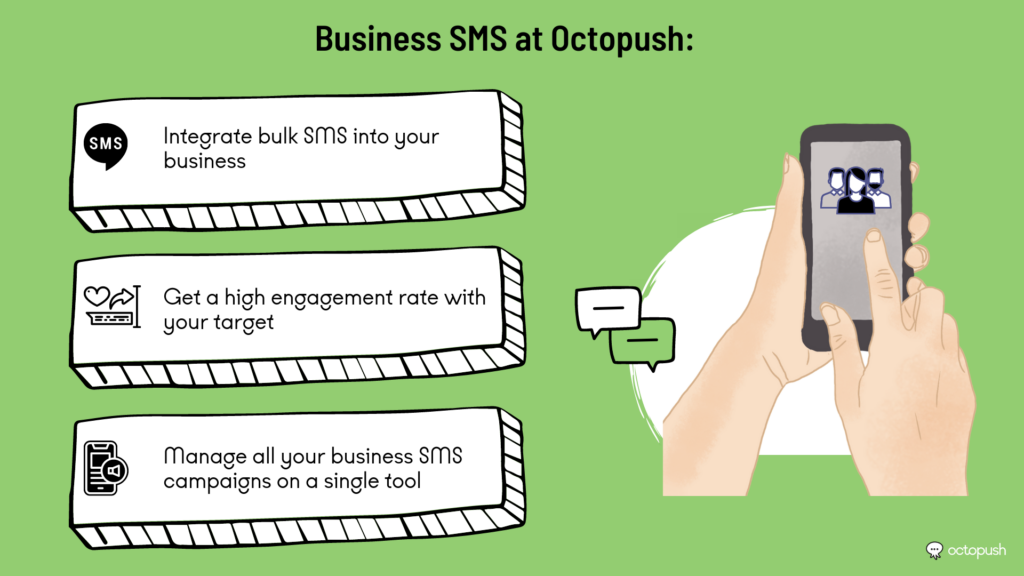 Manage all your business SMS campaigns on a single distribution tool
If you are looking for an effective way to increase the revenue of your sms marketing campaigns, you must use business sms to boost customer conversion. This communication channel will help you set up the necessary tools to manage your entire campaigns. You will take advantage of it to advertise your products in order to make real profits in your business.
What are you waiting for to communicate your message to each mobile number of your contacts? We have the solution!