The Internet SMS service is a sending service that has many advantages for companies and their marketing. Sending sms via the Internet is proof that a company is undergoing a real change. This communication strategy has allowed many companies to develop all their marketing activities over the years via a sending of on a cell phone. In addition to the effectiveness in reaching the targets, the Internet represents a very interesting asset for a company.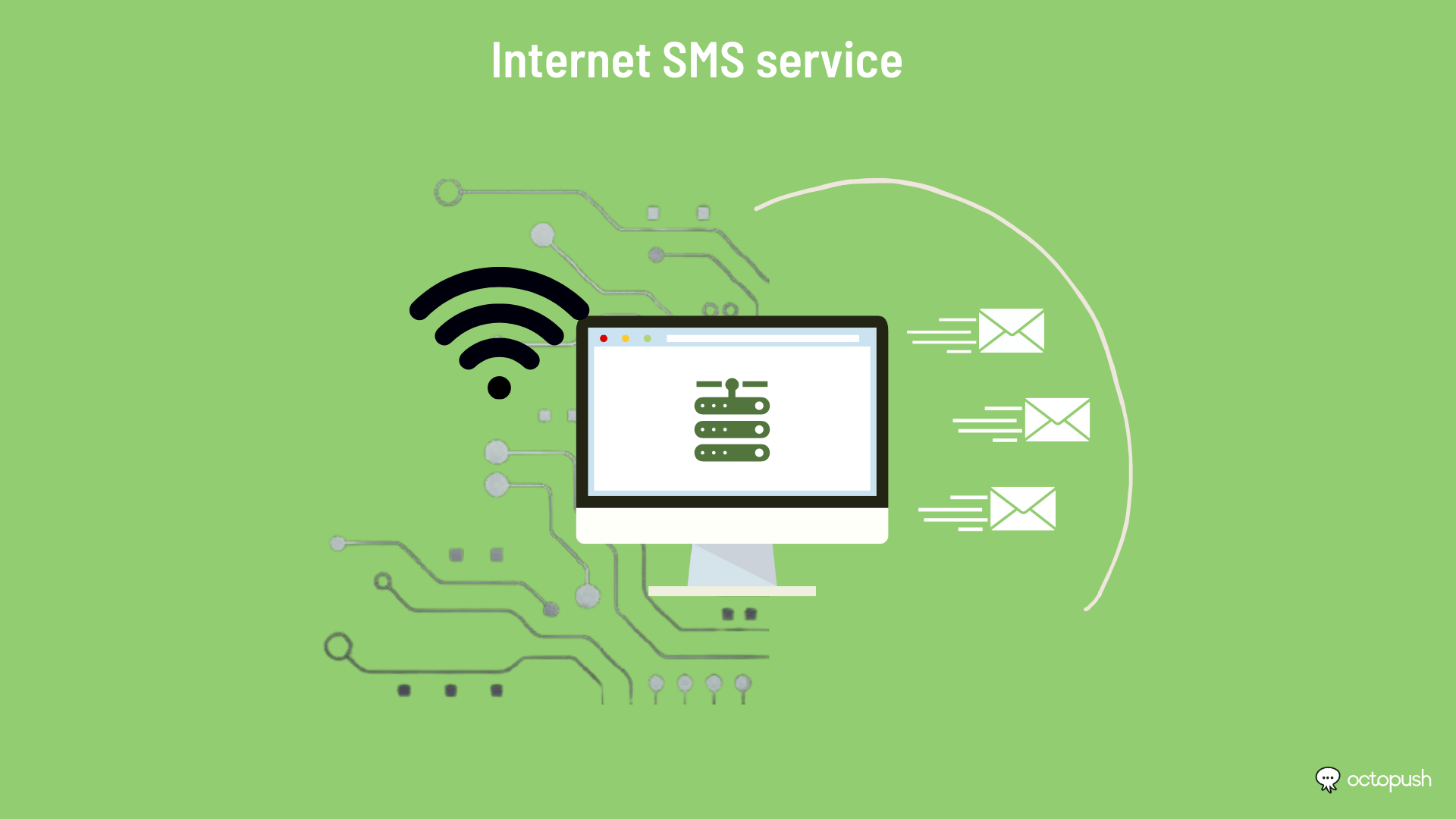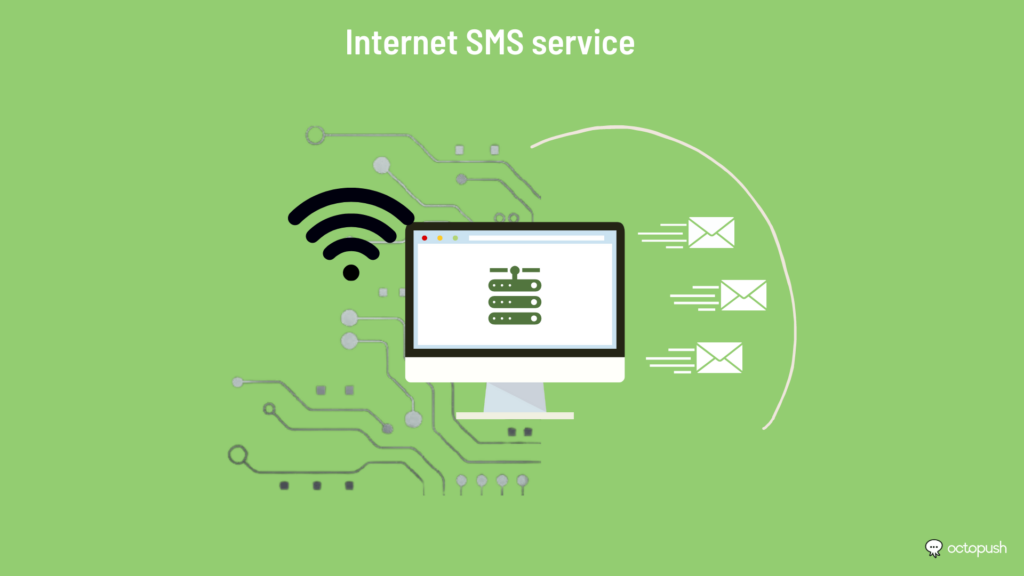 To send mass SMS, opt for the online services of specialized platforms
To send mass sms to build customer loyalty, the internet SMS service offers a wide range of offers via SMS servers dedicated to this. This is the case of specialized platforms. Indeed, the latter allows you to send a message to your entire list of contacts. This solution is much more convenient than contacting your customers one by one by SMS or email. Moreover, you have the possibility to personalize your message, so that each recipient can receive an appropriate message.
With SMS platforms, your messages are read within minutes of receipt. They are more effective, easy to read and leave a real experience for all customers. Better yet, you can integrate http sms into your communication campaigns, using specialized platforms. For example, Octopush is a platform that ensures better visibility to your company. Through the methods it implements, you quickly increase your rate of visits to your website.
On the other hand, specialized platforms allow you to create and send mass sms. Endless message templates are available online for your convenience. Accessible to all, there is no need for an expert to use the services of specialized platforms. You don't need any technical skills to send thousands of messages in record time. Thanks to the sms platforms, you will learn how to manage your messages intuitively. You will also have the possibility to integrate all the elements you want in the body of your message. Easy, isn't it?
A higher opening rate than email at a lower cost for each number
The web-based promotional SMS service makes your marketing strategy more dynamic. In fact, by using it, you get an excellent reception rate and a 98% sms open rate. Thus, your sms are read more than a simple email. In addition, you can send large quantities of messages around the world.
The service is obviously not free of charge like the mass emailing services but it is also affordable. In addition, you will be able to integrate URL links or cell phone promotional offers into your messages. This way, you can easily invite your customers to enjoy all your products and services on the web or in person via your phone number or a virtual phone number.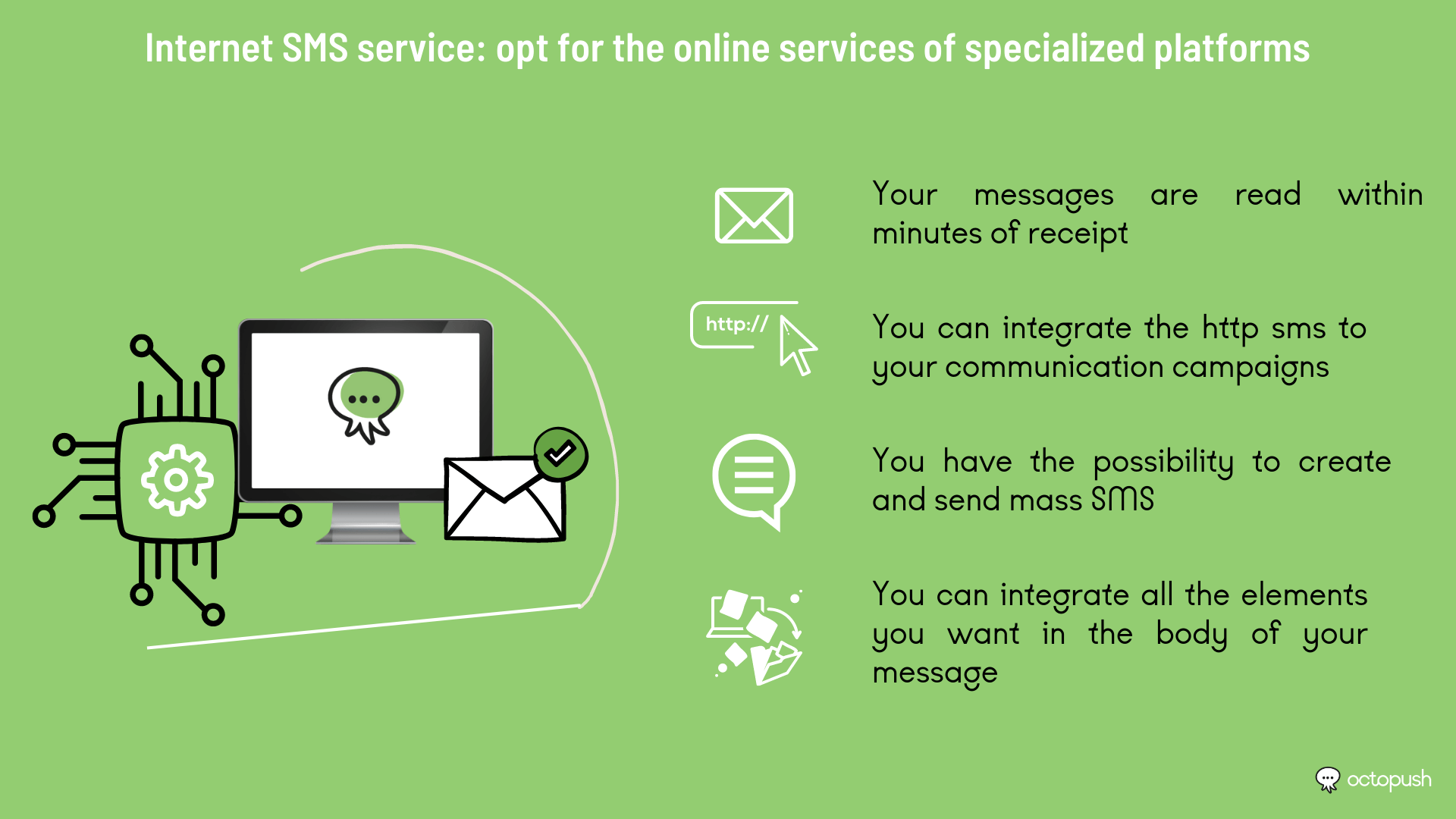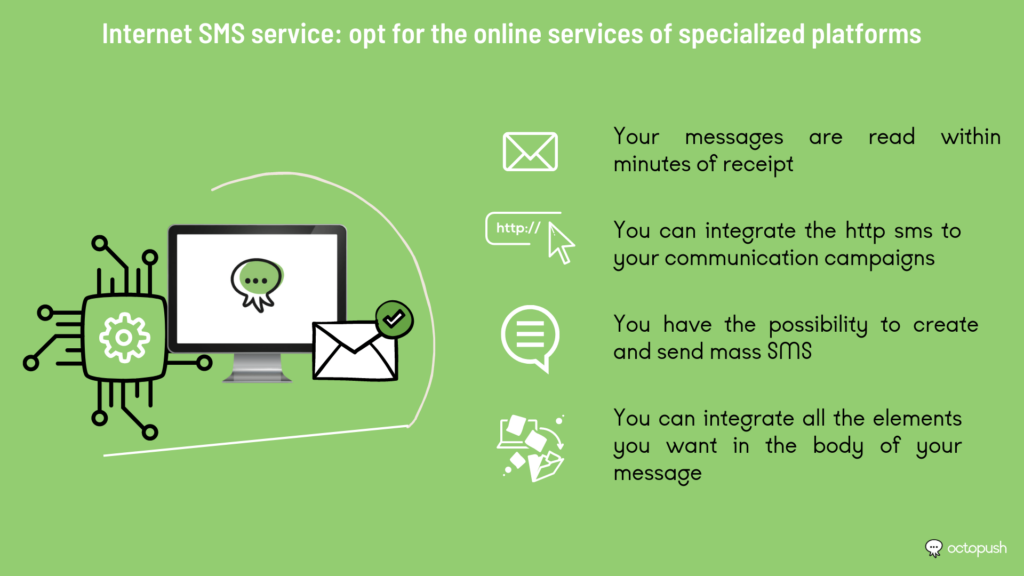 Boost your conversion rate with the mass sms sending service
By sending mass sms, you surely expect many customers to show up. Indeed, sending mass SMS on cell phones helps to boost your conversion rate.
To achieve this, you need to captivate the customer. They must decide to buy your product on their own. Don't force his hand! Therefore, avoid as much as possible the word "sell" in your message. On the contrary, you must accompany and guide the customer in his choice at each sending.
Of course, you must show the value of your products and services to your customers. You can do this by including a URL link in your message that allows customers to learn more about the products. They should contain information that will entice the customer to fill their cart.
If you want to know more about the offer of sending and web communication on cell phones, we have prepared a content about the usefulness or not of creating your own SMS server.
Don't wait any longer, discover our Octopush platform and find all the information about sending via API or platform, on our website!