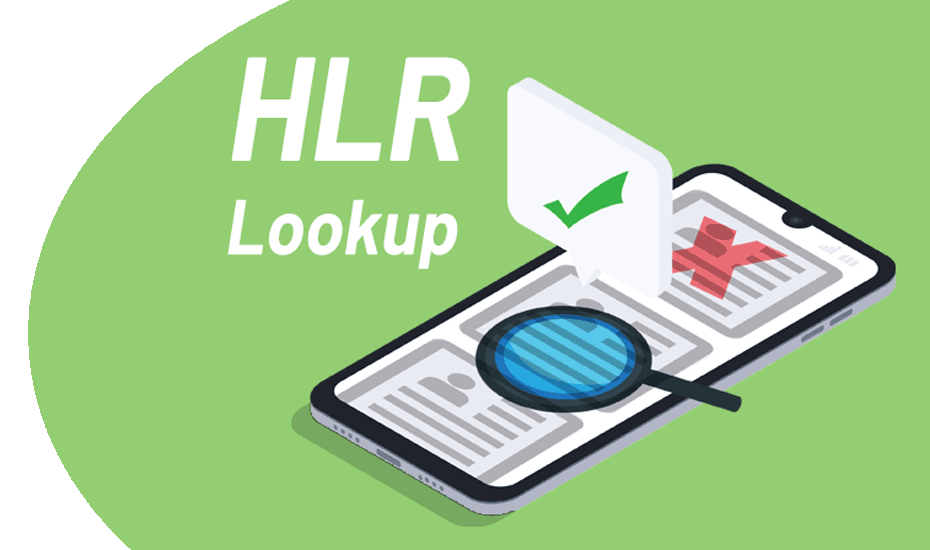 SMS marketing has rapidly gained popularity among businesses, thanks to its swift and accurate delivery. In fact, 53% of marketers have adopted SMS messages for communicating with their audience. But keeping the contact database updated with accurate information can be tricky. This is where HLR lookup comes in.
Obsolete entries and discontinued mobile numbers in your SMS database can lead to failed SMS deliveries and repeatedly cost you money without producing any results. In this article, we'll help you understand how HLR lookup can solve these issues and help you grow your business.
What is HLR Lookup?
HLR is short for Home Location Register. It is a storehouse of information on all the subscribers of a specific mobile network. An HLR Lookup dives into the contact database or HLR of the mobile operator for obtaining the latest information on a mobile phone number.
Using HLR lookup saves you the time and money you would've wasted for sending promotional texts to unused numbers. This can be a critical advantage, especially if you're operating in a competitive market.
HLR lookup sends a signal to a mobile network's database to find out if the number is in use. If yes, then it also finds out which mobile network the number uses.
Companies offering an HLR Lookup service will share the information found in the HLR to organisations for a small price.
Companies can then send their desired texts to their subscribers, wherever they are.
How Does HLR Lookup Work?
HLR Lookup looks into the HLR database to know about the most recent status of a certain mobile phone number. From its whereabouts to whether it is still in use or not, the lookup will tell you everything you need to know.
The lookup results will even inform you whether your client's phone is currently switched on or not. If used correctly, HLR lookup will be your strongest weapon for promoting your business.
Is HLR Lookup Free?
HLR Lookup services are not free. In fact, every reliable HLR Lookup service will come at a price, however cheap it may be. In the long run, this cost will be substantially lower than what you would have to spend without the HLR Lookup service.
We would advise you to never trust these services if they come for free. Since HLR Lookup deals with sensitive data like phone numbers and subscriber identity, your best bet is to not take any risks.
Octopush offers HLR Lookup services that don't require any additional downloads. You get started by integrating it with your software or applications thanks to the Octopush API.
8 Benefits of HLR Lookup You Need To Know
HLR Lookup does more than just cleaning your SMS database. It helps you optimise your SMS marketing budget and makes communicating with your customers easier.
Here are more ways how HLR lookup makes your life easier as an SMS marketer.
1. It Helps You Keep Track of the Numbers
If your contact database has a lot of duplicate records, it can cause your SMS service to send multiple identical texts to the same numbers. Besides, the number of inactive and obsolete numbers in your database can build up over time.
To avoid this issue, HLR lookup goes through all the numbers and gets rid of the duplicate records and the numbers that are no longer in use.
2. Allows You to Stay Updated in Real-Time
HLR lookup lets you know which numbers in your database are active in real-time. Sending promotional texts to inactive numbers won't get you any new clients, but it surely will cost you money.
By making sure your texts are being delivered to active numbers, you can save some extra cash, which you can then channel to other areas of your business.
You can also get your conversion rates up by targeting the leads that are most active and likely to engage.
3. It Lets You send Messages Internationally
With mobile network lookup services, you can easily reach any contact in any part of the world, as long as they opted in to receive texts from you.
As a start-up or a company scaling its operations, you might want your marketing communications to have as much coverage as possible. However, this is not achievable for a lot of businesses depending on traditional marketing channels, mainly due to insufficient budget or PR.
This is where HLR lookup can come in handy. At a fairly lower cost, you can deliver your promotional messages to any recipient, regardless of which server they are a part of.
Moreover, the service will also alert you if one of your customers is currently using a roaming network.
4. HLR Checks are Easy to Use
HLR checks are extremely easy to use. In fact, all you have to do is make an account with an HLR company and provide them with a list of numbers that you wish to cross-check.
Once they receive the file, the software will go through it to examine the numbers on the list. The actual time taken to complete this process depends on the list of contacts.
If you use our service from our platform, the lookup for 2k contacts will last for approximately 30 minutes. However, since the API maxes at 500 contacts, it might be a bit slower. To inspect all of your database, you can create loops of 500 contacts when using our API.
Once you are done providing them with the necessary documents, all you need to do is wait for the results to roll in.
Octopush offers easy-to-read documentation to make the integration process with the API easier for you. This helps you get your HLR checks up and running in no time.
5. Helps Keep Your Records Clean
We're talking about your phone number database when we talk about records here. By processing every number through an HLR lookup software, you will know which ones to get rid of.
Apart from making your list look much tidier by reducing the clutter, this will also reduce the chances of you wasting money or getting the information of your subscribers leaked.
Octopush implements all technical and organisational means to ensure the security and confidentiality of the personal data of its users and recipients following the General Data Protection Regulations (GDPR). So you can be assured that the information of your subscribers is in safe hands.
6. It Guarantees Accuracy
Reliable HLR lookup services will always give you the most accurate results. With the list that the machine provides you, you can rest assured that the money you spent will be worth it.
All the phone numbers in the feedback list will be active and will provide you with better quality and spam-free leads.
7. HLR Lookup Services Are Fast
Yes, you read that right. Regardless of how long of a list you might hand into them, you can expect feedback from HLR Lookup services within a day at most. Usually, these services operate through emails, but that is not set in stone.
As a general rule of thumb, the more numbers on your list, the longer it will take for the software to respond. Most of the time, each number takes about a minute or two.
8. It Is Not Limited To Businesses
HLR lookup services are beneficial even to schools and app developers.
For academic institutions
The lookup can notify you when a certain number on your list has been turned off, activated, or becomes invalid. This lets you stay updated about your students even if they are not in the same vicinity as you.
You can also notify your students about upcoming programs, tests and keep them updated on all educational matters. With the HLR lookup service by your side, you don't have to stress about your texts not reaching them.
App developers
You can check which network the users are connected to by using HLR lookups. This can be particularly effective if making calls is a part of the app's functionality.
By programming an HLR lookup service to your application, you can let your customers know the rate of their calls in advance. This ensures a better user experience for them as they can correctly estimate how much they're spending.
Insurance companies
Lastly, HLR lookup services can also be utilised by insurance companies and travel agencies. You can use the information provided to you by these services to track potential leads in your respective fields.
Insurance companies can also contact their clients at any time if they know their current whereabouts.
How Can You Validate a Phone Number?
Validating a contact number is crucial for businesses to run smoothly. Not only can all your vital information be tapped into if you get in touch with an unprotected number, but invalid ones will also cause you to spend more money than necessary.
You can find a lot of tools on the internet that will validate a phone number for you. Most of them require you to maintain a strict format.
The first thing that you should do when entering a contact number is getting the country code right. Without this, the machine might rule out the number as invalid, thus costing you a potential client.
How Octopush HLR Lookup Can Help You Optimise Your Marketing Efforts
We here at Octopush also offer HLR lookup services to our clients. Here is a list of the things we can do for you:
We Keep You Updated
Staying up to date is crucial for you, especially if you're a growing business. And we know that. To help you out, our HLR lookup service lets you stay in constant touch with your contacts list.
At your word, we religiously go through the contacts list that you provide us with to make sure it only contains numbers that are still in use. Our services come at a low cost, even though the price tag is not set in stone.
Our HLR lookup service will tell you how many numbers are wrong, before letting you know the amount you will have to pay for those numbers.
We Make Your Work Easier
Our HLR lookup software is programmed to make the shortlisting process easier for you. It immediately discards any phone number that will be of no use to you and will only give you back the active and accurate ones.
We Are Always Ready To Help
If any trouble arises on your part, you can always contact us. Within five minutes, our experts will get back to you and hopefully resolve your problem.
If needed, you can even request a one-on-one phone call with someone from our team, and we will be happy to guide you through our HLR lookup process.
Validate Your Phone Numbers With Us
Our software is constantly checked for bugs and worked on to provide you with only the best responses. Your money and information are safe with us.
With our easy-to-navigate tools, you can validate all your phone numbers in a day at most. If you run into any issues, you can always reach out to us through chat or call.
Final Word
HLR lookup is a blessing for businesses using SMS marketing. It keeps your personal information from getting leaked to shady contacts, and the results that it produces are always accurate.
Not only is this service highly efficient, but it also lets you reach any corner of the world from your own office desk, all at the same time. How great is that?
Declutter your contact list with our low-cost HLR lookup service, whether you are a business, a school, or even an app developer.
Keep in mind that you should only disclose your information to HLR lookup companies that have a General Data Protection Regulation (GDPR) certificate to ensure the maximum security of sensitive user information.
So, what are you waiting for? Harness the power of HLR lookup and optimise your SMS marketing with Octopush. Create your free Octopush account and get a free trial today!