But how can RCS help a company to ensure a good customer relationship? Octopush answers you right now through this file.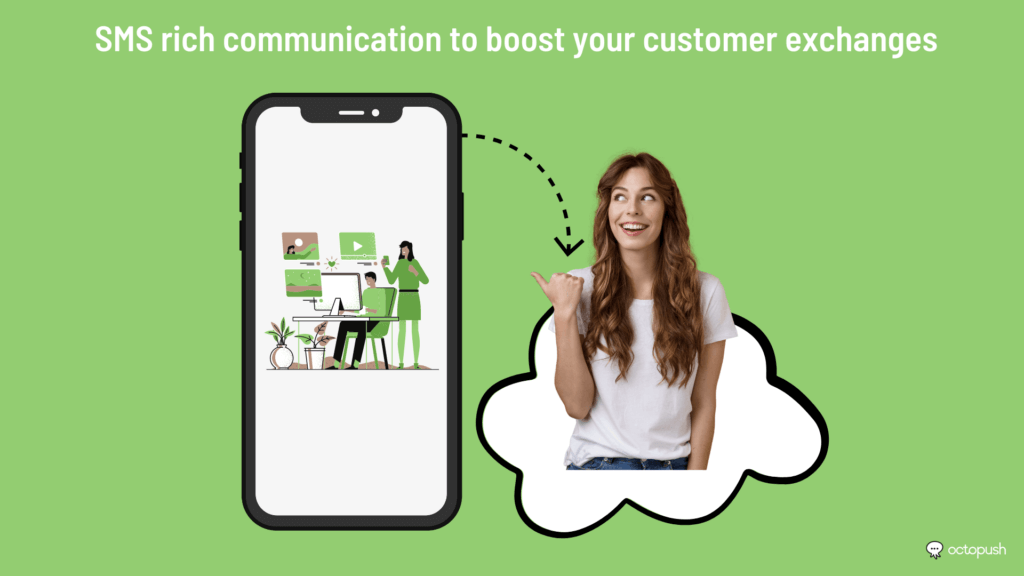 Rich communication SMS: what is the RCS message?
RCS (Rich Communication Services) is a mobile communication protocol developed by Google and the GSMA consortium. It allows the insertion of multimedia content (photos, videos, files, audio messages, etc.), logos and all kinds of animations. All this with a better quality display. Not to mention, using RCS also makes it easier to share links and send much longer messages, without character limits.
In short, RCS is very similar to instant messaging applications like WhatsApp or Messenger. For many, RCS will soon replace SMS as its improved version. Others also see RCS as the Android version of Apple's iMessage and the merger between WhatsApp, Facebook Messenger and WeChat, but in SMS format.
All these features make RCS a formidable marketing weapon to boost exchanges with customers and prospects. Indeed, thanks to the use of SMS rich communication, exchanges are much more dynamic thanks to the possibility of sharing rich multimedia content, but not only. Since the RCS has many other advantages for the brand image of a company.
SMS rich communication: what are the different features of RCS sms?
Earlier, we briefly mentioned some of the features of sms 2.0. However, it should be noted that this communication protocol offers various features:
The sharing of geolocation;
The sending of links and pre-written answers;
The chat from one correspondent to another or "one to one";
Group chat;
Displaying the status of the message, whether it is read or not. Plus the ability to see the three dots that mean the person is responding.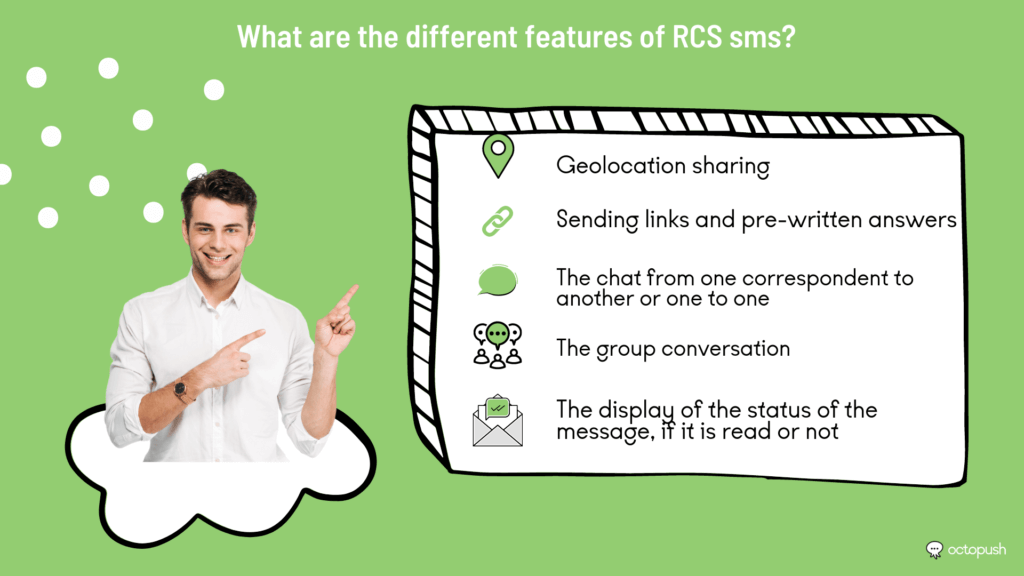 How does RCS messaging work?
As you can see, RCS is a brand new form of messaging found on smartphones, on Android phones more precisely. To work, it uses enhanced encryption that supports multimedia content, links and group discussions. The mobile network operator, SMS providers and cloud service providers are the network where the phone communicates.
So SCN goes through 4G or Wi-Fi to work, unlike traditional sms which uses the GSM network. Therefore, to transmit and receive data, the user needs the internet.
If we appreciate SMS rich communication, it is mainly for its speed and for the fluidity of its sms. Indeed, when in some cases, the GSM network can saturate (because of an abundance of messages), the RCS is not often subject to this saturation. With the help of the 4G network, this kind of problem is much easier to manage and the reception latency is almost non-existent. Also, with this type of SMS, you can create rich SMS landing pages.
SMS rich communication: Why does RCS messaging help you boost your customer exchanges?
The use of rich text messaging has many advantages in terms of customer relations. For example, RCS allows you to :
Switch from classic sms to rich communication sms
You can say goodbye to the banal sms exchange with your customers. To make your exchanges more lively and dynamic and to maintain your customer relationships, there is no better way than RCS. You can easily share high quality images and videos, as well as GIFs, polls and even audio.
Present a trusted brand
You have the ability to personalize your posts with your brand and logo. This will make your customers feel much more confident since they can be sure it's you.
Put your customer's mind at ease with the verification option
With the help of the verification option, you can show your customer that your message is authentic and that it really comes from you. Indeed, nowadays, there are many cases of usurpation. So by exchanging via RCS sms, you reassure your customers.
Benefit from suggested response and action buttons
To facilitate your exchanges with your customers, you also have the possibility to personalize suggested answers. Your customers will appreciate this gesture since it will be much easier for them to discuss with you. The customer experience will be even better.
Clearly formulate a call to action
With rich SMS communication, clear suggested actions are displayed on the screen for the URL card, calendar, dialer or redemption.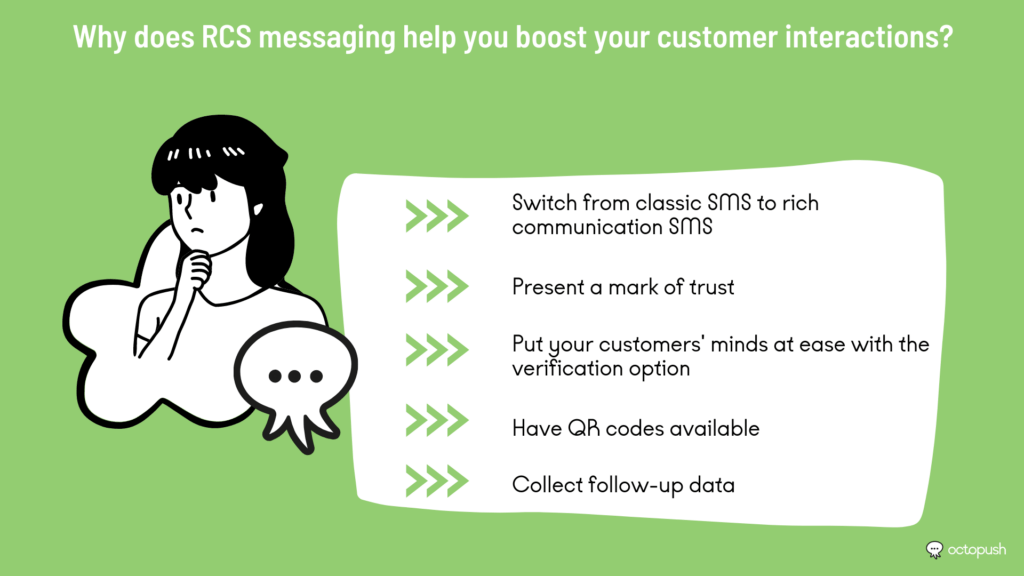 Have QR codes
RCS also provides convenience. Indeed, this communication protocol also has QR codes to facilitate reservations, discount codes, offers, tracking, ticketing and exchanges.
Collect tracking data
In order to continuously improve your SMS campaigns, RCS allows you to gather information with important metrics based on receipt and action reading. This will allow you to make the decisions necessary to achieve much better results.