To sell effectively, more and more companies are turning to SMS pro prospecting. The increase of the number of customers and the turnover of a company necessarily passes by the commercial prospecting. For any company wishing to increase its profits and its customer portfolio, it is an important step. But still, is it necessary to find a tool allowing to stand out from the other competitors?
Among the many tools that keep increasing over the years, the commercial prospecting campaign by sms appears as the light of hope. Widely appreciated by professionals in all sectors of activity, this communication strategy brings a real saving of time and money for the sale of your products and services.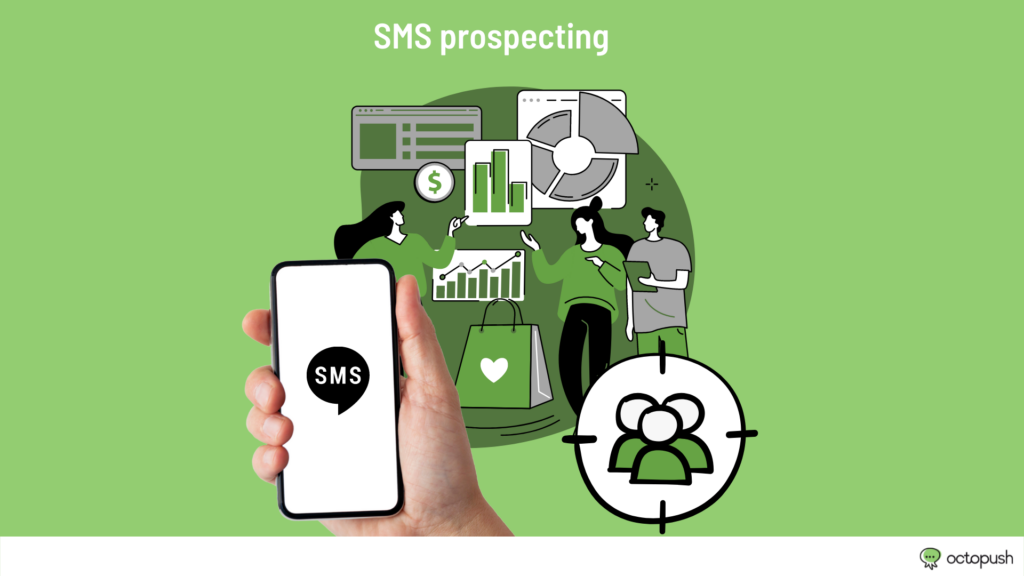 Reach an ultra-qualified target in each marketing campaign
In the vast world of prospecting, the best communication strategy to attract a large number of customers is business prospecting by sms on the phone. Indeed, this method is unstoppable. It has a 97% open and read rate. By sending your sms, you can be sure that it will be read within three minutes. There is no doubt that the sms prospecting campaign is a very effective communication channel. Compared to other tools, the difference is immeasurable.
Moreover, prospecting by sending sms is a channel that can be managed using the new technological tools. It is enough to use a fixed or portable computer, a tablet or a telephone to benefit from it largely. And, if you have an internet platform, it is even better. In any case, the new generation of telephone prospecting is accessible to everyone, regardless of their level.
Thus, you can prepare all your sms prospecting campaigns in order to reach your target audience. By programming your sms according to the present needs, you will not need to rewrite your texts each time you need them. Finally, you will be able to follow your contacts at your own pace and offer them quality services.
How to use SMS marketing messages in prospecting?
First of all, you need to create your own database of mobile numbers. Of course, this does not necessarily cost a lot of money. Then, based on your information, you must create lists of contacts for each category of messages. to transmit. You will be able to choose the people you want to use, according to your criteria. For example, you can choose to target only men working in a restaurant. Depending on your choice, you can complete the process of your marketing campaign.
The last step is to write the message. Remember that it should be short, simple and easy to read. There is no need to use incomprehensible phrases. Also keep in mind that you are addressing a specific group of people. It is by finding the elements likely to interest them that you give them the opportunity to add your products to their baskets.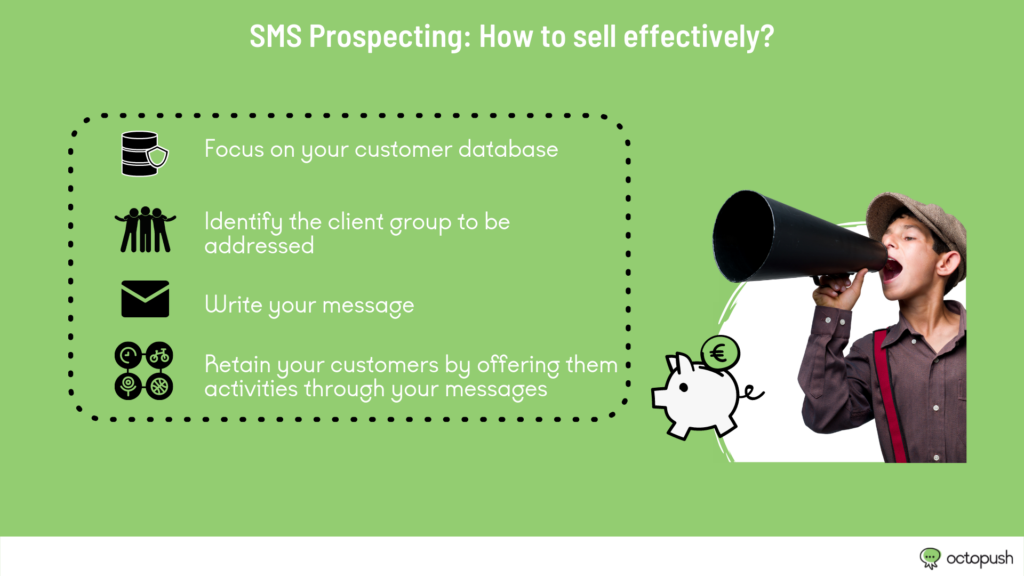 Finally, advertise your message. For this, it is recommended to launch SMS marketing campaigns. You can take advantage of these campaigns to broadcast your message and conquer the hearts of your customers. Do not hesitate to integrate links or promotional offers in your prospecting sms to encourage customers to click!
SMS prospecting campaign: How to sell effectively?
The answer is simple. It is by proposing interesting offers of your services through sms prospecting. It is a unique way to get better returns. Focus on your customer database, find the right customer group to address and write your message. Keep your customers loyal by offering them activities through the sending of your messages. From this point on, your company will experience a significant increase in revenue through relevant marketing and communication campaigns as long as it has all the data in hand and the consent of each customer to implement the campaigns.