Are you looking for a more efficient solution to boost your sms marketing campaigns? You want to increase your customers' loyalty? Use the sms pro service. Fast, reliable, secure… The sms pro service is the best communication media to sell all your products and services. With it, sending marketing sms has never been so easy. 
Inform your customers and collaborators thanks to a service of sms pro
The loyalty of your customers to your services is the proof that your company remains exceptional. But, to maintain contact with customers, the pro sms service is the most appropriate solution. Why? This new communication strategy allows you to inform your contacts and collaborators more efficiently.
Indeed, the sms pro service is a means thanks to which you will be able to write professional sms of quality. These messages are relatively short and objective. They inform the customer about the quality of the services you offer. By using this service, you will notice that your customers will check their sms inbox more often. Better yet, they will tend to open it quickly with each notification because of curiosity.
Also, the service of sending messages to your contacts gives you the possibility to inform a large number of people, in a few minutes. You can use this opportunity to inform your customers about the new products you offer. As for your employees, they will undoubtedly be surprised to see the new reforms you are bringing to the company.
Also note that with the planning which is carried out upstream by the sms pro service, you do not waste any more time. If you need to urgently inform your prospects about a new product, the service provides you with easy to use tools.
SMS pro service: Automate the sending of your mass sms to your contacts
There are several solutions to automate your mass sms sending. But, the automation of mass sms with the help of sms pro service remains the best alternative. That's right! With this service, you no longer need to manually send professional messages to the customers targeted in your communication campaigns.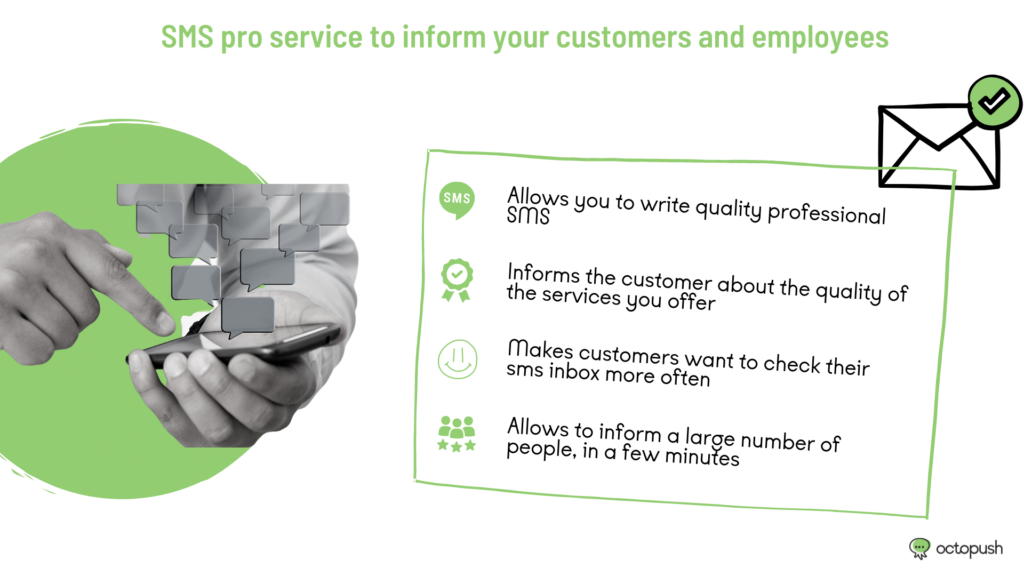 In fact, an automated welcome SMS is already written to automatically welcome all customers who sign up for your loyalty program. This saves a lot of time. And, it's much more convenient than sending welcome sms to every customer.
Automating the sending of your sms with the participation of the sms pro service saves companies from repeating the same actions over and over again. From now on, you can communicate instantly with several customers. By using programmed and automated sms, you improve your relationships with customers through simple campaigns.
Differentiate yourself from your competitors by keeping in touch with your customers through mobile marketing messages
As soon as a customer registers on your website, you have to keep him loyal. For this, the sms pro service gives you the opportunity to build a relationship of trust with your customers. They know you through the reliability of your products and hold you in high regard. Likewise, you meet their expectations and needs. Thus, you have a head start on all your competitors!
This happens thanks to a good management of your communication campaigns. Thus, be precise in each of your marketing campaigns so that each customer feels unique. This is the promise we make to you with our Octopush platform dedicated to mobile internet marketing professionals.