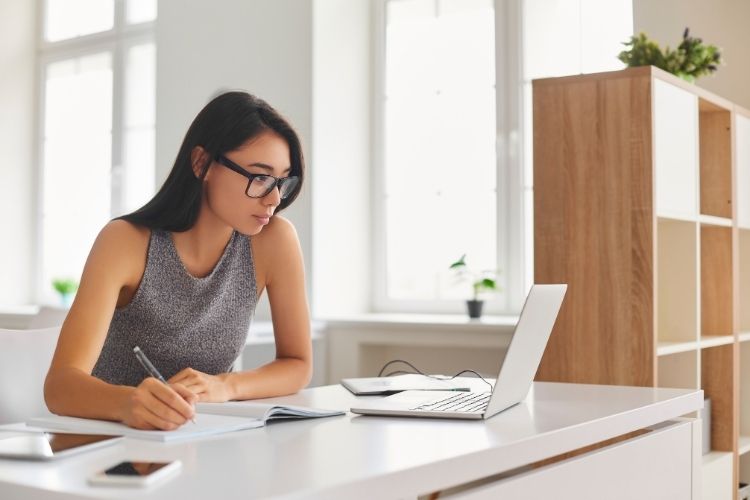 Online learning has taken a more central role in people's lives since the beginning of the COVID-19 pandemic after schools and universities were forced to be closed down. Although the growth of e-learning has been steady for the past decade, its impact has grown significantly during the pandemic, and so has the competition in the e-learning industry.
This greater competition calls for standout marketing tools to differentiate from other players in the market. SMS marketing offers marketers a highly engaging platform to reach their audience more efficiently.
SMS marketing strategies for your E-learning business
Craft your mobile list
Building a database of contacts is the first step to get started on SMS marketing. Your audience must opt-in or subscribe before they start receiving texts from you. You can simply ask e-learners to text a keyword to your five or six-digit shortcode. You can also put this opt-in prompt with a relevant call-to-action in your promotional channels such as website, social media, email newsletters etc. You should focus on pushing the opt-in prompt in maximum possible points of contact with your audience.
An effective way of growing your mobile list is to offer a gift such as a discount or a free first course for opt-ins. An additional opt-in feature you can add is asking your audience at what hours they are willing to receive text messages. This will increase the likelihood of reducing the opening time to even less than an average of 3 minutes.
You can also add it to your registration page, or as a pop-up notification after completing a course.
Engage your E-learners
SMS has a brilliant response rate at 45%. But to reach or exceed that number, you need to engage with your audience personally. Opting in to receive texts is not a guarantee of response. The response rate is likely to increase when you send messages that feel personal, rather than promotional.
You can send prospective e-learners personalized promotional codes for coupons that can be redeemed when they sign up for a premium course. Moreover, you can put e-learners in a win-win situation by offering them a discount available after sending a referral or posting a review about a particular course. This will help you generate word of mouth, and the customer gets a freebie in the process, too.
Engagement involving customer satisfaction goes a long way to solidify brand loyalty. In this case, you can leverage the power of SMS to create a loyal e-learner base.
Focus on a younger audience
Unlike TV advertisements, SMS marketing works better for a younger audience. Unless you are offering courses that specifically cater to a mature audience, it is essential to tailor the delivery of your SMS marketing messages to a younger audience. Millennials and Gen Z are also more inclined towards e-learning.
Keeping content suitable for the younger audience also allows you to have a consistent tone in your SMS marketing and your social media channels.
Engage in SMS drip marketing
Drip marketing in SMS consists of sending texts automatically on a fixed schedule or after specific triggers. For example, if a customer signs up for a course, they receive a text welcoming them to the platform. Then, they can receive another text 7 days later to notify their weekly progress and one more if they miss a deadline.
But make sure not to overload them with texts. You must design your drip campaigns considering the SMS frequency. Drip campaigns need to be carefully set up to not clash with other promotional texts. If your customer receives three texts from you in 5 minutes, that can contribute to a negative customer experience.
Pick the right time to send your messages
Response rates can be different during different times of the day. You need to monitor the engagement behaviour of your customers and plan the schedule accordingly. You would want to send your promotional messages at a time when it is convenient for e-learners to receive and respond to your message.
Use analytics from past campaigns to identify peak hours of user activity and set your SMS marketing schedule accordingly. Octopush offers an SMS marketing service that comes with advanced analytics. This feature lets you measure your campaign metrics and thus make a smart and informed SMS marketing plan.
Send offers exclusive to Your SMS list
One way to make e-learners feel connected to your brand is by making them feel special. You can promote exclusive offers through SMS messages, that you do not offer in any other marketing channels. This will give off a sense of exclusiveness to your customers and will boost brand loyalty.
This will also help to spread word of mouth. As people outside your mobile list hear about the exclusive offers, they will opt-in to be eligible for those.
Follow up completions with SMS
Your efforts to build customer relationships is not limited to getting a customer sign up for a course. If you want to create a loyal customer base and want them to repeat purchases, you need to make sure to follow up after they have completed a course.
You can send a text that reads, "Hey Ashley, Congratulations on completing the Content Strategy course! Why stop here? Click on this link to check out our highly rated Social Media Marketing course. Happy Learning!"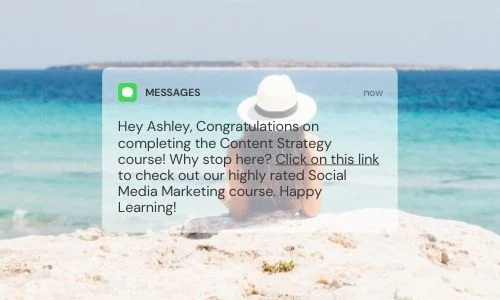 This will prompt the e-learner to opt for another course that is relevant to them.
Create a loyalty program
Set a benchmark such as 50 completed courses or a 15-month membership period as a condition to enter the loyalty program. You can add a premium badge in the profiles of the members and provide exclusive promotional offers to them.
Creating a loyalty program will set a target for customers to reach to get into the program. This will drive purchases and will help you grow your customer base.
Use keywords and a CTA
You can increase customer engagement by using calls-to-action or CTAs with your SMS marketing texts. Boosting engagement requires adding value to your texts and you can do that by ensuring that they have a clear call to action.
CTAs like Click Here, Register Now, Text to win etc. send a clear message about how the customer needs to respond to the text.
Besides, using appropriate keywords is also essential to attract the attention of your customers. Research about the keywords that fit your target audience and make sure they suit the tone of the marketing message you want to deliver.
How to use SMS marketing to gain visibility for your E-learning business
Book class appointments via SMS
If your teaching module is live, instead of recorded videos, you might need to book class appointments with your students. You can integrate your class management software with an SMS Marketing service like Octopush to make sure that the booked time is communicated with your students automatically.
If you have external instructors who need to confirm the slots, you can also use SMS for this purpose. They can reply to a text picking their time slot and you can automate the process of informing the students about it. The text can be, "Hello Mr James, please pick one of the slots for Tuesday and send the slot code in reply to this text. (S01) 12:00 PM – 04:00 PM; (S02) 04:00 PM – 06:00 PM; (S02) 04:00 PM – 08:00 PM. Thank You."
Course library updates via SMS
Your customers may not always check your website for new additions to courses. Besides, promotional emails and newsletters get lost in the crowded email inbox of your customers. SMS offers an ideal platform to get noticed. You can send them periodic updates about new additions. For this purpose, you can send them a text with a link that redirects to a landing page that includes the additions to your course library.
Octopush offers SMS 2.0, a service you can use to create unique landing pages that are created for each user. You can also use this feature for creating collections based on your customer's activity. For example, if a customer completed 4 courses on digital marketing, you can curate a collection of digital marketing courses and send them a personalized text.
Course progress via SMS
In the case of self-paced courses, learners often forget to continue their courses or procrastinate on finishing a course. You can send weekly texts to update them on their course progress or ask them if they want to continue a course.
For example, you can send a text that reads "Hello Stephen, we noticed that you have not opened Introduction to Psychology in several weeks. You can click on this link to continue or contact us at this number if you are facing any issues."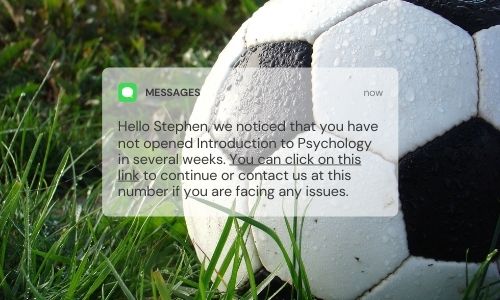 You can, of course, automate the process to increase the efficiency of the process and reduce the number of unfinished courses.
SMS reminders
Keeping up with deadlines can be tricky. You can help your learners to stay alert for an upcoming deadline or an exam by sending a text reminding them a day before the due date. You can also send the submission prompt with the SMS.
For example, the text "Hey Gillian, this is your instructor, Mark. Your deadline for submitting the assignment is tomorrow, 11.59 pm. You can submit it by clicking on this link. Good Luck!" gives them a reminder as well as a submission prompt in the same text.
Your e-learners will appreciate your effort to reach out to them. You can send automated reminders using SMS marketing services like Octopush, which manages these transactional SMS efficiently and at a low cost.
Transactions
SMS can also be used to complete payments for courses or programs. You can simplify the payment process by sending the link to a landing page that is unique to every customer. They can thus complete their payment in a few clicks, right from their phone.
But handling financial transactions means you need to be assured of the security of the process. Octopush offers an SMS marketing service that implements all technical and organisational means to ensure the security and confidentiality of your and recipients' data.
Grades
Sending grades of assignments and exams is easier than ever with SMS. Apart from commercial learning platforms, universities that had to shift to virtual platforms can also utilise SMS to send grading information to the students.
You can directly send them the grades, or send a link that redirects to a page dedicated to grading information or feedback for the assignment. For example, "Hello Korey, you have received a B+ for your assignment on psychological disorders. Click on this link to check the feedback for your work."
Course handouts
You can send real-time or scheduled updates to a learner whenever an Instructor wants to provide reading material or a handout to them. You can send a link that redirects to a download page where the learners can access the material.
For example, "Hello Alicia, this is your instructor, Halle. I've got something interesting that will help you get a better grasp of consumer behaviour. Click on this link to read or download it."
Sending handouts through SMS will make sure that your learners are aware of the materials provided, instead of waiting for them to check the website.
Announcements
Universities can use SMS to send important updates and announcements to their students. Given the fast delivery of SMS, it is a perfect medium for users to receive important messages. The 98% open rate and a 1% spam rate of SMS mean that there is little to no chance of missing out on an important announcement.
E-learning platforms can also utilise the efficiency of SMS to announce changes in pricing or rescheduling of classes. SMS makes an ideal platform for sending such messages that need to be read as quickly as possible.
It is widely believed that the adoption of online learning will continue even after the pandemic. While the world continues to adapt to the new normal, it is an opportunity for e-learning businesses to get creative with their marketing and communication.
SMS marketing gives you a powerful tool to reach your audience instantly and efficiently. Get started by crafting a robust SMS marketing plan using a reliable and secure service like Octopush. Create your free account now!