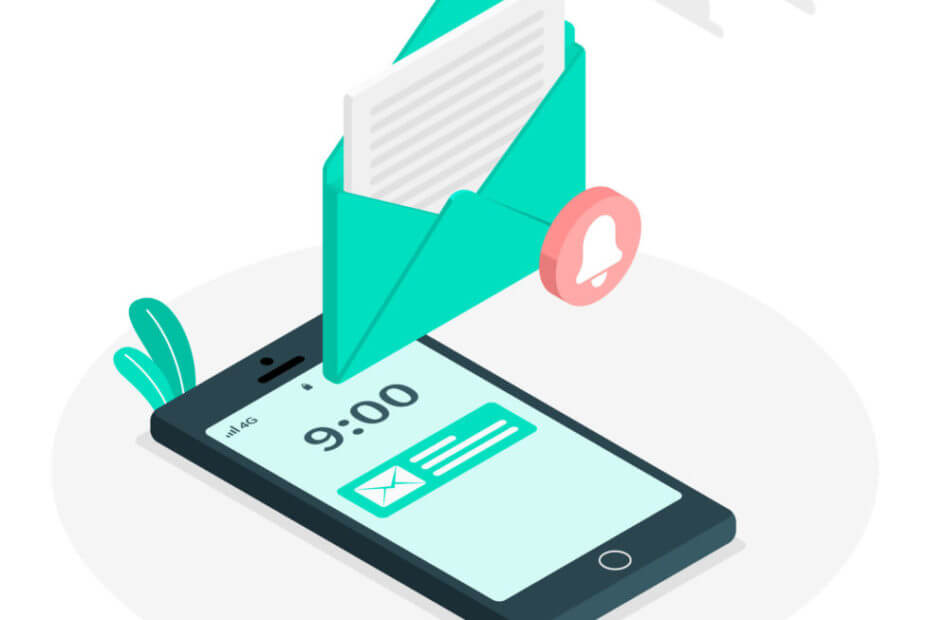 Also known as SMS notifications, Alert SMS are the messages we send to our prospects to keep them informed. With these texts, we're not selling or promoting, just keeping the person up to date about important events that matter to them.
Plenty of companies such as BlaBlaCar, Indeed and BNP Paribas are 3 of 7 Real Examples of Companies Using SMS, and they trigger Alert SMS to notify their customers of their transactions, changes on their schedules or on their job research.
You might be wondering why don't they use emails: they're free, accessible for anyone and more modern. But the thing is that with important communications like these, you need to be 99% sure that your message will be delivered and read almost immediately.
On average, emails have 20% of open rate, which is incredibly low if you compare it with the SMS, which owns a 98%. And what about the deliverability? We know from our own metrics at Octopush that our customers get their messages delivered in 99% of the cases, while emails can easily end up being ignored or deleted without even being opened.
We say that SMS is the best way to keep your audience informed because they are read, on average, within the first 3 minutes from receiving, so next time, instead of sending a lousy email (that might as well go directly to the spam) consider sending them an SMS to make sure they will actually read it.
To help you with that, here are some common scenarios in which you can trigger a push notification to keep your audience up to date with what matters most to them.
6 ways to use Alert SMS and keep your customers informed
Technical issues
If your store or service is experiencing technical difficulties or interruptions on the services that might affect your clients, you might want to let them know with a quick SMS. Whether you're closing or opening your store at different hours than you normally do, suffer a lack of stock in an item or experience a delay from a provider, you can push a notification to your customers to keep them up to date with the situation.
Shipping
From the moment you make a purchase, the only thing you can think of is holding it in your hands. Let your customers know where is their parcel and when they can expect it knocking at their doors. Include crucial information such as the number of parcel, items, date and hour of arrival, if they need to be present or someone else can receive it. Be as detailed as you can, good communication might as well avoid issues like delays and wrong addresses that will make your customers frustrated.
Securing your accounts
This is normally done by banks and financial entities, but also by software companies that store your personal sensitive data, such as Facebook or Google. What they do is push an SMS with a special code to your phone number and store it as your paired device. This way, whenever they detect some unusual activity they can trigger a message to you and let you know there might be someone messing with your account.
Important information
There are some companies that focus exclusively on delivering information to their users, such as distributing relevant news or informing the weather broadcast. You can also trigger handful information when your customers do a certain activity. An example of this is Argentina's Consulate in Madrid, that sends SMS to their citizens letting them know their address in case of issues after they arrive in Spain (check it out in our post 7 companies using SMS).
Canceled appointments
We've talked about how to send automatic SMS appointment reminders increases the rate of assistance. But what about when you can't make it to the meeting yourself? Letting your participants hanging is definitely the way to lose them for good, so set your workflow to trigger an alert SMS to let them know when you can't make it to the appointment. They will feel more cared for and attached to your company.
Activity in your account
We tend to think of SMS as a way to communicate with our customers, but what about as a way to be alert ourselves? You can easily set a workflow with your e-commerce or CRM to trigger SMS whenever a special event happens, like a customer asking for a refund or a warning when you're getting out of stock from a product. In our post How to do automation with SMS for your ecommerce you'll find a step-by-step guide on how to set alert SMS to follow your account activity.