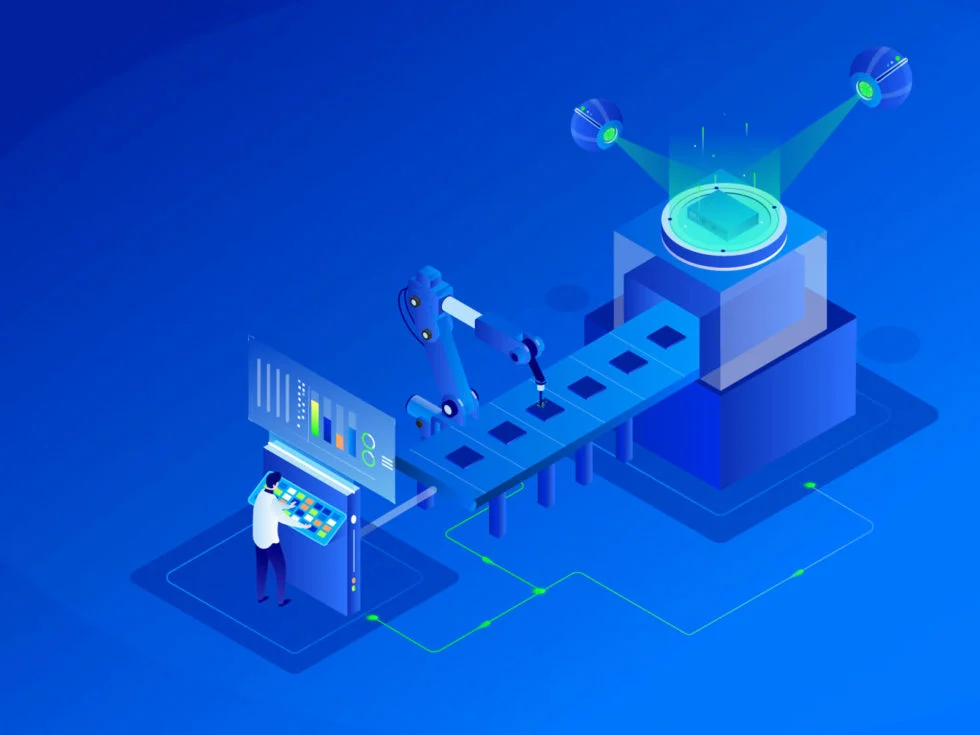 Do you have an e-commerce store? Are you struggling with your marketing campaigns because they're actually more complicated than they seemed? If you answered yes, then keep reading!
In this post we'll show you:
why you should add SMS as a marketing medium for your e-commerce
why automation is the way to a profitable SMS Marketing strategy
how to make automation with 3 major e-commerce tools that you're probably already using, step by step
3 Automations for your Ecommerce using SMS
It's estimated that e-commerce stores will make 16.1% of the total retail sales worldwide in 2020, according to Statista. It'll continue growing till it hit 22% by 2023, which means… excellent news for you! and that's specially true if you use an omnichannel approach! (the use of omnichannel approaches has risen by 80% since the start of 2020, according to Olvin Trends and Forecast for 2021)
Now, having an online store all by yourself or even if you have a small team to help you, can take a lot of time and energy. It can be overwhelming and tiring, but you can't avoid the fact that having a defined marketing strategy is indispensable for a profitable business. You need to make smart decisions that will make a difference with the least of efforts, so you will probably agree with me when I say that what e-commerce businesses need is:
Make a big impact with the lowest investment possible.
Automate, automate, automate
Let me explain this a bit more.
Why SMS?
For the first one, we already know that SMS is the best marketing medium there is. We'll let the numbers speak for themselves: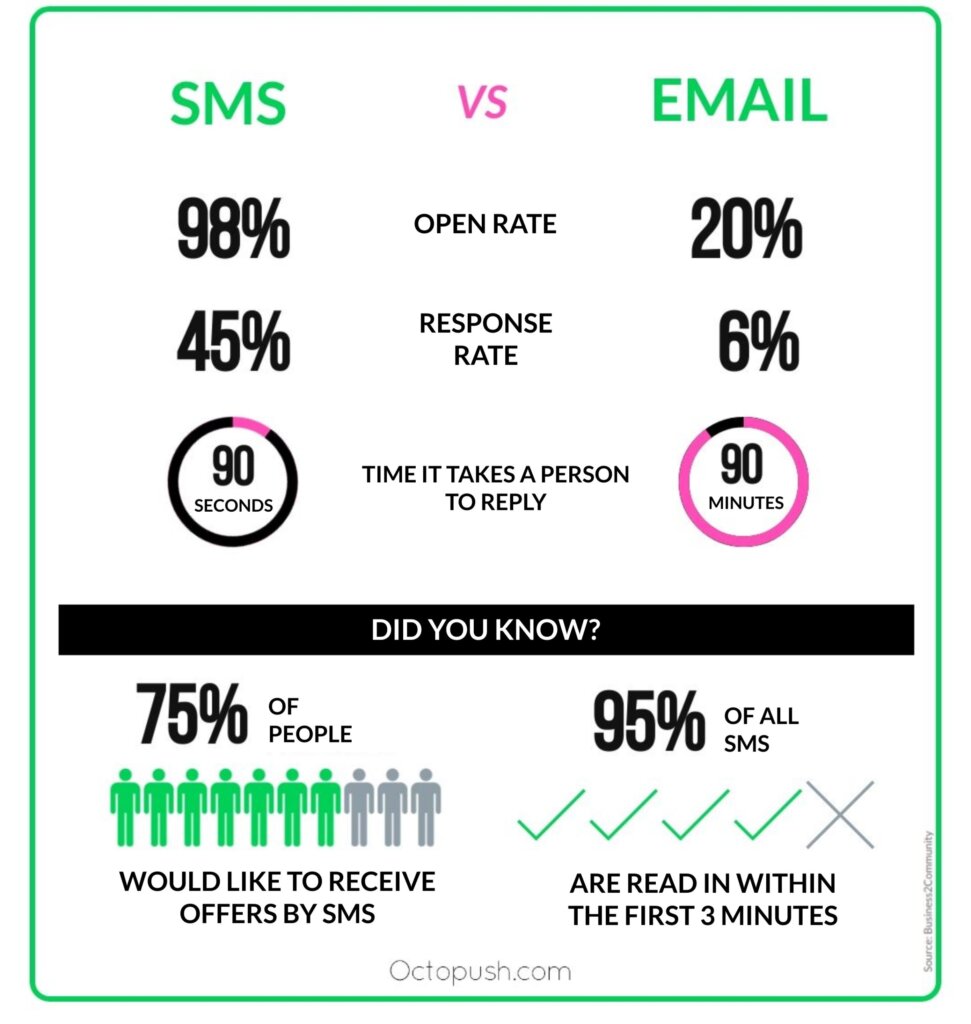 As you can observe from the infographics, SMS has almost a 100% open rate, which is nearly 80% more than email open rate. People respond on average a 40% more to an SMS to an email, and they take only 90 seconds to do so. For emails, they can take up to 90 minutes. Also, 75% of people are willing to receive offers by SMS which they would read within the first 3 minutes in 95% of the cases.
Surprised? You should be! Now it's time for you to start your SMS marketing strategy, and automate it!
What is automation?
To continue with automation, we're going to answer the first thing that comes to mind: what is it? Automation is a way to replicate processes that you would normally do manually and set a workflow to have it done. We say it's the way to go because it:
requires very little effort to set up
saves you a lot of time, for you no longer have to do repetitive tasks anymore
reduces the possibility of (human) error
Here you have our guide to conquering automation with the app called Zapier (you might know it from our previous tutorial on How to send automatic SMS appointment reminders). What it does is to serve as a connection with more than 2000 apps (and you surely use a few of them for your e-commerce).
In this case, we'll show you how to trigger SMS directly from 3 giants of e-commerce services: Facebook Lead Ads, Shopify, and Intercom.
We'll promise you that it will be a relief to your SMS marketing efforts, but as technology can get tricky sometimes, here is how to do each connection (or Zap, as they call it) with Octopush SMS explained from beginning to end.
Automation #1: Facebook Lead Ads
You've set your Facebook Page and managed to have a few ads running to attract your desired leads. People seem to be responding quite well to your announcement, and you're getting a lot of information about your potential clients, but… how do you get them to actually buy from you? Growing the relationship that they have with your brand.
Here we'll show you how to automatically trigger an SMS from Octopush to the customers that respond to your Facebook ads. This is a powerful choice to keep the conversation flowing, increase brand awareness, and set SMS as the preferred channel to keep in touch.
Automation #2: Shopify
Do you have a Shopify shop? This tutorial is for you. About 60% of carts are left abandoned by shoppers, but you can do something about it. In this tutorial, we show you how to automatically send an SMS to bring your customers back, remind them that they have their items waiting for them and help them to complete the purchase. (Check these other ways to boost your Shopify conversions)
And here's the good news: you can use this same workflow for plenty of other events that happen on your Shopify store. You can set automation to send an SMS to yourself whenever you get a new customer, a new order, or a new canceled order. This way you can be connected with your customers as well as aware of what's happening in your store.
You can also use SMS marketing in combination with your other eCommerce marketing and sales funnel. Check out Sugatan's list of 99+ eCommerce hacks to boost sales for a more detailed look into sales tactics you can use in conjunction with SMS marketing.
Automation #3: Intercom
The king of customer communication sadly doesn't offer SMS from their platform, but you certainly can push SMS to your customers with this tutorial. We'll see how to trigger texts from Octopush to every new user in Intercom so that you can surprise your new clients with a welcome message, discount coupon or exclusive offer. This way, you'll be connected with your clients straight away, letting them know that they've not passed unaware and setting SMS as the way they will receive news from you.
You can also use this tutorial to configure different workflows. As in the case with Shopify, you can set it to notify you about what's happening in your store. For example: instead of sending a new SMS whenever you get a new user in Intercom, you can change it and send an SMS to yourself whenever you get a new unsubscription, a new conversation or a new lead. This way you'll never miss a thing!
Wrap up
Now that you know the benefits of using SMS marketing for your e-commerce, you can start trying new ways to make your efforts give better results. Automation is one very useful tool that you can use to convert your leads into customers without having to craft all of your messages but still without losing that sense of closeness in your client relationship.
Have you tried any other automation? Do you wish to learn how to do more with us? Just leave a comment or send us a message through this form. We'll be happy to help!