The SMS reminder is a formidable tool for reducing appointment cancellations, especially in the business world. It allows you not only to better redefine your schedules, but also to fight against absenteeism during business meetings. Discover how this tool can be important to improve your performance in a professional setting.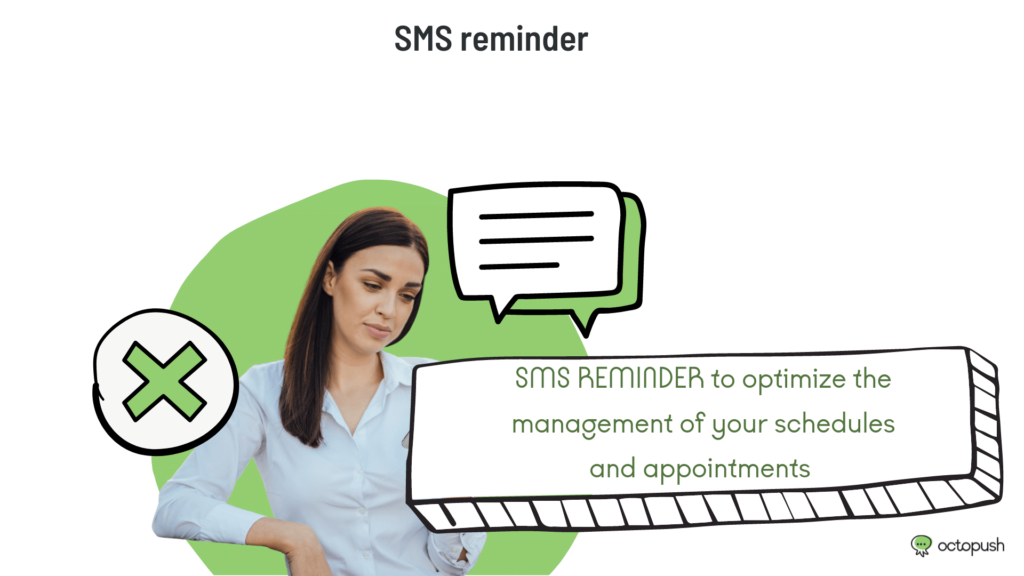 Automatic reminders to optimize your schedule management
The vast majority of cell phone owners check their SMS more often than their e-mail. On average, you check your SMS messages at least 150 times a day, which is a significant amount of time. With the automated SMS reminder function, the chances that your client or patient will see your message are therefore much higher.
With the SMS reminder, you no longer need to reach your clients or patients by phone to remind them of an appointment, you can simply send an SMS online with different options. Thanks to the automatic reminder function, you won't even have to write the latter. For companies that have a large number of customers, it will no longer be a matter of sending a message to each of them via reminders. The reminder will be done automatically and according to predefined schedules in your agenda. With this time saved, you will be able to take care of other more pressing business of your company.
The SMS reminder system allows you to be closer to your customers and patients and make them feel more important to you while gaining more customer appointments through better management of your schedule.
Calendar management: Gain productivity simply with an automated customer reminder SMS
Note that every cancelled appointment represents a missed business opportunity. Given the difficulty of negotiating an appointment, especially when you have a very busy schedule, cancellations could be detrimental to the company's development. With fewer cancelled appointments on your Google Calendar thanks to SMS, you will have more opportunities to develop new markets, boost your sales or save lives simply by SMS.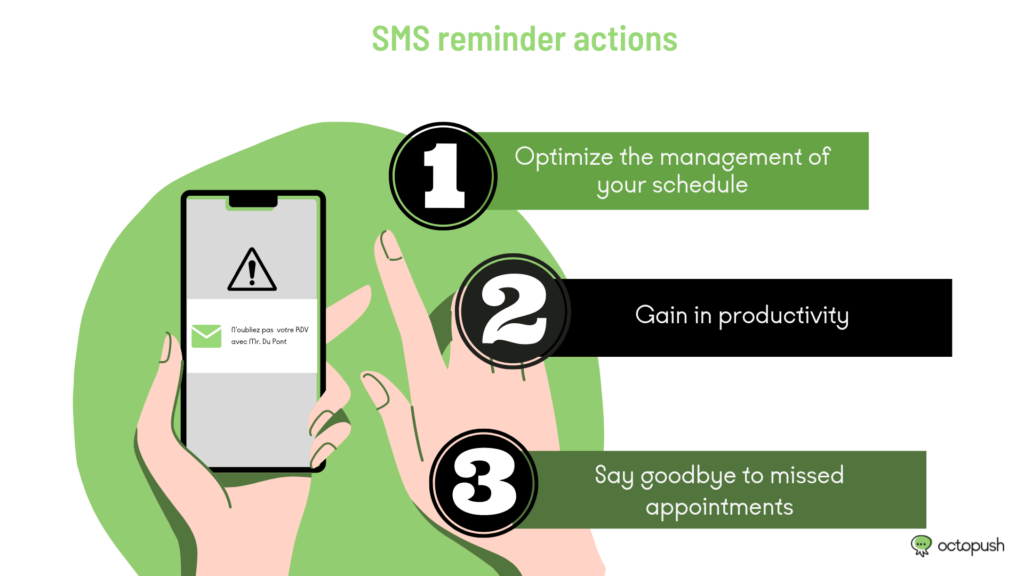 Say goodbye to missed appointments with SMS reminders
All it takes is a simple online SMS reminder solution to keep your meeting from going down the drain, customizable with multiple options. You are guaranteed to call them directly and thus reduce the risk of patient or client cancellations. This is one of the reasons why this feature is found on all appointment scheduling solutions found online.
You can inform them in advance that your appointment is approaching and confirm their presence by SMS. This is a solution that offers your patients the possibility to say no to an appointment and reschedule it according to their availability. You even have the possibility to send them a personalized SMS message with their name to increase their loyalty. This proximity with your customers will optimize your relationship and improve their commitment rate.
To conclude, remember that the SMS to confirm an appointment or reminder is undoubtedly the most effective way to communicate on the holding or not of appointments with your customers. It allows you to optimize your planning and reduce absences during patient appointments thanks to reminders. It is a solution that allows you to save time and money thanks to a system that sends messages.