In business, the Google Calendar SMS appointment reminder can be extremely useful. Do you have hundreds of transactional SMS reminders to send to your customers? You want to optimize the sending process? This is possible from Google Calendar. Indeed, this application has many features to facilitate the transmission of your SMS appointment reminders. Here are the main advantages you will enjoy if you choose to use Google Calendar for your appointment reminder sms.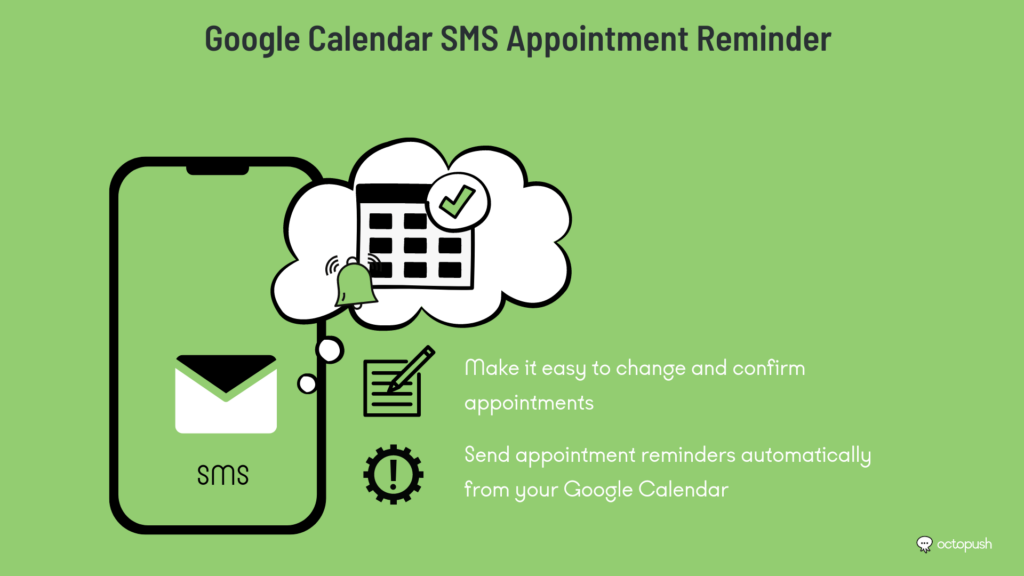 Google Calendar: make it easy to edit and confirm appointments with SMS reminder
One of the reasons why most businesses use Google Calendar for their SMS appointment reminders is the ease of editing. In fact, this application lists all your schedules in one place. All you have to do is take a look at its interface to know exactly what you have to do.
However, you should know that it doesn't just show your appointments. It also makes it easy to manage them. Indeed, when you receive a reply from a client, an appointment confirmation or rescheduling message automatically appears on your electronic calendar without having to change the date manually.
You can thus easily adjust your schedule. You also have the possibility to take advantage of this time to attend to your family business. So what are you waiting for to use Google Calendar?
Send appointment reminders automatically from your Google Calendar via SMS
In addition to facilitating the modification of your SMS appointment reminders, Google Calendar offers you the possibility to automate their sending. Indeed, it is linked to your professional SMS account. To do so, you just have to go to your account and define Google Calendar as your calendar.
Once this is done, set up your appointment reminder via our SMS platform. Choose the date and time of the sending. Then, fill in the phone number of the customers and the content of the message to send them. The next step is to validate the SMS appointment reminder from the Google Calendar interface.
However, before leaving the professional SMS platform, don't forget to save the configuration you made. Now, log into your Google Calendar account. Create a new event and link it to the SMS appointment reminder without necessarily changing the phone number.
Otherwise, your electronic calendar will not be able to schedule the sending of your appointment confirmation request to your customers. Finally, save the changes and send your SMS! All you have to do is wait for your SMS appointment reminders to be sent automatically.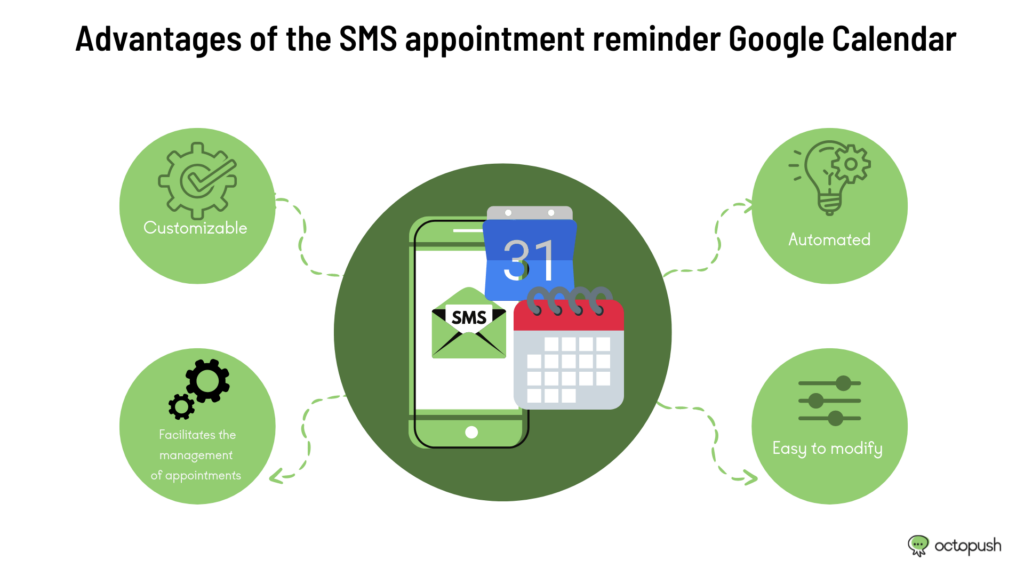 Octopush : a complete solution to personalize your SMS reminders
If you want to enjoy exceptional benefits, it is also essential that you don't link your Google Calendar account with just any professional SMS platform. Prefer Octopush, our platform is secure and has everything you need to efficiently create and schedule your SMS campaigns for managing your customer appointments. Affordable in terms of price and very ergonomic, you will have no trouble setting up your appointment confirmation SMS from our interface.
In addition, we provide you with a wide variety of options to customize your SMS appointment reminders. To take advantage of these options, you just need to have an account. Do not hesitate to visit our platform. Then, click on the registration button. Once this is done, fill in a login for your company followed by a password.
Finally, accept the privacy policy of the site and validate your registration. All that's left to do is to connect to your account to take advantage of Octopush's many features. So, what are you waiting for to adopt it? It is the most complete solution available to you for SMS reminders.