Every day, almost instinctively, you check your SMS messages more than a dozen times. This is one of the reasons why business marketing strategies almost always include sending SMS messages. SMS management software is the most effective tool for implementing this type of marketing campaign to your customers. Find out how it can help keep in touch with your customer with simple communication via applications.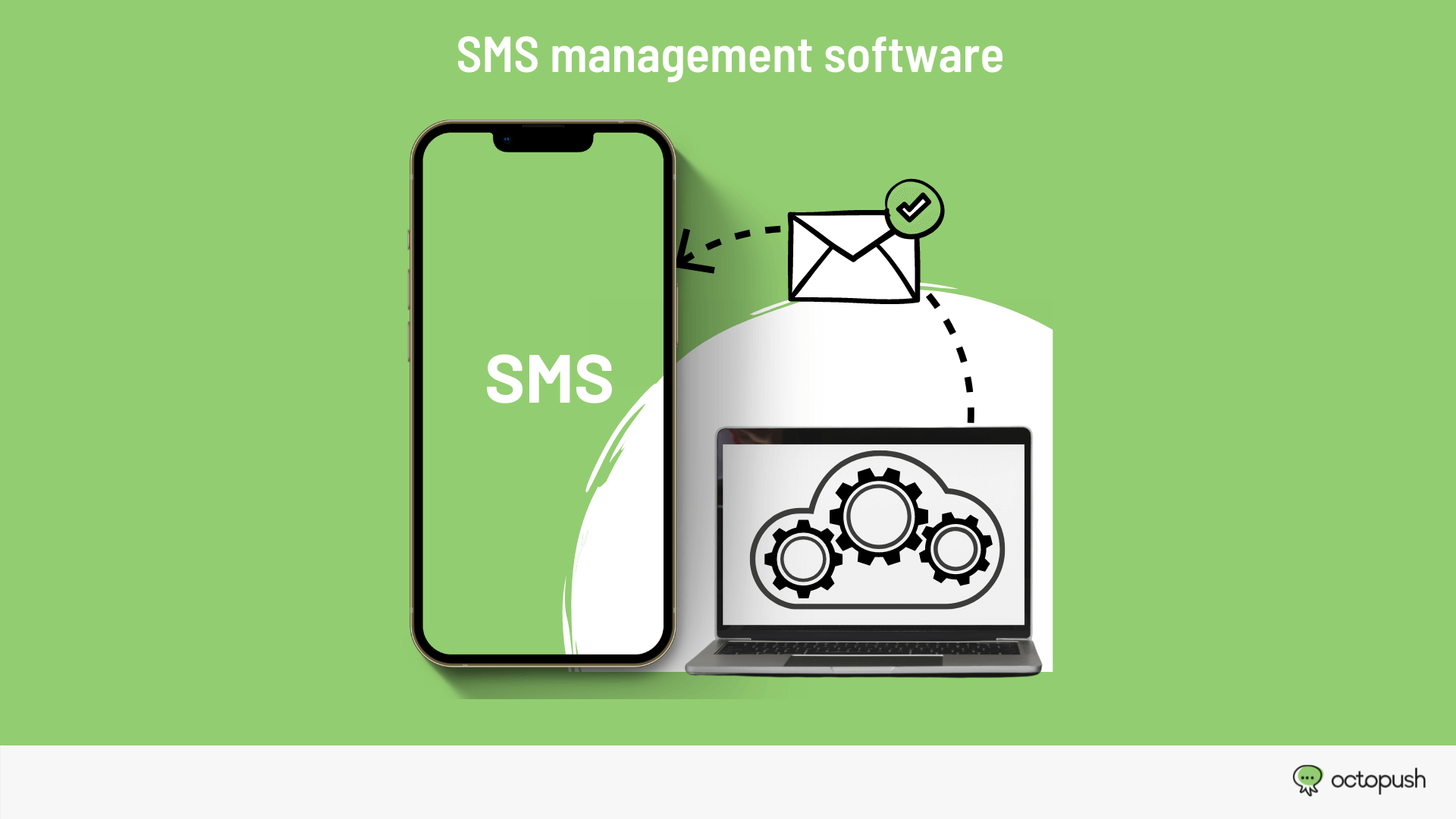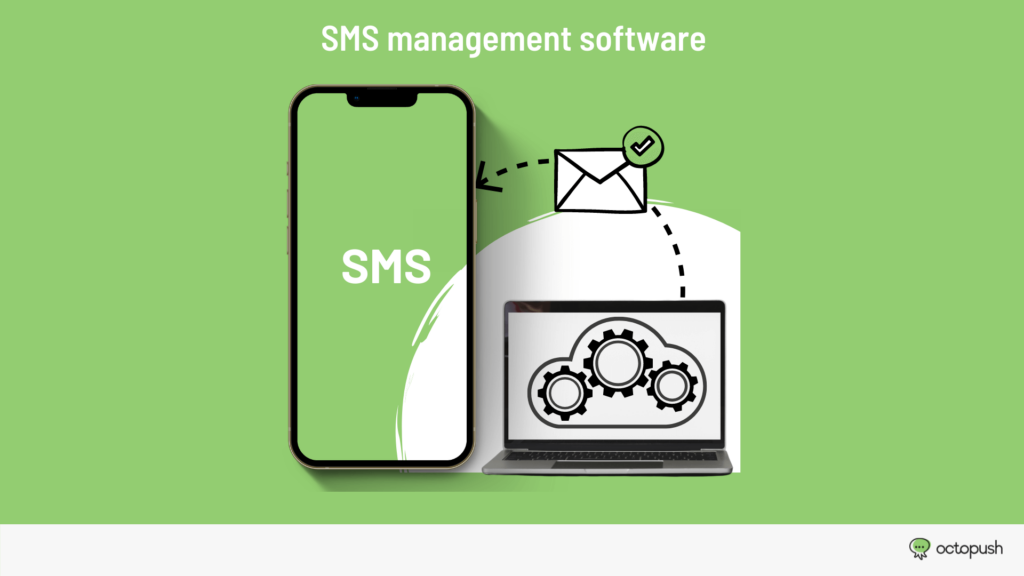 How do you send bulk SMS messages with marketing message management software?
The best way to send bulk SMS via software is to use a message management software or SMS API. These software programs, which are part of the SMS Gateway family, are designed to help you optimize your marketing communication campaign on a single platform. And this, by messaging through many parameters. You will have the opportunity to import more than a hundred customer numbers and set the date and time of sending.
Most of its SMS messaging tools are more convenient and very easy to use, especially for sending via dedicated applications. All you have to do is write your message to be sent. Then, set up the platform according to your needs. The latter will then take care of sending the SMS marketing in a few moments.
Why use SMS management software?
Bulk SMS management software is a much more practical solution to send your bulk marketing SMS via a platform. Firstly, they guarantee you a huge time saving compared to sending SMS via computer which is manual. Secondly, they relieve you of a repetitive task thanks to the automation of the sendings. You will be able to use the time and energy to devote to this task for other more important activities.
Moreover, you should know that bulk SMS marketing software has many features that could be useful in your marketing campaign. Indeed, whether it is for personalized messages or to have a follow-up report, their skills go beyond just sending SMS to contacts. Moreover, most of these softwares are at very affordable prices, like Octopush, your ally in sending SMS marketing via API or software. We offer you a wide range of services with a whole panel of functionalities and possible integrations with your preferred platforms.
Can I send a long professional SMS to my target customer thanks to a marketing message management software?
SMS management software has the advantage of pushing the capabilities of simple messaging applications. The latter being very limited in terms of text size. You can write much longer SMS and send them easily to a very large number of people. In the business world, SMS can be used to share important information from a platform. Information that is sometimes difficult to fit into a few words. With the integrations that a solution like SMS management software offers, you have more freedom in writing SMS.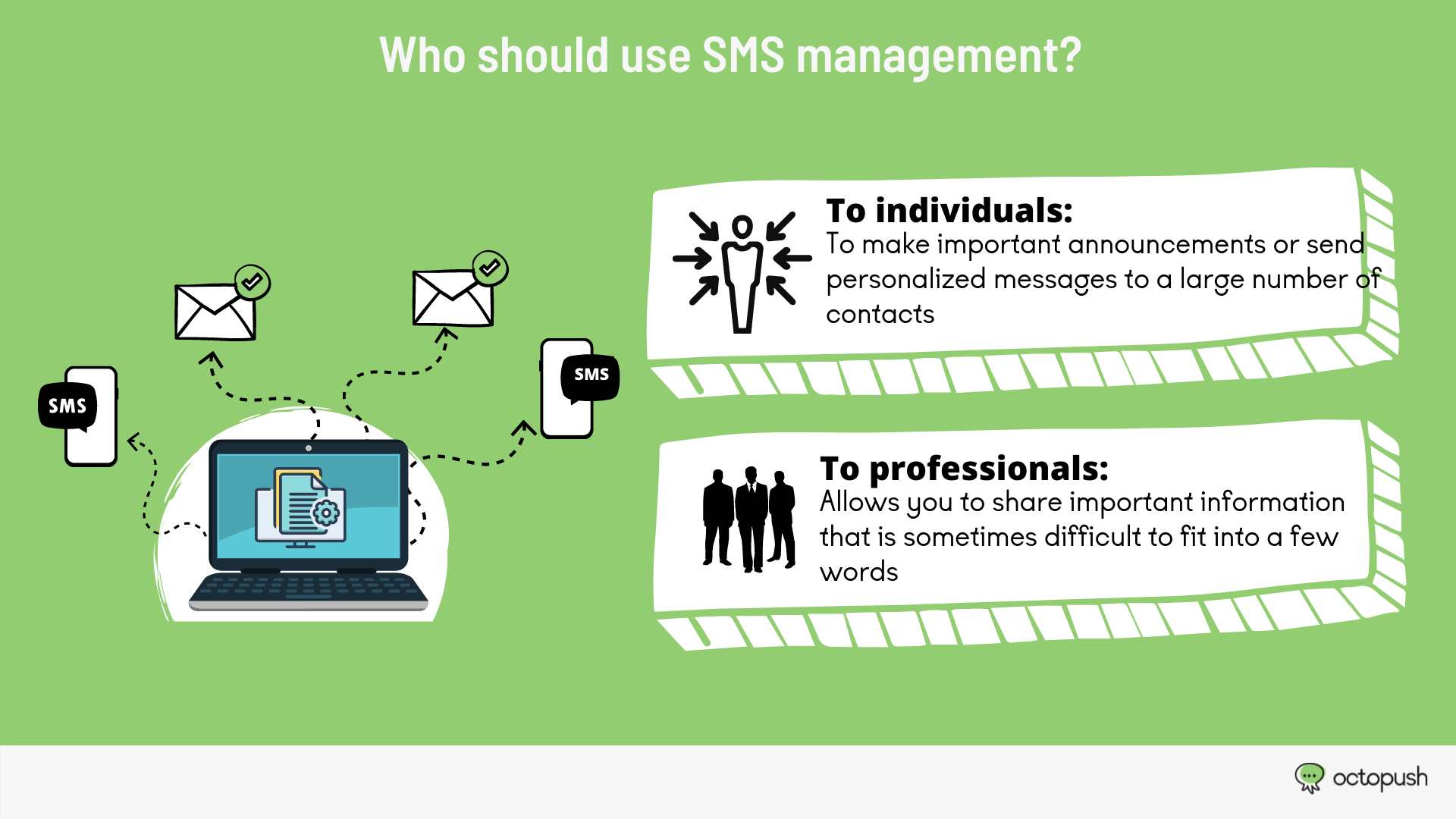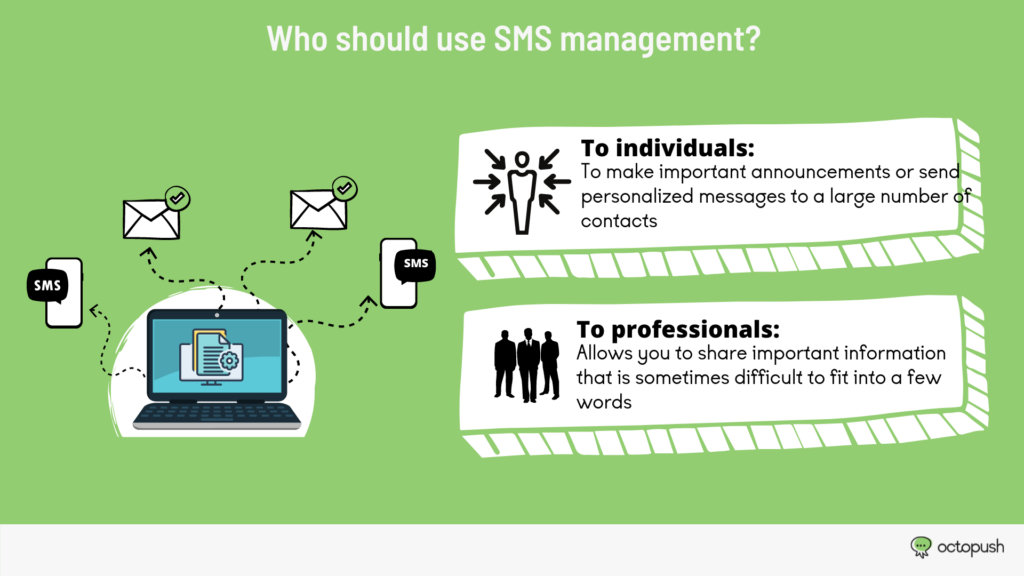 SMS marketing software features: Who should use this service or tool?
The use of SMS management, via SMS Gateway or manually, is intended for both individuals and professionals. The first ones use it as a solution to make the sending of important announcements or to send personalized messages to a great number of contacts that represents its target customer. For professionals, they are used to announce important changes to the clientele or in the organization of appointments. Our Octopush tool offers a lot of features to help your customers.
They allow them not only to develop an effective SMS marketing campaign, but also to share information. Whether it is for companies or public service actors, these sending tools represent a huge asset to boost their productivity.