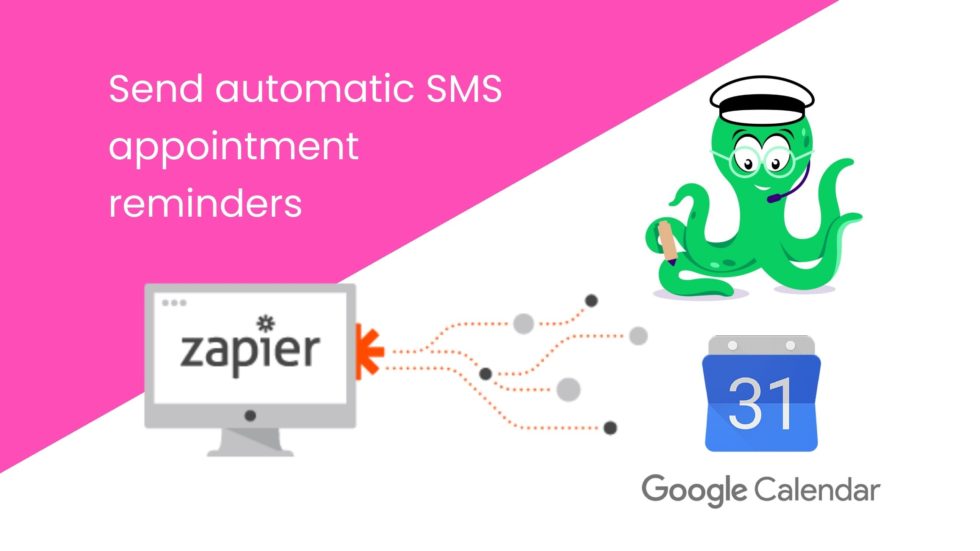 What's the benefit of sending an appointment reminder?
It's all about reminding people of their appointment. It's become a trend to increase appointment no-show rates in United Kingdom.
Estimated reading time: 7 minutes
Table of Contents
Bring back appointment no-shows
With appointment reminders, you bring back people who would have forgotten or missed an appointment without them. This is especially true if the appointment is at least 3 days in advance and for monotonous procedures like annual physicals.
Nudge them in the right direction
In addition to appointment reminders, send appointment confirmations and appointment details through a text message to ensure your clients know what they're getting themselves into and where to go.
Remember, clients who miss an appointment don't get nagged too much afterwards. So you want to be sure that appointment reminder contains all the information they need.
You want to be sure that appointment reminder contains all the information they need.
Promote your services better with SMS reminders
Appointment reminders are a great way of promoting your other services, too. The appointment reminder can remind someone that you also do blood pressure checks, for example and then list some of the benefits. This is especially effective if you are a health care provider like a doctor or veterinarian.
An appointment reminder can remind someone that you also do blood pressure checks, for example and then list some of the benefits.
Provider appointment reminders have higher attendance in United Kingdom than client appointment reminders because they're scheduled with a specific time in mind and aren't as likely to be forgotten.
How does an appointment reminder software work?
Process this: you send a client appointment reminder SMS who replied with an appointment confirmation and then final appointment details through text messages.
This is the flow that appointment reminders use:
You enter your appointment reminder software and write a text message.
You add the respective labels to personalise your reminder text message.
You set the sending schedule.
Your customer receives the appointment reminder on the date and time you had scheduled it.
Create a reminder text message by integrating Octopush in Zapier
Did you know you can automatically send an SMS to your clients reminding them of their appointments? You can start doing it in just 10 minutes connecting Zapier with Octopush and your Google Calendar with no added cost.
Zapier connects applications and moves information between them to automate work. In this case, we'll see how to set up a Zap (connection) that will connect your Google Calendar appointments to send automatic SMS reminders to your invitees 1 day before the event starts.
Once you've set it up, appointment reminders are sent automatically through Zapier. You can create appointment reminders for your clients' or patients' appointments and they'll be reminded at the same time you add them in your calendar — so no more missed appointment forgetfulness!
What kind of customisation is available for the appointment reminders?
SMS Recipient
Where can Zapier take the cellphone number of your customer from Google Calendar. We'll select Description, and we'll make sure to always fill in that field when we schedule an appointment (in the correct format, like this: +33758341677)
SMS Text
Here we'll write the message we'll send our clients. We can choose to include specific information to personalize our message, like name of the customer or specific date and time they have their appointment, by adding tags from the drop down menu on the right.
(Note that these all change according to the specific information we write down on every appointment we schedule on our calendar).
Sender ID
Add the name of the sender so that your client can identify you.
Can I receive appointment confirmation via Zapier?
Yes. Whenever appointment reminders are sent out by Zapier, they can include appointment confirmations for you.
So you don't need to manually add them in your appointment reminder software: it will be done automatically and it will also be added into the appointment details of your customer on Google Calendar.
An appointment confirmation is also useful for the customers, who feel compelled to attend due to their compromise. Hence, reducing the missed appointments in small business. Text reminders reduce no shows in this way.
Start reminding your clients now and never miss another appointment!
How to send automatic SMS appointment reminders using Zapier?
Create your Octopush account
Go to https://octopush.com
Click on Sign Up and enter your email, phone number and tick on the captcha.
You'll receive a confirmation email. Go to your email account and click on the button to Validate your registration.
In your Octopush account, go to Home and enter your Account Information. Fill in the fields and accept all the contracts that you'll find in the form. Then click Save.
From Home, click on Validate phone line. Check that the number is correct and click on the checkbox to certify you're the owner of the phone line. Click on Validate my phone line.
You'll receive a SMS with a verification code in your phone. Enter that number in your Octopush account and click on Validate my phone line.
Now you're ready to set up your first campaign with your FREE SMS.
Create your Zapier account
Go to https://zapier.com
Click on Sign Up and enter your email and password to create your account.
Creating a Zap
Create a Zap between your Google Calendar and your Octopush account to send reminders in an automated way to your clients 1 day before their scheduled reminder.
Log In to your Zapier account in https://zapier.com/
Create your workflow selecting Google Calendar and Octopush SMS
Then select the actions you want Zapier to trigger: when Event Starts, then send New SMS
Let's configure the Event Start part.
Log in to the Google Account (where you have the Google Calendar you wish to connect) and allow access to Zapier. Click on Continue
In Customize Event, select the Calendar you wish to connect (this is the calendar in which you schedule your reminder), and set how much time before you wish to send reminders.
Click on Continue. Note: after this, you'll be offered to select an event from your calendar to test the zap in the end. Choose the date and time of the Test Event to try out the Zap later, or Skip Test).
Now Let's configure the New SMS part.
Press Sign In to your Octopush account to allow Zapier access with your Login and API Key. You'll find this information in your Octopush account menu> API & Plugins> Identifiants API. Copy the Login Email and the API on Zapier screen and click Yes, continue.
To Customize SMS that our client's will receive, we have to indicate:
Click on Continue. (Check the Hint at the end of this post to test your Zap).F
Click on Done Editing and after that Turn your Zap On. Octopush will start sending SMS to your clients to remind them of their appointments.
Hint to test your text message
Before you go to Done Editing in step 6, you'll be offered to Test the Zap by sending a test SMS with the information from the Test event we mentioned on Step 4.3.
Here's how your appointment reminder should look like: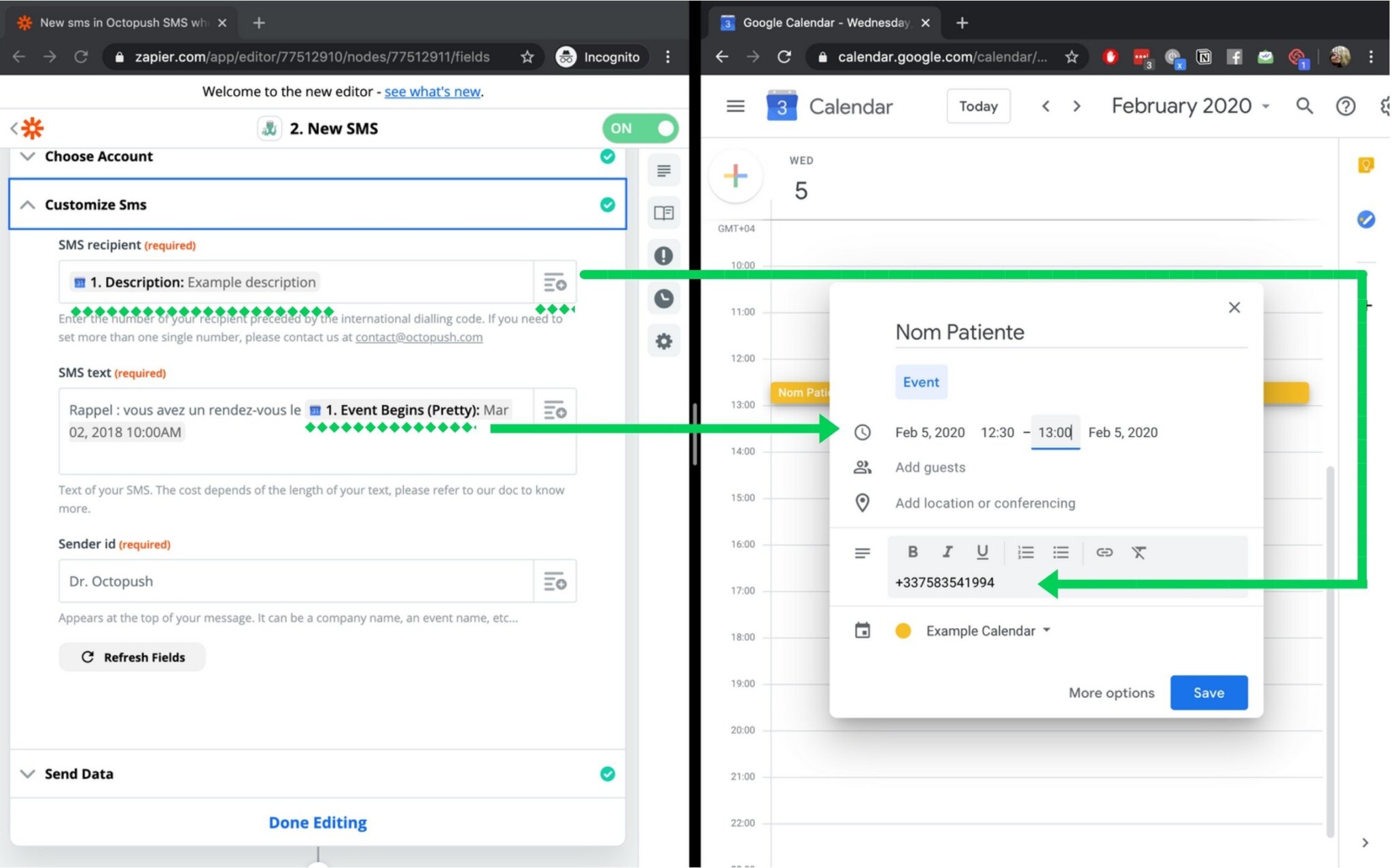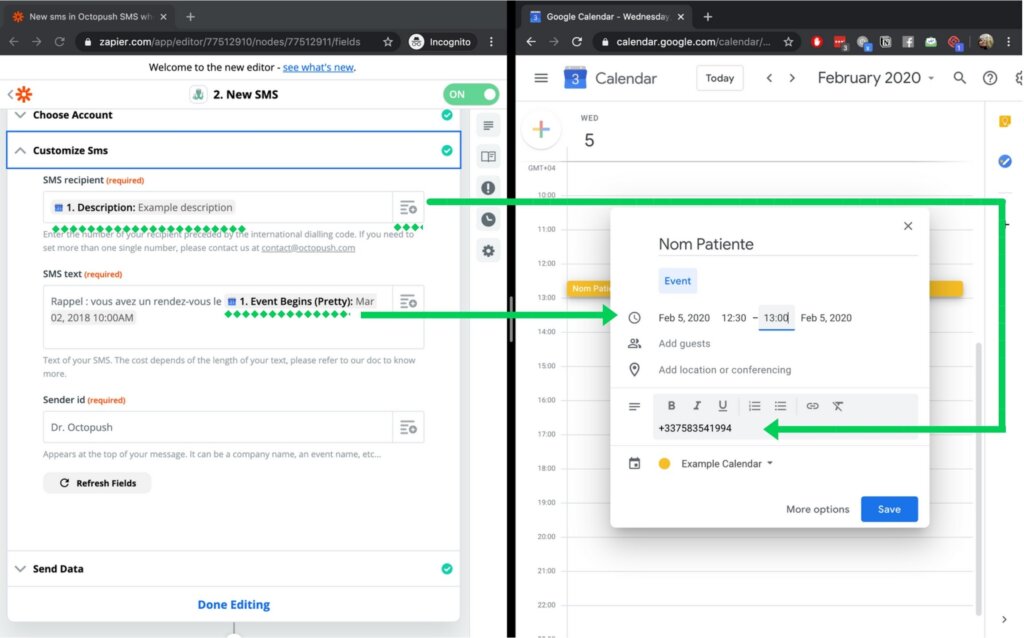 Here's how the SMS will look like to your clients: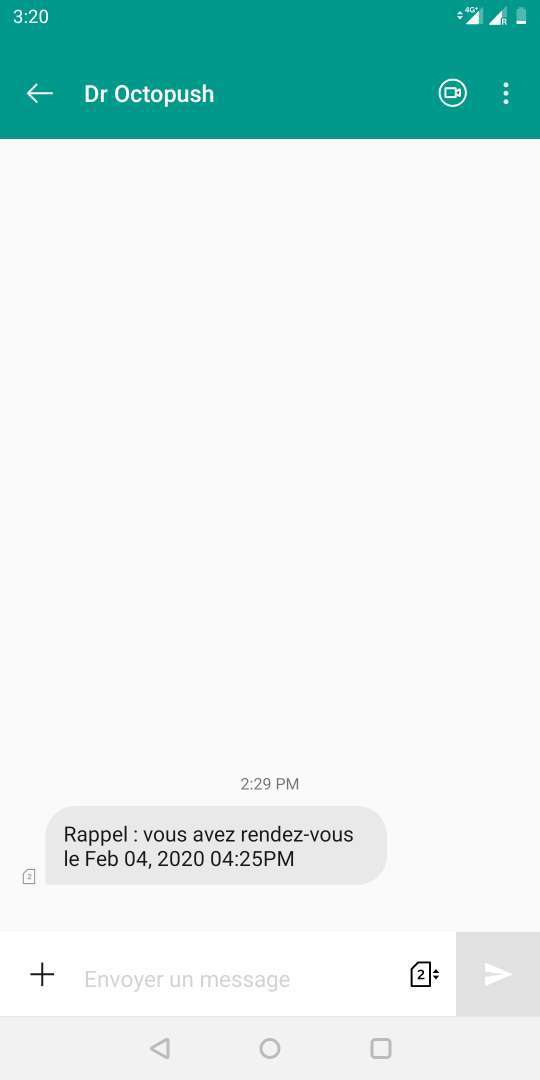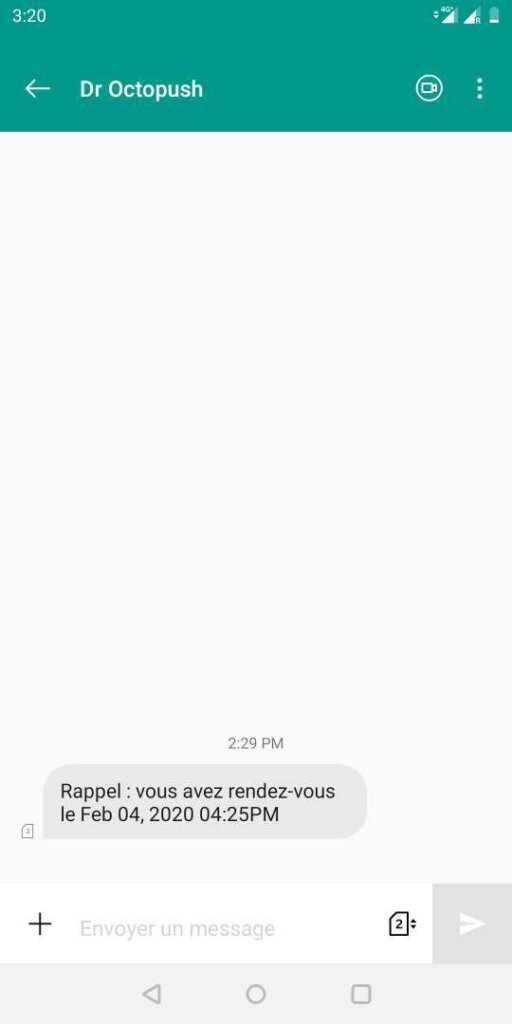 Final word
Sending an appointment reminder is a great way to ensure that your clients show up on time for their scheduled reminders.
It also gives you the opportunity to remind them of services they may have missed out on or forgotten about in the past, which can lead to more sales.
You may want to consider adding a reminder text message when sending appointment requests or follow up reminders. It's easy and quick, and you can do it yourself using Zapier!
With Zapier, all you need is your Text Message API key from Octopush (free trial) and the services that you would like to integrate with.
If you're looking for inspiration and want some help getting started with the strategy of text reminders and the automated appointment, we've got just what you need! Follow our documentation and start sending appointment reminders today!