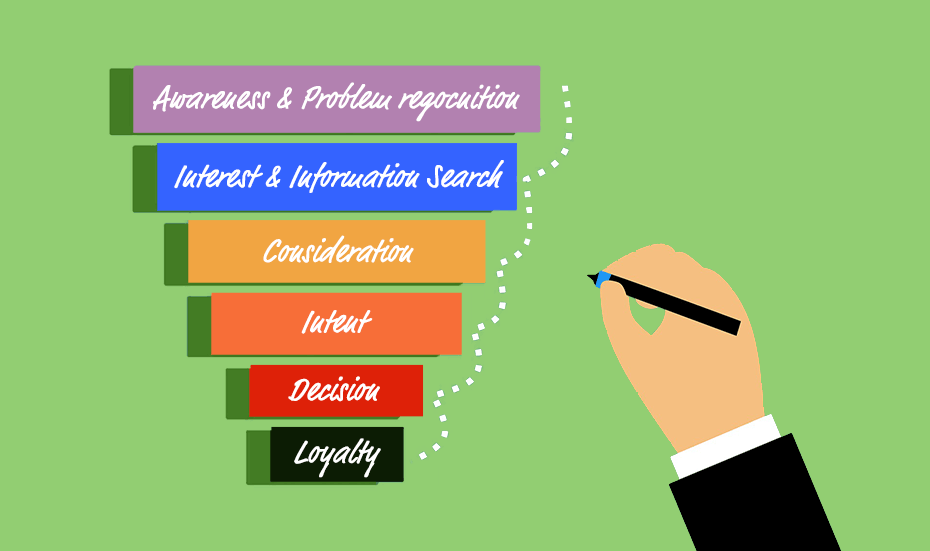 Are you an e-commerce platform or an online shop seeking to leverage your sales funnel to reach customers and drive sales? Then, you have arrived at the right place.
Let's look at the significance of the sales funnel and how to incorporate SMS marketing in your sales/marketing funnel.
Sales Funnel and Its Importance
A sales funnel forms the basis of marketing. According to HubSpot, a marketing funnel is commonly known as a sales funnel when the intended output of both is the same – revenue.
The top of the funnel is concerned with gaining as many leads as possible via marketing. People become aware of your product or service and match it with their needs.
The middle of the funnel is where the marketing and sales teams operate together to nurture prospects and help them understand how your product will provide value to them. The bottom of the funnel is where you convert prospects to customers and focus on superior customer service to retain them.
A sales funnel is important because it:
Provides a clear visual model of the process to convert prospects to customers
Allows the sales team to use statistical analysis to determine the number of successfully closed deals (customers won)
Helps salespeople understand the method to follow to move users through a practical sales process and into a closed deal to maximise cost per lead and productivity
It also helps estimate the future sales value
Allows to identify and address problem areas
How to Use Text Messages at Every Level of the Marketing Funnel
SMS marketing is a mobile marketing strategy in which text messages or Short Message Services (SMS) are used as the medium to help acquire new prospects, convert leads, create and improve personal relationships with clients, and ensure customer loyalty.
SMS marketing for e-commerce is crucial for boosting performance. However, capturing people's attention can be tricky since they only want to receive branded text messages and don't want their inbox to be flooded by them either.
The top, middle, and bottom of the marketing/sales funnel are known as awareness, consideration, and decision stages, respectively. Here's how you can incorporate text messages into your funnel to grab clients' attention and enhance performance.
SMS Marketing Best Practices in the Awareness Stage
The top of the funnel can be broadly described as the awareness stage. Here, prospective customers are just getting to know your brand through your top-of-the-funnel marketing activities, such as paid ads and organic search. Because social media largely influences online shoppers, it is vital to create a digital presence before reaching out with a text message. Engage with your audience online.
When you are satisfied with your online presence, you can start building your list of customers for sending texts. We have a database rental service that may be useful to attract leads in the awareness stage. We don't have the feature in English yet, but it can give you an idea of the possible use for SMS in this stage.
Ask For Permission
You cannot send texts without permission, and it's also risky to send a message asking for permission. Thus, you need to create opportunities and give incentives to people to include them in your SMS sales funnel.
For example, you can announce an offer of a discount or free shipping for signing up for text messages. Then ask your potential customers to send a keyword to your SMS phone number and avail of the offer. You can officially get their permission in this way.
Enjoy paradise with Trippio! Reply to this message with "YES" and we'll add your phone number to our annual sweepstakes to win an all-inclusive vacation for two at our 5 starts resort.
Make the SMS Message Useful for Your Customers
By linking to targeted content, such as a high-performing social media post or blog post.
Because most internet traffic comes from mobile devices, it is essential to use mobile-friendly landing pages. Make sure your link can be easily navigated using a mobile device. Viewing a desktop website on a mobile device can cause inconvenience. It would help increase conversion rates and provide a seamless experience.
Familiarise Yourself With All Regulations
So that your SMS messages do not get marked as spam. The key regulations governing SMS in the UK are:
The Data Protection Act – The DPA of 2018 has been revised post-Brexit to be read jointly with the new UK-GDPR rather than the EU GDPR.
UK-GDPR (General Data Protection Regulation): All businesses must give their customers the chance to explicitly consent to receiving promotional SMS. The best practice would be to use un-ticked opt-in boxes to ensure affirmative consent. It is crucial to do this individually for each channel.
It is crucial to enable individuals to withdraw consent.
Phone numbers must be securely managed since they are considered as personal data.
PECR (Privacy and Electronic Communications Regulations): PECR imposes restrictions on unsolicited marketing via any channel.
It requires you to provide a convenient way for customers to withdraw their consent.
If you want to compile a directory with personal information like name, email address, and telephone numbers, you must let subscribers know, give them the option to opt-out, obtain affirmative consent on reverse searches, and when requested, withdraw or correct any entry without charge.
SMS Marketing Best Practices for the Conversion Stage
In this stage, you nurture your leads, give them value-adding product descriptions, and provide captivating offers. Create buyer personas to segment and narrowly define your target audiences. It would make it easier to find the type of messaging that would appeal to them.
Hi Lana, enjoy this week a 50% OFF in all our anti-wrinkle products by using the code OVER50 during your checkout.
Hi Darla, enjoy this week a 50% OFF in all our anti acne products by using the code UNDER20 during your checkout.
Notify Subscribers
Use SMS campaigns to notify subscribers of upcoming discounts, promotions, events, product launches, and flash sales. Campaigns involve sending bulk messages to a large number of clients simultaneously. They drive engagement and sales.
Segment Your Audiences
You can segment your audience based on demographics, such as age or location. You may even segment them based on previous interactions. This way, you would only text prospects who have interacted with your content within a given period. You can also distribute highly targeted SMS campaigns.
Personalise Interactions
Research has shown that personalised experiences boost an e-commerce company's sales by 20% on average. Use your segmented target base to send triggered messages to personalise the experience for your prospects. You can ask your subscribers about the type of content they want to receive. This will increase the chances of conversion and prevent anyone from getting annoyed.
Introduce Drip Campaigns
These are campaigns where you automate your campaign instead of manually scheduling SMS messages. They are useful for welcoming new subscribers, nurturing leads, and educating them. You can send automated texts to your target audience, at a preset time, based on any change in their status and the actions they take.
You can maintain contact with your customers in a personalized manner as a follow-up on critical engagement points, such as:
Joining an event at your store
Leaving a shopping cart
Placing an order.
SMS Marketing Best Practices for the Decision Stage
This is the bottom of the funnel where your leads decided to take action and make a purchase. Some subscribers in this stage might be former customers. In that case, you should check in to ensure they are satisfied with your service now and plan to make future purchases.
Provide unique customer service, establish a strong communication level, and emphasise the importance of their feedback to your product and customer services updates. These would show that you highly value your leads or customers. Make the purchasing process convenient for them and provide any special offer when you can.
Terry, at Barber's Shop we were delighted to have you last week. Would you share with us your opinions about our service? The survey will take you less than 2 minutes and you will only have to reply with numbers.
Innovate Your Customer Service
For instance, you could offer a one-on-one customer support SMS line for subscribers to text if they are facing any issues. You can use advanced texting features, such as scheduling replies or leaving private notes on business conversations. Even when replies are scheduled, customer support gives a more personal feeling than being kept on hold for a longer period.
Solicit Reviews
About 84% of shoppers value online product or service reviews as much as personal recommendations. Compared to review requests via email, SMS review requests have a 66% greater conversion rate.
Furthermore, directly reaching out to customers shows customers that you value their experience and improves the chances of getting positive reviews. You can automate SMS review requests sent to customers some weeks after delivery. It is better to personalise this message. To make the process simpler, you can include a direct link to the review site.
Upsell
Do it only when you have a strong customer relationship. You have to reach a point where you convince customers to make a more value-adding purchase. Sales teams should be aware of what provides more value to existing customers and convert this additional value into revenue. With high open rates and proper timing, text messages are an effective tool for upselling.
Bonus Tips for Making the Most of the Sales Funnel
Track and Analyse Metrics
Determine the metrics and key performance indicators (KPIs) for your sales funnel. Identify, track, measure, and analyse them to measure performance and find areas of improvement. Some of these metrics are conversion rate, customer satisfaction level, and engagement rate. Additionally, in the client area of our platform, users can track the number of delivered SMS, number of replies, clicks on URL in the message, and blacklisted numbers.
Select the Right Time
The high open rates for SMS marketing will not help if you don't send text messages at a convenient time for your subscribers. For example, you can contact them to learn when they are most likely to use your product or service. It's well-advised to schedule the delivery of SMS beforehand. Don't reach out outside of business hours, eg. 9:00 PM. Plus, be aware of your subscribers' time zone. Not many people approve of getting messages at night.
Keep Your Messages Clear and Concise
Keep the text short and easy to comprehend instead of cluttering them with too much information. Your message needs to be specific and value-adding. Match the tone of your text with your brand. Don't be too casual or too stiff. Don't pester them by 'checking in' or repeating your product's benefits without providing value.
The content, tone, and frequency of the text messages need to be tailored to each stage of the sales funnel. You can sign up with Octopush, where we strive to provide you with the best SMS marketing service.