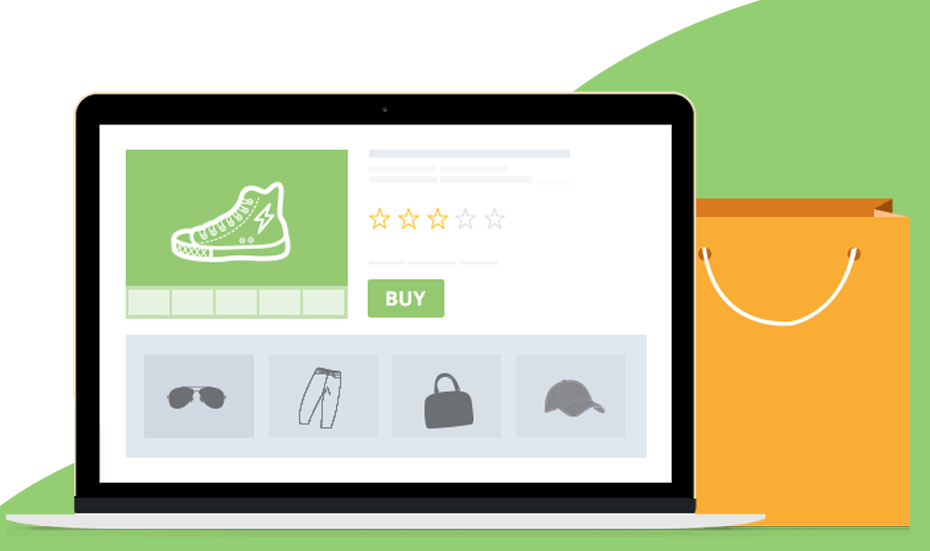 Most people have used websites like Amazon to do their shopping at least once in their life. Whenever you look at an item on Amazon, you will see that they will recommend other similar or complementary products to you. This tactic is known as cross-selling.
But how do you define cross-selling? Cross-selling is a sales tactic that involves recommending similar, related, or complementary products to a customer looking to buy something. The aim of cross-selling, like any other sales tactic, is to increase the total sales.
Of course, there is more to it than just maximising revenue. A company's mainstream product line usually has a low profit margin. Companies use these products as a gateway to sell more products to them. As a result, complementary items tend to have a higher profit margin than the primary product.
For example, companies sell printers at a shallow profit margin. But after selling a printer, the company will recommend ink cartridges and printing paper to the customer. Both of these products sell at a much higher profit margin and are also essential for using the printer. As a result, the company can significantly increase its profits.
Anyone starting their e-commerce venture can learn a lot from companies that have found success by integrating cross-selling into their strategies.
But there are so many ways you can apply cross-selling into your business. You could use a recommendation section, email marketing, SMS marketing, and so on. So let us take a look at some companies that are great at using cross-selling in e-commerce!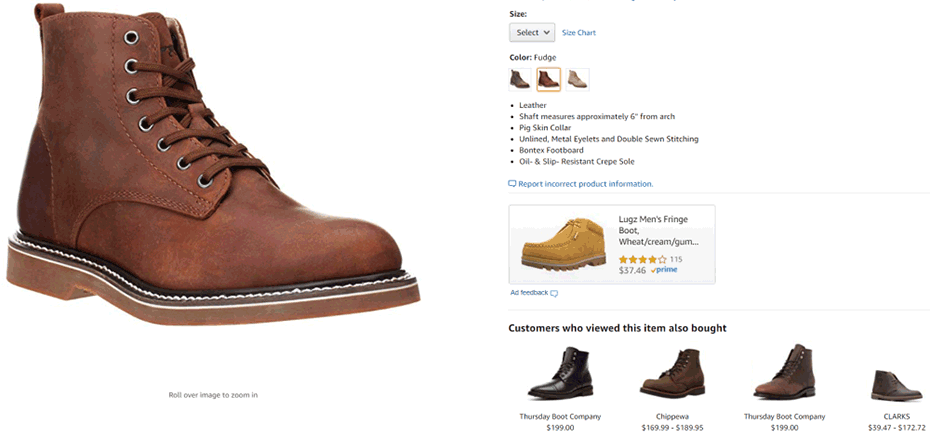 1. Amazon – Customers Also Bought
Being the household name for e-commerce, it is not surprising that Amazon is excellent at cross-selling. Whenever you browse a product's page on Amazon, you will also see other products that customers have bought alongside it.
Buyers tend to be more accepting of decisions made by other buyers. So this incentivises the buyer to buy the other products as well.
Amazon's cross-sell recommendations are usually on point. They have a massive database of their customers' activities. Using this data, they can give accurate and relevant offers.
2. Target – Frequently Bought Together
Target is another company that does cross-sell very well. They have multiple channels to convince the customers to buy a little extra.
Firstly, they have the standard "Frequently bought together" section. This channel gives the customer an insight into what other people buy. Besides the first channel, they also have a "Complete the set" section. This section entices the customers to purchase complementary products to get the most out of the product. These two sections work in tandem to ensure additional purchases by the customers.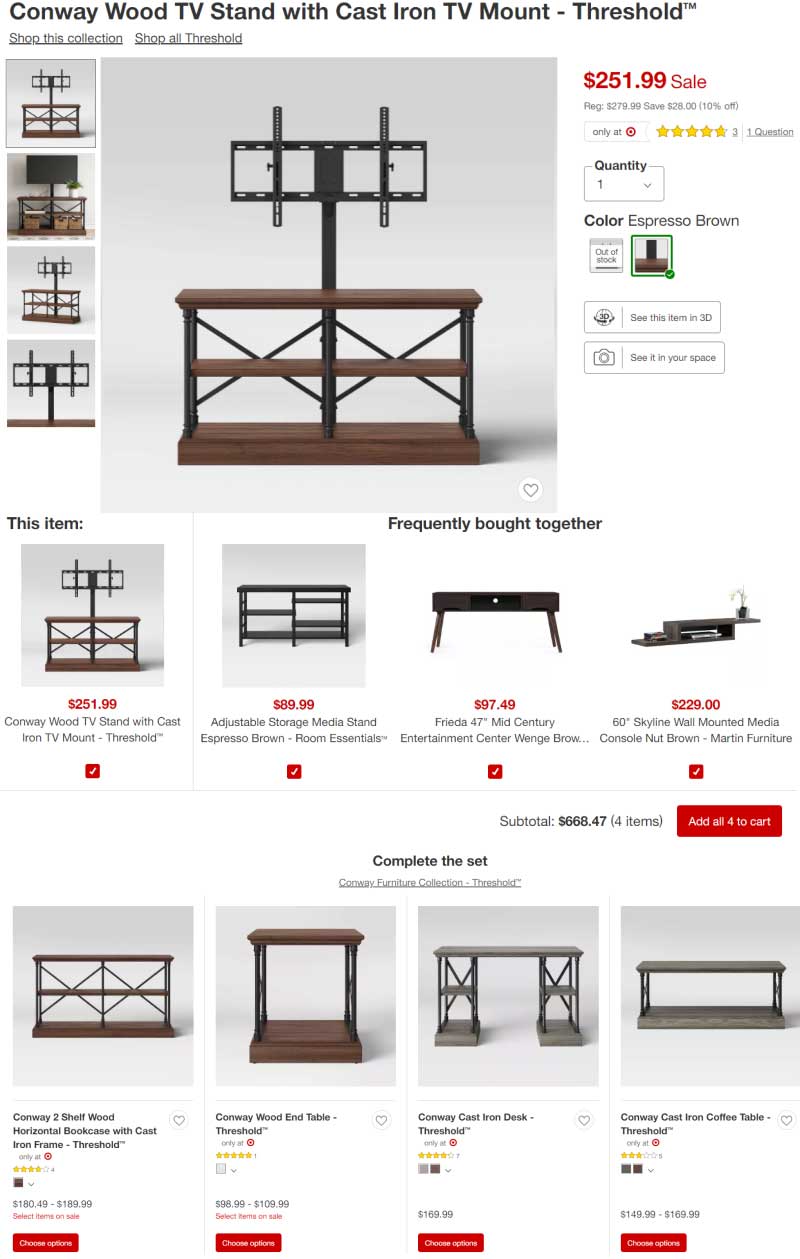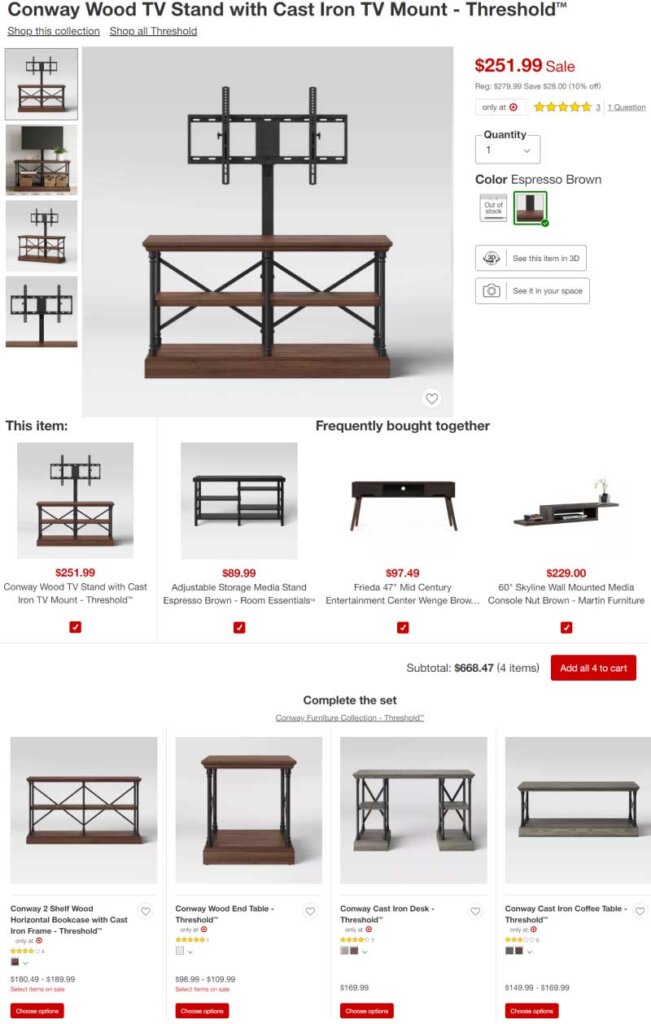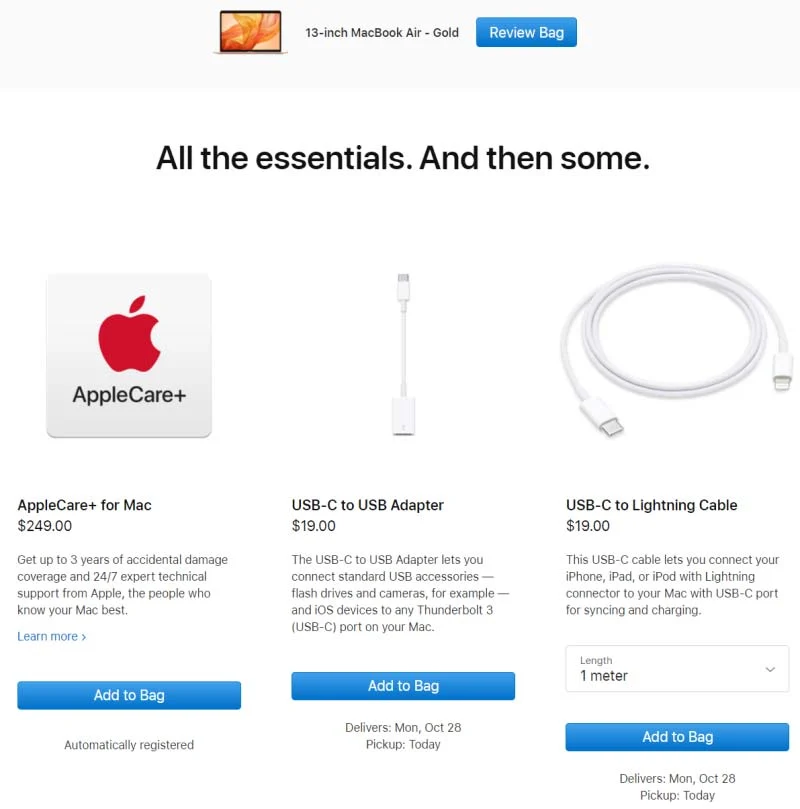 3. Apple – All the Essentials and Then Some
Apple is one of the largest companies in the world. They have been known to use cross-selling tactics minimally and passively for their accessories.
Apple is all about its ecosystem. It wants its customers to become reliant on Apple products. That is why they use their primary products like the iPhone as a gateway into the ecosystem. To fully utilise all the functions an Apple product offers, you will need to buy the accessories.
That is why when you are viewing your cart on the Apple website, Apple will suggest some accessories to provide you a better experience with the product. This method is a clean and straightforward way to use cross-selling.
4. Vans – Add More for Very Little
Vans is a street fashion brand. They are known for their sneakers. But they also sell clothing items as well as other accessories.
When you are about to check out on the Vans website, Vans will give you the option to add an accessory to your cart. Vans only suggests one additional product, which seems like a risky move. But the recommended product is usually very affordable, so the customer might decide to pay a little extra to get the accessory.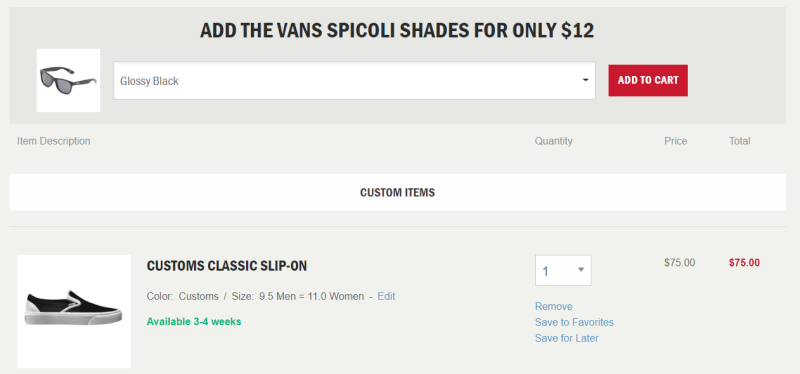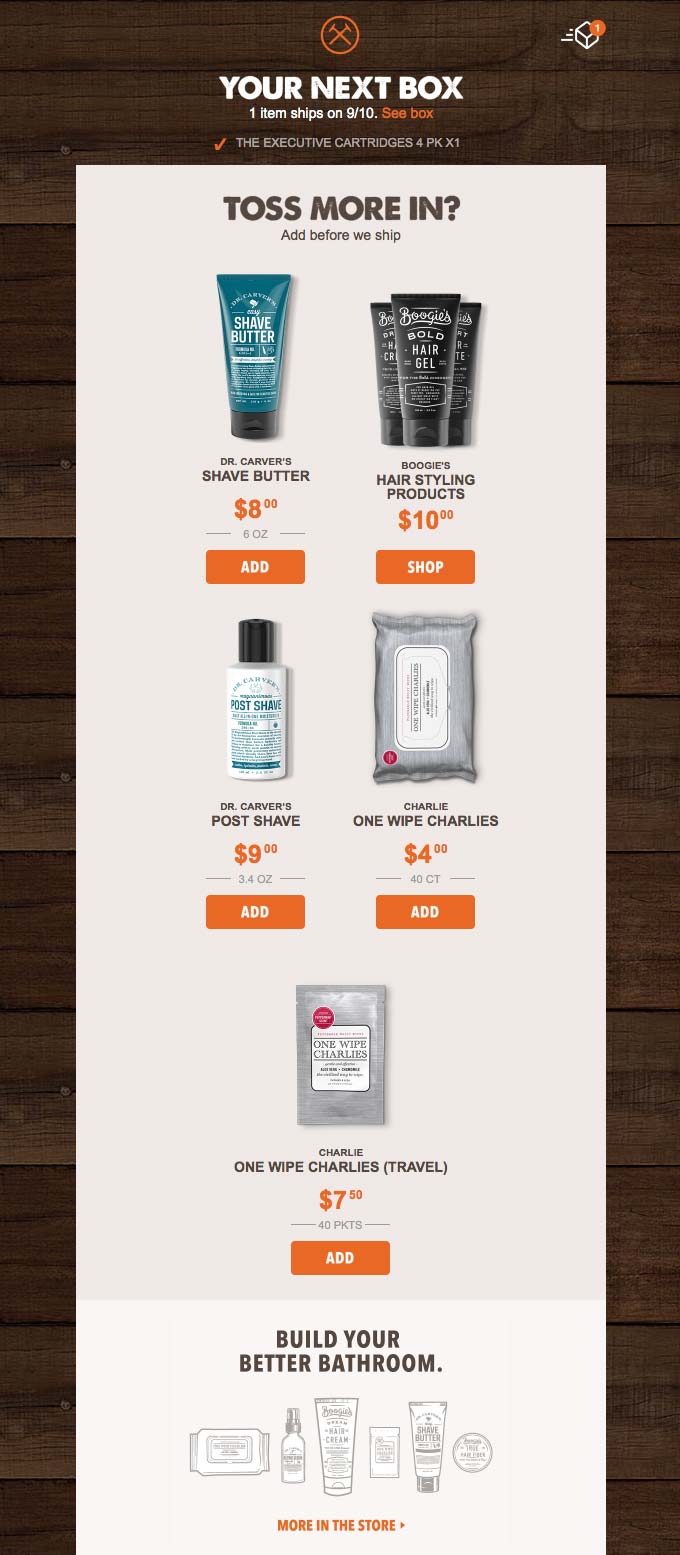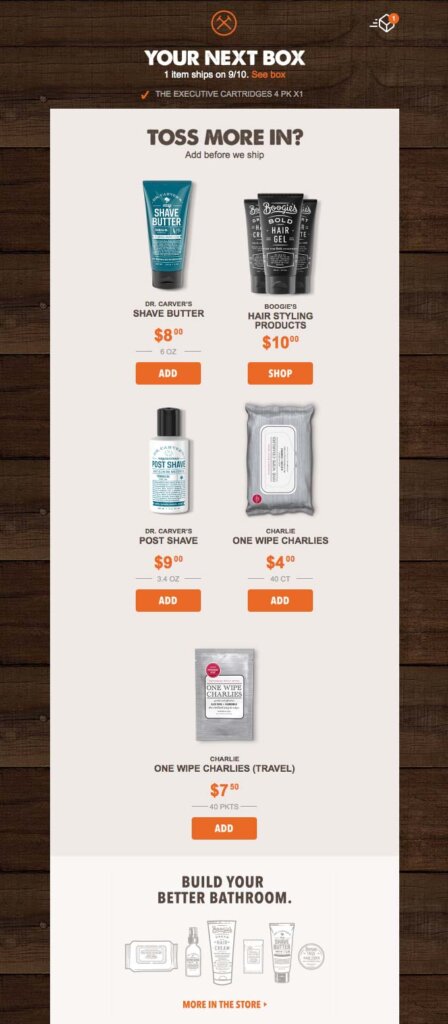 5. Dollar Shave Club – Toss More in Before You Ship
Dollar Shave Club is a popular subscription service that sends you a monthly shaving kit at an affordable price. You can customise your shaving kit according to your needs.
Every month, right before they send you your shaving kit, Dollar Shave Club will email you a list of products you can add to your box to improve your shaving experience. This email tells you how to get a better experience and create a sense of urgency in the customer. As a result, they are more likely to add additional products to their cart.
6. IKEA – More in the Collection
We all know and love IKEA. IKEA is the go-to option for affordable and high-quality furniture. One of the reasons behind IKEA's success is its ability to make cross-selling easy and customer-friendly.
IKEA uses a combination of SMS marketing and item grouping to cross-sell its products. People often have a hard time finding a suitable variety of furniture. IKEA makes this easy by grouping furniture into sets. If a customer likes a bed from a particular collection, he will likely buy the table from that set as well.
Moreover, IKEA sends SMS texts to their customers whenever a new item is added to a set or if a new group is released. As a result, it can retain its customers and while also maximising its sales. IKEA's use of SMS for marketing their products can be something new e-commerce websites can implement to improve their performance.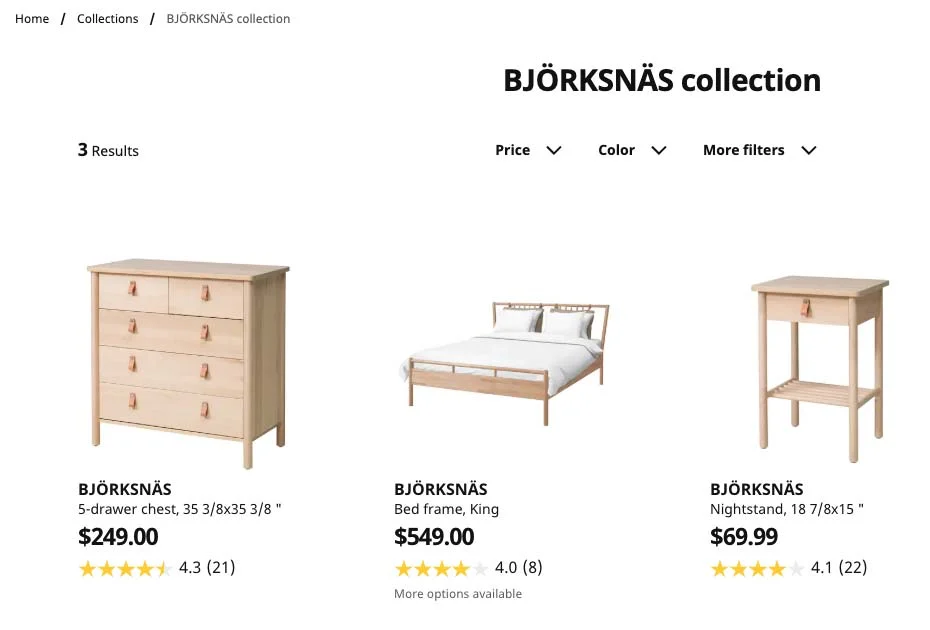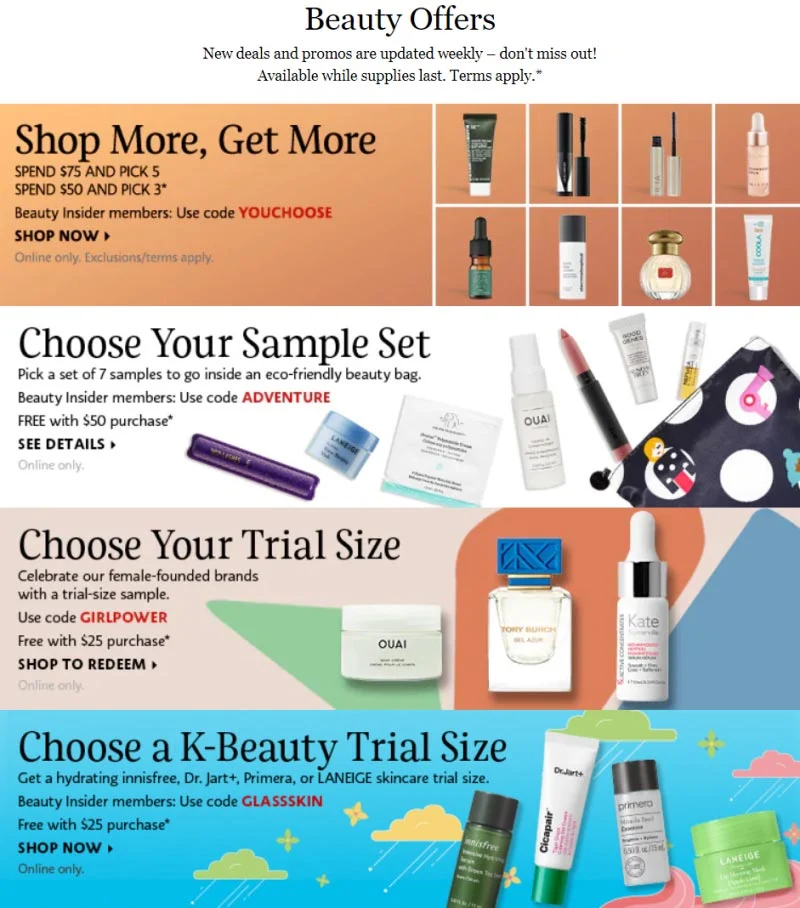 7. Sephora – Choose Your Sample Set
Sephora is a beauty and cosmetics product shop with over 300 brands on its website. With so many products under their catalog, it can be challenging to cross-sell products as bundles. But Sephora uses an innovative tactic to get the job done.
Sephora has its usual bundle of products for customers. But once a week, Sephora lets its customers add items they like to these bundles within specific guidelines. This option incentivises the customers to buy the bundles with their favorite products at a discounted price.
8. Heroku – Try Popular Add-Ons
Heroku is an app development company that uses emails to sell add-ons for its services.
Cloud-based services have a very high cross-sell potential. You can sell various add-ons that fundamentally change the way your customers experience your service.
In the case of Heroku, all of their add-ons are free. So while it does not drive sales, it encourages more engagement with the brand and product.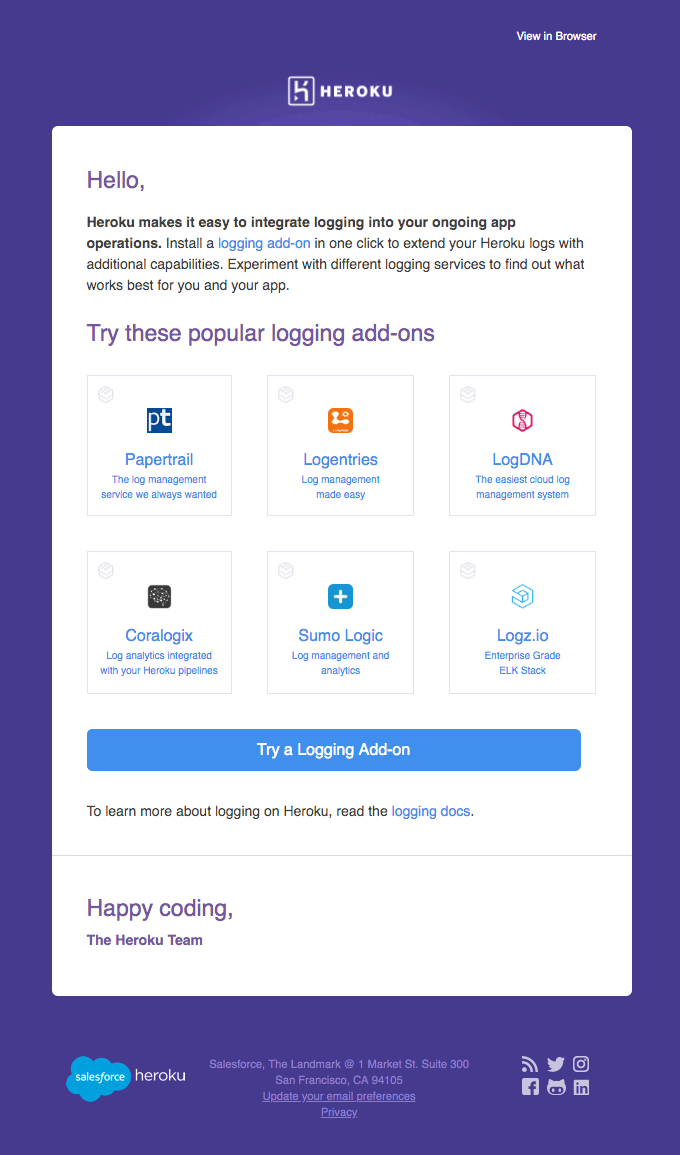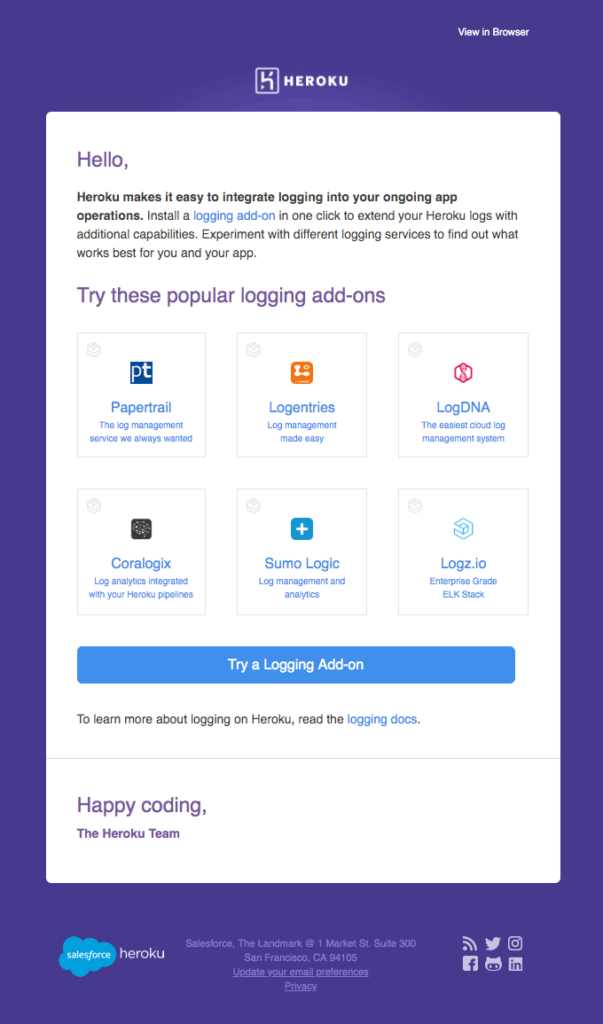 9. Rei – Complementary Items
REI is a lifestyle brand for the outdoor-loving crowd. They sell clothes, shoes, backpacks, and other accessories.
REI has a very straightforward approach when it comes to cross-selling. They list a bunch of complementary items under the main products. This method entices the customers to buy the accessories to get the complete package. REI also has a great database of purchase information. So they can make accurate and practical recommendations to customers.
10. Wayfair – You Might Also Need
Wayfair is an extensive online marketplace. They host a wide variety of products on their website. Like any other e-commerce site, they keep a record of customer preferences and shopping habits.
Wayfair uses the most textbook method for cross-selling. They have a "You Might Also Need" section under all of their product pages. The recommendations are generated using the data Wayfair records. So the suggestions are usually on point. As a result, customers are likely to add a few more items to their cart.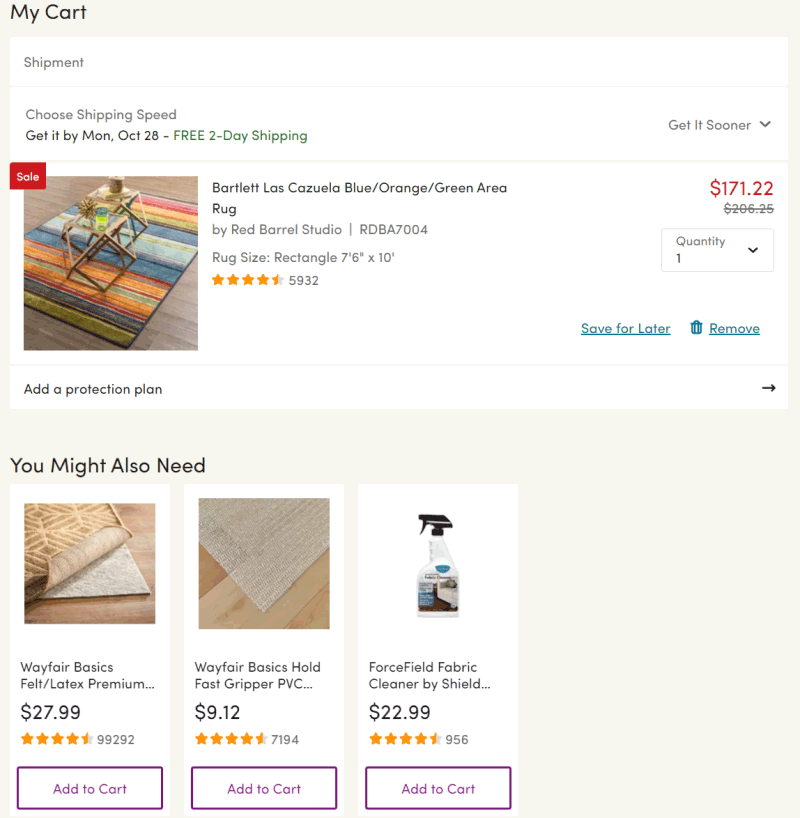 Find Your Unique Way to Cross-Sell
At its core, all of the companies use similar tactics to cross-sell their products and services. But each of them has a twist that separates it from the crowd.
The key is to find what works best for your brand. Email marketing and recommendation sections are standard practices. If you want to separate yourself and be more engaging, you can try other strategies like SMS marketing. SMS marketing has a lot of potential in rising industries like gaming, SAAS, and e-tourism.
To include SMS promotions in your product cross selling plan. Don't forget to check our text-messaging Prestashop Addon, WooCommerce and Magento extensions. They are easy to implement!
Or in the Prestashop store, Magento Marketplace, and in the WordPress Plugins.
Increase your sales with SMS marketing campaigns by cross-selling related products or services. You can create custom messages based on specific criteria like product category or time of day!