Renting an SMS database means renting a database of mobile numbers for an SMS campaign. Often, this technique is used by companies to prospect new customers via SMS throughout France. Indeed, the idea is to target the right prospects at the right time thanks to continuously updated data in order to have active contacts.
The rental of a database is recommended for :
Acquiring new customers
Increasing the traffic of your site
The announcement of promotions and special events.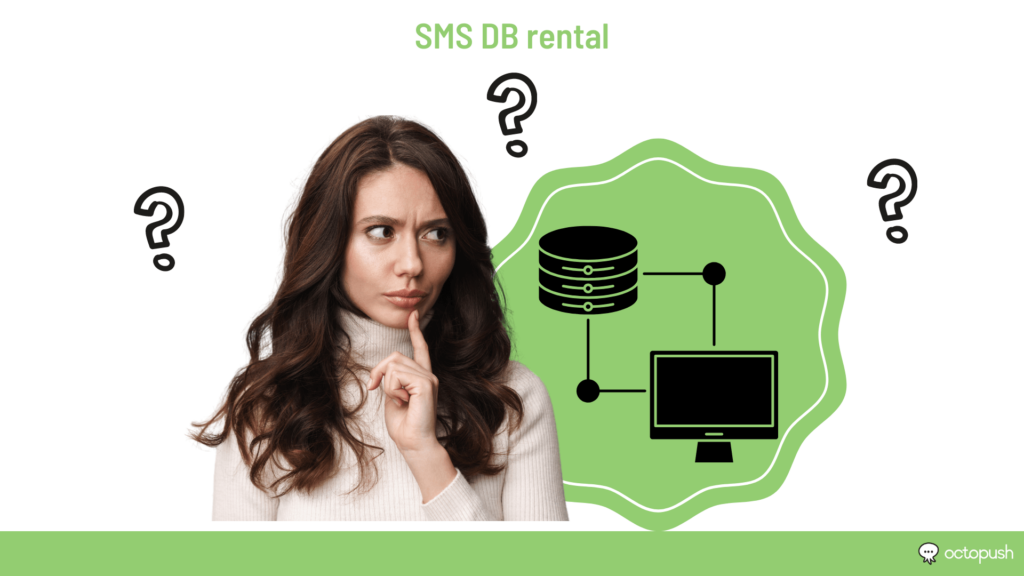 What are the advantages of renting an SMS database?
Precise targeting to acquire your company's target customers
Building a good customer database is not just about collecting numbers. In reality, a good database is a database made up of the right numbers. That is, numbers of target customers who fit your business or who could potentially be interested in your products and services. This means that, on its own, a company may have difficulty building a good SMS database of customers and prospects.
With the rental of an SMS database, it is quite different. Indeed, the service provider chosen for the rental of SMS files is also obliged to segment the databases. With the help of this segmentation, your customer database file will be perfectly adapted to your target customers. This will allow you to succeed in your prospecting and will make your SMS campaign much more profitable.
In terms of segmentation criteria, most service providers offer you the option of using interest, demographic and geographic criteria.
Continuously updated data
If you already have your own database, you may think that you don't need to rent a database. However, note that your current database may already be outdated. Indeed, on average, French people change their operator every 23 months.
The interesting thing about databases is that their providers also take care of updating them. Without forgetting that the mobile numbers of the SMS files must also be collected according to the Opt-in principle. That is, the users of the numbers in your SMS database have given their consent to receive messages for commercial purposes. By renting an SMS database, your provider takes care of all this.
As a result, you can be sure that you are sending SMS messages to valid and in-service numbers. This will once again improve the profitability of your SMS campaigns. And this, in the respect of the RGPD and your recipients.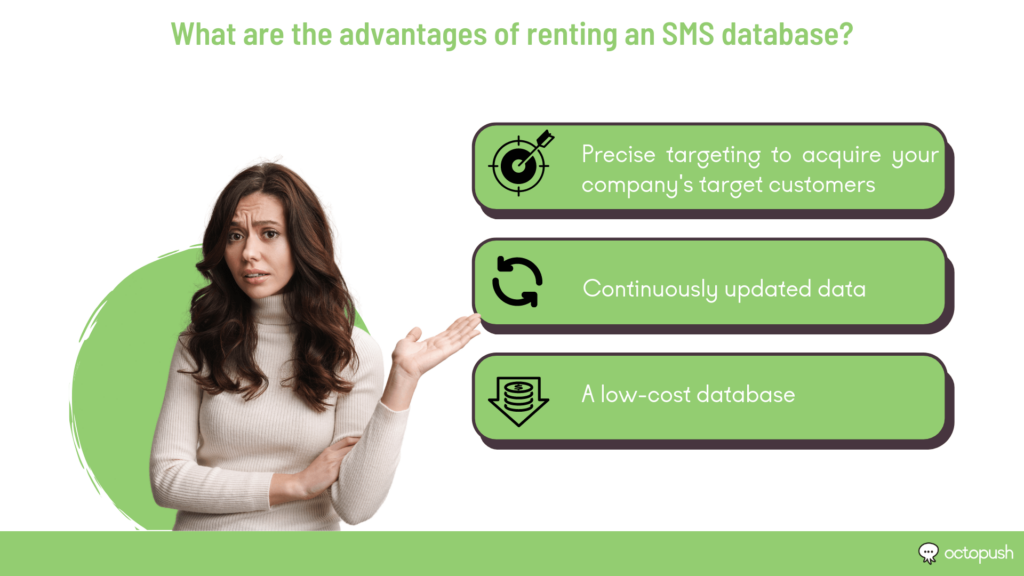 A database at lower cost
Some companies prefer to turn to the purchase of an SMS file, which can be quite expensive. Indeed, this kind of purchase will commit you financially to invest, which is not the case with the rental of SMS databases.
In order to carry out your first prospecting campaigns at a lower cost, the rental of SMS databases is therefore highly recommended. Normally you will only have to count a few cents per recipient to be able to access and rent large databases. They will be at your entire disposal, whatever the size of your campaigns.
Moreover, this cost, even if it is small, will easily be able to make it profitable. By sending short advertising messages directly to your prospects for example. This will allow you to acquire new customers and therefore more sales.
At Octopush, we have to our credit more than 35 million contacts of individuals (B2C) and 11 million professionals and companies (B2B) in France. This means that you can find the ideal prospects at the best price to promote your business.
SMS database rental: call on Octopush!
Thanks to our SMS database rental services, you will have a tailor-made, qualified and targeted prospect file according to your criteria. In short, a customized SMS database for your company. In order to help you measure the protection of the available contacts, a count will also be made available to you.
Also note that at Octopush, your SMS file will be targeted by gender, age, city, department, professional category and interests. This will give you the best database to make your SMS campaigns profitable.
With the help of our team, you can :
Create your customized SMS file
Have an accompaniment in the writing of the message of your campaign
Be advised to succeed and optimize your SMS campaign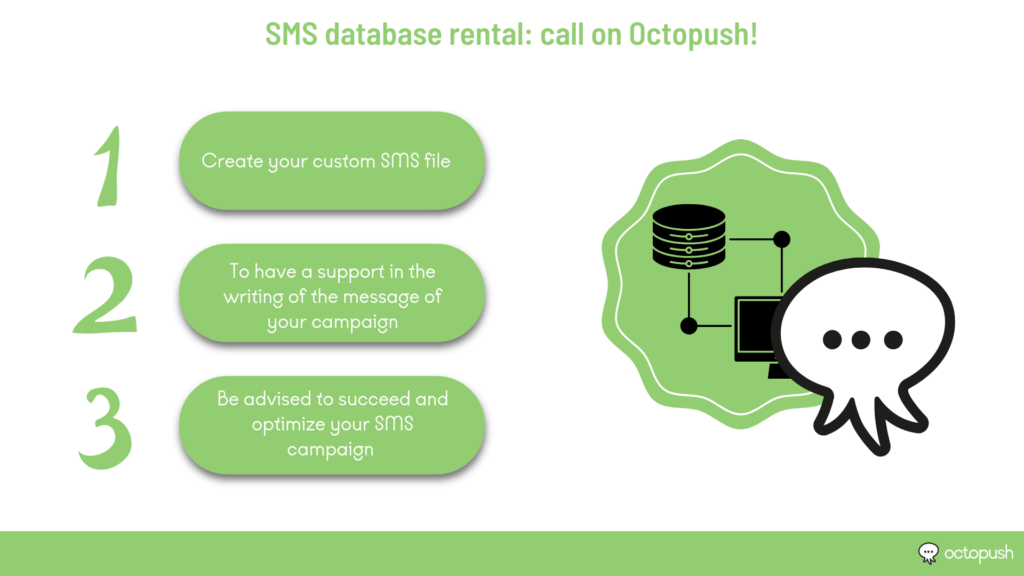 Why call upon Octopush to rent your SMS database ?
Thanks to rigorous targeting, we help you to contact your target customers for the optimization of your SMS campaigns.
We already have an SMS file of more than 35 million opt-in prospects (users who have given their consent to receive SMS advertising). These files come from our exclusive business partners (you won't find them anywhere else).
We ensure that your database is free of duplicates and that the numbers are verified, checked and confirmed to help you have reliable data.