For many, the dilemma is present: should you rent or buy an SMS customer file? Two practices, both sources of opportunities in business, it is sometimes difficult to make a choice.
Are you hesitating between renting and buying? Let Octopush help you choose with this complete file on the subject.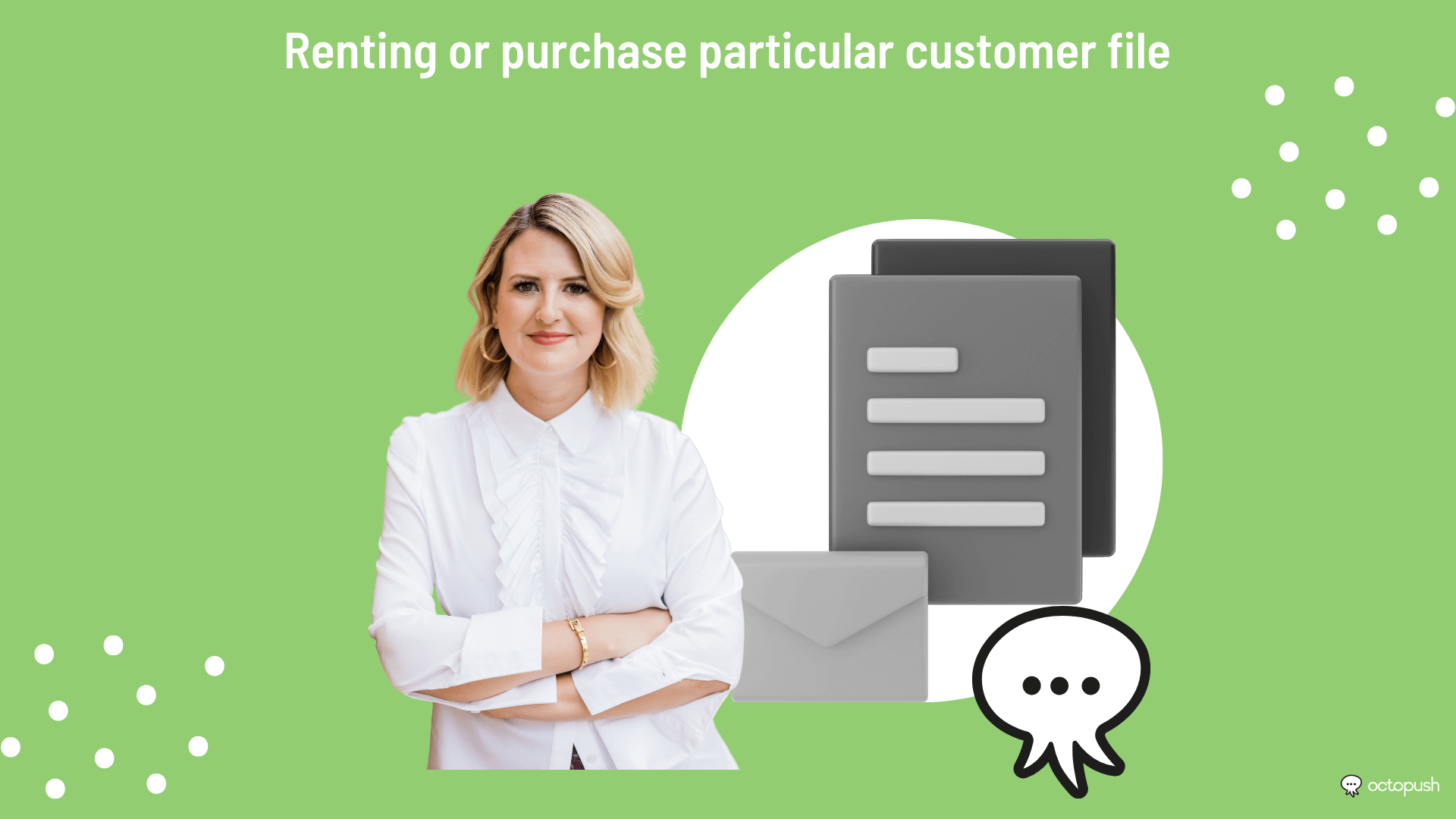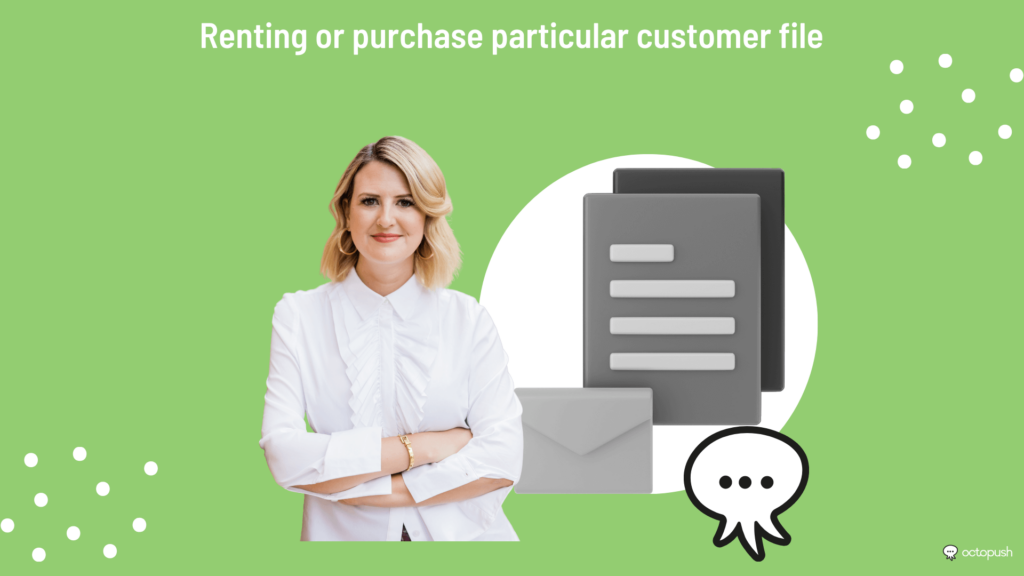 What is an SMS customer file?
As its name may indicate, an SMS customer file is a list of mobile numbers belonging to the customers or prospects of a company. Therefore, since there are different types of companies, SMS customer files differ from one company to another.
With an SMS customer file, a company can :
Prospect much more efficiently: it already has the numbers of all the people to contact and convert through targeted SMS campaigns.
Build customer loyalty by sharing special offers and promotions.
In short, having an SMS customer file allows a company to better prospect, but also to build customer loyalty. On the condition that you have a well-filled and continuously updated SMS database, which is not always the case. This is why it is sometimes necessary to rent or buy customer databases.
How does renting an SMS customer file work?
The rental of SMS customer files follows exactly the same logic as any other rental. Indeed, when you rent an SMS customer file, you only have access to a contact database. Therefore, the SMS file in question does not belong to you and you can only use it once.
Of course, you will only have access to this database for a certain period of time. Consequently, its use is limited and is defined between you and your provider during the "contractualization" of the rental.
What is interesting in the rental of SMS files and its price, is that you have data (contacts) continuously updated. Indeed, most database providers make sure to rent databases with active and certified numbers. Moreover, it should also be noted that they also carry out the targeting of the contacts, according to your criteria. From your side, you will only have to send the prospecting messages via SMS. And this, whether you want to prospect potential customers or retain your current customers. All this, at more or less affordable prices since you will generally only have to pay a few cents per contact.
What about the purchase of a private SMS customer file?
You have surely understood it, but contrary to the renting, the purchase of a customer file allows you to have entirely and freely the data it contains. In short, you become the owner of the SMS customer file obtained. Consequently, you can use it as many times as you want.
However, contrary to the rental, it will be up to you to update the database at your disposal. Indeed, according to statistics, the French change their number every 23 months. At the end of these 23 months, it is therefore possible that your contact list is obsolete and you will have to update it yourself. In addition, the targeting of the numbers to be contacted will also be your responsibility. Two tasks that are still complicated to perform when you are not used to it. Without forgetting that the purchase of a database is more or less expensive.
The advantage is that you can use your SMS database as many times as you want, for an unlimited period of time. So you will be free to choose the frequency of sending all your campaigns.
It is however to be noted that once purchased, the use of your particular customer file is strictly reserved to you. In other words, you can neither rent it nor sell it to a third party. These rules have been defined by the French Data Protection Act.
So, purchase or rental? Our opinion
Buying and renting an SMS database have both advantages and disadvantages. At Octopush, we advise you to choose according to your situation and your needs in terms of customers and prospects.
For example, we suggest that you rent an SMS customer file when you only plan to use it once and when no one is available to update it and to do the targeting. Also, if your budget is not high enough, it is better to settle for a rental.
On the contrary, if you plan to set up several marketing actions based on your SMS database, it is better to buy it directly. You should also make sure that your purchase of SMS files will be profitable, because the purchase in question will be quite expensive. So, if you are not sure to be able to convert your prospects into customers, prefer renting.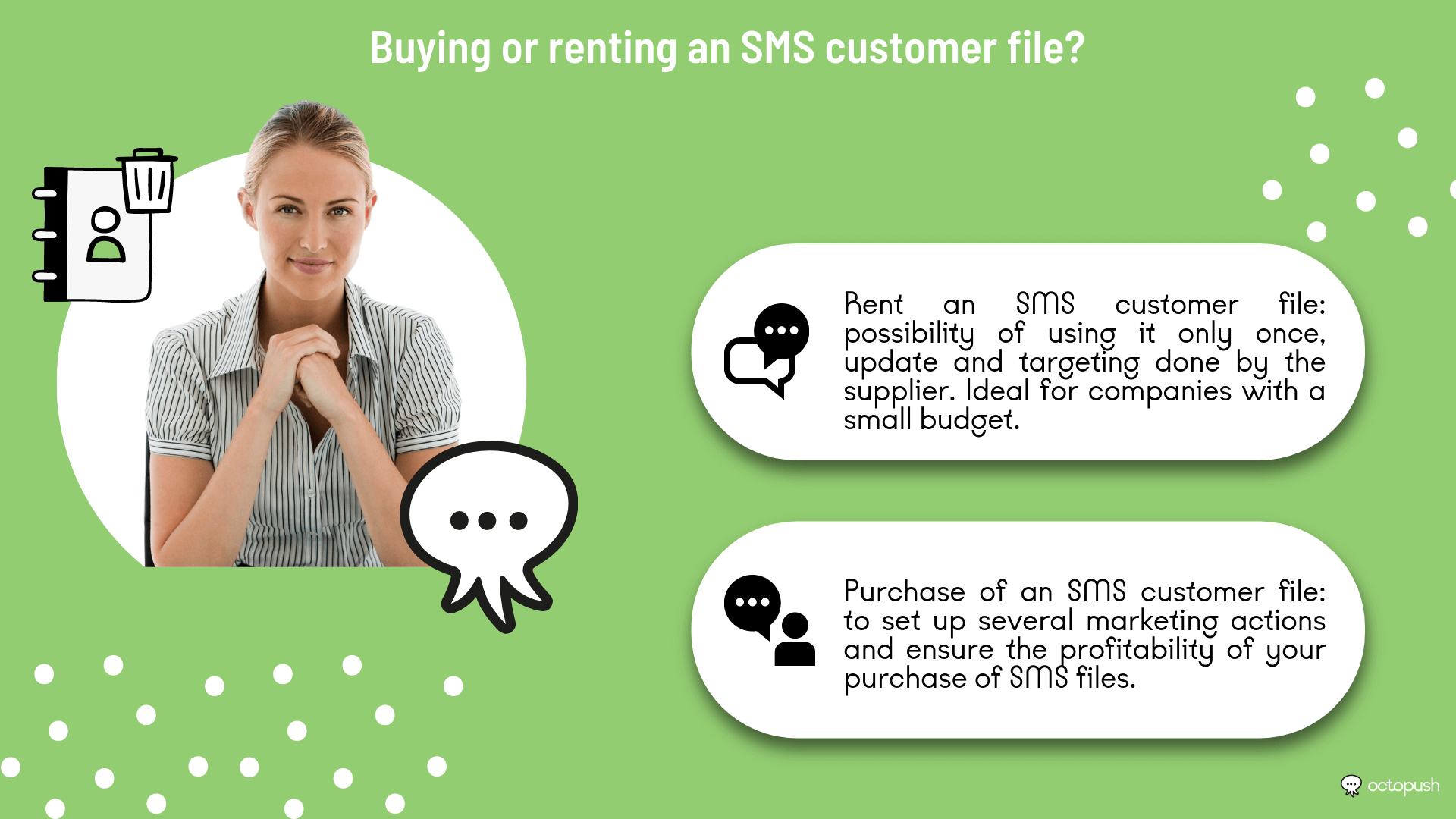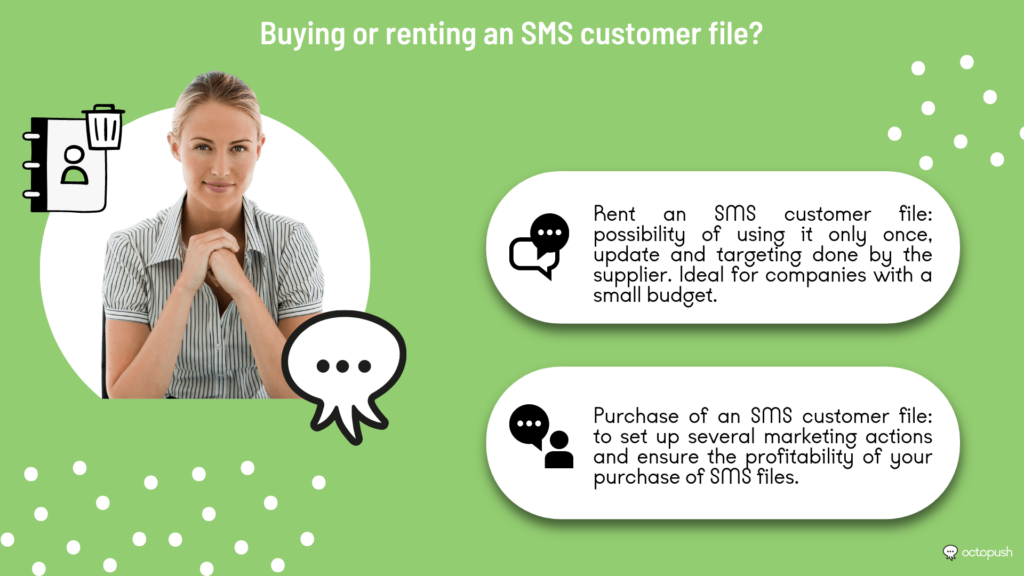 Do you need to buy or rent a customer file? Do both at Octopush!
Whether you are looking to rent or buy your SMS database, at Octopush, you can do both. And this, while benefiting from many significant advantages.
These include:
More than 35 million opt-in contacts from individuals (they have given their consent to receive advertising messages)
Reliable data thanks to the rigorous control and verification of numbersR