Also known as SMS notification, transactional SMS is a type of mass messaging that allows companies to contact a large portion or even all of their audience at once.
The purpose of transactional SMS is to communicate critical information that impacts the management of the business and can potentially interest the customer.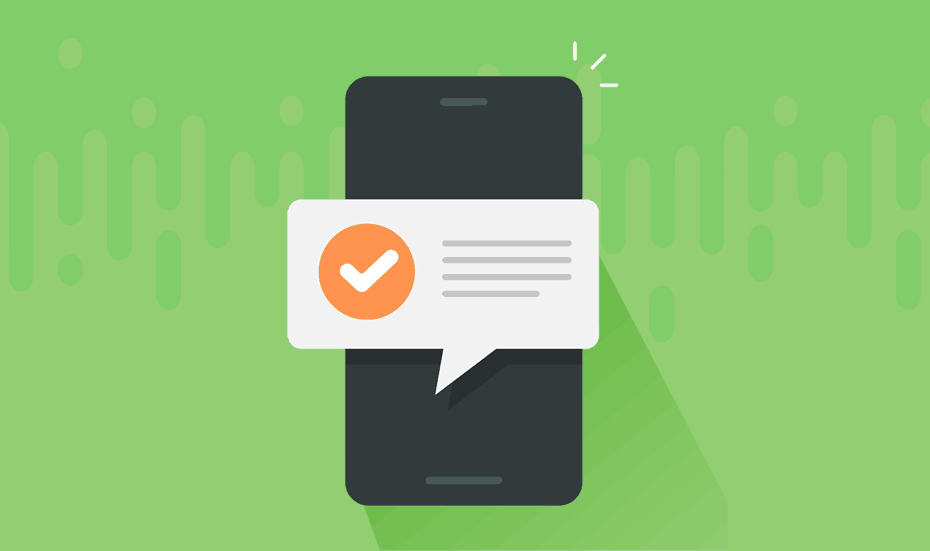 Difference between marketing SMS and transactional SMS
Unlike promotional SMS, a customer cannot unsubscribe from these communications, as they need to stay informed about your business.
Transactional SMS are exclusive. You cannot add promotional or marketing content to them.
They are also delivered first on the network, which means that we can guarantee that the recipient will receive them within five seconds of sending them.
Finally, you can only send transactional SMS to people in your customer database, not to a purchased or rented database, as may be the case with SMS marketing.
Benefits of transactional SMS
Snapshots
Few people check their mailbox every day. An email can gather dust in an inbox for days, or even be sent directly to the spam folder where it will never be opened. It is therefore useless to use email as the only way to communicate with your subscribers.
That's where SMS comes in. People usually read an SMS immediately after receiving it.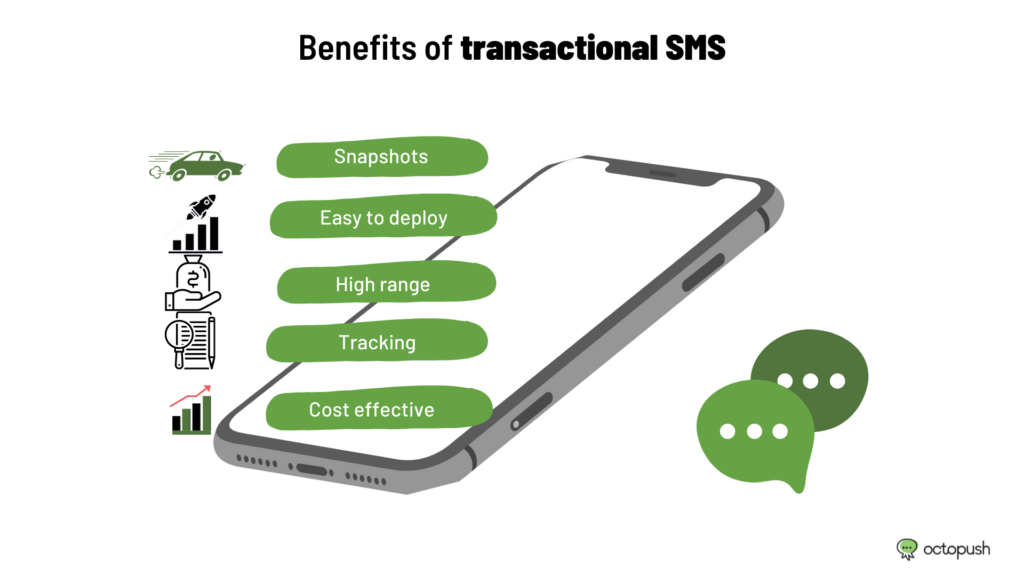 Easy to deploy
Bulk SMS is quick to deploy. All you have to do is create a message that will be sent to your contact list.
High range
These days, everyone has a cell phone. SMS marketing has a 95% view rate and a 45% conversion rate.
Plus, SMS has always been a default feature on phones, so there's no application to download and no account to create.
Tracking
You can see who opened your message, see if recipients clicked on your link, and even see how many people ignored your SMS.
Cost effective
The cost per message is relatively affordable, especially if you buy them in bulk. Sending SMS is the most cost-effective way to personalize your customer communication.
Rates vary from country to country and according to the number of messages sent. Since SMS is a communication medium used by the general public, it is generally inexpensive.
When should a transactional SMS be used ?
Transactional SMS can be used in several situations for businesses. Here are the most frequent use cases at Octopush.
OTP / multi-factor authentication: Validate the identity of an account owner. Then, secure even more the customer accounts thanks to the sending of a code in addition to the identifiers. Also, the validity of the account to login in question is limited.
Alert / Notification: Send your recipients information related to your company's activities. Inform your customers of changes to their user account, opening hours, rescheduling an appointment, updating an order, confirming and tracking a package and welcome messages, among others via an SMS alert.
Appointments: Assure your clients, patients or bosses that their reservations have been taken care of. Then send them an appointment reminder via SMS in advance to see if they are still available for their appointment.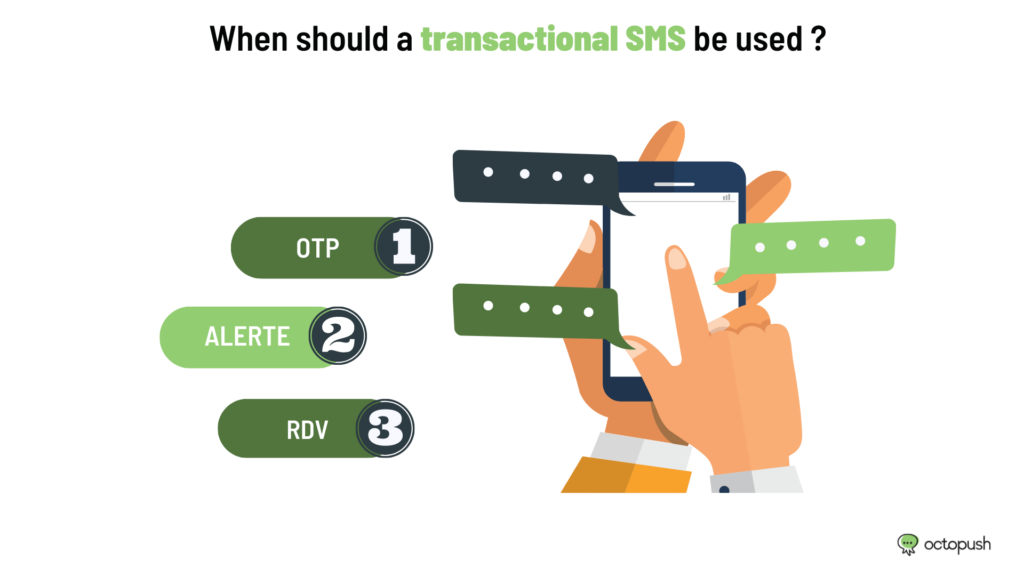 Some industries that use our SMS solution in their transactional SMS system
All industries can benefit from the use of transactional SMS campaigns. Here are some examples of use by industry:
Agriculture
An agricultural company can send a notification regarding the shipment of a package, the confirmation of a transaction or the stock of products available for sale.
Automotive
Garages and car dealerships can inform their customers of opening hours and remind them of an appointment for a car pick-up, a visit or a test drive.
Beauty and Wellness
Spas, wellness centers and cosmetic stores can inform their visitors of opening hours, confirm an appointment, send an appointment reminder, and order and payment confirmation.
Education
Stay in touch with teachers, students and parents. Transactional SMS campaigns can be used for a variety of purposes. To confirm a course, keep students up to date with their schedule and even share documents. Alternatively, they can also be used to request an OTP to verify or change a personal account. Transactional messages can also be useful to keep students informed. Indeed, thanks to this service, it is much easier to inform people about schedule changes. But also to share a link to a course platform.
Financial services
The financial sector can use an OTP to reinforce security when accessing and modifying a personal account, to keep its customers informed of any change in their bank account, the confirmation of a transaction, a transfer or even the evolution of the stock market.
Restaurant
Restaurants can confirm and remind an appointment, confirm a payment and send delivery information if they offer this service.
Public sector
Municipalities use SMS to inform citizens of construction, traffic assignments, new routes in case of an event, and other matters related to their community.
Health
Hospitals, laboratories and doctors can use transactional SMS to improve the relationship with their patients by sending confirmation and reminders of appointments. Labs can inform patients when their test results are in, while pharmacies can confirm payment, provide shipping information or confirm product availability.
Legal
Law firms can inform their clients of appointment dates and keep them informed of the strategy to adopt in their case.
Logistics
Transportation and delivery services can use SMS to inform customers when a package is delivered.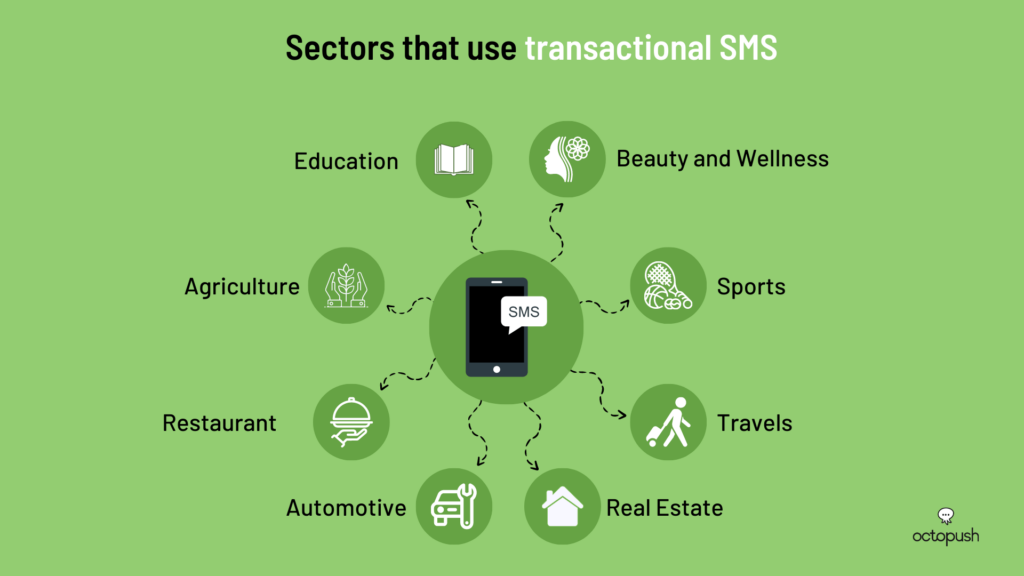 Real Estate
Real estate brokers and agencies can take advantage of transactional SMS to confirm an appointment and send a reminder for a home visit, or to send potential clients information about a property they are interested in.
Retail
Stores use transactional SMS mainly to confirm a purchase and inform about the delivery of a package.
Sports
Associations, gyms and sports centers can send appointment reminders and inform customers about class schedules, opening hours, or any other unexpected events.
HR
Recruitment agencies can keep candidates informed of job openings and remind them of an interview date.
Travel and Hospitality
Hotels can confirm reservations. Airlines and rail services can send travelers travel information or warn them of unexpected changes.