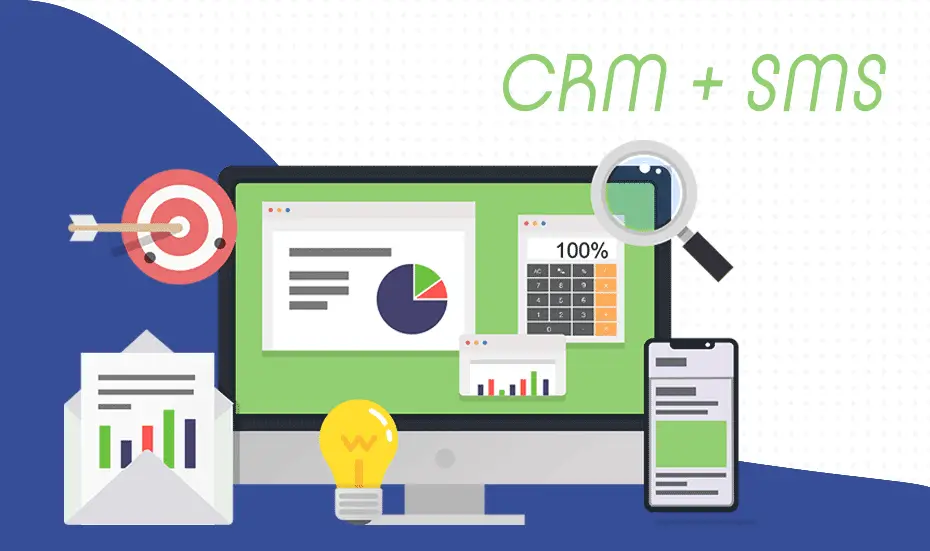 A Customer Relationship Management solution, or simply known as CRM, makes the process of finding new customers and organising their information easier, allowing you to engage with them effectively. Integrating a highly efficient tool such as CRM with an equally efficient communication channel such as SMS opens the door for limitless potential from a marketing and a customer relations perspective.
What Is Bulk SMS?
Bulk SMS is a mode of SMS marketing, which lets you send massive quantities of SMS to a large contact database from an online web platform. It is a tool that should be an indispensable part of your SMS marketing plan.
To send bulk texts, you need to grow your contact database. Users can become a part of the database by opting-in for receiving texts through your website or by sending an opt-in code, and can opt-out any moment they want. Bulk texting allows you to deliver promotional content to a large number of customers instantly through text messaging or SMS.
What is a CRM?
Customer relationship management or CRM is a tool for managing relationships and interactions with existing and potential customers. It makes it easier to improve business relationships and helps you grow your business.
CRM is not only a standalone tool but a system that manages your contacts, sales, and personnel productivity. The use of CRM is not limited to the customer acquisition phase. Rather, it can be used to manage interactions across the entire customer lifecycle in areas such as marketing, sales, and customer service.
Why Should You Combine Bulk Text Messaging With CRM?
Send Texts In Bulk
Sending Bulk SMS with Octopush means that you have more options than just sending a single text to many users. You can send custom texts in different languages and characters to a specifically targeted audience over a global range of networks. You can send your text to a large number of people in only three steps – prepare your message, use filters to create your contact list, and send. It does not end here. After you have sent your messages, you can track results and measure the effectiveness of the campaign, thanks to a UTM parameter.
Get A User-Friendly Solution
Businesses generally send emails in bulk for sending their newsletters, and other promotional messages. But in terms of open-rates and delivery rates, SMS messages are more user-friendly than emails.
When you send out SMS in bulk, they are delivered instantly, without the need of an active internet connection. The read time of SMS is also extraordinary compared to other channels. If you want all of the recipients in your contact list to receive your message at once, sending bulk SMS is your best option to do so.
Engage In Two-Way Communication
In comparison to email, SMS presents itself as a highly interactive communication medium. If you are sending texts to a lot of customers at once, the high response and click-through rates make it more convenient for you to engage with them. To leverage these high engagement rates, you should keep the option for your customers to respond to your text. To provide a good user experience to your customers, you need to capitalise on the two-way communication feature.
More often, customers receive response calls from customer support in situations such as meetings or classes, where they cannot answer the call. The advantage of text-based customer service is that if your customers are busy, they can read and respond to the text later. Keeping your line open for receiving replies from your customers has more upsides than you'd expect.
Set-Up Workflows Easily
You can set-up workflows easily given the simplicity of integration between CRM and bulk texting with Octopush. Setting up workflows involves a drag-and-drop functionality, allowing you full control over the simplicity of the process.
You can also create a workflow builder in which you can have your entire multichannel marketing campaign on a single platform. This lets your sent messages to be logged automatically like CRM functionalities and gets rid of the hassle of managing multiple systems.
Take Advantage Of Personalisation
Customising individual texts with your customer's personal information helps to make your SMS more relevant to your recipients. Using an SMS marketing service like Octopush, when you send SMS in bulk, you can add tags that will replace customer information fields which you have stored in your contact database. You don't need to manually replace these tags, as the process is seamlessly automated for every user. But don't overuse merge-tags as your texts might look crowded with all the different information.
Segment Your Audience
Segmentation makes sending relevant information to your audience easier. Your audience needs to relate to your message, and the best way of doing so is aligning their intent with your message. Since it is not possible to have a contact list who meet the same criteria you are targeting, segmentation helps you find the right audience.
An audience that is targeted using relevant parameters is highly likely to engage. SMS marketing tools like Octopush provide you tools to access user activity statistics, helping you to analyse your marketing efforts so that you can target the ideal group for your marketing campaign. Targeted promotions help you boost conversations and align your promotional message with your customers' intent.
Use Behaviour-Based Triggers
Behaviour-based triggers help you to send the right message to the right person at the right time. After identifying a customer or a prospect based on their action, a text is send automatically responding to that action. This response contains the message that you had set earlier. It can be a notification, update, or a reminder. This allows you to interact with your customers without any delay, and eliminates the need of decision making required during a real time interaction.
Receive Unified Reports
Businesses usually use different platforms to analyse data from different marketing channels. With the CRM and SMS integration using Octopush, you will be able to monitor analytics from email and SMS at the same platform without having to constantly switch between multiple applications. You can also easily build custom reports by setting parameters according to your needs to analyse data. A unified report gives you a holistic idea of the results of your marketing efforts on email and SMS.
Plan For The Long Run
SMS offers marketers a channel that can get their message across to a large number of people fast and before anyone else. Along with a real-time communication medium with customers, it helps them leverage on high reach and response rates.
The high efficiency of SMS regarding delivery and engagement makes it a very efficient channel for sending bulk texts of both promotional and transactional nature. SMS holds high engagement rates for both real-time and scheduled communications.
What Does Octopush Offer?
Octopush offers an easy and cost-efficient way of integrating your CRM with its SMS API. It allows you to send bulk texts globally to a wide range of networks in a fast and efficient way. Apart from being easy to use, Octopush is also GDPR compliant and guarantees the maximum security of your data as per the legislation in effect.
Octopush also accommodates three different CRM tools – Salesforce, Zapier, and Microsoft Dynamics.
Salesforce
With Octopush's integration with Salesforce, you can send SMS to more than 2000 countries. You can use the integration to receive SMS notifications on events such as account creation, order placement, product stock-outs, contact form responses, return requests, and more.
If you are running an eCommerce business, the integration can make a lot of your work easier. You can receive texts on triggers such as order confirmation, customer account creation, change of order status, package number attribution, password recovery requests, redeem of a discount code, and many more.
It allows you maximum flexibility and helps you customise the workflows according to your need. Moreover, you can also personalise texts using parameters such as name, package number, or address. Apart from these, you can also utilise the tools and statistics on the use and status of your message, check shipping history, and get a daily report of your store's activity.
Zapier
With Zapier, you can connect Octopush to more than 300 services. You can utilise this integration in several ways and boost productivity by many folds.
You can use it for customer onboarding by sending a welcome SMS message whenever a prospect creates a user account on your e-commerce site. You can also send cart status updates and other notifications regarding order handling and product availability status. Moreover, you can also send transactional messages along with promotional ones. When you update a user profile in your CRM, you can send a text to the user confirming the update to their personal information.
Microsoft Dynamics
With the integration of Microsoft Dynamics and Octopush, you can get all the features you want, such as receiving reminders and alerts on triggers based on the action of your customers.
Similar to the Salesforce integration, you can receive transactional texts as a response to actions such as account creation, order placement, product stock-outs, contact form responses, return requests, and more. You can also get alerts on eCommerce actions such as order confirmation, customer account creation, change of order status, and package number attribution.
Automate Bulk Texting With Octopush SMS API
You can establish a connection with your CRM software and automate sending bulk SMS with Octopush using its SMS API. Connect your software to Octopush with its SMS API, and automate your SMS marketing actions to save time and resources.
If you need assistance, Octopush provides that too with its SMS API Documentation featured on its website. This documentation is easy to read, understand and implement, helping you to complete the process of integration in a few hours. After you have established the connection, you can utlise Octopush's seamlessly automated bulk SMS service into your CRM.
You can use HTTP, along with 5 possible languages in the source code to complete the integration. If you want to send your text messages through an internet messaging interface or email, then SMTP will suit your needs.
How Can Integrating Bulk SMS With CRM Help Your Business?
Craft Engaging SMS Marketing Campaigns
With its high reach and low spam rates, SMS is an ideal medium to send marketing messages in large volumes. Therefore, integrating bulk texting with your CRM gives you a tool to reach a large number of users efficiently and easily.
You can schedule your SMS campaigns and automate them to be sent at an appropriate time. Timing is crucial for promotional messages to avoid reaching customers at an off-peak hour. Scheduling ensures that your marketing messages reach your intended audience at the exact time you intend them to be sent. Given the high click-through rates of SMS, you can also drive traffic to your website and boost conversions. Octopush offers a service named SMS 2.0, allowing you to send a customised landing page to your SMS list and increase user engagement.
Send Mass Notifications Instantly
Using your customer database in your CRM, you can get important alerts out to your entire list instantly using bulk SMS. Given a mere 1% spam rate of SMS, you can be assured of the delivery of your important notifications.
As a business, you can face instances where you have to send notifications to all your customers at once. These can be informing them about the maintenance of your website, a change in opening-closing hours, updates in terms and conditions, or even a delay in shipments. During such cases, sending SMS in bulk can be particularly useful.
Send Your Latest Sales Alerts
If you follow the popular practice of sending sales alerts in bulk via email, you might want to rethink your choice. Since emails have a spam rate of 49.7%, it is likely that almost half of the sales alerts, product arrival updates, and promotional offers you are sending end up in the spam box of your users. Moreover, alerts regarding new releases or flash sales are time-sensitive and are thus ideal for sending in bulk via text to ensure instant delivery. During holidays, you can send personalised bulk SMS to your SMS list with warm holiday greetings, along with a discount offer that is sure to put a smile on their face.
Give Timely Product Updates
The high efficiency of bulk SMS helps you to get noticed by your users. You can send the latest updates to your product catalogue via SMS in bulk. Considering the high click rates of SMS, you can include a link redirecting to a landing page that includes the latest additions to your product catalogue.
It is unlikely for users to check your website regularly. Which is why sending product updates is particularly useful to inform them of your newest releases. Besides, including product updates in weekly email updates or newsletters may not produce the same result as an average user receives an overwhelming number of promotional emails daily.
Conduct Customer Surveys Easily
You can utilise the integration of CRM with Octopush to gather feedback or conduct market research by sending polls and surveys to your SMS list. Gathering feedback helps you differentiate by ensuring a high quality of service.
Reach out to the users who call for your attention on issues that they face while using your product or service. Once you have resolved the issues, follow up by thanking them for their support and feedback. Your customers will appreciate the act of reaching out to solve any issues they face with your products or service. Engaging with your customers in this way helps you to build a strong connection with them, and in turn, helps you to increase customer retention rates.
Integrating bulk SMS with CRM not only allows you to manage customer information and interactions but also helps you to build strong customer relationships, which goes a long way to secure customer loyalty. With this integration with Octopush, you get premium bulk SMS features at a low price, helping you to maximise your ROI with minimum effort. Get started with Octopush with a free trial today by creating a free account!