Today, being connected has become a real way of life. For companies, it is impossible to ignore this manna to develop their activities and find new customers online. To reach a wider audience, the multi-channel marketing strategy is the most suitable model. Because opting for a multi-channel communication strategy gives customers the choice to choose a channel that suits them.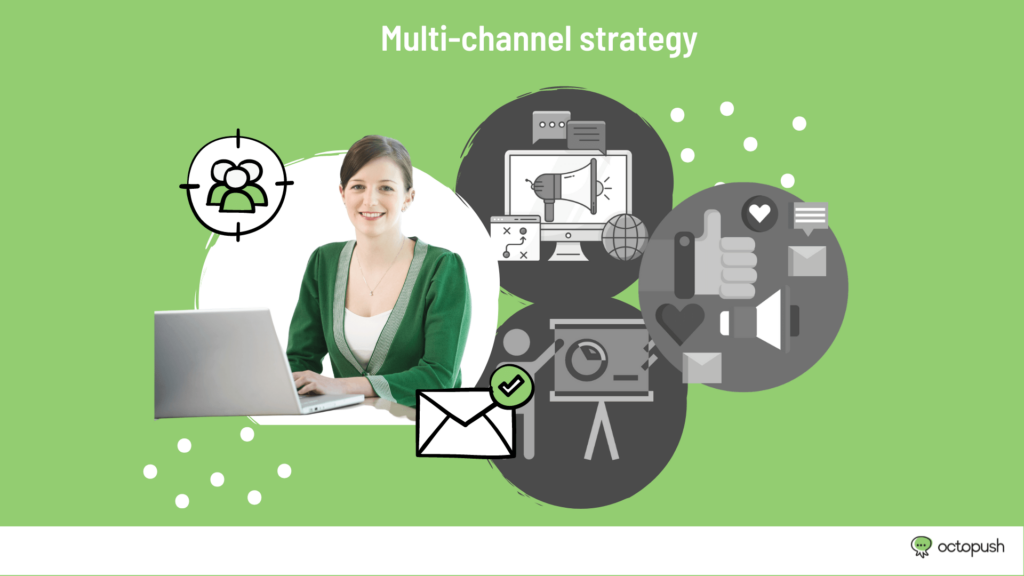 What is the multi-channel communication strategy?
The multi-channel online communication strategy is a concept that has developed with the democratization of Internet use by the general public. Companies have understood the importance of digitalization in order to widen their field of customer prospect. They have therefore adapted their marketing campaign to the various existing communication media. And this, whether social networks, websites, SMS marketing, but also traditional channels. In particular the traditional media (newspapers, television, radio …), but also stores, postal mail …
These different historical and recent communication supports allow companies to set up a varied marketing strategy to convert new customers. All this, while keeping a certain consistency so that consumers can spot their favorite brand at first glance.
The benefits of a multi-channel strategy for your future customers
The multi-channel strategy has many advantages since it is an effective way for your company to find the formula that corresponds to each category of customers, provided that you have consistent objectives and a coherent strategy for the different consumers and networks.
Personalizing the marketing discourse allows you to build and strengthen a relationship of trust with the customer, having at heart to satisfy their expectations. Multi-channel communication chooses the channels according to the target audience, i.e. your future customer.
By communicating on several channels at the same time, your company offers itself a better visibility, by imposing its marketing brand image on several media at the same time.
By accurately identifying your target audience and developing a strategy on different networks, your company is able to better retain them. This customer loyalty is important because it generates traffic, while leading to purchase and therefore to the profitability of your company.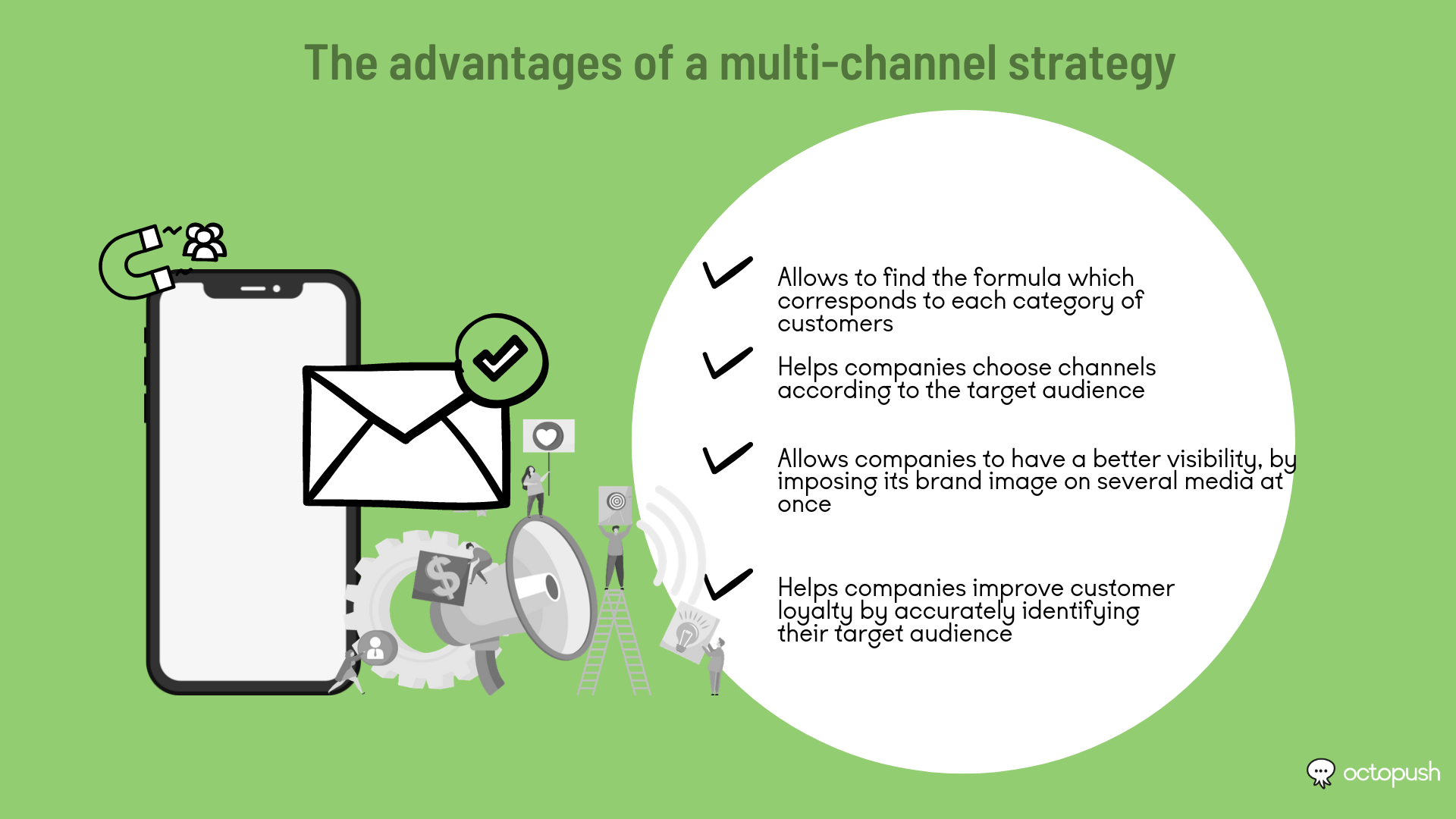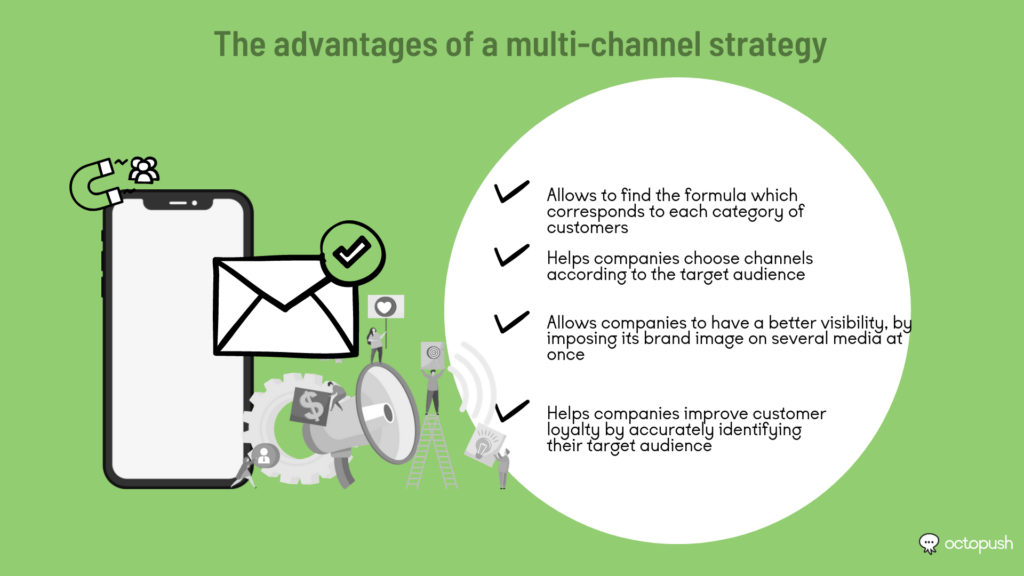 What is a multi-channel distribution strategy?
The multi-channel distribution strategy consists of using all available channels, whether they are physical or virtual. The goal is to ensure that customers and prospects have all the information they need at their disposal. Multi-channel distribution is another way of understanding local commerce by having a presence on several channels, and by improving the related customer services, such as delivery services, or pick-up in a physical point of sale following an order placed online.
Multi-channel marketing and bulk SMS: the winning combo to win customers
Combining multi-channel marketing and mass SMS is the winning solution to reach a maximum of prospects through a targeted marketing communication. Whether your company wants to launch a new product, announce an event, or offer discounts to your most loyal customers, these two options give you the opportunity to make your mark, while improving your relationship with your customers on the channel that corresponds to them.
By combining these two marketing strategies, you guarantee success, taking care to find a coherence between the different campaigns in order to always put forward the colors of your company.
Now you know a little more about the multi-channel communication strategy, you can develop the relationship with your target and other many benefits through tools and clear objectives on different channels.